10 Best Free Video Recording Software for Windows 10 [2023 Concreted Guide]
When you need to capture some onscreen activities, what are the best video recorders for Windows 10? If you have difficulty choosing the desired one, especially when you need to record some online meetings with a large file size. Therefore, we created a list that would answer all about free video recording software. Just learn more about the distinctive features, reviews, and tops in choosing a suitable one.
Part 1: 10 Best Free Video Recorder for Windows 10
1. AnyRec Free Screen Recorder
Windows and Mac
Price: free
AnyRec Free Screen Recorder is a free web-based screen recorder for Windows and Mac to capture all on-screen activities. It enables you to capture screen videos with custom screen size, draw on the screen recording, and save the videos with the original quality. Moreover, you can also take screenshots, capture webcam footage and record your voice via microphone. It is a free screen recorder to capture the videos without limitation.
Pros

Capture the onscreen activities without a watermark
No time limit to record audio and video files
Web-based screen recorder with easy user interface
Cons

Need to

upgrade to the Pro version

to explore more features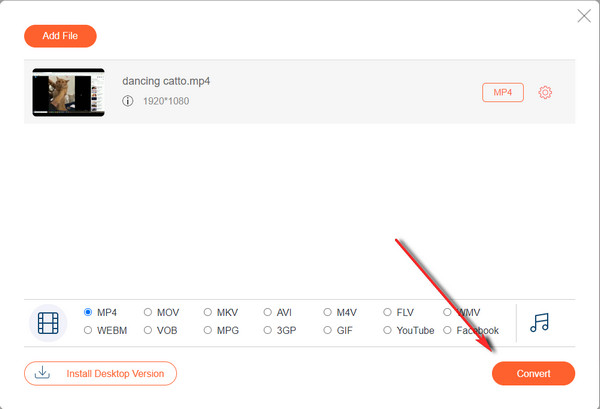 2. Apowersoft Free Online Screen Recorder
Windows and Mac
Price: free
Apowersoft Free Online Screen Recorder is another free video recorder for Windows 10. It can export the recording in AVI, WMV, MP4, and other file formats. It can capture voices, system audio, and webcam footage during your screen recording. Moreover, you can add shapes, notes, colors, and many more even during your recording. But you have to download the browser plugin beforehand.
Pros

So many available features in its free trial
Trouble-free interface
Share the recording with social media sites
Cons

It needs a stable Internet connection for recording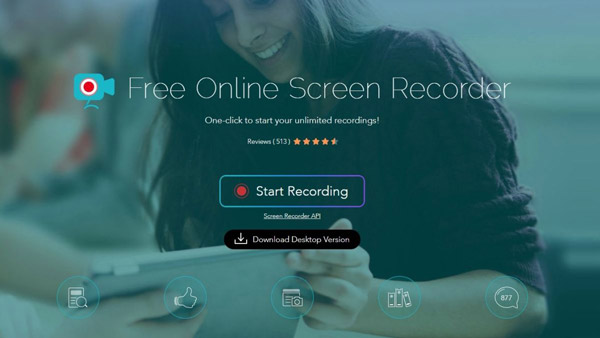 3. OBS Studio
Windows, Mac OS X, and Linux
Price: free
OBS Studio allows you to do video recording, live streaming, and it can also record the audio of your screen recording. The free video recorder for Windows 10 can record streaming on many social networks, such as Facebook, Youtube, Twitch, and many more. Aside from this, there are relevant features that could help you enhance your videos such as themes, filters, audio mixers, and many more. If you are on a tight budget, this is your one to go.
Pros

Flawlessly supports all major distributions like windows, Linux, Mac
Allows you to add GIFs, images, and videos
Record the videos in .H264 with high quality
Cons

Its interface is a little complicated
Updates frequently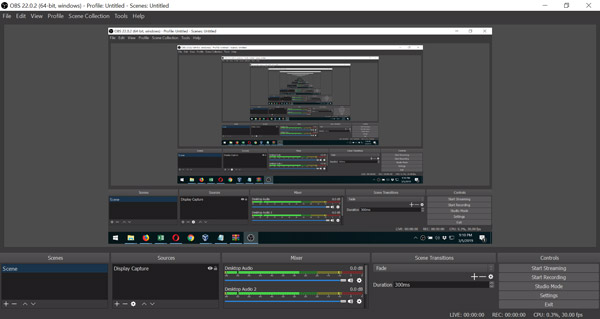 4. Ezvid Screen Recorder
Windows 10/8.1/8/7/XP/VISTA
Price: Free (Users can donate on the official website)
Excellent keyboard shortcuts to operate the software and hands-free recording. Ezvid is a simplified free screen recorder on Windows 10, which the newbies can use the screencast program without trouble. Moreover, there is a widget on your screen that gives other advanced tools for you to use. It cannot save the recording to PC directly, which only enables you to upload the files to Youtube.
Pros

Allow adding audio effects while recording
Record anything on your computer screen
Cons

Recording limitation of 45 minutes
The widget cannot be hidden
No zooming, transition effects, and panning on the recording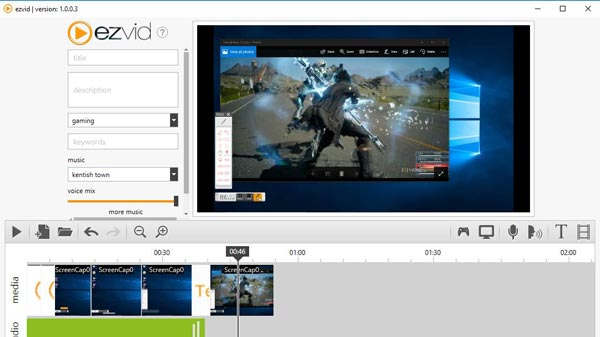 5. Screencast-O-Matic
Windows 10,8.1, 8 and 7
Price: Free (Limited)
Screencast-O-Matic is another online video recorder for Windows 10 that can be used by anybody with a web browser. You can use it without signing up, only need a computer browser for you to utilize it. It also improves your video with its built-in editor, which can enhance the quality of the recording, support system audio files, has a built-in screenshot tool, and many more others!
Pros

Most features are available on the free version
Easy to utilize
Supports automated caption
Cons

Some issues like slow loading of the tool can be encountered
Doesn't support Chromebooks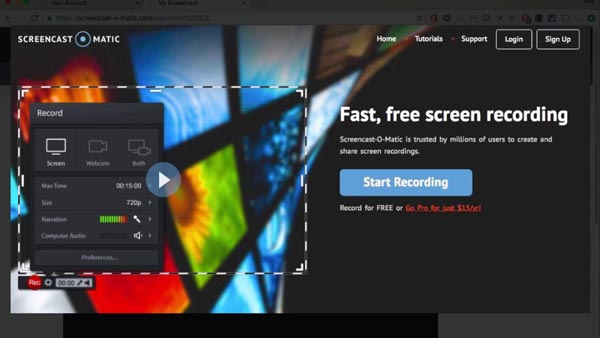 6. Windows 10 Game Bar
Windows 10
Price: Free (Limited)
Windows Game Bar is the free built-in video recorder of Windows 10. It is one of the best alternatives that can be your to-go when it comes to recording online meetings and gameplays. It is convenient to use since this is free software and you can use it for long hours of gameplay. With that being said, you can also enjoy playing games with friends if you're enrolled in the Xbox Insider App.
Pros

Built-in tool for windows 10 users
Keyboard shortcuts such as win+ G to start recording
Cons

Inconsistent and some issues may occur during recording
The Game Bar interface doesn't show so you won't be able to see if it's recording or not
Doesn't support Twitch or youtube streaming, only Mixer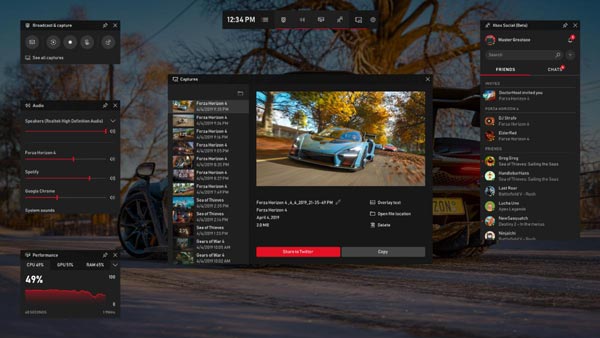 7. Quick Time Player
Windows and Mac
Price: Free (Limited)
QuickTime Player is originally built for macOS, but it is also available for Windows. It has lots of advanced features to offer. You can control which language to put, subtitles, split, rearrange, strim, and many more. It also provides playback controls, like play and pause. Moreover, the free video recorder for Windows 10 supports media formats such as H.264,3GPP, MP3, MOV, and more. You can explore more about QuickTime screen recording with audio here.
Pros

Easy to utilize
Offers editing tools such as trim and rearrange
Cons

The program may not fully function unlike on Mac
You need to upgrade to the Pro version to use other special features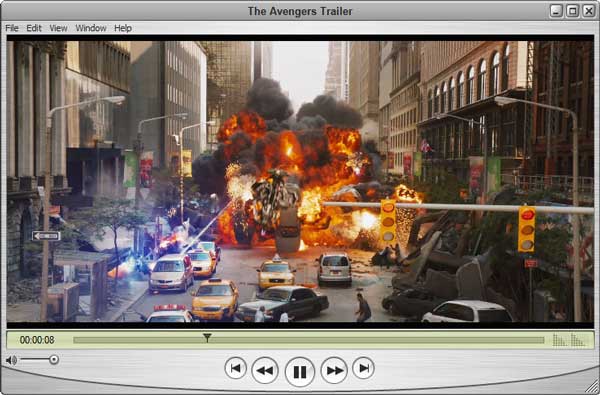 8. Icecream Screen Recorder
Windows 7/8/XP, Mac, Android
Price: Free (Limited)
Icecream Screen Recorder is one of the uprising best free video recording software for windows 10 that enables you to easily record your activities while video calling, playing, etc. It also lets you take screenshots of any part of your screen on Windows and Mac. Moreover, you can record the screen along with audio and webcam. Has over 45 languages can be seen on the setting, video formats available are MOV, WebM, MP4, AVI.
Pros

Desktop icons can be hidden
You can include or exclude record mouse movements in the recording
Has features for audio recording such as volume level and other customization
Cons

Recording limits only at 10 minutes
Image or sound recording sometimes will get twisted once changing the recording window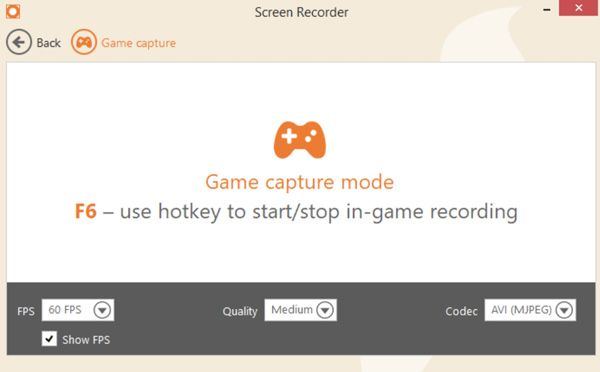 9. Jing
Windows 10, 8.1, 8, 7, and Mac OS
Price: Free (Limited)
With the easy-to-use interface of Jing, you can record videos and capture pictures with this free software. It enables you to record the screen activities while recording a webcam video to make video-in-video recordings. Also, you add visual elements and edit them to your liking. When you download the free video recorder for Windows 10, it will provide tutorials to guide you on the basics of how to navigate the tool.
Pros

Free and easy to use
Provides tools for editing
Cons

The software is not lightweight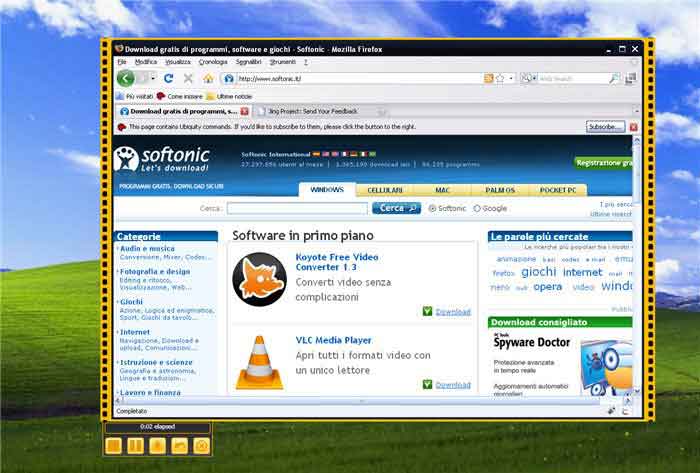 10. FlashBack Express
Windows 10,8,8.1,7
Price: Free (Limited)
FlashBack Express is the free video recorder for Windows 10 that records audio and sound from your desktop, or a webcam and microphone. It enables you to select any portion of the screen, add captions and arrows to highlight important parts. Moreover, you can also export your recordings in multiple video formats, or upload straight to YouTube streaming or FlashBack Connect.
Pros

Provide full Media Player style playback controls
Have total control over exported sound and video quality
Record spoken commentary while recording the screen
Cons

Limited video formats and features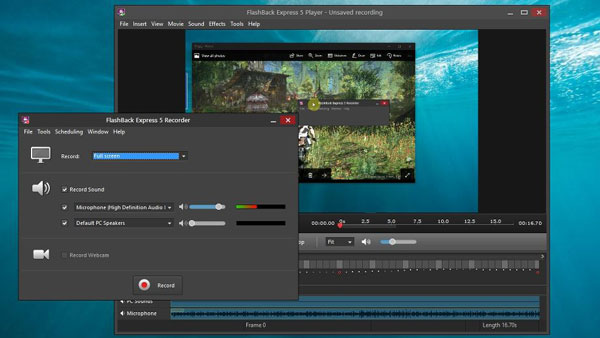 Part 2: FAQs about Free Video Recording Software for Windows 10
Is there a free video recorder for Windows 10 to capture 1080P videos?

Yes. Both OBS Studio and AnyRec Free Screen Recorder enable you to capture screen videos on Windows 10 with 1080P. But when you want to capture a large video, like an online meeting, you should make sure there is enough storage space before recording.

What is the best frame rate for capturing onscreen activities for YouTube?

60FPS. When you want some high-quality videos for YouTube, you can choose the frame rate as 60FPS. Even if you captured the videos in 120FPS, it will not provide a better video quality unless the audience browse the videos in 4K.

How to capture webcam footage to create a video-in-video recording?

Once you have enabled the screen capture feature, you can turn on the webcam option to create a video-in-video recording. When you need to add commentary and webcam footage, you can choose the free video recorder for Windows 10 with the features.
Conclusion
Here is the ultimate review for free screen recorders on Windows 10. Though these tools have different functionalities, they are best to support people with certain conditions. When you need to capture Google Hangouts or other onscreen activities, just learn more about the features and reviews to get a suitable one according to your requirement.
AnyRec Screen Recorder
Record online meetings, video/audio calls, gameplay, and many other desktop activities for any occasions.
Related Article