iMovie for Windows – 6 Best iMovie Alternatives to Edit Videos on PC
Apple users have iMovie as their video editing software. It is a professional editor that creates excellent movies with clips. So many people want to know if there is an iMovie for Windows. Not to mention iMovie has the best transitions and effects without any charge, which attract many Windows users. But is it possible to use iMovie on Windows? Unfortunately, it is not available for Windows and other operating systems. However, this post will give you the best alternative video editors for Windows that are equal to iMovie.
Part 1: Top 6 Alternative Video Editors for Replacing iMovie on Windows
iMovie is also known for its easy-to-use interface, allowing beginners to make video clips into fabulous movies. Suppose this is the feature you are looking for; here are the top six iMovie alternatives you can install and use on Windows. With the detailed information provided, ensure you choose the best one for your needs.
1. AnyRec Video Converter
The first video editing software you must try is AnyRec Video Converter. It is the best iMovie on Windows alternative with more features. It is known for its superfast and reliable conversion, but one of its powerful tools is the Collage which can help you create excellent clips. iMovie can only put two video layers in the same file, but AnyRec Video Converter allows you to import video clips without limitations. Moreover, you can configure the output settings such as format, encoder, resolution, quality, bitrate, and others. Download and use the best video editor for Windows and macOS!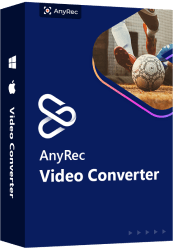 AnyRec Video Converter
Provide built-in MV Maker and Collage for professional video editing.
Wide support of input/output formats, including MOV, MP4, WebM, AVC, and more.
Improve video quality by upscaling resolution, removing video noise, etc.
Provide various layouts and filters with essential tools like crop, rotate, frames, background music, etc.
Step 1.Click the Download button to install AnyRec Video Converter on your computer. Launch the software and go to the Collage menu at the top of the windows. Click the Add button to upload a video clip from your folder. Depending on the template you choose, you must add another clip.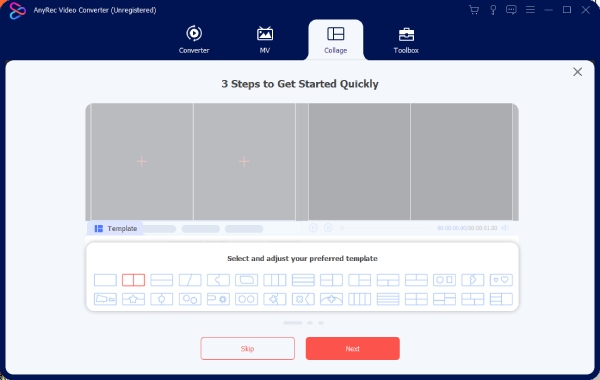 Step 2.Next, select the aspect ratio you desire. Change the size of the border or its color. Go to the Filter menu and choose the filter to the output. Applying the filter can be done separately for the input videos.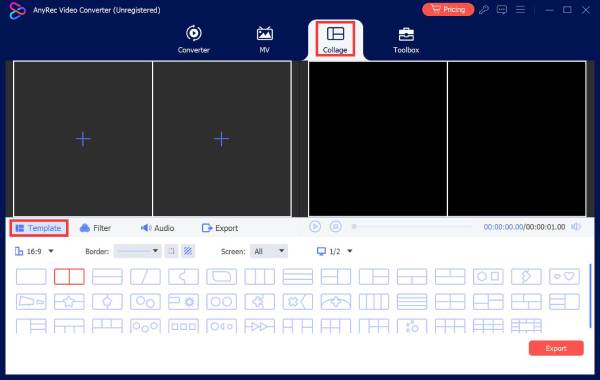 Step 3.To add the background music, go to the Audio menu. Tick the checkbox for the Background Music option. You can also remove the original audio track and adjust the volume. Apply the Fade In, Fade Out, or Loop Play for the audio track. Preview the edits by clicking the Play button.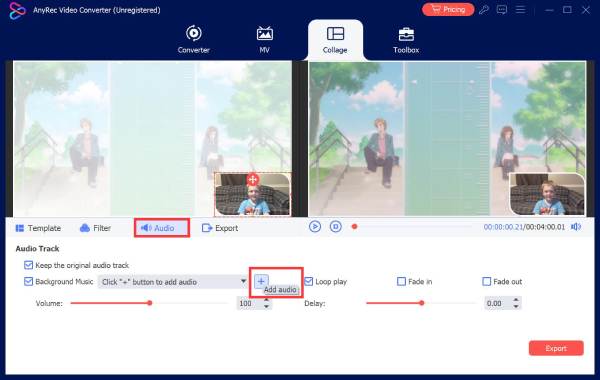 Step 4.Once done, select the Export menu for the output settings. You can rename the file and change the format, frame rate, resolution, and quality. Click the Settings button for more export settings. Afterward, select the designated folder for the output and click the Start Export button. Share the video with your friends!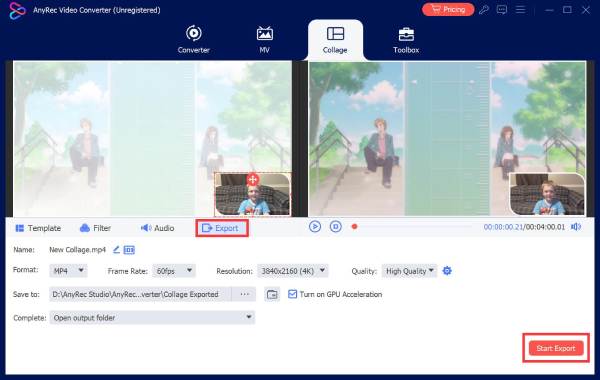 Tips
Use the MV Maker to compile video clips into one with preset themes for the occasions like Christmas, anniversaries, and other colorful themes.
2. Adobe Premiere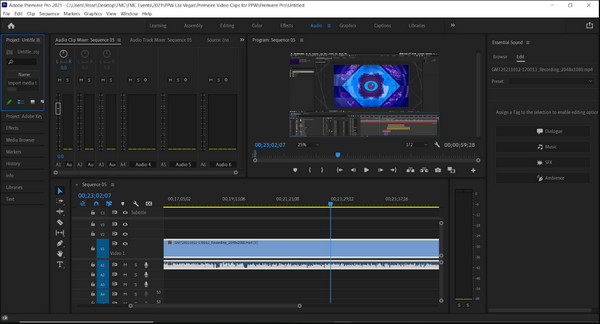 Adobe Premiere is a perfect iMovie alternative for Windows users. It is a consumer-target version of Premiere Pro, an excellent program for content creators on various streaming sites like YouTube. It offers pre-determined aspect ratios and enables compression of larger files before the user uploads them to the internet. But as you know, with Adobe and its tools, the learning curve is complicated and requires practice. Moreover, this tool uses more CPU than other software.
◆ Provide green screen effects, video stabilization, and multitrack editing features.
◆ Responsive speed with organizational tools to manage video clips.
◆ Support multicam angles for video editing.
◆ Offer more guidelines and tutorials.
3. VSDC Free Video Editor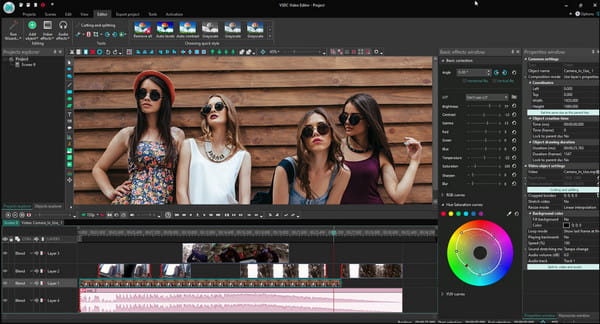 This iMovie for Windows alternative is a free video editor recommended by the GoPro support team. Despite an outdated computer, VSDC is the best lightweight video editing software. Unlike other editors, VSDC comes with pre-configured devices and social media platforms, allowing users to share videos effortlessly. Moreover, it supports a wide range of codecs, frame rates, and formats so that you can upload even a unique video file.
◆ The UI is straightforward, which is helpful for non-pros to navigate.
◆ Built-in recording features to capture clips from external devices.
◆ Enable users to customize working modules for high output quality.
◆ Drag and drop feature to eliminate complications with the timeline.
4. MiniTool Movie Maker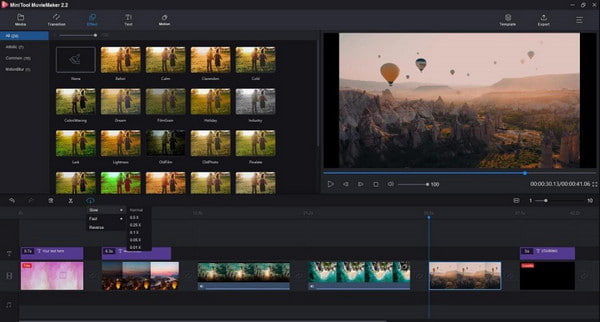 Do you want to create a video instantly? This iMovie alternative for Windows is a must-try! It is also a good video editor for beginners without a challenging learning curve. It is also known for its key features, including audio extracting, video resizing, and applying motion effects. Mini Tool Movie Maker can be a great tool, but it does not allow users to customize video properties.
◆ Enable to perform a one-click video editing experience with video templates and special effects.
◆ Exquisitely produce videos like electronic albums, game commentary videos, etc.
◆ A free video editor that supports 1080p without applying a watermark.
◆ Support formats and batch processing without delay.
5. VideoProc Vlogger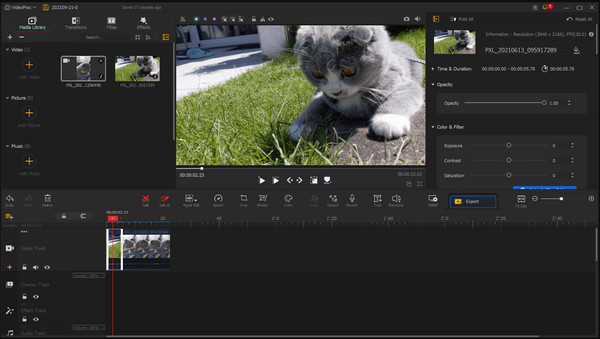 VideoProc Vlogger aims for non-professional video editors but also offers more advanced features for footage shots like on a drone or cinema camera. It allows you to adjust the simulation, speed, and stabilization with its tools. And there are many things like adding subtitles in iMovie. You can also do it with this software. Moreover, you can also remove some effects from a video, including fisheye, noise, and dim lighting. However, the iMovie for Windows alternative has weaknesses like slow rendering and being unavailable to other operating systems.
◆ Useful automatic keyframes, visualized speed ramping, and blending modes.
◆ Built-in settings and presets for different video types.
◆ Its motion editor is excellent for cinematic camera movements.
◆ Complex audio editing features include an audiogram and a handy audio analyzer.
6. OpenShot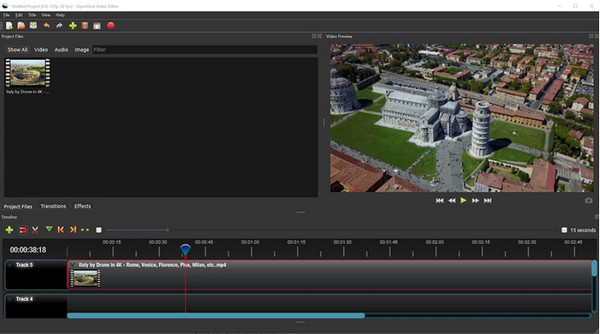 OpenShot's interface is not fancy like the other iMovie alternatives for Windows, but it has sufficient features for video editing. It is cross-platform and open source, also available on Linux, Windows, and Mac. It offers various features, including animation effects, adding watermarks like iMovie, and color correction. The program is free to use, but you might need patience with its steep learning curve.
◆ Unlimited tracks, video effects, titles, keyframes, color adjustments, etc.
◆ Desktop integration with drag-and-drop support.
◆ Customizable interface for better navigation and editing experience.
◆ Offer preset templates for various video editing.
Part 2: FAQs about iMovie for Windows
1. Does Windows have a default alternative for iMovie?

Yes. Windows Movie Maker is the default video editor for Windows, but it was removed in 2017. As for now, Windows 10 suffices the basic video editing with the Photos app, however, do not expect too much because it does not produce the same quality as iMovie.

2. Is iMovie free to make 1080p videos?

Yes. iMovie is a free program for Apple users, and it has the capability to edit 1080p and 4K videos. Since Apple devices are well-known for their high-quality camera, editing videos will be more accessible with iMovie. Just ensure that the software is updated.

3. Which iMovie alternative for Windows does not require an internet connection?

From the mentioned tools above, VSDC is the only program that doesn't require a Wi-Fi network to function. The only problem with this is the lack of automatic updates that can help with advanced video editing. Moreover, you will still need an internet connection to watch tutorials from other users.
Conclusion
With the top six iMovie for Windows alternatives, you can create the best video and share iMovie in MP4 format on your social media! Although iMovie is not available for Windows, a video editor like AnyRec Video Converter is here to save the day. With its powerful features, you can create more than a video clip! Try the free trial version and see how easy it is to navigate and edit movies.
Related Articles: