[2023 Updated] Top 9 Best Minecraft Screen Recorders for Gamers with No Lag
Recording Minecraft and uploading your recordings is a good way to share your ideas and creativity. No matter you are a professional Minecraft player or a beginner, you can record your world with high quality through the best Minecraft screen recorder and upload them on social media platforms. Minecraft provides no default recorder, and many professional screen recorders will cause lags. Luckily, this article will introduce the 9 best Minecraft screen recorders with high quality for Windows/Mac/Android/iOS. Please keep reading and learn more about their features, pros, and cons, which will help you get the best choice here.
The Best 6 Minecraft Screen Recorders for Windows/Mac
Among so many professional screen recorders, this post has selected the 6 best Minecraft screen recorders with high quality and no lags. Here you can also learn about their features in detail and choose the most suitable one for you.
AnyRec Screen Recorder is a versatile Minecraft screen recorder that provides a designed game recorder with high quality. Since you can adjust the video frame rate and resolution, this Minecraft screen recorder enables you to capture the gameplay with no lags. It also supports exporting videos to almost all popular formats.

Pros

Support 60 fps frame rate to record Minecraft without lags.
Multiple additional functions, including hotkeys, editing tools, etc.
A designed game recorder for capturing gameplay.
Cross-platform for Windows and Mac.
Cons

Just provide basic editing tools.
2. ScreenFlow - Record Minecraft on Mac without Lags
It's a Minecraft screen recorder for Mac that provides professional editing tools. You can choose the desired settings to record Minecraft with a webcam and your voice at a high frame rate. It's also supported in multiple screens and monitors on Mac.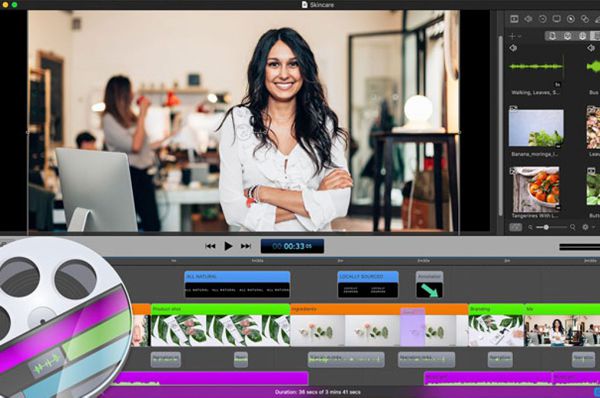 Pros

Provide powerful and professional editing features.
Upload the recordings directly on Youtube, Facebook, etc.
Cons

Relatively expensive for the pro version. ($129)
3. Bandicam - Versatile Tool to Record Gameplay Easily
As one of the best Minecraft screen recorders for Windows, Bandicam also provides a game recorder to record Minecraft in a maximum 480 fps frame rate. What's more, you can see the frame rate in real time when recording.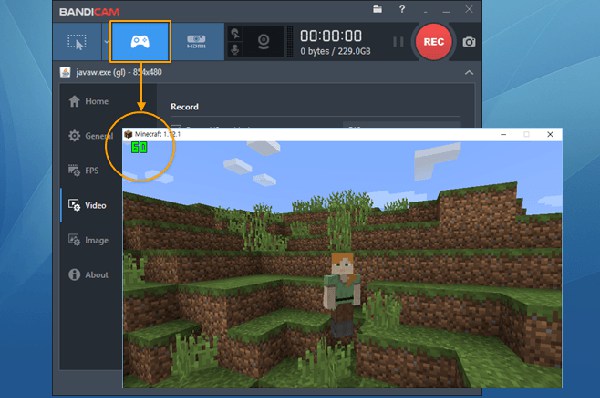 Pros

Able to record videos in around-mouse mode.
Provide really high quality to record Minecraft.
Cons

Only available on Windows.
Have watermarks on the recordings for the free version.
4. Game Bar - Default Minecraft Screen Recorder for Windows 10
As a Windows user, you must have known the built-in screen recorder - Game Bar. Without downloading any software, you can use this Minecraft screen recorder to capture your gameplay easily.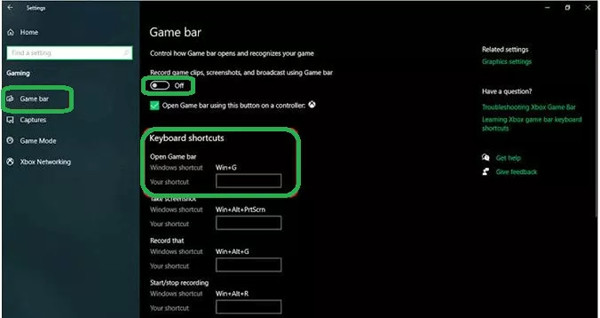 Pros

An easy-to-use interface for beginners.
Cons

No additional editing or adjusting functions.
Limited export video formats.
5. Icecream Screen Recorder - Game Recorder for Capturing Minecraft
Icecream Screen Recorder is a powerful Minecraft screen recorder with no lag. It supports recording gameplay, adding annotations, capturing screenshots, etc. With customized video settings, you can record Minecraft gameplay without lags.
Pros

Provide many annotating and editing tools.
Add logos to protect your copyright.
Cons

Limited audio and video codecs.
Don't want to download and install any software? Here is AnyRec Free Screen Recorder for you. It's a free online Minecraft screen recorder that supports all the basic functions, including different modes, webcam recording, etc.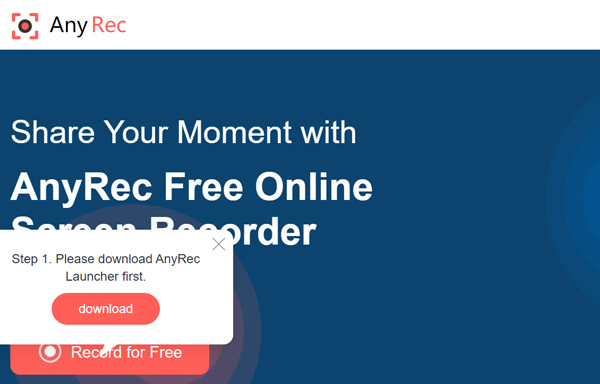 Pros

Totally free with no time limit.
Able to add annotations in real time.
Cons

No additional editing functions.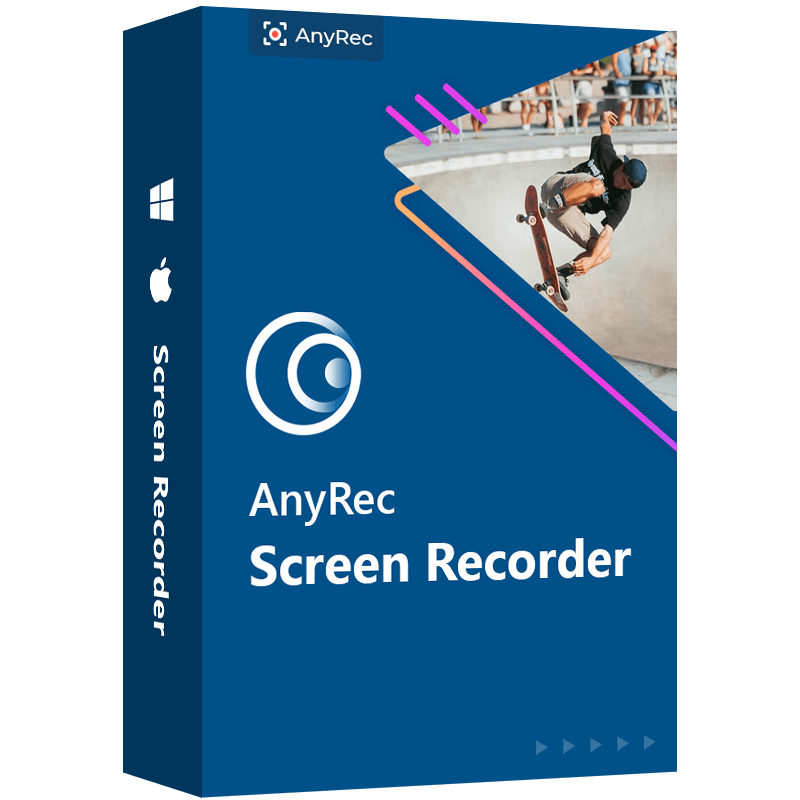 AnyRec Screen Recorder
Record Minecraft game video and audio simultaneously and smoothly.
Add voiceover, annotations, webcam, and more during Minecraft recording.
Set custom hotkeys to screen record and screenshot on any Minecraft game.
Work well with high-end and low-end computers with advanced algorithm.
Top 3 Minecraft Screen Recorder Apps for Android/iOS
If you are used to playing Minecraft on your mobiles, you should rely on Minecraft screen recorder apps for Android/iOS to capture this gameplay. Here you can learn 4 methods to record Minecraft easily.
1. Airshou (iOS)
For iPhone and iPad users, Airshou is an easy-to-use Minecraft Screen Recorder. It supports 1080p resolution and a 60 fps frame rate to keep a high quality of the recordings. By the way, you can check more 60 FPS screen recorders here.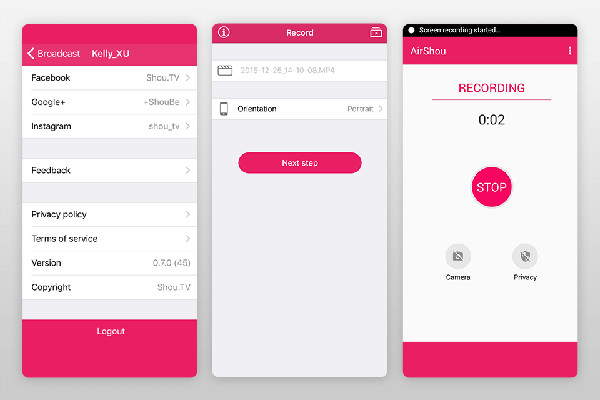 Pros

Free with no limitation.
Able to customize the settings.
Cons

Not too many editing features.
2. AZ Screen Recorder (Android)
AZ Screen Recorder is a famous Minecraft screen recorder for Android phones. You can use this powerful Minecraft screen recorder to capture gameplay with smooth and high-definition quality. Only one tap will help you record Minecraft easily.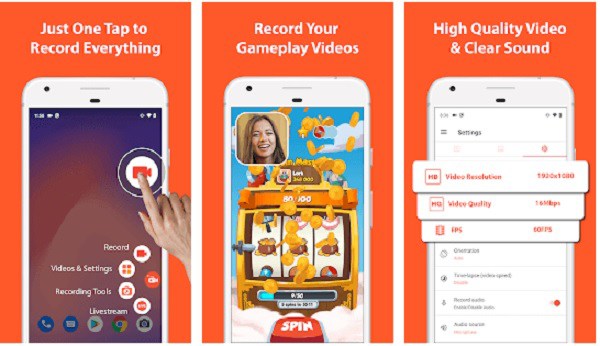 Pros

Record the screen and your voice at the same time.
Able to add comments to the recordings.
Cons

Large file sizes of the recordings.
3. Mobizen Screen Recorder (Android)
Mobizen Screen Recorder can help you capture any screen or gameplay in high quality. With this Minecraft screen recorder, you can adjust the resolution, frame rate, and video format freely.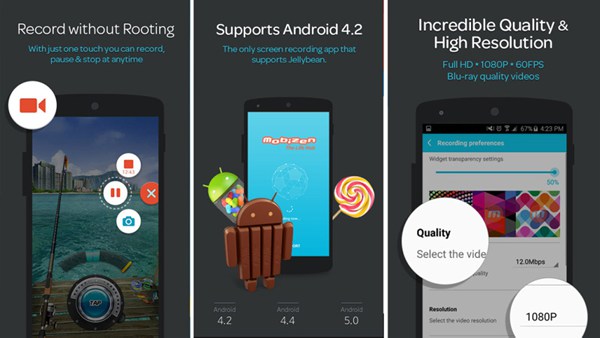 Pros

An easy-to-use UI for everyone to use.
Support 1080p and 60 fps frame rate.
Cons

Sometimes crashes without saving the recordings.
FAQs about Minecraft Screen Recorders
1. Does Minecraft provide the default screen recorder for easy capture?

Unfortunately, the answer is No. No matter you want to take screenshots or record on Minecraft, you need a professional screen recorder. You can choose the most suitable one from the mentioned article.

2. How to record Minecraft with no lags?

If you get the Minecraft recordings with lags, you should pay attention to the frame rate. Before the recording, you need to adjust the recording settings and select more than 60 fps frame rate to record Minecraft without lags.

3. Which is the best Minecraft screen recorder for Windows/Mac?

Definitely AnyRec Screen Recorder. It provides a designed game recorder with high quality and frame rate, and it also supports adding annotations, clipping the recordings, and many additional functions to meet your requirements.
Conclusion
After reading this article, you must have learned about the features of the best 9 Minecraft screen recorders. No matter you want to record the gameplay on your computer or mobile, you can get the best choice. Welcome to tell your feelings after you try any mentioned Minecraft screen recorder. First of all, let's start with AnyRec Screen Recorder.
Related Article