Review 2023: OBS Screen Recorder and Its Alternative on Windows/Mac
Many people, primarily gamers, often use OBS Screen Recorder as their gameplay recorder. It allows you to record different game genres to share on your social networks such as YouTube, Facebook, Twitch, and other sites. Even if you are not a gamer, you can still use OBS Screen Recorder to record videos like a tutorial, business meeting, or content on the internet. However, is OBS Screen Recorder suitable for beginners? Or is it totally freeing for advanced software? And does it allow you to record high-quality videos you can share with any social network? This article has the answers about OBS Screen Recorder and furthermore, so you will know more about the features this powerful program.
Part 1: Three Main Features of OBS Studio Screen Recorder
1. Customization of Video Quality and FPS
When it comes to screen recording, you need to consider the video quality a program can give you. OBS Screen Recorder, however, allows you to customize the capture quality for game recording that can keep the video look smooth. Moreover, you can choose the resolution of your monitor and apply the necessary resolution downscale.
Another good thing about OBS Screen Recorder is even when you upload your recorded content; the quality is still the same. This feature is a gem because not all recorder programs will give it for free, and to make it worse, they will set it for a high price.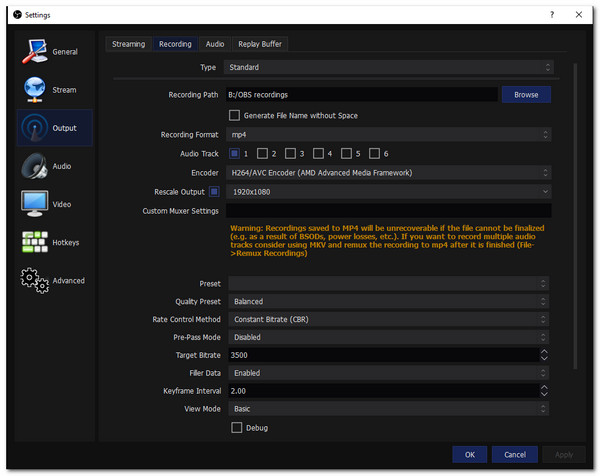 2. Multiple Platforms supported for Live Streaming
OBS Screen Recorder is undoubtedly the most fantastic software for being an open-source program. It allows you to stream live on Facebook, VK, Huya, Twitch, and other social networks. Setting up the video capture parameters is an excellent move to have a better-quality video when you share it on any social media accounts. Adding other elements to your videos, such as personalized watermarks, essential audio input, and more.
3. Record Multiple Sources
Another powerful function of OBS Screen Recorder is that it is more than a game recorder and enables you to add Global Source, Video Capture Device, Monitor Capture, Image Slide Show, and many more. Aside from these, OBS allows you to capture the mouse cursor if you are recording a tutorial video, stretch images on the screen, and more. You don't even have to worry about recording video with an in-game overlay because OBS Screen Recorder will do the job in the background.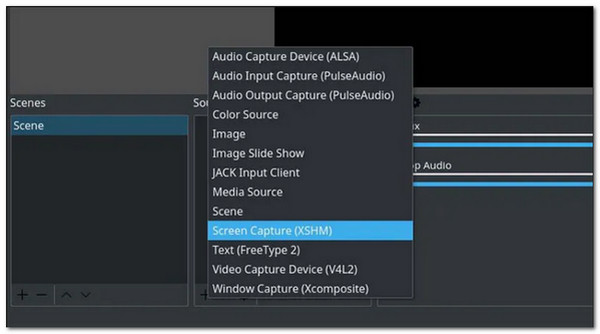 Part 2: Overall Reviews of OBS Studio Screen Recorder
Overall Score: 4.64/5 stars
Supported Operating Systems: Windows, Mac, Linux
Pros

Use overlays and on-screen elements.
Free access to advanced tools.
Able to record in H.264 codec with high quality.
20+ plugins enhance the functionality.
Collaborate with Facebook live streaming and and more.
Cons

It can't be linked to an audio file as a source.
Too complex program to navigate by beginners.
Difficult to adjust the webcam image.
High learning curve.
Summary: Overall, OBS Screen Recorder is a free and powerful screen recorder, especially for games and live streaming. But it's too complex for beginners to capture meetings, tutorials, and other videos. In this case, you can go for the best alternative to OBS Screen Recorder.
Part 3: The Best Alternative Screen Recorder to OBS Review
As mentioned before, OBS Screen Recorder may take you much time to understand the program and use it to your liking. Having an alternative related to OBS Screen Recorder is a good move, especially if you are hurrying up to finish a project. AnyRec Screen Recorder got your back! This program records all your computer activities with the options to customize the settings. Record your gameplay with unlimited time recording, add commentaries with the video recording, and more.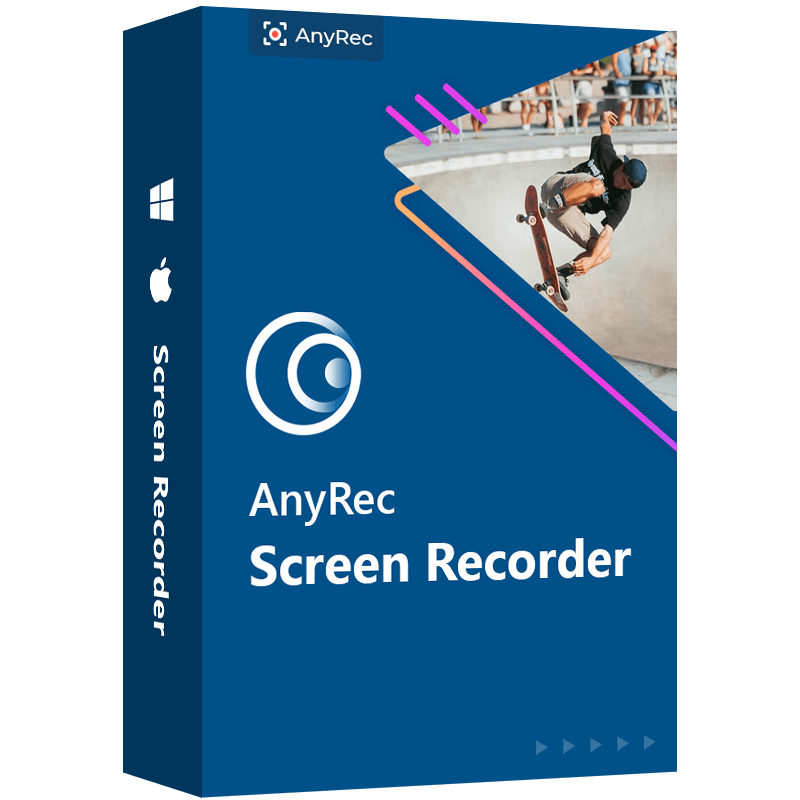 AnyRec Screen Recorder
Provide three recording mode: Game, Audio, and Video Recorder.
Record video, audio, and webcam in lossless quality.
Capture the screen flexibly in full screen or selected regions.
Additional functions to take screenshots, set schedule recording, etc.
How to screen record with the best alternative to OBS Screen Recorder:
Step 1.Once you have downloaded the software, launch it, and you will have the option for recording. Click the Video Recorder, Audio Recorder or Game Recorder to start recording.

Step 2.You will see the red line around the monitor. Customize the settings to enjoy the recording fully. Here, you can click the Full button to capture all the activities on your monitor. Or click the Custom button to adjust the red line or select a specific window to record.

Step 3.Make sure that your microphone is already set up to capture your voice on the recording. Once everything is good, click the REC button to record. When the recording starts, a widget menu will appear to let you pause, stop, and screenshot the recording session.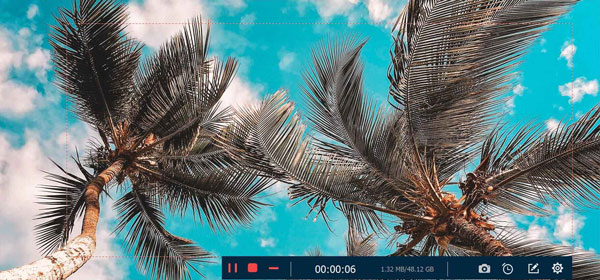 Step 4.After stop recording through this OBS Screen Recorder alternative, you can set the record length by clipping it. then click the Save button to export it to the designated folder.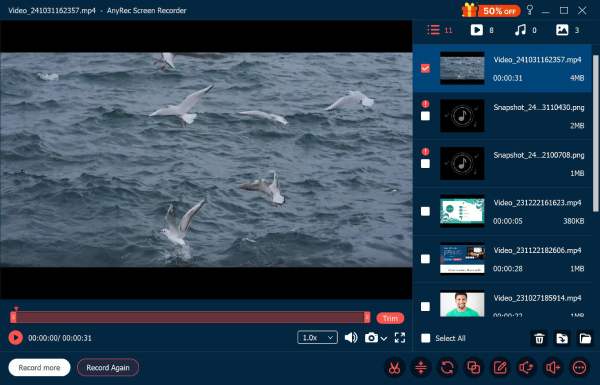 Part 4: FAQs about OBS Studio Screen Recorder Review
1. Is the OBS Studio screen recorder free?

Absolutely yes. OBS Screen Recorder is 100% free for live streaming and video recording. It is open-source software that offers many functions that are useful for any video recording. Moreover, it doesn't offer a free trial and comes without enterprise pricing plans.

2. Does OBS Screen Recorder guarantees safety and security?

Yes. To ensure that the OBS Screen Recorder you get is safe, download it to the official website. Don't worry; the official website will not ask for payment; instead, it will offer you different download buttons compatible with your devices such as Windows, Mac, and Linux.

3. How to use OBS screen recorder to record Minecraft?

Open OBS Screen Recorder and go to the Sources box, click the + button, and select Game Capture to add the Minecraft as a new source. Once the Properties window appeared, choose a Game Capture Mode. Edit other settings like applying filters, an audio mixer, and more. Press the Start Recording to begin recording your gameplay.
Conclusion
It is a wonder how OBS Screen Recorder is a professional and advanced program to capture your computer activity for free. Many users recommend this program, especially if you want to record games with quality. The only downside of OBS Screen Recorder is how it will be challenging to learn, especially when you are a beginner at using it. That is why recommending the best alternative to OBS - AnyRec Screen Recorder is a good choice. You can capture video and audio recordings with its intuitive tools and features. If you have more questions, please contact us now!
Related Articles