OBS 27.2.4 Review – Is OBS for Mac Good to Use?
Is OBS good on Mac?
It is not an easy question to answer with a simple 'Yes' or 'No' directly.
I'll show you my honest experience about installing and running OBS Mac software.
The current version of my MacBook Air is macOS Big Sur, version 11.3.1.
Now, let's see the OBS for M1 review together.
1. Download and Install OBS Studio on Mac
On the official obsproject com website, I can get a direct OBS Studio Mac download button. OBS requires macOS 10.13 and later. A new window pops up once I click the macOS 10.13+ download button. The entire OBS Mac download process takes 5 seconds or so. It is pretty fast.

After downloading, OBS pops up a welcome page too. It says, 'Thank you for downloading OBS Studio!' If you fail to download OBS Studio Mac software, you can click its Try again hyperlink to have another download.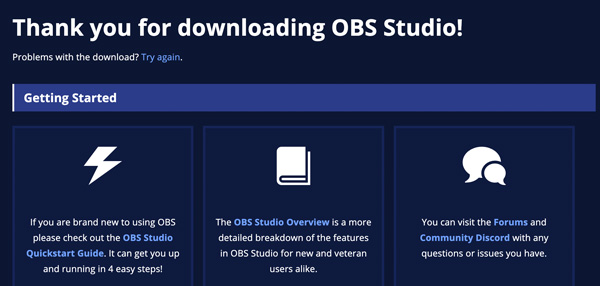 The OBS Mac 27.2.4 DMG package takes 152.4MB. It is kind of large for a screen recorder. So if your Mac runs out of storage space, or you want to record Mac screen quickly, you can get other alternatives to screen record on Mac with audio here.
The Mac OBS installation is quick. Just double-click on the DMG file. Drag and drop the OBS for Mac software icon into the Applications folder. That's all.
2. Mac OBS Setup
Click Open button in the 'Are you sure you want to open it?' popup. Moreover, OBS requires a microphone and Keystroke receiving access. Follow its on-screen guide to complete it.
In the Auto-Configuration Wizard, there are three choices. I can get OBS streaming optimization, recording optimization, and virtual camera usage. OBS Mac can detect the best settings based on your computer specs and Internet speed. As for me, I choose 'Optimise just for recording, I will not be streaming'. Click Next button to move on.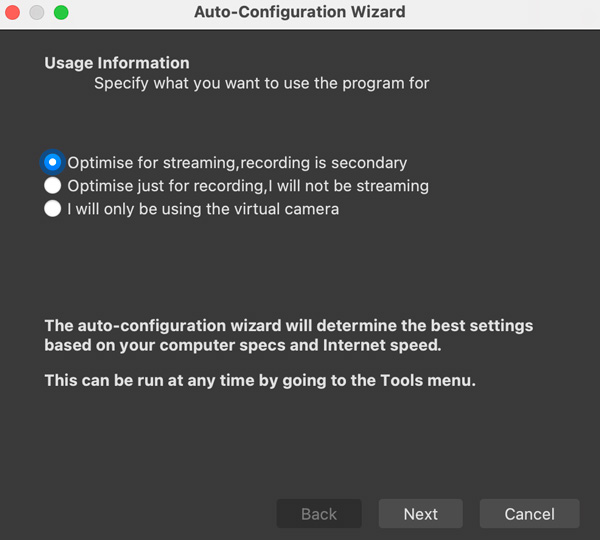 I can specify OBS resolution and FPS manually. Or I can use the default OBS Studio settings. Here the current OBS for Mac resolution is 1920 × 1080. The OBS FPS is Either 60 or 30, but prefer 60 when possible.
Also, click Next button and then click Apply Settings button to save changes and move on. That's all to complete Mac OBS setup for streaming or recording.
3. OBS for Mac Settings (Optional)
From the top OBS dropdown list, click the Preferences button to access OBS recording and streaming preferences and settings. Here I can go to General, Stream, Output, Audio, Video, Hotkeys, and Advanced to make personal customizations.
Streaming is the crucial point that makes OBS different from other common screen recorders. In the OBS Stream section, I can link OBS to Twitch, Steam, YouTube-HLS/RTMPS, Facebook live, Mixcloud, and many other platforms. After selecting the OBS streaming platform, I can connect the user account or use the stream key to start OBS live streaming.

OBS has optimized video and audio settings based on the computer performance already. In the Simple output mode, my default OBS streaming output settings include 2500 Kbps video bitrate, software (x264) encoder, and 160 audio bitrate.

As for OBS recording outputs, I get High Quality, Medium File Size, MKV, and Software (x264). The OBS recording quality and encoder are customizable. You can change OBS recording format to MP4, FLV, MOV, M3U8, and TS from the recording format list. You can run a free online video converter to convert OBS video to other formats if necessary.

So it's okay to use default OBS settings. As for experts, you can choose Advanced from the Output Mode list to make more changes here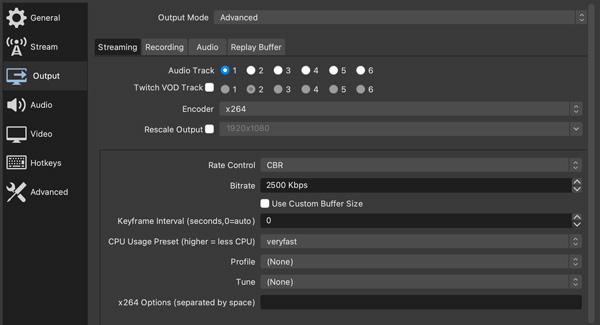 4. How to Use OBS on MacBook Air M1
1. Create a Scene and Add Sources
In the bottom right click, click the button with a cross icon to create a new scene in the Scenes area. OBS Studio for Mac allows users to create multiple scenes. So you can get custom transitions with those scenes seamlessly. In the Sources section, click the button with a cross icon to get a list.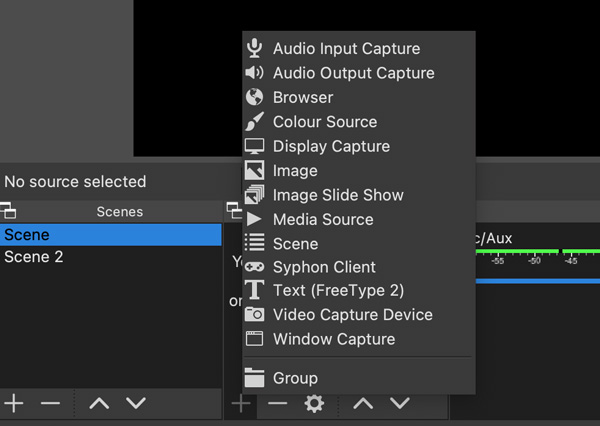 I choose Browser to record OBS with browser audio. OBS requires a specific URL and the recording area. Click OK button to save changes. Later, OBS can detect and scrab the video and audio content on the display screen.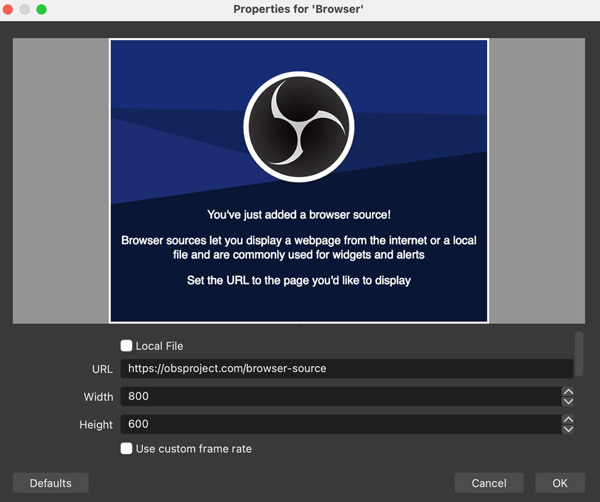 2. Adjust Audio Mixer and Scene Transitions
Drag the Volume slider with the left-click mouse. Moreover, click the gear icon to adjust OBS recording settings. As for the scene transitions, click the Cut or Fade button. Later, set the custom duration. For starters, it's okay to skip this part.

3. Record with OBS on Mac
If you want to record and stream gameplay to Twitch (or record Twitch streams) and more, you can click the Start Streaming button directly. As for me, I'll click the Start Recording button to record with OBS on MacBook Air M1 directly.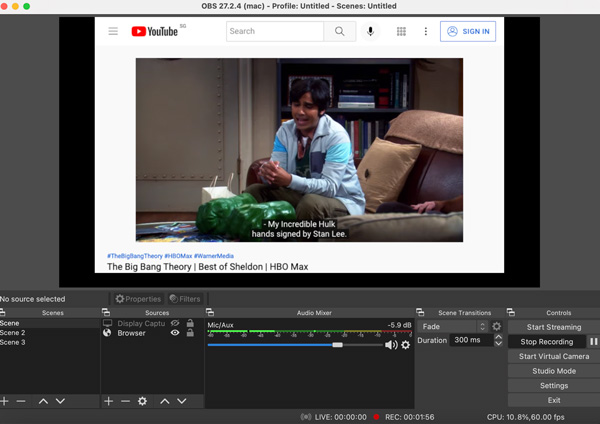 Click the Pause button to pause and resume the OBS recording. To finish recording with OBS Studio, just click the Stop Recording button in the same place. OBS will stop and directly save the recording video to the default path folder. (Check where OBS recordings go.)

OBS shows the CPU usage, FPS, and recording length at the bottom. Currently, it takes 13.4% CPU to record a streaming video from a browser. Everything goes on well with my Mac yet. No crash nor lag.
There are also other available options here. Click the Start Virtual Camera button to send your OBS video to Zoom, Discord, Skype, and other applications directly. In other words, you can turn OBS for Mac as your virtual camera instead of correcting an actual capture device.
The OBS Studio Mode is fun. It just shows the Preview and Program displays in the same window. So users can add quick transitions with instant preview.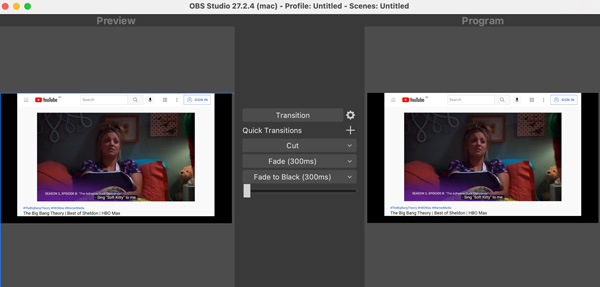 5. OBS Mac Problems That Other Users and I Encounter
The entire OBS Mac recording process is good. OBS runs well on my Mac. It seems that OBS Studio for Mac is a pretty good screen recorder for mac OS 10.13 and later users. Is that so? My Activity Monitor shows OBS takes 26.5% GPU and 45.4% CPU while recording a browser video. No complicated scenes or settings. It is not friendly to people who use OBS on older computers.
According to other Mac users, there are still many bugs OBS needs to fix.
◆ I steam on YouTube for 2 hours with OBS 27.2. It crashes twice.
◆ Windows allows you to choose individual parts from the audio interface. Mac just lets you choose the whole device.
◆ The frame dropped due to rendering is very high while recording a video playback.
◆ It works fine with YouTube, Spotify and etc. sounds. But there is no internal audio in Steam game recording in OBS.
◆ OBS quit unexpectedly on Monterey/Big Sur …
◆ OBS display capture not working …
◆ Black screen display in OBS Studio …
◆ ...
For those OBS not working on Mac issues, you can restart/reinstall/update OBS software and restart your Mac computer first. If the problem still exists, maybe you can get an OBS alternative to record on Mac instead.
6. What Is Better than OBS for Mac
For beginners who want to record Mac screen quickly, AnyRec Screen Recorder is a good choice. No heavy CPU and GPU usage. You can start and stop recording on MacBook Air/Pro in clicks. Unlike QuickTime, there is no need to install SoundFlower or BlackHole for internal audio recording on Mac. Also, you can get other valuable features about Mac recording here.
Intuitive Interface
Though OBS Studio is an excellent screen recorder freeware for Mac, it is not friendly to older computers. Its complicated interface is also unfriendly to beginners. If you have difficulties recording with OBS, or your computer is too old to load OBS for Mac, then AnyRec Screen Recorder is a good alternative.

Record Mac screen with Internal Audio
You can record screen video with computer audio and microphone voice flexibly. It is easy to record online video calls (Skype calls, FaceTime calls, etc.) and meetings from both ends.

Add Annotations
OBS Studio Mac software doesn't provide real-time annotations. If you want to add text, lines, arrows, and other shapes while recording videos or taking screenshots, then AnyRec Screen Recorder is a better alternative than OBS Studio.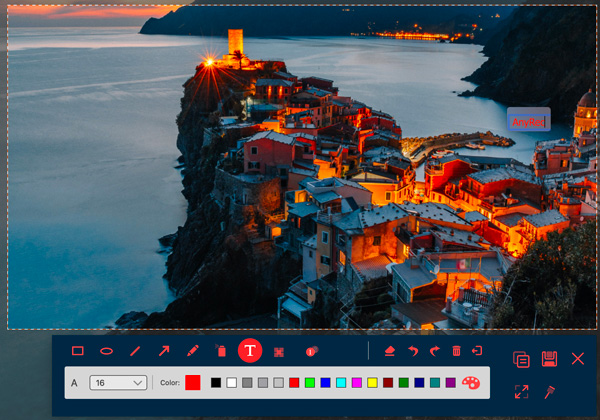 Record Video to GIF
Yes, AnyRec can be your GIF recorder as well. You can record and trim any video clip into GIF format in one stop. If you record with OBS on Mac, you need to use an online GIF converter to convert video to GIF format for free.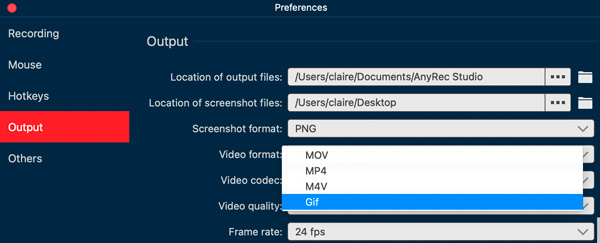 7. FAQs about OBS Studio for Mac
Is OBS laggy on Mac?

It depends. OBS works well on my Mac. But many users complain about OBS suddenly lagging and stuttering on Mac issues. During this time, you can downscale output resolution, lower frame rate, change the x264 preset, install hardware encoders, or try OBS Mac alternatives.

Is OBS Studio safe on Mac?

Yes. OBS Studio is virus-free on Mac and Windows. Just download OBS Studio from its official website. There are no ads, viruses, bundleware, or malware in the OBS package.

Are any plugins now supported for OBS on Mac?

You can download OBS Websocket, Shaderfilter and OBSTimeBud from obsproject forum and GitHub.
Conclusion
In short, OBS for Mac is good for streaming and expert-level screen recording. It requires high computer resources. If you are new to OBS Studio, or your computer doesn't have enough storage space, you can give AnyRec Screen Recorder a chance. That's all for the OBS for Mac review in 2023. If you are interested, you can get OBS for Windows review here.
Related Article