Get Your 10 Best Voice Recorders on Mac (including macOS 12.5.1)
Mac is the most popular platform for audio and video professionals because of its ease of use, stability, and overall performance. But despite the fact that a Mac has built-in voice recording software in QuickTime Player, it is not capable of high-end recordings such as podcasts or music creation. Moreover, it cannot record the system sound. With that being said, you will need the best voice recorder for Mac to give you better results. And so, meet all your needs together with the powerful Mac operating system and the greatest voice recording software. Without further ado, have a look at some of the exceptional voice recorders app for Mac.
Part 1: The Best Voice Recorder for Mac to Record Any Sound with High Quality
First, spend some time and take a look at the most competent and powerful voice recorder for Mac. AnyRec Screen Recorder allows you to record audio on Mac with high quality. What is more interesting about this app is it can record both your microphone and system sound. It also has distinctive features such as noise cancellation and voice enhancement. What are you waiting for? Download this powerful app and experience recording without lags and quality loss on your Mac!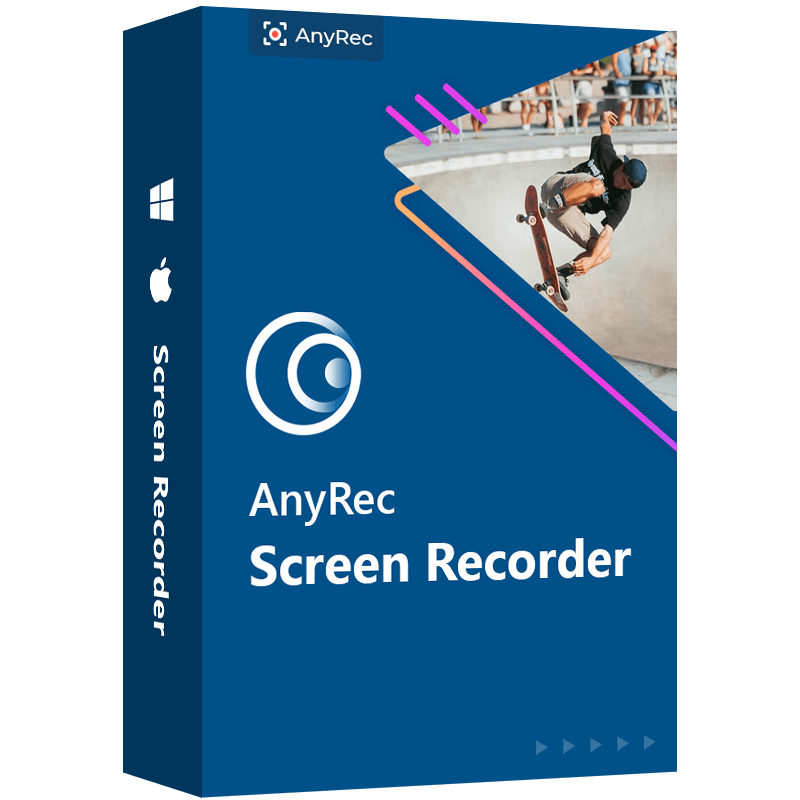 Mac Voice Recorder
Record internal and external audio on Mac simultaneously or separately.
Boost weak audio, eliminate audio noise, and stop audio echo.
Record audio from any platform and then export it to MP3, AAC, M4A, etc.
Make a scheduled task if you wish to record audio for several hours.
Save or Share your Mac voice recording to any format or platform based on your need.
Steps to Follow:
Step 1.Once AnyRec Screen Recorder was launched, you can now click the Audio Recorder button to record voice on Mac.

Step 2.Manage Mac audio recording withSystem Sound button and Microphone button. Here you can select the desired audio channels. If you wish to record internal audio on Mac, you must click the System Sound button. On the other hand, if you wish to record your voiceover, you must click the Microphone button. And, if you wish to record video calls, turn on both buttons.

Step 3.To change and tune the level for both system sound and microphone, go to the Sound tab. To record the best audio quality, simply check the Microphone noise cancellation or Microphone enhancement options. The Start sound check button also allows you to test the sound effect for up to 20 seconds.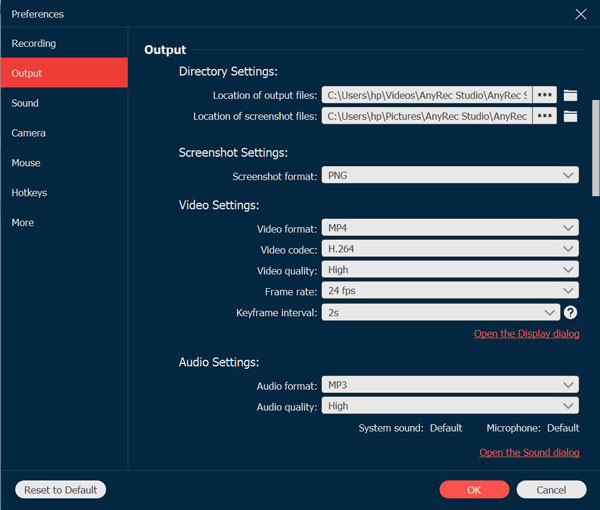 Step 4.To begin recording the audio file on your Mac, click the REC button. You can, of course, modify the audio volume at any time during the procedure.

Step 5.To preview the voice recordings, click the Stop button, and then click the Save button to save it to your computer. You may also utilize the clip tool to remove undesirable bits of an audio recording while previewing it.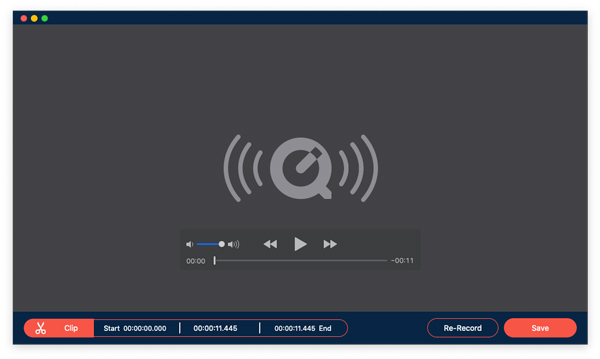 After learning the detailed steps, you can record the internal and external sound on your Mac easily.
Part 2: Top 9 Best Voice Recorders for Mac You Should Know
Aside from the most outstanding voice recorder that is mentioned above, this post has compiled a selection of the voice recorder apps that will run well on your Mac. You can look through the list and pick one that suits your needs.
Top 1: Macsome Audio Recorder
Though Macsome Audio Recorder lacks some professional tools for voice recording on the Mac, it is a solid alternative for recording sound from numerous sources, such as apps and the internal microphone.
Pros

Create a simple user interface.
Individual apps, microphones, and hardware can all be used to record.
Cons

There is no quality enhancement.
Some functions, such as voice overlay, are missing.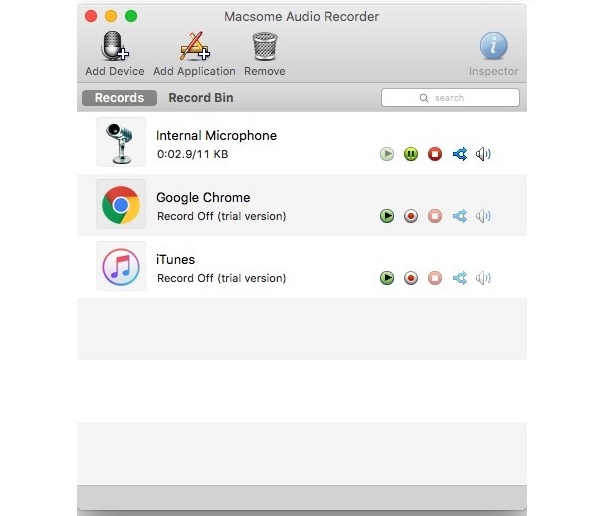 Top 2: Ocenaudio
Another all-in-one speech recorder program for Mac is Ocenaudio. It allows you to record voice and sound from a variety of sources. You may then edit them all within the same app. Furthermore, it is completely free to download and use on the majority of Mac systems.
Pros

Effects can be applied to particular clips of the recording.
Listen to the audio effect in real-time before you use it.
Cons

It is huge and takes up a lot of space.
There are much too many elements to learn in a short period of time.
Top 3: Audio Hijack
For MacBook Air and comparable versions, Audio Hijack is a good audio recorder for Mac. It can collect any voice from your microphone as well as sound from apps on your computer. It provides a 15-day free trial as well as a variety of licenses.
Pros

Provide a diverse range of audio effects and filters.
There are advanced options available.
Cons

The number of export formats is limited.
Beginners will not be able to master all aspects in a short period of time.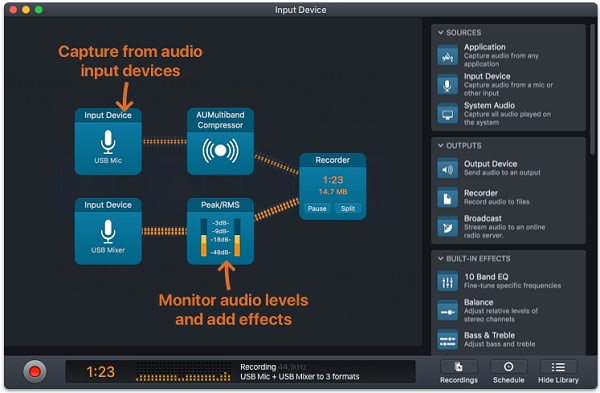 Top 4: Audacity
Audacity is a Mac audio recording program that is free and open source. It also has a greater range of control, as you can see here. The nicest aspect about Audacity for Mac, though, is that it includes a number of editing features. Audacity is, in fact, a digital audio editor first and a recorder second.
Pros

There is a variety of audio recording and editing options available.
Recording and editing tools for professionals.
Cons

Audacity's user interface isn't very user-friendly.
It takes some time to get used to.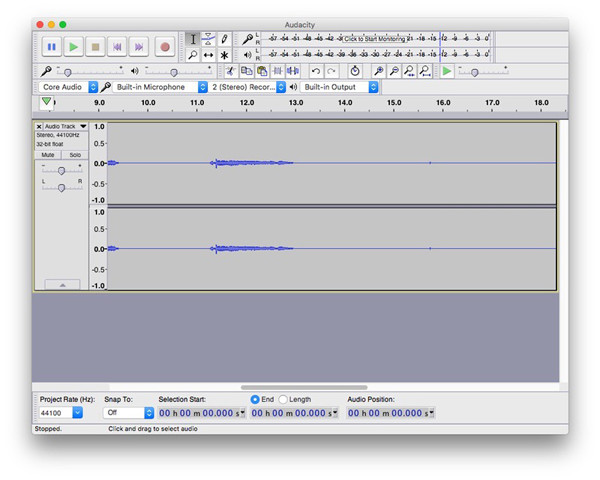 Top 5: Simple Recorder
Simple Recorder is also an easy-to-use recording application for recording audio on Mac. It does not have a lot of bells and whistles, but it does the job. Simple Recorder resides in the menu bar and can start the audio recording in just two clicks. When you need to take short notes and record lectures, this is the best option.
Pros

Simple and quick to use.
Provides support for a variety of sources as well as basic customization.
You can control all of your actions directly from the icon menu.
Cons

Basic Editing Options are not available.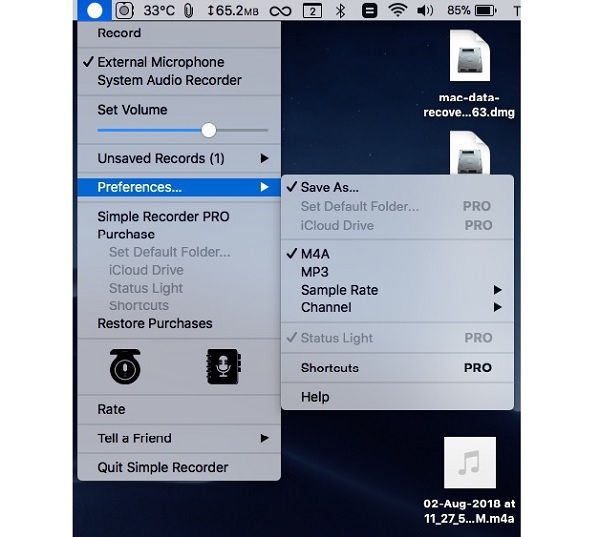 Top 6: Piezo
This voice recorder program for Mac is used by many Mac users to record podcasts. It is, of course, possible to record your voice using the built-in or external microphone. Furthermore, anyone can rapidly master it.
Pros

Provide some high-quality presets.
Podcasts, Skype, FaceTime, and other services are all available.
Cons

There are no custom options available, such as bitrate.
In comparison to the price, it is far too simple.

Top 7: Garageband
Another popular music recorder and editor that turns your Mac into a small recording studio is Garageband. It has a full music library that includes session drummers, guitar and vocal preset, and other instruments. Users can use it to record, edit, and share their original sounds with their peers. Learn more about recording audio on Garageband here.
Pros

It is simple to use.
The audio effects are great.
Recording in MP3, FLAC, and AAC formats.
Cons

This is not a free tool ($49).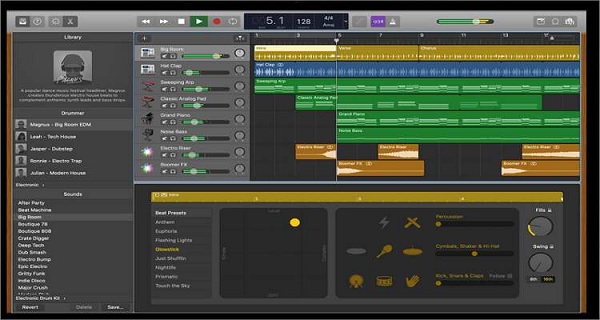 Top 8: Filmage Screen Recorder
For Mac and iOS devices, Filmage Screen Recorder is a popular video and audio recorder and editing app. Using a microphone or any other sound input device, this software can capture audio from your system as well as external audio.
Pros

Enables 1080p/4K resolution HD video screen recording.
Has multiple editing features.
Cons

There is a time limit on the free plan.
Only available on macOS.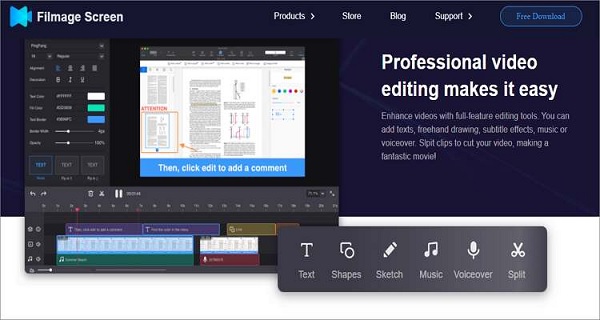 Top 9: eXtra Voice Recorder
eXtra Voice Recorder is both a voice recorder and an audio file manager for Mac. This program is available for download directly from the Mac App Store. It's also accessible in a variety of languages, including English, German, French, and others.
Pros

Recordings can be annotated with notes and remarks.
Use bookmarks to keep track of important clips.
Cons

It doesn't come with any basic editing tools.
There are no advanced options available.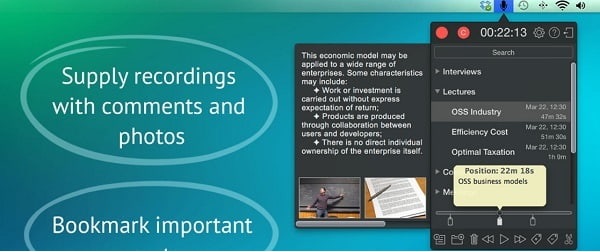 You may want to get best voice recording apps for iPhone and Android in 2023.
Part 3: FAQs about Voice Recorders for Mac
1. Is there a limit to how long Mac can record voice?

Although there is no set time restriction, the amount of data you can record is limited by your device's internal storage capacity.

2. How can I record without background noise?

You know what? That is possible with the help of AnyRec Screen Recorder. This app has distinctive features such as noise cancellation and voice enhancement that will help you record your voice on Mac without background noise.

3. Where can I see my recorded audio files?

All the recorded audio files are automatically saved in the Finder of your Mac. However, you can choose the location where you want to store them.
Conclusion
Mentioned above are the 10 outstanding voice recorders for Mac this 2023 for both newbies and pros. However, if you want to record your audio with high-quality sound and noise cancellation, the best tool for you is AnyRec Screen Recorder. You can freely download this voice recorder on your Mac and experience recording with ease and high quality.
Related Article