9 Best Finds of MP3 Recorders to Record Audio on All Devices
It's never been easier to record your voice than it is now. You may start your voice recording without much effort if you have a MP3 recorder on Windows/Mac/Android/iPhone. No matter you want to record your favorite music or do voiceover on your videos, capturing them in MP3 format is a good option.
However, with so many MP3 recorder apps available on the Internet, how can you know which one is ideal for you? Good thing this article will put together a list of the best MP3 voice recorders for Windows/Mac/Android/iPhone. You can learn the basics and significant features of them before deciding which one to use to record sound to MP3.
Part 1: The Best MP3 Recorder for Windows/Mac [Recommended]
There's no better way of recording audios than using AnyRec Screen Recorder. This MP3 recorder is a screen and audio recorder that is lightweight and powerful, making it suitable for beginners and professionals. Moreover, you may record everything on your computer, including screen video, audio, webcam, and gaming. And so, install this excellent MP3 recorder now and enjoy listening to your recorded audio!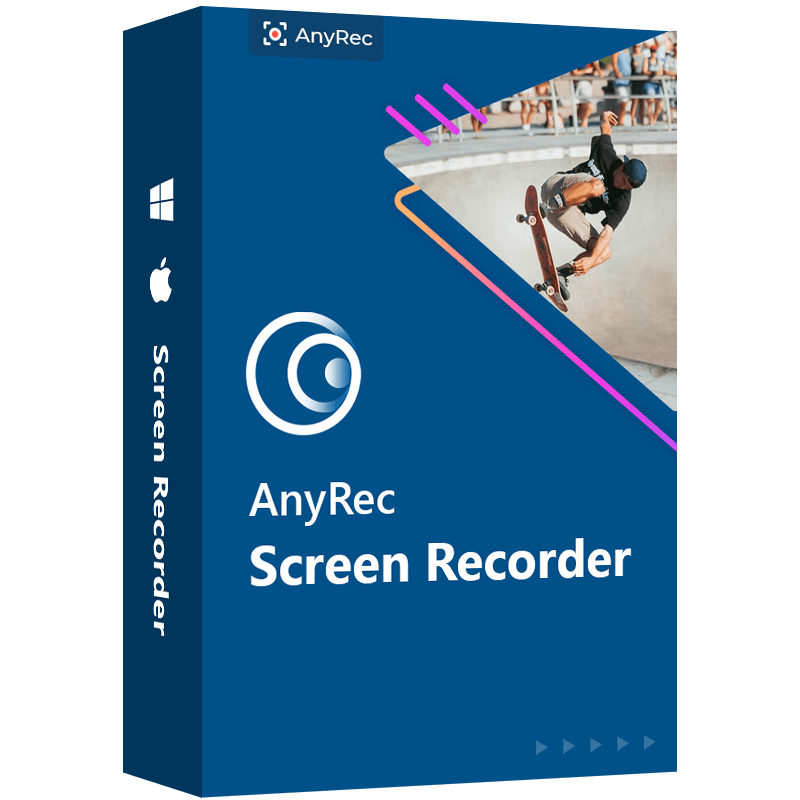 Excellent Features of the Best MP3 Recorder:
Record the system audio, and microphone voice simultaneously or individually.
Save audio recordings in several formats such as MP3, WMA, M4A, etc.
Provide noise cancellation and audio enhancement to keep high quality.
Hotkeys to start, pause, and stop recording quickly at any time.
Step 1.On your Windows or Mac computer, download and run the AnyRec Screen Recorder. Then, open the MP3 recorder, and select the Audio Recorder option.

Step 2.After that, you can turn on the System Sound button to record the computer audio and also the Microphone button to record the microphone voice.

Step 3.Next, click the Output button, then a new window will appear on your screen. From there, click the Audio Format drop-down button and choose the MP3 format. You can also change the audio quality according to your desire. Once done, click the OK button.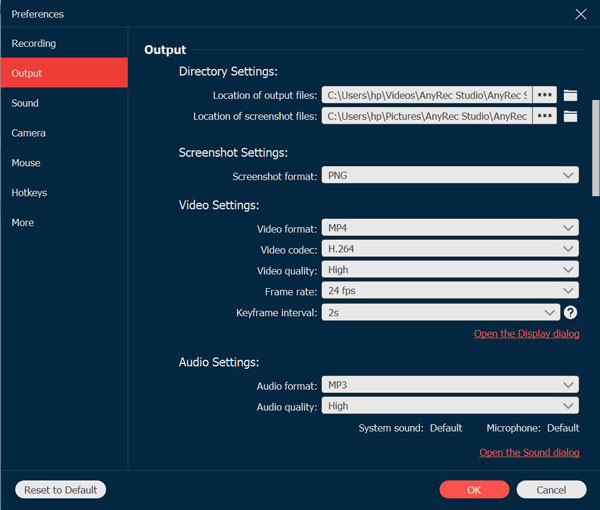 Step 4.Afterward, click the REC button to start recording your audio through this MP3 recorder. When you are done recording your audio, click the Stop button.

Step 5.You are about to finish! Click the Preview icon to preview your recorded audio. Then, when you are satisfied. Click the Save button to save it to your device.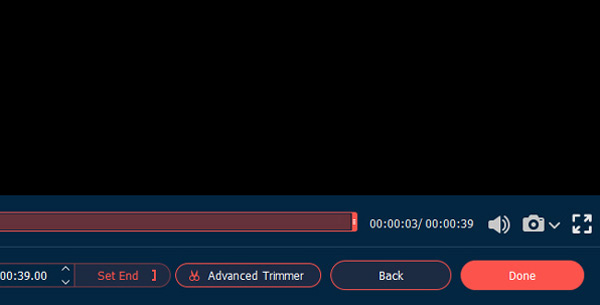 Part 2: 5 More MP3 Recorder Software for Windows/Mac
In this section, you will know the different MP3 recorder that is compatible with both Windows and Mac devices. Please keep on reading and see which of them can meet your needs.
Audacity
Audacity is a free and professional voice recorder for Mac. It has an enhanced integrated panel that allows users to record music in MP3 formats. Aside from audio recording, this MP3 recorder has a high-performance editing toolset that allows bulk processing and editing of numerous recordings simultaneously. Aside from audio recording, Audacity also includes professional editing tools. You can edit recorded audio by cutting, copying, deleting, applying audio effects, and more.
Pros

It features a wide range of sound effects.
Multiple audio tracks are supported.
Cons

The noise reduction feature needs to be upgraded.
Some features are difficult to comprehend.
Ardour
Ardour is essential to record, edit, mix, and master audio and MIDI projects. It's a professional and free MP3 recorder that's also cross-platform, like Audacity. This program includes a user-friendly interface and a powerful editing tool that allows users to stretch, copy, paste, crossfade, and rename audio files to their desired quality. It can also be used for audio editing in addition to recording. You can cut, move, delete, align, trim, etc., your recorded audio.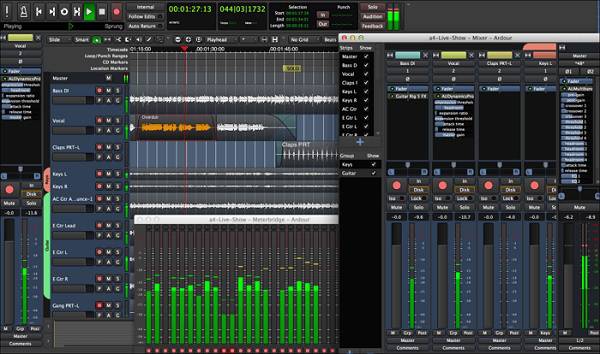 Pros

There's a decent audio interface included.
Users can construct their midi instruments with this program.
It contains a drag-and-drop feature that makes importing files simple.
Cons

Beginners will find it difficult to use.
Audio Hijack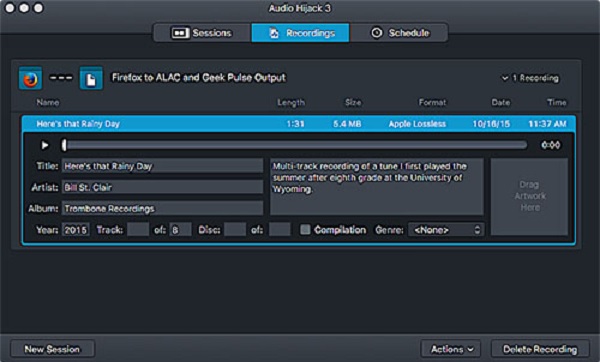 Audio Hijack is an excellent free MP3 recorder program created by Rogue Amoeba Software. Unfortunately, this application is only for Mac users. For the record, this program has many cool features that make it a popular recording tool for podcasters worldwide. It enables users to burn audio recordings to CDs. In addition, the program includes advanced editing features that make it enjoyable to use.
Pros

All major audio formats are supported.
A real-time preview is possible.
Cons

There are fewer processing possibilities than in other programs.
123Apps Online Voice Recorder

One of the known online sound recorder that supports MP3 format is 123Apps Online Voice Recorder. It can help you record your computer sound and save it as an MP3 file. This MP3 recorder provides a simple method for starting an audio recording on your computer. There is no need to download any additional software or extensions. Moreover, it lets you edit the captured audio file in addition to recording it. For example, it allows you to trim your recording and remove the bits that aren't needed.
Pros

Built-in and external microphones are both supported.
Most web browsers are compatible.
Cons

It can only save MP3 files as audio recordings.
If your internet connection is slow, the online MP3 recorder will lag.
Free Sound Recorder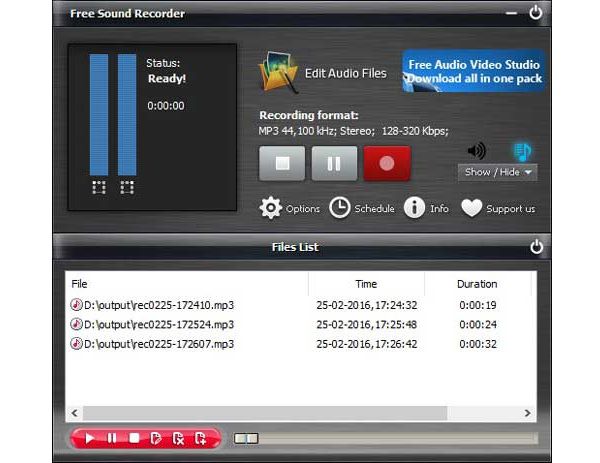 As the name implies, Free Sound Recorder is a free MP3 recorder for both Mac and Windows users. This tool lets you record from any source at any time, which is convenient. It also comes with several audio effects to assist you in improving the quality of your MP3 audio output. This software supports external input devices like LPs, CDs, music cassettes, microphones, and programs like Media Player and Quick Time.
Pros

Preset quality feature that adjusts the output audio quality for the best results.
It can record system sound from any source as well as your voice.
Cons

There are no beat-making tools available.
Part 3: Top 3 MP3 Recorder Apps on Android/iPhone
You can also consider using the outlined MP3 recorders below to record MP3 on iPhone and Android devices for smartphone users.
MP3 Recorder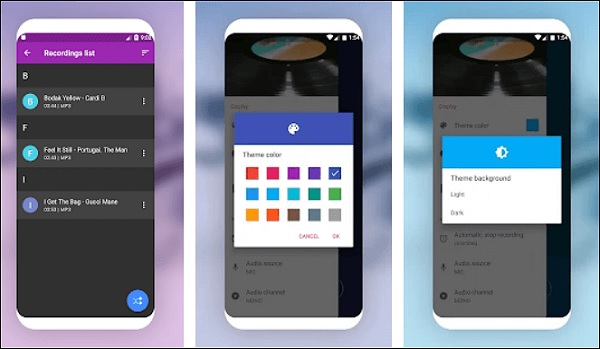 For Android users, this is a free MP3 recorder app. It is practically suited for everyone, as it comes in various stunning themes and colors. The MP3 recorder software allows you to capture any sound you hear, including personal notes, presentations, and negotiations. You'll be blown away by the exceptional quality and small size of the recorded files once they're finished.
Pros

Choose a sound channel. You can choose between mono and stereo.
Share recordings on Facebook, Messenger, Dropbox, and other social media platforms.
Cons

It doesn't record the sound of the system.
Smart Voice Recorder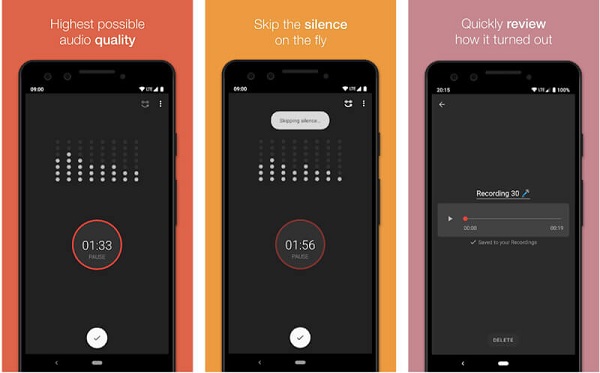 Smart Voice Recorder is a popular MP3 recorder for Android that is both free and simple to use. It has a clear and easy user interface and has been specifically developed for high-quality and long-term recording. This audio recorder is primarily intended for recording high-quality, long-duration voice. Smart Voice Recorder is a basic voice recording application. Depending on what occurs first, it allows you to record night sleep chats or even snoring.
Pros

You can shorten recordings by omitting relative silence using a skip silent on-the-fly tool.
Cons

There is a bug in the recording sessions where the app will not resume recording after a brief pause.
Voice Memo - Default Voice Recorder on iPhone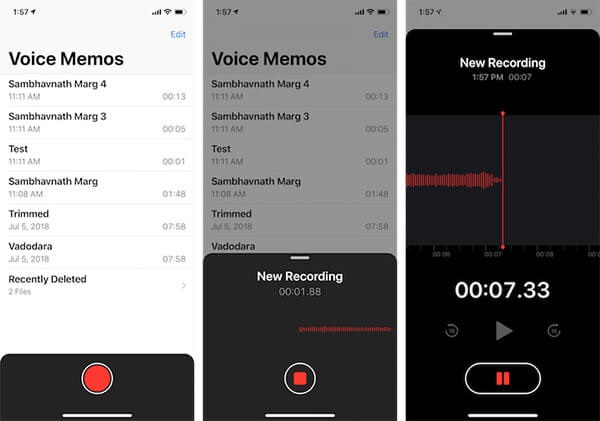 Voice Memo is a built-in MP3 recorder on iPhone that you can use to record your voice immediately on your iPhone, iPad, or iPod. It allows you to capture high-quality audio effortlessly. On iPhone, it may seamlessly record lectures, presentations, meetings, your ideas, and other voice. More importantly, this MP3 audio recorder will allow you to record your voice in very stable manner. Furthermore, basic editing tools allow you to customize the captured audio. You can trim the recording and save only the parts that are required.
Pros

It lets you record your voice in MP3 format on your iPhone.
It is free and doesn't require installation.
Cons

It cannot record phone calls, Skype calls, or other VIP calls.
MP3 recordings are tough to transfer to other devices.
Part 4: FAQs about MP3 Recorder for All Devices
1. Can I record audio from QuickTime on Mac?

Yes. But QuickTime only supports recording the sound from microphone instead of the internal system sound. Thus, you may need to rely on AnyRec Screen Recorder - the best MP3 recorder to capture any audio on Mac.

2. How to record an MP3 on iPhone?

You can record an MP3 on iPhone by using its default voice recorder. It allows you to record your sessions, meetings, speeches, etc. You have to open the Voice Memo, then click the Start button. And when you are done, click the Stop button.

3. Is it best to record audio in MP3 format?

Of course, yes. MP3 is the most commonly used audio format because of its high compatibility. You can play MP3 recordings on all devices, including computers and portable devices. Thus, you need MP3 recorders mentioned before.
Conclusion
To sum up, we have given you the nine best MP3 voice recorders for Windows, Mac, Android, and iPhone devices. What can you say? We would love to hear something from you. You can leave us your message!
More Related Articles