[Detailed Tutorial] How to Open HEIC File on Windows (7/10/11)
If you receive some HEIC files from others and wonder why you can't open HEIC files on your Windows 10 computer, here is the answer for you. HEIC is a picture format developed by Apple and the photos taken by iPhone and iPad are in this format. Therefore, if you own an iPhone and a Windows computer at the same time, and when you try to transfer a HEIC file to the computer, you will fail to open the HEIC file on Windows.
Part 1: Convert to Open HEIC Files on Windows 7/10/11
HEIC stands for High-Efficiency Image Container is an image format often seen in iOS devices to store images. Consequently, you may find it hard to open HEIC files on a Windows device. Conversion is the simplest way to help you open HEIC files on Windows including Windows 7, 10, and 11. No matter which system you are using, converting the HEIC format to JPG on the AnyRec Free Online HEIC Converter will solve the incompatibility. This online converter helps you convert any HEIC file to JPG format without losing quality, and since your picture will be in JPG format, which is a more compatible format for image, so you can then open it on any device.
◆ Convert HEIC files without any quality or data loss.
◆ Save more time in converting HEIC files in batches.
◆ Offer 10-file free conversion within 5MB size each per day.
◆ Access to convert on any device whenever you want.
How to Convert HEIC File on Free Online HEIC Converter
Step 1.Go to the website of Free Online HEIC Converter on your windows computer. In the center of the web page, click the Add HEIC/HEIF Files button to import your HEIC image. Or simply drag it to this web page.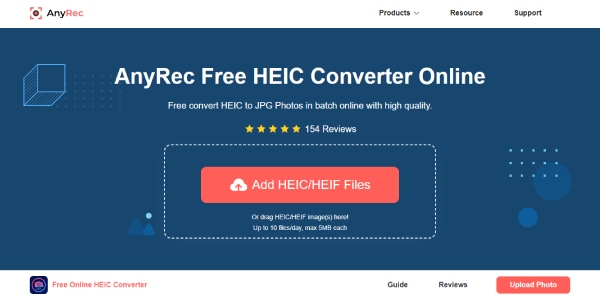 Step 2.Once you import a HEIC image, this online converter will soon start converting automatically. Meanwhile, one thing also needs to be noted is that your HEIC file size should be under 5MB, or the conversion will not begin.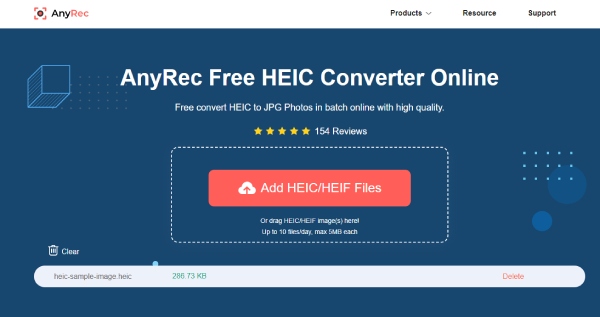 Step 3.After the conversion finishes, you can then click the Download button on the right side of your file. Select a folder from the pop-up window to save the output JPG file to your computer. Click the Open button to confirm.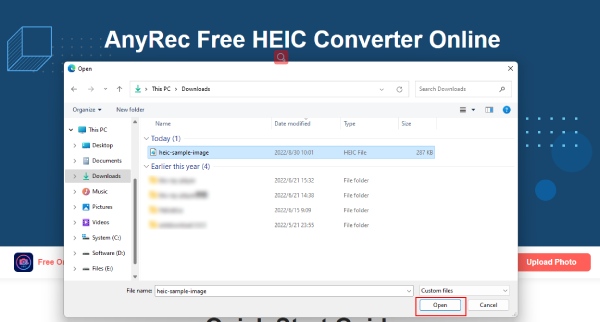 Extra Tip: How to Convert HEIC File on iPhone
If you happen to have an iPhone device by hand and need to transfer and open the HEIC files on your Windows, things will be much easier. Because your iPhone can directly send your HEIC files to your PC in a more compatible format after you adjust the settings. After that, you can open all HEIC files on any Windows device and even polish them in fun photo editors. Check the steps below to learn how to convert on iPhone and open HEIC files on Windows 10, 11, or 7.
Step 1.Open the Settings app and scroll down to find Photos. Tap on it.
Step 2.On the following screen, find the Transfer to Mac or PC section.
Step 3.Then, tap the Automatic button to switch transfer mode. From now on, your HEIC files stored on your iPhone will be sent in compatible format when transferred to a PC or Mac.
Part 2: How to Open HEIC File on Windows with Photos
For Windows 11 or 10 version owners, you can directly open HEIC files through the Photos applications after downloading the required extension. If you don't know how and can't open HEIC files on Windows 10 or 11, read on and check the steps of how to open the HEIC file on Windows. No need to convert anything, within a few steps, you can nail it all.
Step 1.On your windows computer, find the HEIC file and right-click on it. More options will pop up. Click the Photos button from the Open With.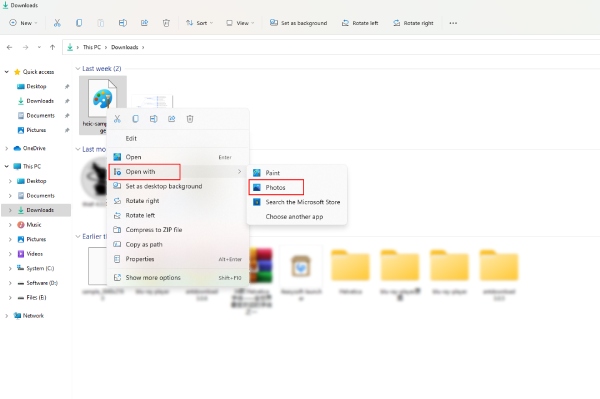 Step 2.Then you will find a notice showing up and you need to click the Download and Install It Now button. The computer will ask if you want to switch programs. Click the Yes button to switch to the Microsoft Store.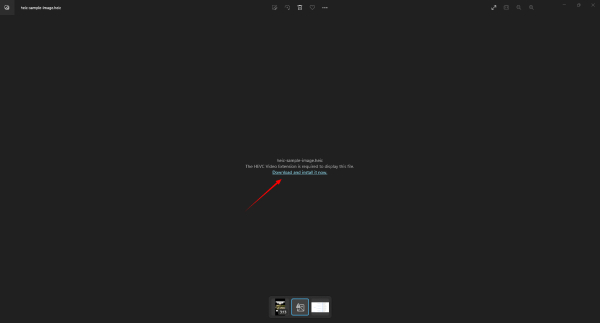 Step 3.In the Microsoft Store, you will see the HEVC Video Extension. Once you download this extension, you can view the HEIC files then. However, this extension costs you $0.99. You can download it after purchase.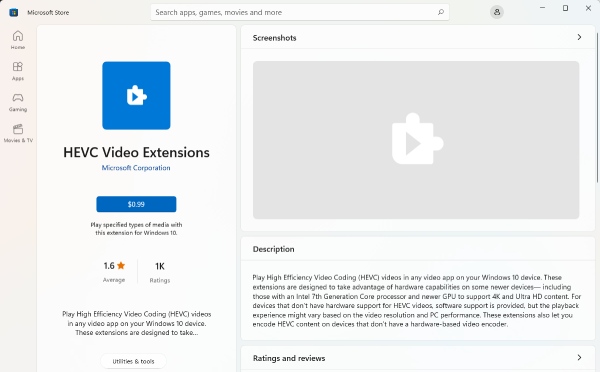 Part 3: FAQs about Open HEIC File on Windows
Can I open HEIC files on Windows 8?

No, you can't. For Windows before Windows 10, the Photos does not support such a format. Unlike Windows 10 or 11 which support viewing HEIC images after installing required extensions. For Windows 8, you need an extra app to view HEIC files or try the method above to convert to JPG.

Will the quality decrease after converting HEIC to JPG?

Will the quality decrease after converting HEIC to JPG?

Is there any online view that can open HEIC files on Windows?

Unfortunately, there is no such thing as an online HEIC viewer. However, you can try some workable online HEIC converters to open HEIC files on Windows, such as Free Online HEIC Converter, FreeConvert, HEIC.Online and so on.
Conclusion
In a conclusion, there are basically two solutions to open HEIC files on Windows. You can either convert HEIC to a more compatible format like JPG or if your Windows version is 10 or 11, you can install the required extension -HEVC Image Extension- to open these images from your iPhone or others
Related Articles