Top 7 Android Emulators for Windows 11/10 for You
To run Android apps on a wider screen smoothly, you need a good Android emulator on Windows 11/10/8/7. By doing so, you can play Android games, debug apps, and explore more interesting activities. The question, which Android emulator app runs well on Windows? Well, you can read the comparison and recommendation of phone emulators here.
Part 1: Share Android to PC as Emulator with Phone Mirror
First of all, you can take a look at AnyRec Phone Mirror. This Android emulator provides a straightforward interface with powerful tools that show your phone's screen over your computer. It serves as an excellent Android emulator for Windows 10 and 11, with a recorder that captures high-quality video. You can use AnyRec Phone Mirror on Android 12/11 and earlier. Also, it supports mobile devices like Samsung, HUAWEI, HTC, One Plus, iPhone 13, Sony, etc.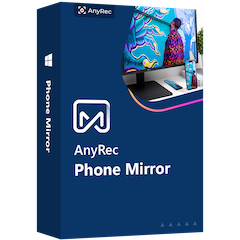 AnyRec Phone Mirror
Enable to connect multiple smartphones to one computer by detecting devices, PIN code, and QR code.
Advanced settings to configure video resolution, format, audio setup, and other tools for a better recording experience.
Provides other functions, including Snapshot, customizable shortcut keys, and screen selection.
Smooth content-viewing without device lagging while recording on a computer.
Step 1.Click the Free Download button to install AnyRec Phone Mirror. While waiting for the installation to finish, open the Play Store and download the FoneLab Mirror app. It will help you connect to your computer easily.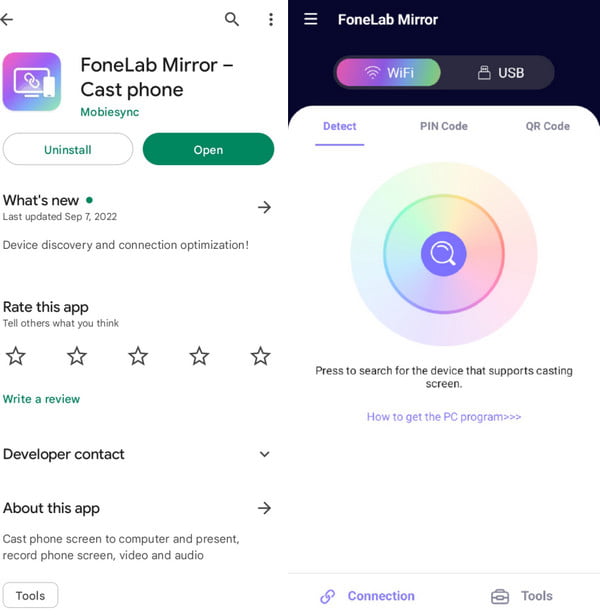 Step 2.Go back to AnyRec Phone Mirror and select the Android option. Choose the best way to connect your phone to the computer. Then, open FoneLab Mirror and tap the Search button. Ensure that both devices are connected to the same Wi-Fi. Once your computer's name appears on the list, tap on it to mirror.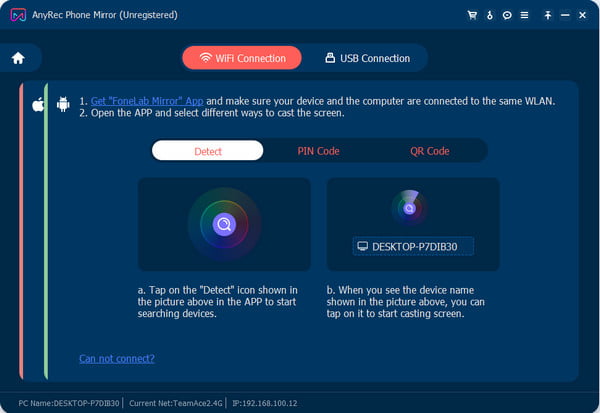 Step 3.From the new window, select the interface that suits you (with or without the toolbar attached to the window). If you want to mirror and capture Android gameplay screen, you can go to Settings. Later, set up the recorder to your need. You can change the video/audio format, resolution, speaker volume, recording length, etc. Once everything is in place, click the Record button to record your phone.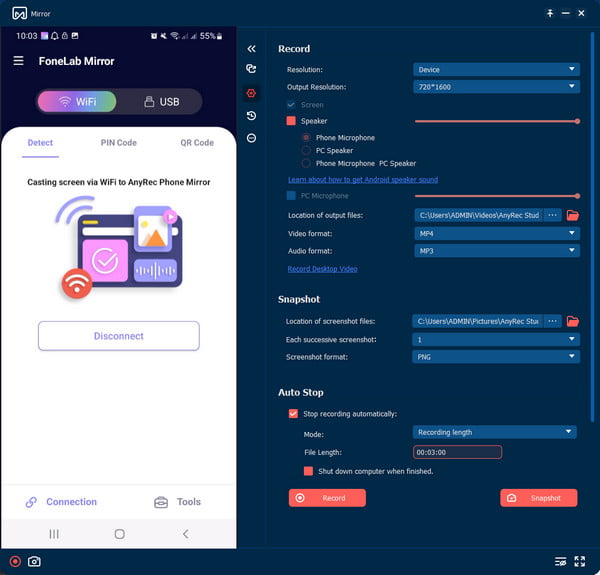 Step 4.After recording, rename and save the output file on your computer. Click the Import button to save the file to the desired folder. Then, you can tap the Disconnect button from your smartphone to wrap up.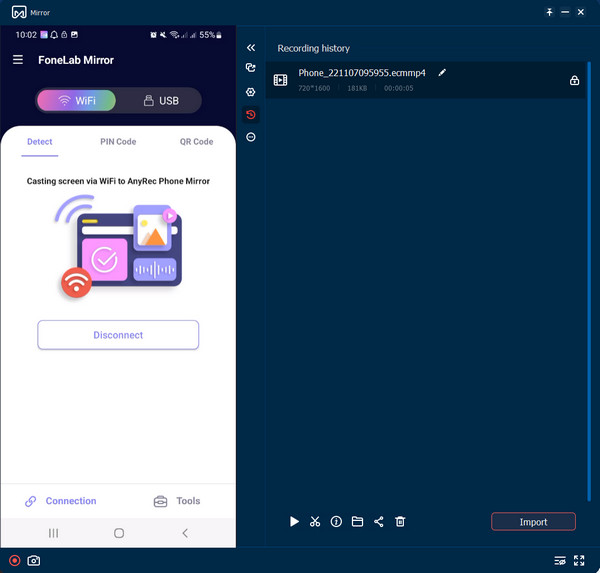 Part 2: Top 7 Android Emulators on Windows 10/11
Android emulators on Windows 10 can mimic the guest device and its content. It can host popular games, social media apps, and other content. In this part, you can try one of the top seven apps to mirror your mobile device.
1. MEmu Play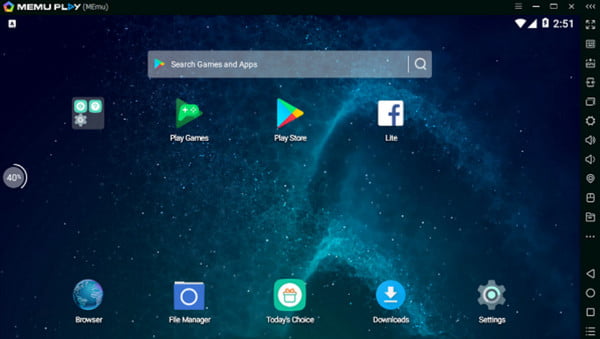 MEmu Play has gained popularity, considering it offers many valuable features. One of the best features is that it supports Intel and AMD CPUs for excellent compatibility and view. It also allows you to launch multiple apps and Android versions simultaneously. MEmu is a great Android emulator for Windows 10 and 11 because of its general use for hosting devices.
Pros

It supports many Android systems like Android Nougat, Kit Kat, and Lollipop.
Enable users to custom key mapping when playing the games.
Cons

Not thoroughly compatible with low-end PCs.
The updates are not helpful to fix bugs.
2. BlueStacks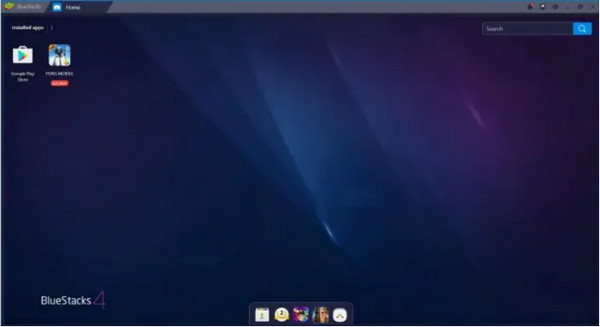 Another Android emulator for PC that you can try is BlueStacks. Since its first introduction a couple of years ago, this app has received many positive reviews from users and has improved throughout its development. You can get an all-in-one for most Windows hardware versions when downloaded on your PC.
Pros

Suitable for every game even high-end games.
Regular software updates for users to have more features.
Cons

Not compatible with systems that have less than 4GB RAM.
It has bloatware and popups on the free trial version.
3. Gameloop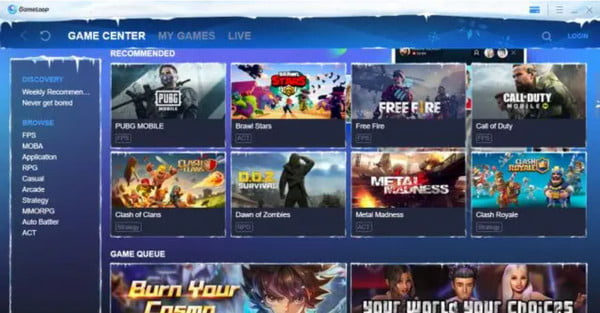 If you have games you want to play on bigger screens, this Android emulator for Windows gives you a high-quality experience in hosting. It is a dedicated app for games, especially popular ones like PUBG mobile, Call of Duty, etc. Moreover, Gameloop is affiliated with Play Store, which helps you to install and play more games.
Pros

Support customized keyboard mapping when playing games.
Have different and excellent effects for various graphics standards.
Cons

It only supports games and does not support other apps.
Require the minimum RAM size is 4GB for Android.
4. LDPlayer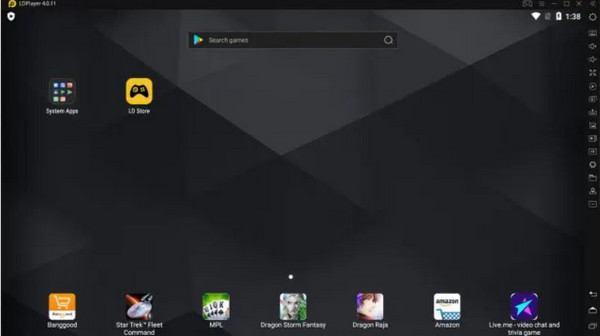 LDPlayer is an optimized Android emulator for Windows 10 and is excellent for hosting mobile games on your computer. The app is just newly introduced, but it has reached the maximum most-use emulators because of its outstanding performance. You can run LDPlayer on Intel-based Windows and AMD-powered computers.
Pros

The size of this app is light, but the speed is fast.
Offer Virtualization Technology for better performance.
Cons

It doesn't support some mobile games or enabled HyperV.
5. Nox Player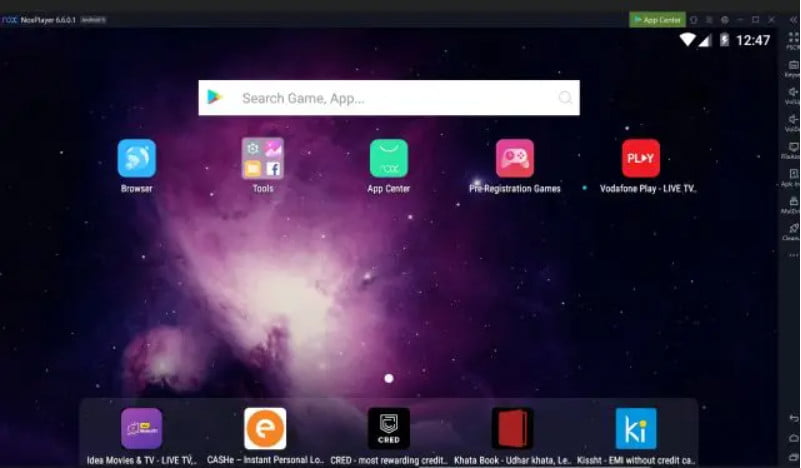 An Android emulator for Windows is not only for gaming; Nox Player is a good choice for other tasks. Other than hosting mobile games, you can mirror your phone while doing other tasks like testing or reviewing apps. The best part of Nox Player is its controller compatibility and user-friendly interface, completely outshining other emulators.
Pros

There is a built-in root supported to use more functions.
Enable users to customize the settings.
Cons

The app was recently hacked and reported many crashes.
6. Android Studio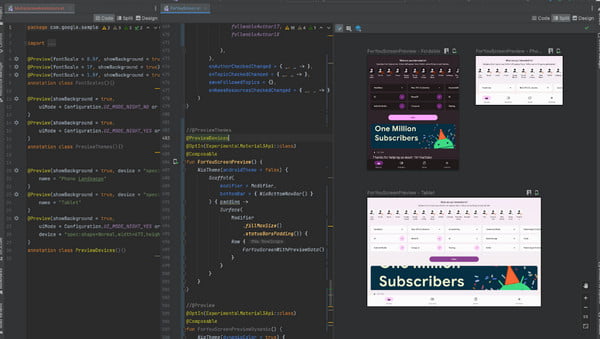 For developers, this Android emulator for Windows is an excellent platform for executing app testing. It is a program officially made by Google, and many users find Android Studio packed with SDK for app testing. Do keep in mind that Android Studio is not compatible with low-end systems.
Pros

Custom previews of multiple devices.
There are dynamic layouts with Jetpack Compose.
Cons

Running Slower and taking too many resources and space than other Android emulators.
7. Bliss OS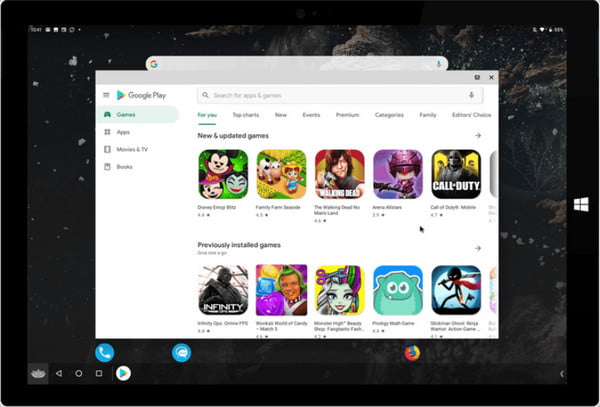 Bliss OS has an Android emulator for both PC and smartphones. It allows you to connect the devices easily while using features like Widevine L3 DRM for Netflix streaming. The Android emulator for Windows offers keymapping, profiles, and gamepads, all essentials for phone mirroring.
Pros

Keyboard and mouse supported for you to use.
It is an open-source program for you to develop new functions.
Cons

Updates are too frequent that require you to reinstall.
Require more time to complete the booting process.
Part 3: FAQs about Android Emulator Windows 10/11
1. What is the required RAM for the PUBG Android emulator on Windows?

The recommended RAM for a game emulator is 8GB for a seamless experience. Higher RAM guarantees a smooth gaming and mirroring experience without your device freezing. But if you don't have this, 4GB is the minimum RAM required but don't expect a high-quality experience.

2. Does using an Android emulator slow down my computer?

Unfortunately, yes, especially if the app is running in the background. It is suggested to close the emulator once you are done screen casting.

3. What are the limitations of the Android Emulator?

Android emulators are not designed to simulate hardware capabilities or performance issues. They can provide real-time functional testing and performance. But you cannot excuse the functional case which you can only run them in your phone.
Conclusion
Android emulators for Windows are great for screencasting games and other apps. With all the recommended apps, you can find the best one for your favorite games, or you get to try out your newly developed app. To ensure you get the high-resolution output, try AnyRec Phone Mirror for free! Download and install the best Android emulator on Windows 10 and 11.
Related Articles: