MP4 Recorder – 10 Best Programs to Record MP4 Screen Video with High Quality
How to choose an MP4 recorder? MP4 is the most frequently used video format that works with most media players and devices. You can share the recording with social media sites with one click. Whether you need to record on-screen activities for a computer, or a smartphone, here are the 10 best MP4 screen recorders to capture gameplay videos, record business meetings, make video tutorials, and more. Just learn more about the special features of these programs and find a suitable one according to your requirement.
Part 1: 5 Best MP4 Screen Recorders for Windows/Mac
When you are looking for the best MP4 screen video recorders to capture screen activities, here is a checklist of 5 programs for Windows and Mac devices. The review includes the features, the Cons & Pros, as well as the costs.
Top 1: AnyRec Screen Recorder
AnyRec Screen Recorder is an excellent MP4 recorder with 7 different recording modes on Windows and Mac. It enables you to save the recording to MP4, WMV, MOV, F4V, TS, AVI, and more other formats. There are different parameters, such as video quality and frame rate, which enable you to capture up to 60FPS videos for YouTube. Moreover, it also provides audio enhance and removes noise features when recording audio files with MP4.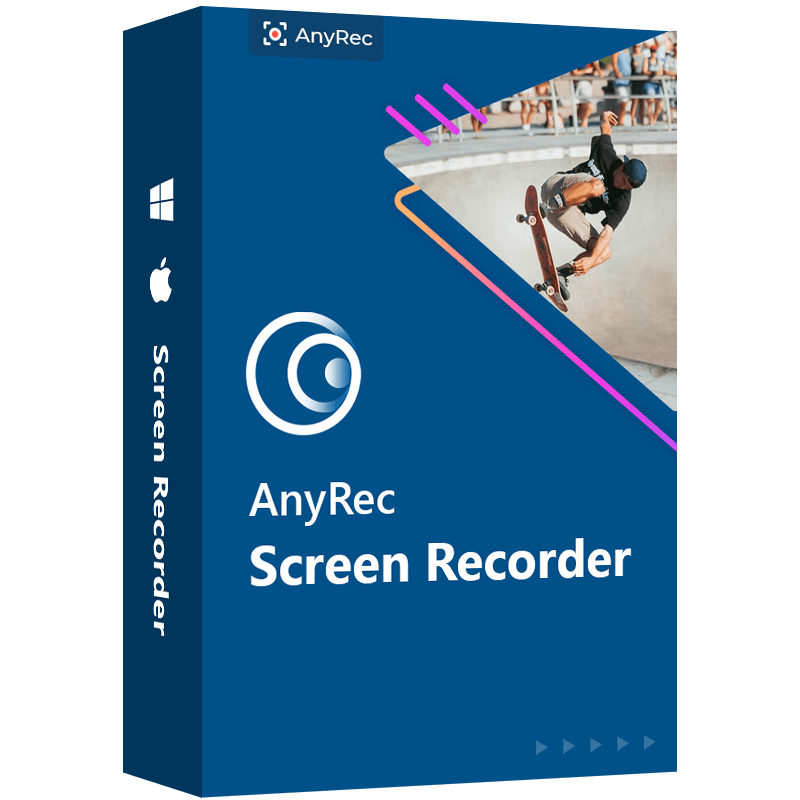 AnyRec Screen Recorder
1. Capture onscreen activities on H.264/H.265 MP4 with the desired video quality.
2. Remove audio noise and enhance the microphone when recording MP4 with audio.
3. Customize the recording area, add mouse cursor, set up the hotkeys, and more.
4. Edit the recording MP4 files, trim the desired part, and share the file with social media.
Step 1.Download and install AnyRec Screen Recorder, you can launch the program on your computer and choose the Video Recorder menu to record onscreen activities as MP4 videos. Moreover, there are more other screen recording modes, such as Game Recorder, Webcam Recorder, Phone Recorder, and more to capture MP4 files.

Step 2.Go to the Settings option, you can choose MP4 from the Video format option. It also enables you to choose the desired video codec, such as H.264 or H.265. You can also choose high video quality. When you need to capture MP4 videos in high quality, you can select 60fps as the Frame rate.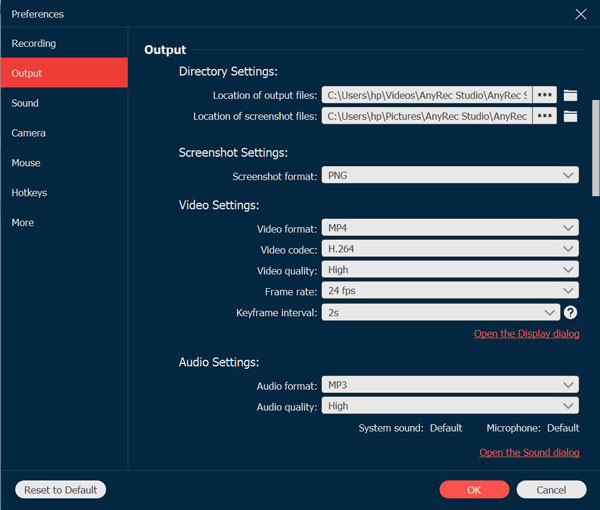 Note
Enable the Microphone noise cancellation option and the Microphone enhancement option to capture MP4 videos with high-quality audio files.
Step 3.Once you are ready, you can click the REC button to record onscreen activities. During the recording process, you can add annotations, shapes, lines, and more other elements. You can also take snapshots of the videos. When you get the desired file, you can click the Stop button to save the recording as MP4.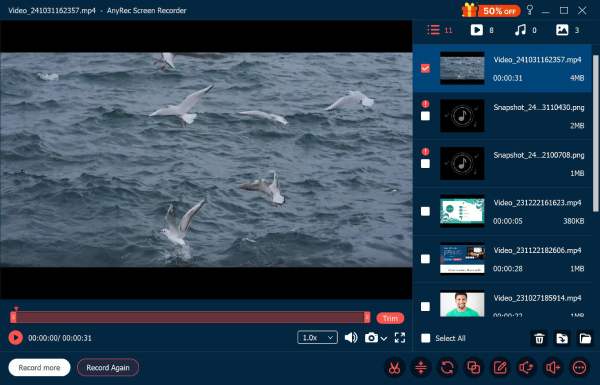 Top 2: OBS Studio
OBS Studio is a popular video recorder for Windows and Mac, especially for recording games. It provides high-performance real-time video and audio capturing and mixing. You can add the captures, images, text, and more others. But due to the complicated settings, it should not be a suitable MP4 video recorder for the newbies.
Pros

Switch between scenes seamlessly via custom transitions.
Provide the users with a wide range of editing tools.
Allow customization of settings and plug-ins.
Cons

Provide complex settings and a navigation bar.
Cannot capture large videos for low-end computers.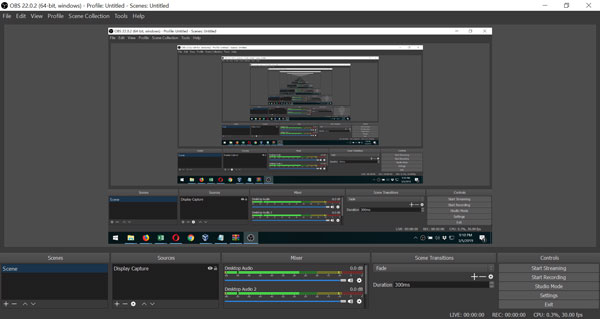 Top 3: Screencast-O-Matic
Screencast-O-Matic is a well-known online MP4 screen recorder to captures any area of your screen for quick recording. It also enables you to add system audio, or narration to the screen recorded video. Moreover, you can simply launch the free version online on Windows, Mac, iPhone, iPad, Android, and Chromebook devices.
Pros

Offer cloud-hosting and online storage.
Provide an easy-to-use interface.
Manage content through intuitive video hosting.
Cons

Provide limited features for the online and Chrome extension version.
Lack of OCR feature and scrolling capture feature.
Cannot record full screen or access to PC audio.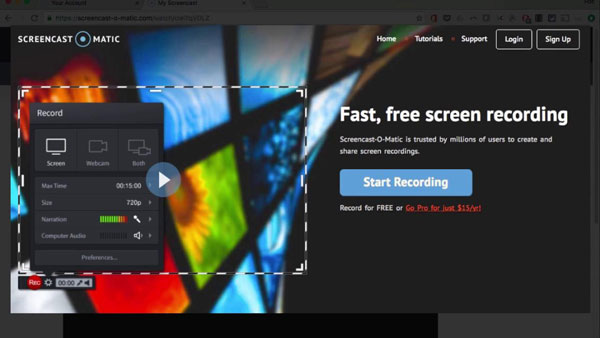 Top 4: Free Cam
Simple yet comprehensive, Free Cam is another free MP4 video recorder for Windows. It has a simple user interface that works perfectly for beginners. Furthermore, you can always enjoy the built-in audio and video editing tools of this app. It provides a full set of features for creating professional video lessons and e-Learning presentations.
Pros

Support unlimited time of screen recording with high quality.
Provide recordings without watermark or advertisement.
Have an easy-to-navigate system interface.
Cons

Webcam recordings are not available.
Save the recording to WMV output format only.
Provide quite an old school and out-of-style interface.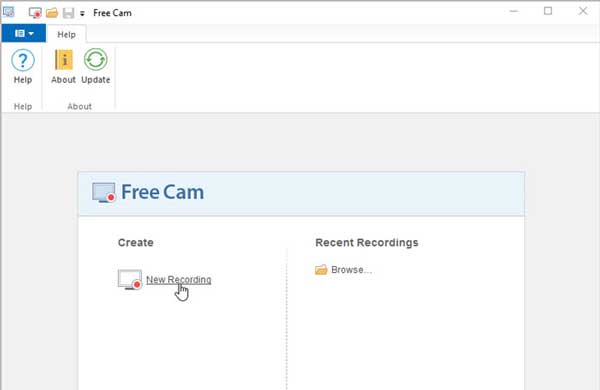 Top 5: Camtasia
Camtasia is a professional MP4 recorder and editor, which allows you to record and create professional-looking videos. It provides video templates, themes, shortcuts, libraries, and presets in a single file. Moreover, there are some royal-free assets and music files that you can add to your MP4 video for professional polish.
Pros

Provide unlimited recording time for video length.
Connected with Google Drive to share MP4 videos.
Support a wide range of video output formats.
Cons

Recording live from a digital camera is unavailable.
Frequent bugs and the system are crashing down.
Provide basic customization like annotations and transitions.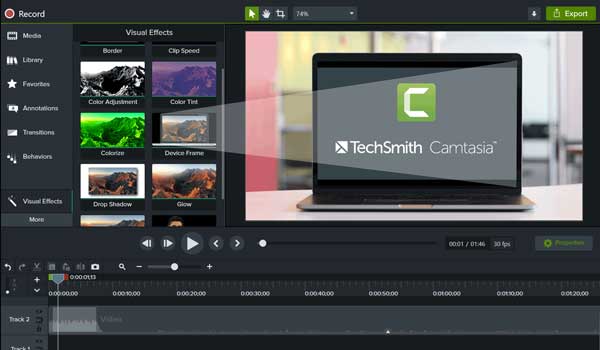 Part 2: 5 Best MP4 Screen Recorders for Android/iOS
There are some built-in features to record screen videos as MP4 on Android and iOS, such as the iOS screen recording feature, the Android Screen Recorder from the notification, and even the MP4 screen recorder apps from Google, Samsung, and more.
Top 6: AZ Screen Recorder
AZ Screen Recorder is a free Android MP4 screen-recording app to capture screen activities and annotate the videos in numerous ways. Moreover, you can overlay the face cam footage while recording the screen. It also provides editing tools to enhance, trim and alter your videos to your desire.
Pros

Record high-quality MP4 gameplay videos along with external sound.
Provide HD and full HD videos without watermark or time limits.
Set video resolution, bit-rate, frame rate, screen orientation, etc.
Cons

The Magic button and ad-removal features are available to pro only.
Cannot record internal audio for recording VR gameplay or others.
Do not work well with low-end Android devices.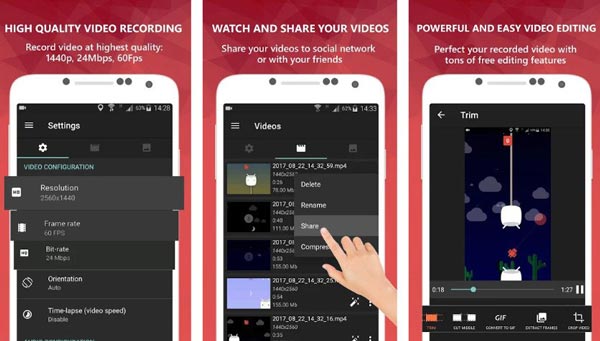 Top 7: Mobizen Screen Recorder
Mobizen Screen Recorder is another popular MP4 screen recorder for Android, which allows you to edit recorded MP4 files directly within your Android phone, such as trimming, cutting, and saving them in 1080P video quality. Moreover, you can also add or remove watermarks on your recordings.
Pros

Allow you to stream the music and video files to your computer.
Take screenshots and record your mobile screen without rooting.
Provide on-screen drawings to enhance any presentation.
Cons

Pop-up ads while using the MP4 screen recorder.
Requires payment to take full advantage of the program.
Save the recording to MP4 only on the device.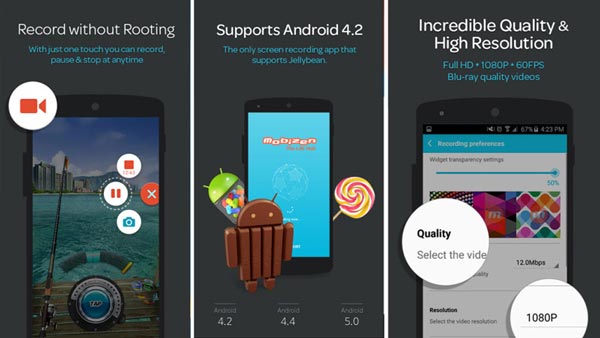 Top 8: Record It!
Record It! is another MP4 recorder app to capture all your screen activities for your devices. It also has video enhancing and editing tools to save the recording in MP4 format up to 1080P. Moreover, you can quickly start the screen recording with a simple tap and you can get multiple advanced features to enhance the recording.
Pros

Customize the reaction shape, position, size, and more others.
Add the filters, trim the video, and adjust the playback speed of your MP4 recording video.
Save the recording to MP4 and GIF for social media sites directly.
Cons

The recording does not save to the device automatically.
Experience audio cuts when editing the recorded video.
Popup advertisements and export problems now and then.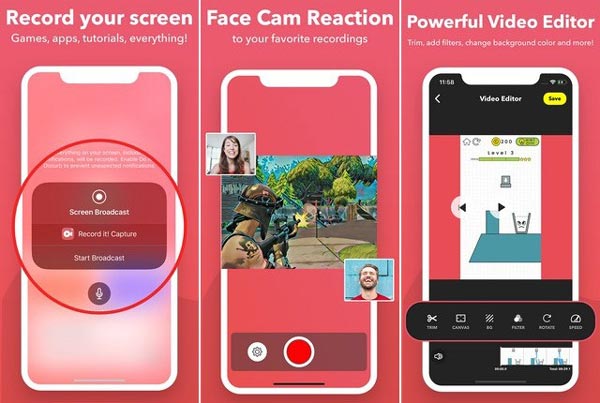 Top 9: DU Recorder
DU Recorder is an excellent MP4 screen recorder on iOS and Android devices. Apart from capturing your screen, it works best for editing your recordings. It provides multiple advanced features and settings to polish the videos, such as video resolution, video quality, FPS, hiding the recorded window when recording, and more.
Pros

Provide some advanced tools and features for live streams.
Save the recorded MP4 videos up to 60FPS, 1080P, and 12Mbps.
Provide live stream your screen to YouTube, Twitch, and more.
Editing tools to trim, merge, and add music to the MP4 recordings.
Cons

Pay for the Premium version to use all features and remove the watermark.
Can't record the system sound because it will violate copyrights.
High FPS can distort the image quality, which will cause lag.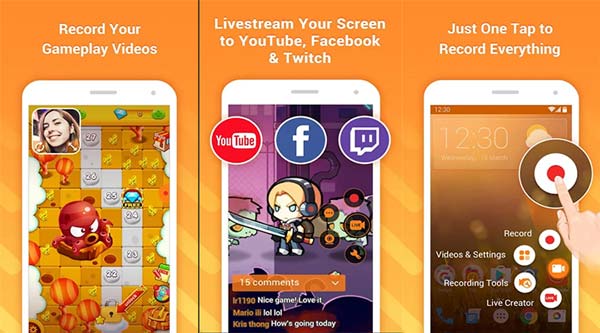 Top 10: Screen Recorder Android
Screen Recorder is another MP4 screen recorder app for Android, which provides screen recording to capture onscreen activities anytime and anywhere. Moreover, users note that this software works in undeniable speed and excellent quality, however, it only works best for short videos, but when it has setbacks for a longer one.
Pros

Provide high-quality recording for MP4 gameplay videos and tutorials.
Have a friendly-user navigation bar to manage the recording MP4 video.
Allow you to insert custom images and other elements into videos.
Cons

It works only for Android phones.
Don't support the recording of internal sound.
There are multiple glitches in the app.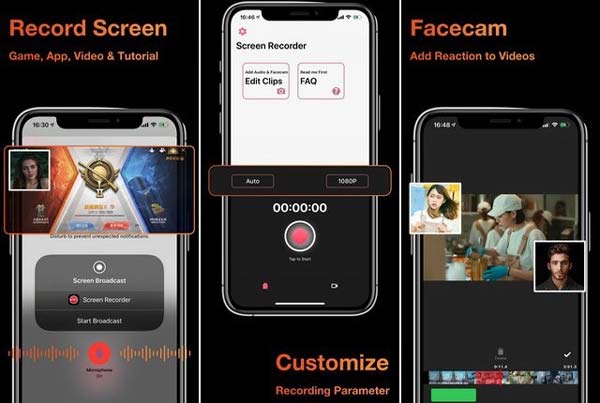 Part 3: FAQs about MP4 Video/Voice Recorder
How to set up the parameters of MP4 recorders for capturing YouTube videos?

When you need to record MP4 videos for YouTube, you'd better choose the high profile H.264 in progressive scan mode. YouTube limits the video length, which should be no more than 15 minutes within 2GB.

Is it possible to record audio files or voices with an MP4 screen recorder?

Yes. You can either choose an MP4 video recorder to turn off the screen display, which you can record the audio files like MP4, or convert the recording audio to MP4 files with a professional video converter on Windows and Mac.

Does Android 10 have a built-in screen recorder?

Google did not include a built-in MP4 screen recorder for its Android 10 OS but it might debut on the Android 11. Go to the screen recorder from the Quick Toggles. If not, you can simply install a third-party application.
Conclusion
To sum up this article, here are the 10 best MP4 recorders to screen record on iPhone 12, Android 11, Windows 10, macOS Mojave and more. So, if you're looking for this kind of MP4 video recorders, this article gives you suggestions and recommendations for the best MP4 recorder you can use. In addition, it aims to give you quality and satisfaction once you have chosen your desired MP4 screen recorder.
Related Article