4 Efficient Solutions to Record Online Meetings on Windows/Mac
Online meetings and classes are becoming more and more important now, especially when people are stuck at home because of the COVID-19 pandemic. Online meeting sessions become regular things when working from home. In this case, you may want to record online meetings to capture the important events or knowledge, which enables you to review and take notes later. By recording the online meeting, you can still keep up with the latest situations when absent or sick. All the conference software provides built-in recorders, but only the host has the right to capture the screen. Please keep reading and learn about 4 efficient methods to record online meetings as an attendee or host.
Part 1: Can Attendees Record Online Meetings through the Built-in Recorder?
Unfortunately, you can't. Almost all the online meeting website or software, including Zoom, Skype, Microsoft Teams, and others don't give the recording right to attendees. Besides, there are more limitations to record online meetings through the built-in recorder:
1. Even the host has the right to record online meetings, the recording action will be notified to everyone in the conference.
2. Most of the online meeting software only provides recording functions to the Pro users.
3. The format and resolution of the output recording videos are fixed.
4. Very simple function without the schedule settings to preset the time to start recordings.
5. The recordings are automatically saved in the Cloud, and you should spend extra time to download, or even be unable to download and share.
Part 2: No Notification, Here You can Record Online Meetings with AnyRec Screen Recorder
To record online meetings as an attendee without notification, AnyRec Screen Recorder is the best choice for you. With the adjustment of the recording and exporting settings, you can capture any region on the screen with high quality and compatible format. It also provides the schedule function to set the desired time to start recording online meetings.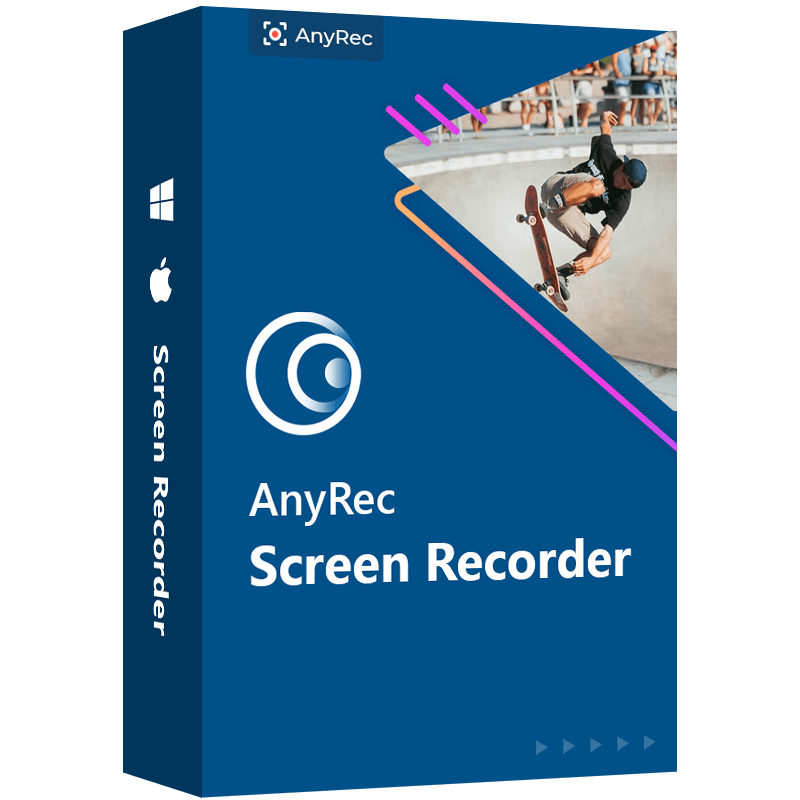 Meeting Recorder for an Attendee
Screen record with the full-screen, selected areas, or a certain window.
Adjust the output settings of the video format, quality, and frame rate.
Provide editing functions to take notes with shapes, lines, callouts, etc.
Set a scheduled time to start recording online meetings at a certain time.
Hotkeys to start/stop recordings, and take screenshots at any time.
Step 1.Free download and launch AnyRec Screen Recorder on your Windows/Mac. Click the Video Recorder button on the man interface to open the online meeting recorder.

Step 2.Click the Full button to record the whole screen of your computer, or you can choose the Custom option to select the desired area or the window of online meetings. Then turn on the System Sound with the desired volume.
Step 3.To change the output and hotkey settings, click the Record Settings icon and choose the Output option. Then choose the desired video format, quality, and frame rate. And you can change the shortcuts in the Hotkeys option. After that, click the REC button to start recording.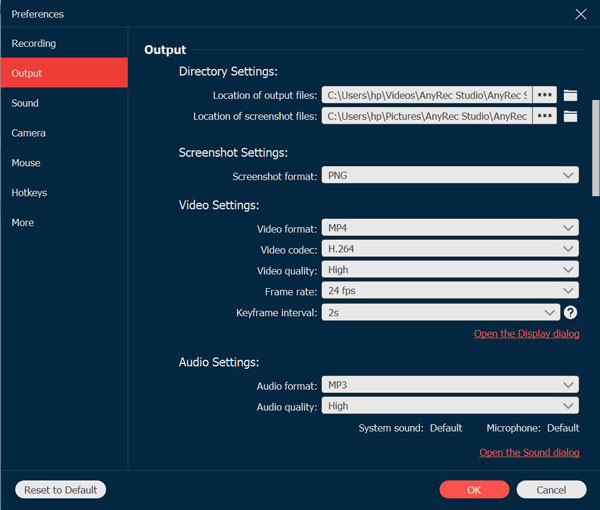 Step 4.A toolbox will pop up with the recording control and editing functions. You can take notes with various shapes in real time. Then, click the Stop icon in the toolbox and clip the recordings according to your need. At last, click the Save button to choose the desired storage path and save the recordings of online meetings.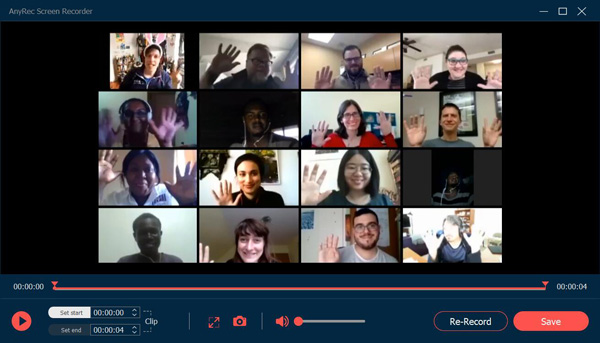 Tips
To set the scheduled time in advance to record online meetings when you will be absent from the conference, you can click the Take Schedule button on the main interface. Then you can set the start time and recording length according to your need.
Part 3: 3 More Powerful Online Meeting Recorders You Should Not Miss
There are also many online meeting recorders to record online meetings without downloading any software. Here are three powerful free screen recorders for you. By the way, iOS and Android users can use meeting recorder apps instead.
1. AnyRec Free Screen Recorder
AnyRec Free Screen Recorder is an easy-to-use free online screen recorder to help you record online meetings without any watermark. This online meeting recorder also provides additional editing functions to take notes at any time. With the customized settings, you can change the output format and quality as you like. Moreover, the hotkeys make you to record online meetings easily and quickly.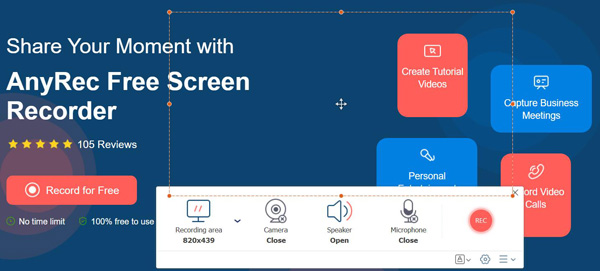 Pros
Free recording services with no watermark and time limit.
Customizable capture area for video recording.
Take notes on the recorded screen during the meeting.
Cons
Requires an extra launcher to continue recording.
There are only two output video formats available, WMV and MP4.
2. Screencast-O-Matic
Screencast-O-Matic is also a free online screen recorder for capturing online meetings. The recordings can be directly downloaded or shared on social media platforms. It also provides the basic editing functions to add annotations. But you should note that it only provides the standard resolutions like 800 × 600, 640 × 480, etc. Check Screencast-O-Matic review to get more details.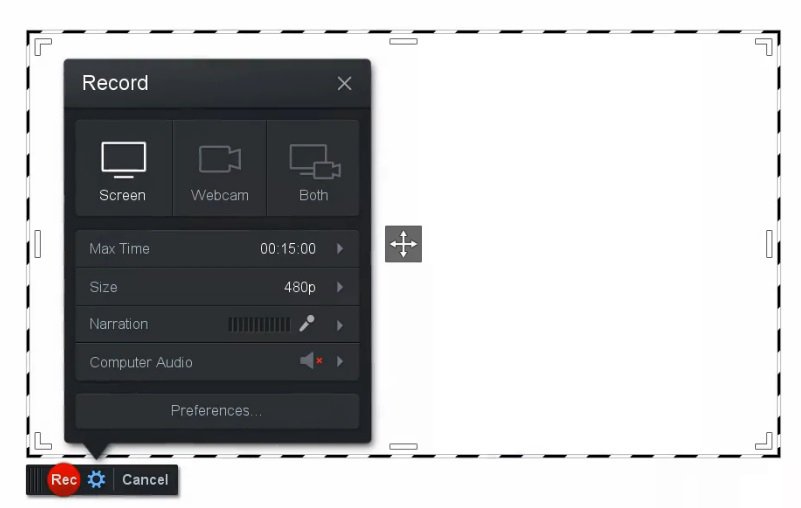 Pros
Flexible image-capturing features.
Available in both free and premium versions.
Several tools for annotation are enough for casual users.
Offers both online and mobile versions for online meeting recording.
Cons
Lacks editing features for recorded videos.
Limited sharing features for popular online platforms.
The maximum video recording length is 15 minutes with a watermark.
3. Loom
Loom is a free online meeting recorder that can be used as a chrome extension. It supports recording online meetings and classes with 1080p HD, and even 4K (improve 1080p to 4K). It has a unique function to share the recordings with others through links and edit the videos together.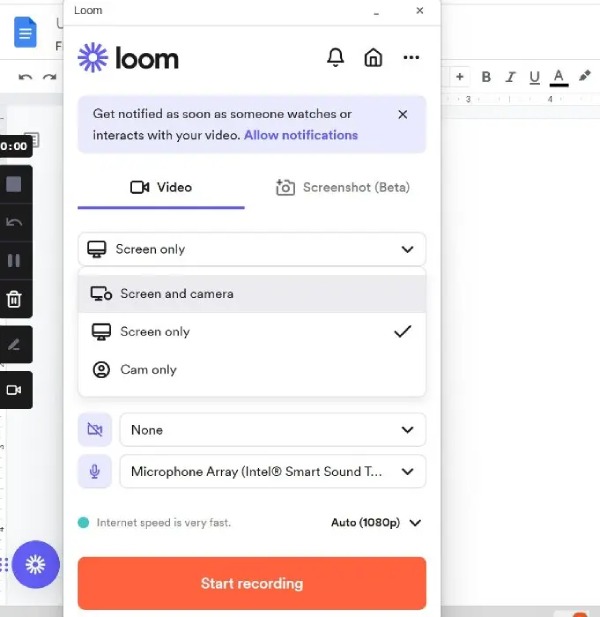 Pros
High-definition and adjustable output video formats.
Record an online meeting on a computer with your face in it.
Quickly record an online meeting with the Chrome extension.
Cons
Others can see your recorded video.
You can only capture the whole screen when recording an online meeting.
No competitiveness compared to other free recorders with more features.
Part 4: FAQs of Recording Online Meetings and Classes
1. Will recording online meetings notify others through the built-in recorder?

Yes. The built-in recorders on the conference software enable the host to record the online meetings with a notification to every participant.

2. How to record online meetings with high quality?

To record meetings with high quality, AnyRec Screen Recorder is your best choice. It supports adjusting the quality, resolution, and frame rate of the output recordings. Thus, you can choose the High Quality or even Lossless option to record online meetings.

3. Can I record online meetings on my phone?

Of course, you can. There are many online meeting recorders for Android/iOS. You can also use the built-in recorders on your phone.
Conclusion
As an attendee on the online meeting or lectures, you can't use the built-in recorders to capture the screen. Thus, you have learned 4 easy ways to record online meetings without any limitation. The best way is to download AnyRec Screen Recorder to capture your screen with high quality.
Related Article