10 Best-Selling HDMI Recorders and the Alternative [2023 Review]
We think about how the product will be a good deal for our money and like buying an HDMI recorder, this is also happening. So, we have a compiled list of the 10 best devices to capture high-quality videos. In this article, you will know which among these HDMI video recorders have good picture quality and other features that are still budget-friendly. Of course, considering the difference between these HDMI recorders, you may also need to know which has the capacity for a DVD recorder with HDMI input, an external HDMI recorder 4K, and many more. Without much further ado, let's get on the list of HDMI recorders.
10 Best-Selling HDMI Recorders 2023
Top 1: StarTech.com HDMI Video Capture
Price: $164.79
With USB 3.0 bandwidth, the HDMI recorder allows you to record 1080P video at 60 FPS without quality loss. It has wide compatibility for streaming live videos online because of its H.264 video encoding which operates in social media platforms like Twitch. The downside with this device is its incompatibility with ASmedia and Etron USB 3.0 host controllers however, the redeeming part of the StarTech recorder is it's compatible with USB 3.0 Window 10, 8/8.1, 7, XP, Vista, and DirectShow.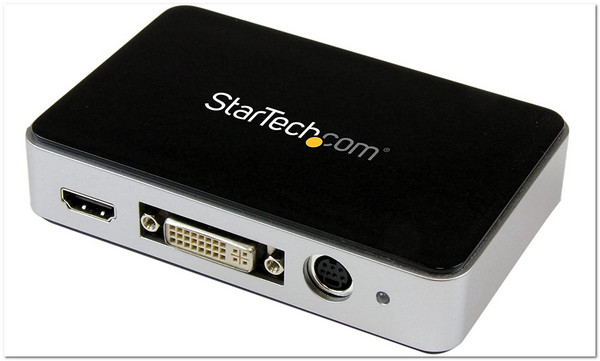 Top 2: MiraBox 4K Capture Card
Price: $69.99
From the name itself, Mirabox allows you to record in 4k@30HZ and also supports all 1080P and 720P (upscale 720P to 1080P) HDMI devices such as PS4, PS3, DVD, ZOSI security camera, camera, and more. It has a 3.5mm microphone and audio input port which enables you to stream your voice and record your voice through the ports. Mirabox also has USB3.0 based on its faster USB-C Data Transmission, so you can do live streaming to YouTube, Potplayer, Twitch, and OBS (OBS Studio for Windows and Mac) with more ease. With all of these features, this HDMI recorder doesn't need an install driver because it is compatible with Mac OS, Linux, and Windows 8/10 that is very easy to put on setup.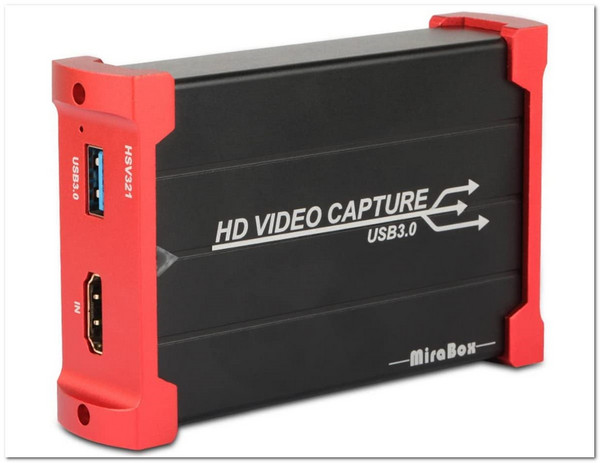 Top 3: DIGITNOW HDMI Video Converter Game Capture/HD, Video Capture
Price: $199.99
DIGITNOW Video Converter Captures HD 1080P video from different video resources such as Camcorder, DVD, TV Box, and VHS tapes. It has a 5" OLED screen which allows you to play back your records anytime and anywhere you are. The built-in large battery can save you time charging the device and has longer battery life. If you buy this, the package includes AV Cable, 5V Power Adapter, HDMI Cable, TYPE-C USB Cable, SD card, and User Manual.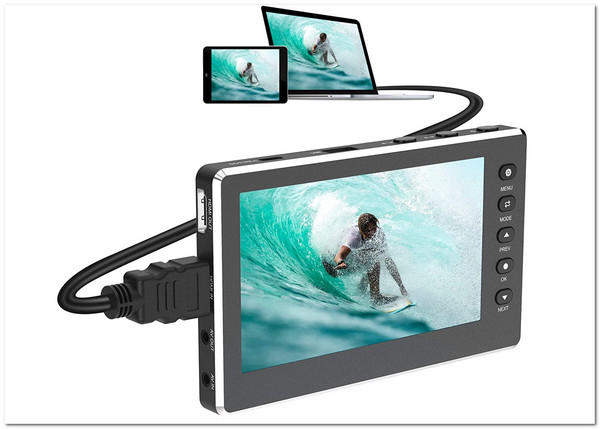 Top 4: Blackmagic design UltraStudio Mini Recorder
Price: $758.18
Built with Thunderbolt technology, Blackmagic Ultrastudio has a rapid speed of 10 GB/s connection that is 20x faster than USB 2.0 which is enough bandwidth to manage the highest resolution video formats. This external HDMI recorder operates 4k recording with both compressed and uncompressed videos, so you're not locked into one codec quality. Works well with all your favorite video software which you can open with standard DPX and QuickTime format (QuickTime to MP4).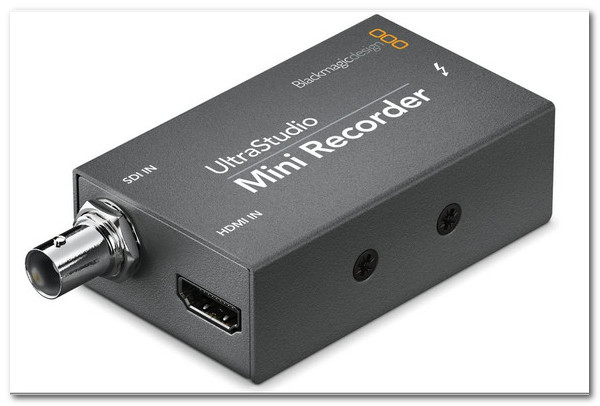 Top 5: ClearClick HD Video Capture Box
Price: $229.95
This HDMI recorder lets you record up to 720P/1080P included the audio. It doesn't require a computer for you to start recording and also lets you record videos in MP4 format in microSD Card, USB Flash Drive, or USB Hard Drive. Although it can capture HD videos, ClearClick does not record, live stream, and display any HDMI videos that are content-protected. Because of this, it does not show anything only the device's black screen.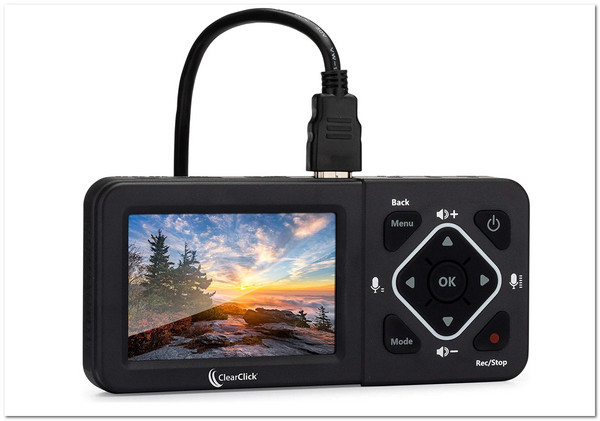 Top 6: TreasLin Screen Capture Recorder
Price: $59.99
TreasLin screen recorder is compatible with most HDMI outputs. Specifically, it is designed for recording gameplay on game consoles such as PS3, XB360, and many others but it is also great for recording online school lectures and TV programs. As it is a one-click recording, you can record with any videos sources such as Webcam, PC, DVR, VCR, and Blu-player in 1080P. The only downside with this device is that it cannot record live streaming. But to get back from what it lacks, this HDMI video recorder doesn't require a PC or any burdensome installation to get started. Just a short press switches the device to record in between 720P and 1080P (upscale 1080P to 4K), and a long press to start or stop recording (it vibrates once an action is done).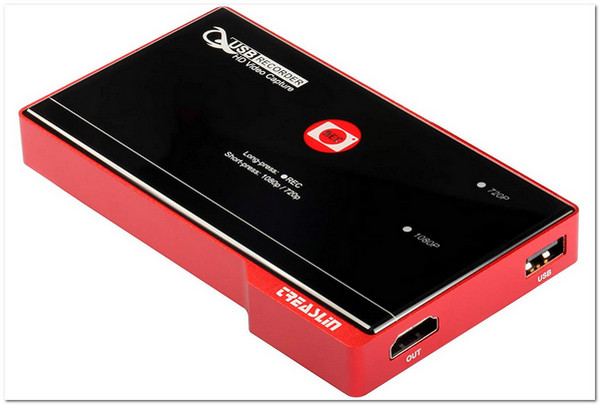 Top 7: EZCAP HDMI Game Capture HD Recorder Box
Price: $71.99
If you are a gamer and wanted to capture your gameplay, this is the best HDMI recorder for you! This recorder supports video game consoles such as PS3, Xbox 360, WiiU, and many more. It can record in 1080P with one click and allows you to play HD gameplay. It doesn't require a PC and any difficult set-up that is why, with just one click of the Record button, you are ready to go. Also, it comes with extra audio input which allows you to record your voice in a microphone while having live stream gameplay.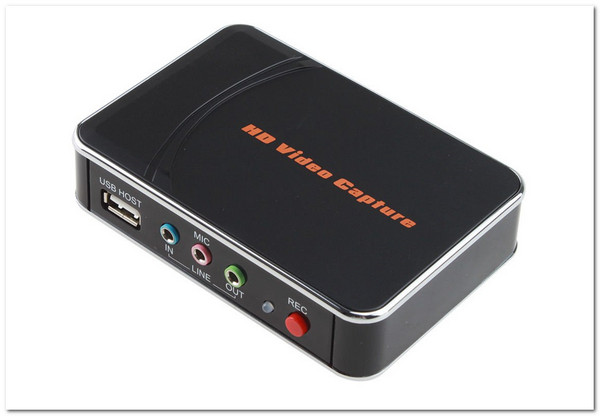 Top 8: Capture Card, Audio Video Capture Card
Price: $35.99
This HDMI recorder supports up to 4K at 60FPS input that will instantly work and work with stream media like OBS. This device has wide compatibility with multiple systems such as Nintendo Switch, PS4, DSLR, and many more. Not just that, Capture Card also has a 3.5mm microphone and Audio Input/ Output Port which you can insert your earphone and record your voice by the ports easily. With its stylish design and compact decent aluminum alloy shell, Capture Card is ideal for gaming broadcast, live streaming, video recording and so much more!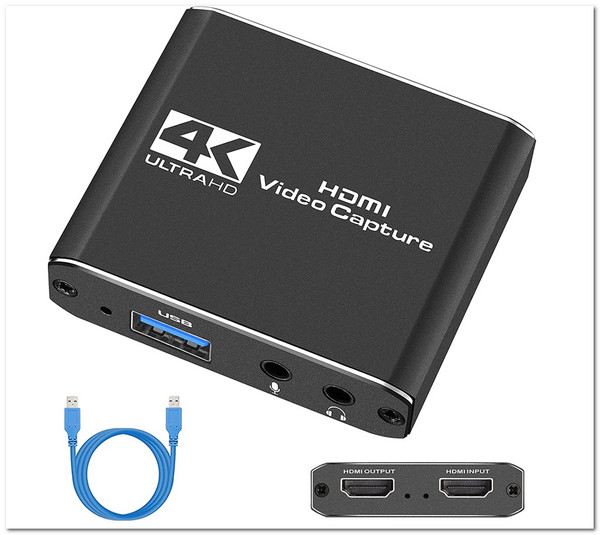 Top 9: 1080P@60fps Capture Card with 3.5 Inch LCD and Remote Control
Price: $115.99
Easy operation, one-click recording without computer required, this Capture Card can record Full HD 1080P videos from multiple systems such as set-top boxes, video players, PC, game consoles (record console games), VCR onto a TF card. It also has compatibility with PC, mobility, and other more for recorded MP4 files. Once bought, the HDMI video recorder package comes with a remote control which with one click, you can already start recording. With its 3.5" LCD screen, built-in speaker, and the ability to provide you a 3-hour fun watching videos.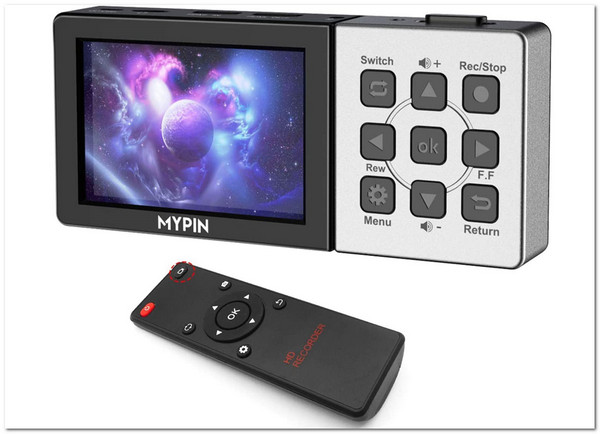 Top 10: HDML-Cloner Box Pro
Price: $176.99
This HDMI video recorder has H.264 hardware encoder which is to say, it can save videos as MP4 files to a USB flash drive or external HDD with no PC required. It captures and records in full HD 1080P HDMI videos from various video sources and also can instantly playback videos with remote control (included with the device). With free video edit/conversion software, you can edit all the videos you recorded through a game console, live gameplay, Facebook, and other multiple systems.
Note
Prices and availability of the said devices may vary.
Best HDMI Recorder Alternative on PC/Mac
Whether you need to capture high-quality video for the HDMI recorders or choose the screen recorder alternative, AnyRec Screen Recorder is the best pick to capture onscreen activities. This tool can capture computer activities from multiple resources in high quality, including screen video, system audio, voice files, and even snapshots. It enables you to capture the video in 60FPS for social media websites, choose the desired video codec and enhance the audio files. If you do not want to purchase HDMI recorders, it should be the best alternative to capture high-quality videos.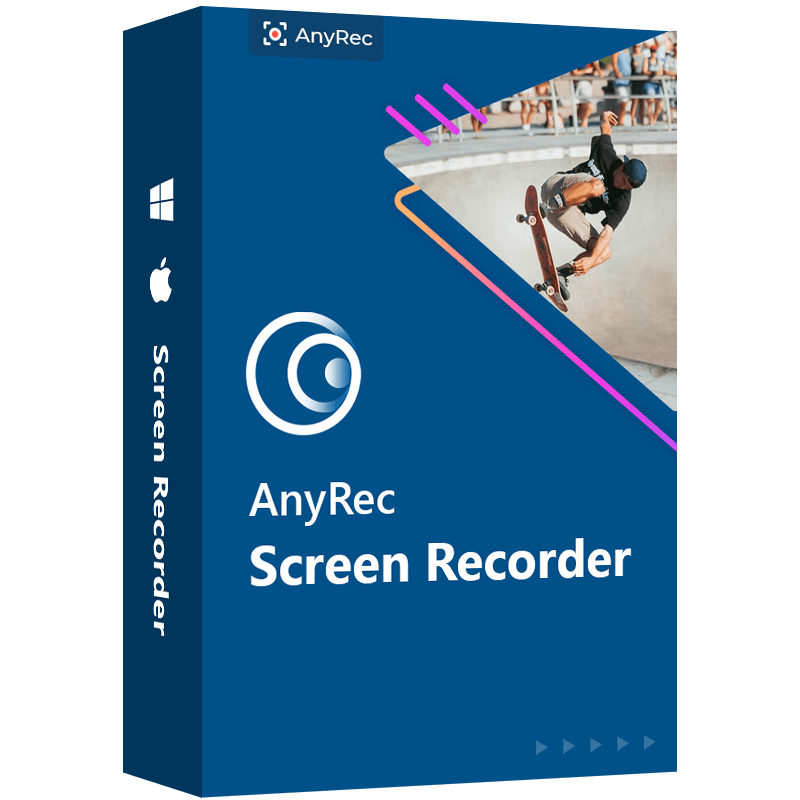 AnyRec Screen Recorder
Capture the TV programs and camcorder videos on a computer via HDMI connection
Tweak the video codec, frame rate, audio codec, and more other audio/video settings
Remove the audio noise, enhance the audio quality from the microphone, and more
Record the mirrored videos with audio files of high quality without an HDMI recorder
Step 1. Download and install AnyRec Screen Recorder, you can launch the program to start recording. Click the "Video Recorder" button on the menu to capture the TV programs via HDMI connection.

Step 2.Tweak the video setting by going to the "Settings" window. Choosing the format before saving your recorded file can be also done here, such as the 60FPS for the video recording.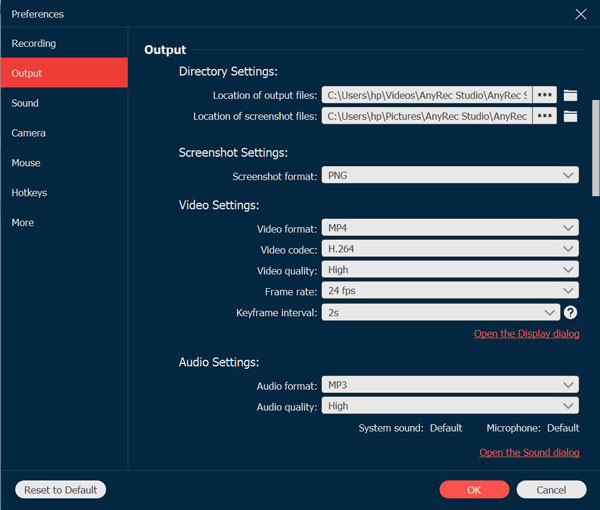 Step 3.Once you are satisfied with the changes, you can go ahead and click the "REC" button to start recording. You can also add annotations, shapes, callouts, and more elements.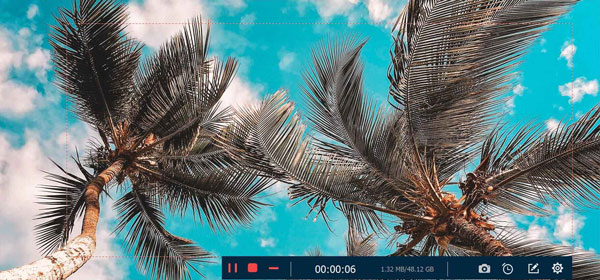 Step 4.By clicking the "Stop" button it will save your recorded video, watch the preview, trimming the desired part before sharing it to your social media sites.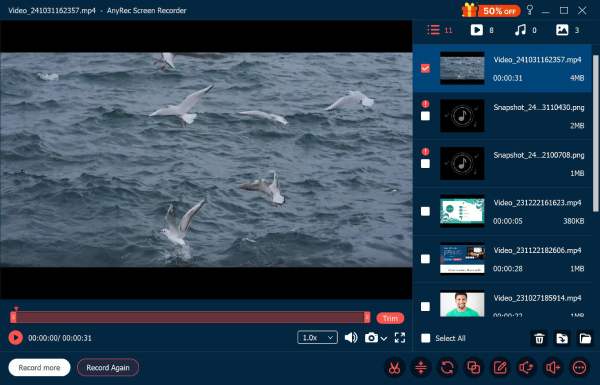 FAQs about HDMI Recorder
Is there a DVD recorder with HDMI input?

No. DVD recorders do not provide HDMI inputs but they have an HDMI out port. Because of the High Definition Copy Protection for using the HDMI label on any device, you should choose the screen recorder software to capture the videos.

How can I record TV on my computer via an HDMI Recorder?

Just hook up a digital TV-tuner and screen recording program. Use the HDMI recorder from the tuner's output to a laptop port. Switch on the signal source, the tuner, and your laptop. Double-click on the program to record television programs.

Is there an HDMI recorder that I can use to record TV shows?

Definitely yes. You'll be needing a DVR to do so, and if you have the best DVR, you can record over-the-air contents via an antenna. However, if you do not have a DVR, you can insert a USB hard drive to save your favorite TV shows
Conclusion
We have chosen the 10 best HDMI recorders which can help you record screen without lagging on other devices. You might not consider the other recorders because of their price, but you can always look and search for HDMI video recorder alternatives on your computer, such as the Anyrec Screen Recorder. We hope that you have seen the perfect device to record your favorite shows and videos on this review! Leave us a comment below!
Related Article