Best 4K Upscaler – A Simple Tutorial on How to Upscale 1080P to 4K
If you have already taken some videos in 1080P, can you upscale 1080P to 4K for YouTube or a 4K TV? To provide a better audio-visual experience for the videos with a larger screen, a 4K upscaler is the best choice to enhance the original resolution, especially when you have some old movies, home videos, recorded video, etc. Before enhancing the video quality, you have to learn more about the differences between 1080P and 4K. Moreover, you can learn more about the best method about how to upscale 1080P to 4K from the article.
Part 1: The Differences between 1080P and 4K
What is the main difference between 1080P and 4K? Since 1080P and 4K are defined according to the resolution of the display. 4K resolution has four times more pixels than the 1080P. It means the amount of vertical and horizontal pixels on a 4K display are each double that of a 1080p display. 4K displays a high increase in quality, more refined detail, better contrast, and color.
| | | |
| --- | --- | --- |
| 1080P and 4K | 1080P | 4K |
| Resolution | 1920 × 1080 | 3840 × 2160 |
| Pixel count | 2073600 | 8294400 |
| Aspect ratio | 16:9 | 16:9 |
| Availability | 44" TV and smaller | 32" TV and larger |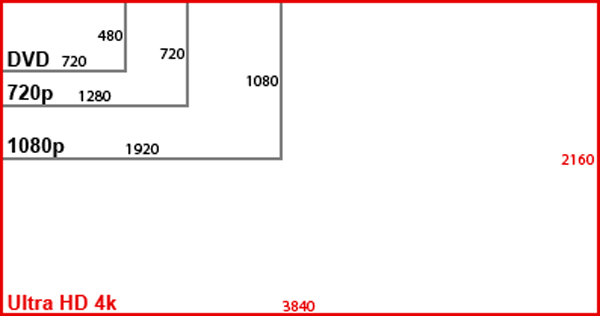 Nowadays, manufacturers produce more affordable televisions that can support Ultra High-Definition. Furthermore, on-demand streaming services like Netflix, HBO, FOX, Disney+ allow users to enjoy home viewing. 4K resolution works best for these big-screen displays like cinema, movie watching, and smart TVs. Moreover, some high-end 4K TVs also provide the auto method to upscale 1080P to 4K. Moreover, you should also know the differences between 4K UHD and 4K HDR. When you need to enhance the video resolution for YouTube and other social media websites, just learn more details as below.
Part 2: The Best Way to Upscale 1080P to 4K for YouTube
Just as mentioned above, upscaling 1080P to 4K is not only increasing the resolution, but also more refined detail, better contrast, and color. Is there an all-in-one 4K video upscaler to enhance the video quality and improve the audio-visual experience for YouTube? Video Converter is the desired video upscaler and enhancer that upscales video resolution, removes video noise, reduces video shaking, and optimizes brightness and contrast. When you need to upscale 1080P to 4K for YouTube with a better visual experience, it is always the initial choice.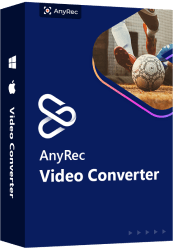 AnyRec Video Converter
Provide 4 different methods to upscale 1080P video to 4K within clicks.
Compatible with a wide variety of video formats such as MP4, MKV, etc.
Convert 1080P video to the desired video formats compatible with 4K TVs.
Cut out the desired part, combine the video clips, and apply video filters.
4 Easy steps to Upscale 1080P Videos to 4K
Step 1.Download and install Video Converter on your Windows or Mac. Launch the program and choose the Toolbox option. Click the Video Enhancer panel and add the 1080P video files from your folder that you want to upscale.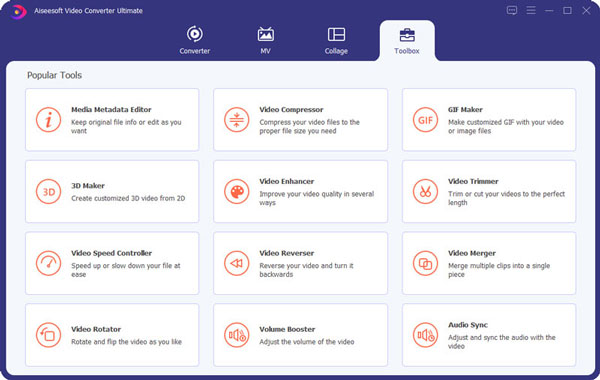 Step 2.Check the Upscale Resolution option and set the resolution as 3840 × 2160 to upscale 1080P to 4K, which is the standard resolution for 4K (UHDTV). Moreover, you can also upgrade to 4960 × 2160 but make sure that your device is suitable for this.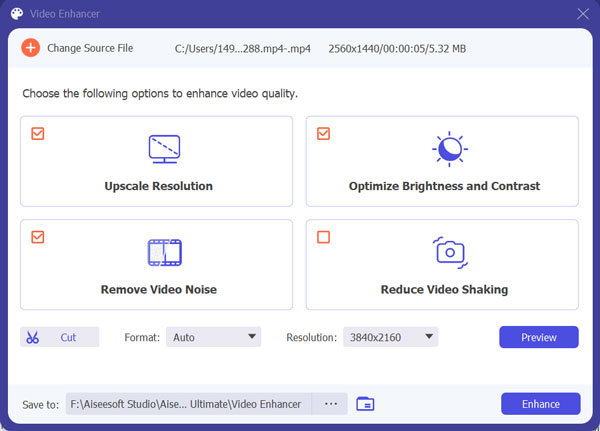 Step 3.When you need to have better contrast and color of the output 4K video, you can optimize brightness and contrast, remove video noise, and reduce video shaking when upscaling 1080P videos. Moreover, you can also cut out the desired part of the video only.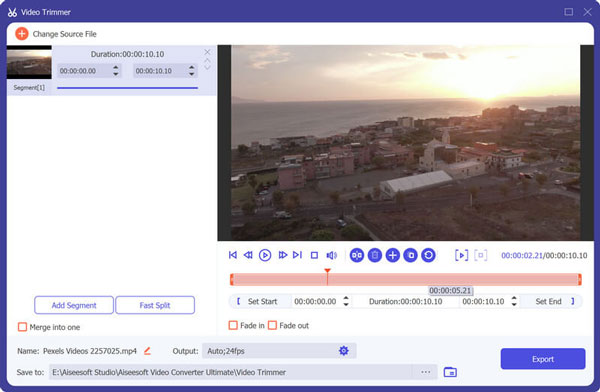 Step 4.Choose the folder where you want to save your file. Then click the Enhance button to start the upscaling process. The application will start to enhance your video and once finished, you can check the file on your chosen folder.
Part 3: FAQs about How to Upscale 1080P to 4K
Is there a 4K upscaler TV box that converts Cable TV 1080P to 4K?

Yes. If your cable TV cannot upscale 1080P to 4k directly, you can just search for the 4K upscaler in Amazon, choose the desired one according to your cable TV or smart TV. Of course, you can also enhance the video quality directly from your computer and transfer the 4K video to the cable TV for a better audio-visual experience.

Can you play 4K movies on a 1080P monitor?

Yes. The 4K video resolution will get down to match the monitor's resolution. For this reason, the video will be viewed on 1080P but with better quality than the native 1080P. Moreover, the 4K videos will also bypass any high dynamic range (HDR) metadata since regular HDTVs aren't capable of processing that information natively.

Why does my 1080P TV look better than a 4K TV?

It depends on the videos you need to play. When you have a 1080P video and need to play on a 4K TV, the videos won't be displayed in the standard 1920 × 1080 resolution. It is the reason that you need to upscale the 1080P video to 4K beforehand without the auto upscaling hardware. But the 1080P videos work well with the 1080P monitor.
Conclusion
To summarize all the information in this article, we hope that you gained an understanding of what are the differences between 1080P and 4k and how to upscale 1080P to 4K. Because some of the smart TVs have the 4K upscalers to enhance the video quality automatically, you can just play the 1080P videos on the TV. But if you need to have a better video quality, convert 1080P or 1440P to 4K for some cable TVs, YouTube, and other devices, Video Converter is always the initial choice you should take into consideration.
Related Article