Top 10 WhatsApp Call Recorders for Windows, Mac, Android, and iOS
One of the best ways to have a pleasant conversation virtually is on WhatsApp, and if you want to reserve a pleasant time you need a WhatsApp call recorder. As one of the most popular messaging apps, WhatsApp has gained millions of users worldwide and made mobile and desktop versions. But even with the best text, video, and voice chat features, it doesn't allow users to record the inside's content for security concerns. Luckily, this post gives you the best WhatsApp call recorder apps for Windows, Mac, Android, and iOS.
Part 1: Top 5 WhatsApp Call Recorders on Windows/Mac
Important video chats in WhatsApp are meant to be kept or recorded. The messaging app does not offer any recording facility, even on Windows and Mac versions. You can use these effective WhatsApp recorder apps to capture your best moments on video chatting.
1. AnyRec Screen Recorder

AnyRec Screen Recorder is a desktop tool that is powerful to be a WhatsApp call recorder. Its intuitive interface gives you quick access to its features before and during recording. The Video Recorder option allows you to capture onscreen with quality and custom screen region. You can also configure the setting on the Preference menu to suit recording as you like.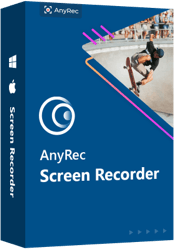 AnyRec Screen Recorder
Unlimited WhatsApp call recording with high-quality output through video, audio, or phone.
Enable users to use the Webcam Recorder option to record real-time video chatting on Windows/Mac.
Provide other valuable features like snapshot and drawing effects to maximize the video recording experience.
Offer more services like the voice enhancement, noise cancellation, and sound check to keep the high quality.
2. Bandicam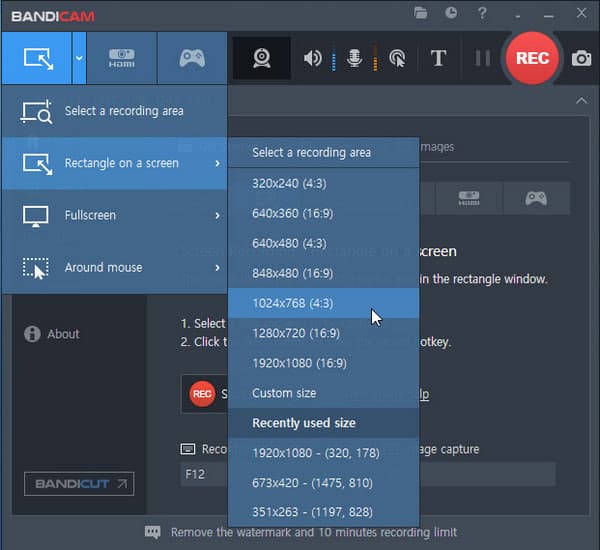 This WhatsApp call recorder is an excellent way to capture content on your device. Not only is it allowed on WhatsApp, but you can also use it on Facebook, Instagram, and other social networks. Bandicam is also excellent video capture software for gameplay and long-hour movies, which you can save on your computer with good quality.
Features:
◆ Enable to set a schedule of recording and start it automatically.
◆ Support MP4 and AVI to save recorded videos.
◆ Straightforward interface for easier navigation.
◆ Unlimited call recording on WhatsApp.
3. QuickTime Player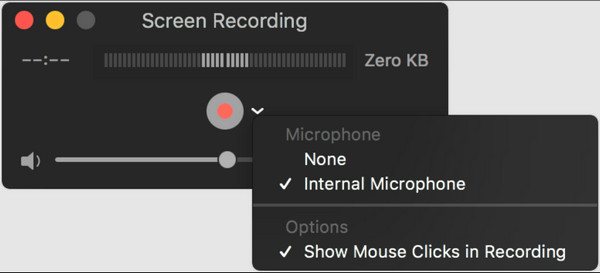 For macOS users, QuickTime Player is a pre-installed tool you can use as a WhatsApp recorder. Although its primary purpose is to be a media player, QuickTime has features like video and audio recorders. You can record WhatsApp video and audio calls with QuickTime. To record, click the File menu and select the New Screen Recording option. You can configure the settings by clicking the down arrow button next to the Record button.
Features:
◆ Free and no need to download.
◆ Easy to use while recording.
◆ Enable to open and play recordings.
◆ Allow using its built-in microphone.
4. Webcamera io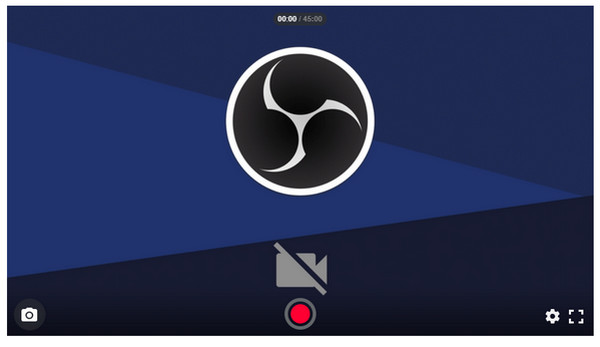 Webcamera is an ideal WhatsApp call recorder if you don't want to download a third-party app on your device. It enables you to configure the main recording parameters, select the desired quality, and adjust the volume. You can trust this online tool because it doesn't disclose any data.
Features:
◆ Free and easy to use with the intuitive interface.
◆ Configurable volume and echo effects.
◆ It can take a screenshot during recording.
◆ The chrome extension is available.
5. VEED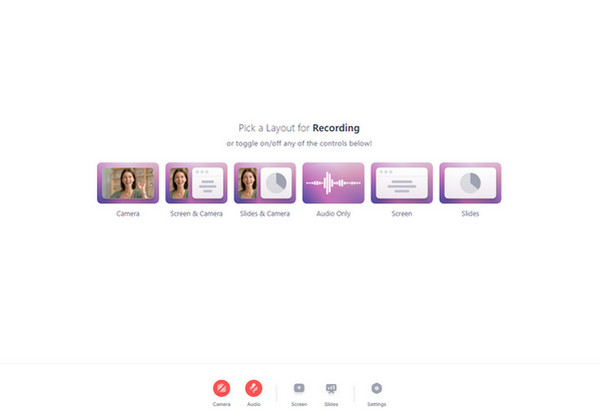 VEED is known for its wide range of tools for different purposes. It is also a WhatsApp call recorder which provides more options to record camera, screen, slides, etc. Using this online tool will require you to sign up to save your videos. Also, the free version only records for up to 10 minutes.
Features:
◆ Allow users to choose a window to record.
◆ Include themes and background effects.
◆ Provide editing tools for video recording.
◆ Free and valuable WhatsApp call recorder.
If you need more alternatives, you can check this article to get more software to record your screen.
Part 2: The Best 5 WhatsApp Call Recorders on Android/iPhone
Of course, mobile devices can also use a WhatsApp call recorder. And it is easier to look for a call recorder in App Store and Play Store. This next section will give you the best pick for WhatsApp call recorders. Besides, you can learn how to record WhatsApp on iPhone here.
1. Record Messenger Calls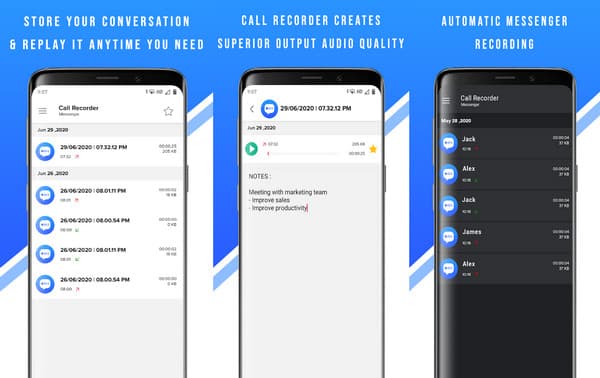 This WhatsApp call recorder supports many Android devices to help record WhatsApp video calls. You can use its speakerphone function, which allows the incoming audio to improve. The audio is enhanced with AI routines to give the users the best audio recording.
Features:
◆ Enable to start and stop recording automatically.
◆ One tap to record WhatsApp calls.
◆ Detect incoming calls and record accordingly.
◆ Store recording with quality.
2. Call Recorder – Cube ACR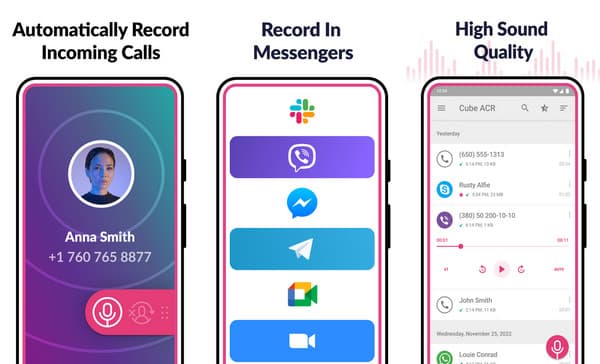 If you want to go for an advanced way to record all your calls, this call recorder for WhatsApp tool is for you. It supports more versions of Android devices so that you can download it without worry. You can record your phone and video calls with Call Recorder for free.
Features:
◆ Support Viber, WhatsApp, Facebook, etc.
◆ Clear and high sound quality.
◆ The Exclusion List allows excluding call recording.
◆ Enable to mark favorite recordings.
3. DU Recorder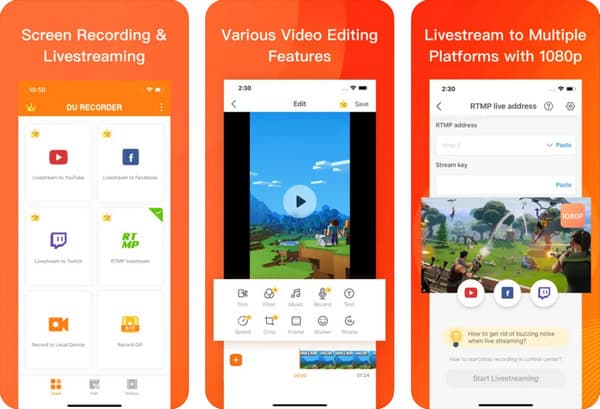 Another top call recorder for WhatsApp produces high-quality output. You can use it for phone and video calls with ease. Its floating panel allows you to access the needed feature whenever you are on call. You can also customize it and put the necessary functions. DU Recorder is free to download on Android and iOS.
Features:
◆ Enable to edit recorded videos.
◆ Suitable for live streaming and gameplay recording.
◆ No advertisements popping up.
◆ Link to many social platforms.
4. RecMyCalls – Call Recorder
With just a few taps on this WhatsApp call recorder, you can easily record any incoming call. It offers an intuitive interface, record voice memos, and export recordings to other apps. RecMyCalls is available on iOS 13, 13 mini, and later versions.
Features:
◆ Enable to record outgoing calls.
◆ Directly share the recording to other devices.
◆ Unlimited call recording.
◆ Excellent customer service.
5. Automatic Call Recorder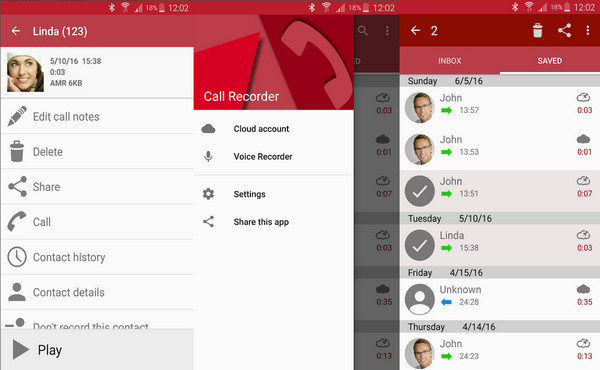 Lastly, Automatic Call Recorder helps you record and save calls you receive. This WhatsApp call recorder can also let you set which call you want to record and which to ignore. You can integrate the recorded calls on Google Drive and Dropbox.
Features:
◆ Simple interface.
◆ Safe and secure without virus.
◆ Frequent update for more features.
◆ Audio is of good quality.
Part 3: FAQs about the Best WhatsApp Call Recorder
Can I record WhatsApp call through my iPhone's built-in screen recorder?

Yes, just go to the Control Center, then add the Screen Recorder feature. Tap it and go to your WhatsApp.

Can I screencast WhatsApp call from my phone to my PC?

Yes. The best software to use is AnyRec Screen Recorder. The first thing you need to do is to connect the two devices to the same Wi-Fi connection. On the Screen Recorder, click the Phone option and click the OS. Locate the screen recorder on your phone's screencast feature, then proceed with the recording.

Can the caller track WhatsApp call?

Unless they are hackers, they can track WhatsApp. However, iOS users are exempted from this because of tight security protocols.
Conclusion
The WhatsApp call recorders give you the freedom to record and keep all the important calls. While there is some useful software to record WhatsApp, AnyRec Screen Recorder seems like the best solution. Go to the official website and free download the software to experience its unique recording features.
Related Article