Top 13 Popular Video Capture Software You Should Not Miss!
Screen recording is now a popular and easy method to save your memories, information, video tutorial, video calls, and academic sessions easier. Moreover, video capture software is now straightforward to use and allows you to record nearly every activity on your computer.
Part 1: The Ultimate Video Capture Software on Windows/Mac You Should Know
Are you looking for free video capture software that lets you record your entire computer screen, a single window, or a specified area in real-time? AnyRec Screen Recorder is perfect for you! This free video screen recorder offers more than just a few capabilities; it also allows you to do things like taking screenshots, and recording audio and gameplay. Moreover, it lets you record your screen without leaving any watermark. So, install this powerful video capture software now and experience recording without hassle.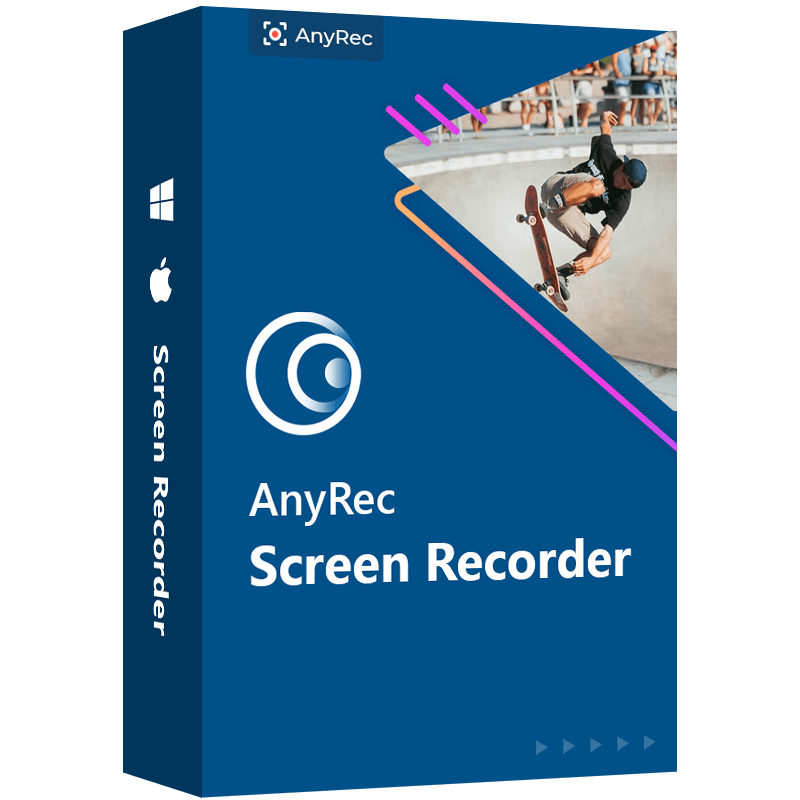 Key Features of the Best Video Capture Software:
Three modes to capture the video, audio, or gameplay easily.
Record with the full screen, window, fixed region, or custom screen.
Capture the screen, system sound, and your voice at the same time.
Customize the video frame rate, resolution, and format with high quality.
Steps to Follow:
Step 1.To get started, download and install the AnyRec Screen Recorder on your Windows or Mac device. Then, open the application and click the Video Recorder button.

Step 2.After that, you can choose to capture the whole screen by clicking the Full option, or you can click the Custom option to customize the screen size. Then, if you want to record your webcam, turn in the Webcam button. Moreover, if you want to record the audio, turn on the System Sound and Microphone buttons. Now click the REC button to start recording the screen.

Step 3.The best video capture software is now recording your screen. Once you're done, click the Stop button. Finally, you can first review your recorded video. Once you're satisfied with the outcome, click the Save button.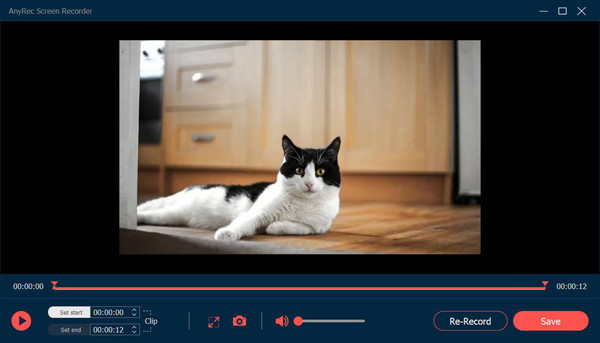 Part 2: Top 12 Best Video Capture Software on Windows/Mac/Linux
Aside from the ultimate video capture software that is given above, you can also consider using the following 12 screen recorders below.
1. CamStudio (Windows)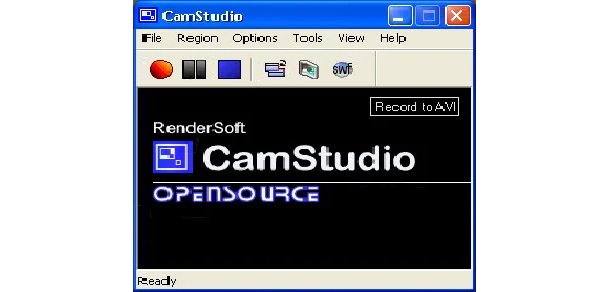 CamStudio is a free video capture program that allows you to record your screen and save them in AVI format. This program has many useful features that will make your life easier. It comes with a number of useful capabilities, including high-definition screen recording, video compression, and more.
Pros

It is available for free download from the official website.
Incredibly simple to use for everyone to use.
Cons

CamStudio has very limited editing features.
2. Icecream Screen Recorder (Windows)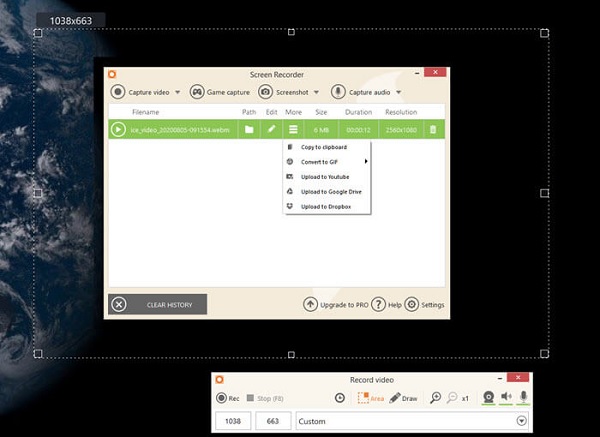 Icecream Screen Recorder is a free video capture software with a variety of features to suit the needs of most users. Apart from the standard recording features, the software's power lies in its tools, which include selecting the output quality and choosing to capture a portion of the screen or the entire screen. Moreover, you can also use Dropbox, Google Drive, and other services for sharing.
Pros

Able to record the screen, as well as the webcam.
Text, arrows, shares, and more can be added to videos.
Cons

Trimming the video is the only thing you can do.
Your video will have a watermark.
3. Free Cam (Windows)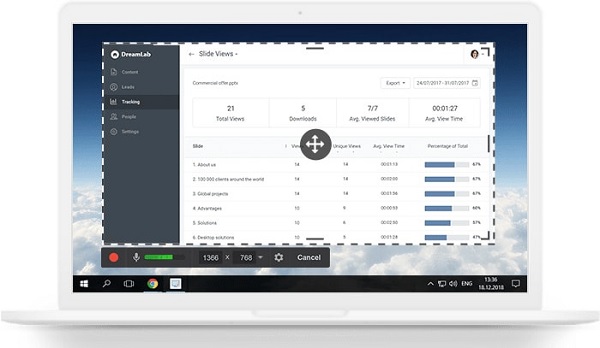 Free Cam (by iSpring) is a free video capture software for Windows that is basic and straightforward to use. Users that want to make professional video lectures, webinars, and e-learning presentations should use it. It contains a short set of capabilities that users will need to make a simple yet professional video recording. Furthermore, users can choose a specific recording area on their screen, capture system audio and the user's voice, highlight their mouse, and clip and edit films with Free Cam.
Pros

There is a noise reduction feature in this tool.
It allows users to record videos without a watermark or time limit
Cons

The resolution is limited to 720p.
The webcam recording is not supported.
4. OBS Studio (Windows/Mac/Linux)
OBS Studio is an open-source video capture and editing program that is designed for live broadcasting. The program is designed for gamers that enjoy streaming games and using a webcam. It can capture or broadcast video from various sources, such as individual windows, browser windows, and your webcam. Moreover, this software can also capture real-time video and audio from many sources.
Pros

Streaming game optimization with support for mainstreaming platforms.
There are numerous recording sources available.
Cons

This app can be perplexing for newbies.
To deliver live broadcasting, you'll need a high-end system.
5. SimpleScreenRecorder (Linux)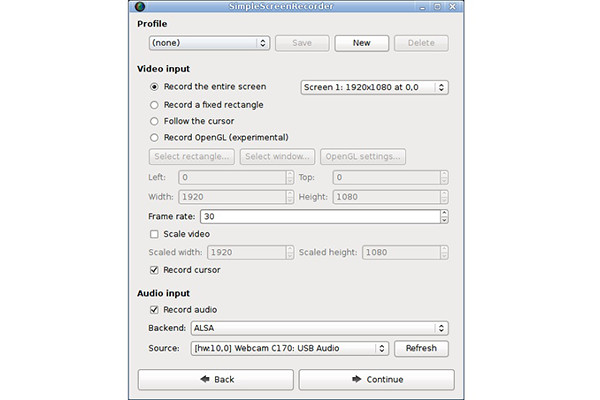 SimpleScreenRecorder is a Linux video capture software that is available for free. It has the essential features of any screen recorder, such as recording the entire screen or selecting portions of it to record. The program is straightforward to use, with default settings that will suit most users. Additionally, SimpleScreenRecorder lets them export data in a variety of formats.
Pros

OpenGL recording for video games.
The user interface is generally simple to comprehend.
Cons

Unable to record camera footage or capture screenshots.
6. TinyTake (Linux)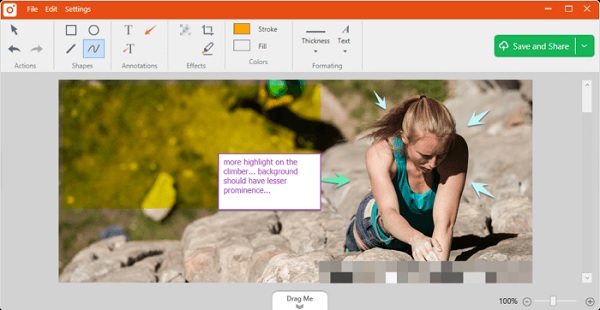 TinyTake is a useful Linux screen recorder from MangoApps that lets you capture images and movies from your screen, add comments, and share them with others. Moreover, it is a video capture software with a built-in cloud gallery for saving and sharing videos on Windows and Mac.
Pros

The video player supports mobile devices.
It enables file sharing in bulk.
Cons

The editing options are limited.
7. QuickTime (Mac)
The QuickTime media player is also a free video capture software that can help you. This software has a simple user interface that allows beginners to record whatever they desire quickly. Aside from that, users can record their camera, iPhone screen, and audio from their computer or microphone. When it comes to functionality, QuickTime is without a doubt the best free software for Mac.
Pros

It has basic editing capabilities, including trim, split, cut, and flip.
Export recordings to various formats, including WMV, AVI, MKV, and more.
Cons

Unable to capture the internal sound from system.
8. recordMyDesktop (Linux)
For Linux, recordMyDesktop is a free, open-source video capture software. It allows you to record the entire screen, a specified region, or a single window. The interface is simple to use, with only a few options, such as reducing the file size by changing the video and audio quality. recordMyDesktop allows for unlimited video recording without the use of watermarks. However, users cannot edit or clip the video in any way.
Pros

Record the entire screen, individual windows, or a specified region.
There are no watermarks, and the images are free to use.
Cons

There are no editing tools available; the recording cannot be trimmed or changed.
Only stores files in the OGV format.
9. Camtasia (Windows/Mac)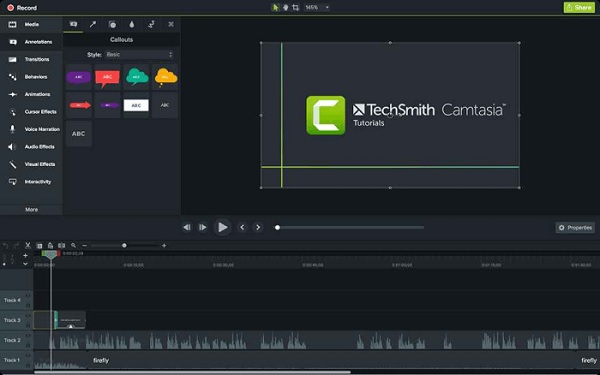 Camtasia is one of the famous video capture software and editing programs on the market today. It comes with themes and presets to help in video editing. Users may also use the software's features to create quizzes and interactive movies, ideal for online lectures and video courses. Moreover, you can make simple adjustments to the video, such as reducing it, adding audio, and adding text, among other things. Users can export the movies in various file formats or directly post them to your website.
Pros

It has a sound effect and music collection that is royalty-free.
It has a built-in webcam.
Cons

One of the priciest screen recorders on the market.
10. Windows 10/11 Game Bar (Windows)
Windows Game Bar is a built-in feature in Windows 10 that allows you to capture screenshots and video clips while playing games or using other applications. It's primarily designed for gamers, but can be used for other purposes as well. So, if you need more advanced functionality or want to capture footage from applications running in the background, this is not the best choice.
Pros

Supports multiple file formats, including MP4 and GIF.
Show system's performance metrics like CPU and GPU usage.
Cons

Limited functionality compared to dedicated video capture software.
Can only capture applications running in windowed or full-screen mode.
11. Movavi Screen Recorder (Windows/Mac)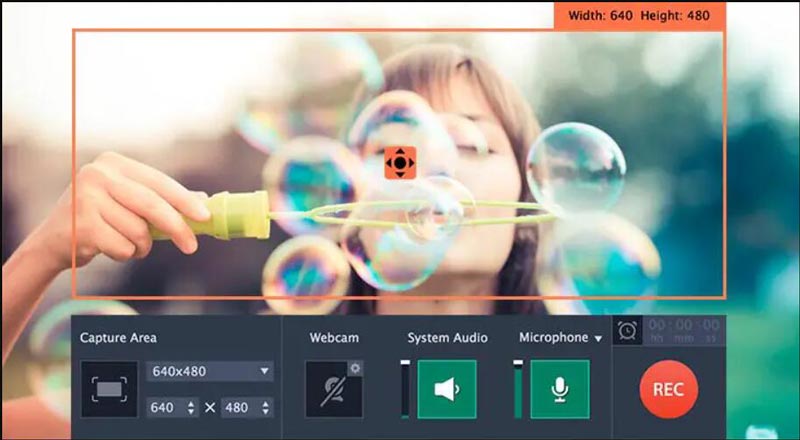 Movavi Screen Recorder is a screen recording software that allows you to record everything that happens on your computer screen, including games, presentations, video chats, and more. It's available for both Windows and Mac operating systems and offers a variety of features to help you create high-quality screen recordings.
Pros

Merge multiple recorded clips into one video.
Record both system audio and microphone input.
Cons

Support limited video formats to output recorded video.
12. Fraps (Windows)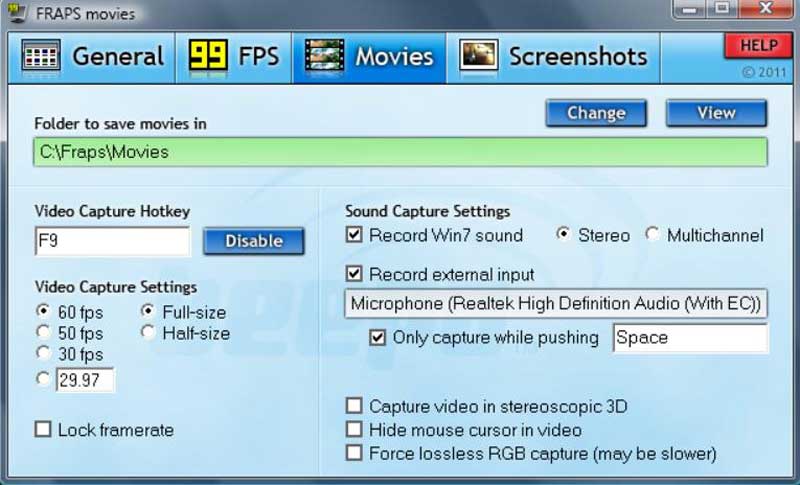 Fraps is a popular screen recording software that has been around since 1999. It was primarily designed for recording gameplay, but it can also be used to record anything happening on your computer screen. However, its lack of editing tools, limited recording options, and large file sizes may make it less suitable for other types of screen recording.
Pros

Record at up to 120 frames per second with smooth and clear recordings.
Display a real-time frames per second counter while recording.
Cons

No editing tool after or during the recording.
Part 3: FAQs about the Best Video Capture Software
1. Which cross-platform video capture software should I choose?

There are not many screen recording software for Windows/Mac/Linux. The most popular cross-platform tool is OBS. But you should note that it's difficult to use, especially for beginners.

2. How to record my screen online?

In addition to video capture software for desktop, you can use the AnyRec Free Screen Recorder to capture videos online without downloading software. You have to click the Rec button, set the recording area, turn on the Microphone and Speaker if you want to record your audio. Then, click the REC button.

3. What is the best video capture software for Windows?

Here are the top 5 choices from the market that you can freely use. They are in unchronological order. You can use the suitable one according to your need.- AnyRec Screen Recorder- TinyTake- Free Cam- Camtasia- Loom
Conclusion
Finally! You are now able to capture your screen without trouble. We are pretty sure that among the ten best video capture software, AnyRec Screen Recorder is the best option. It will help you record any video, audio, and gameplay in high quality. If you still have queries, you can freely message us.
More Related Articles