3 Efficient Ways to Record Video Calls on Viber
When you want to record video calls on Viber, you might ask, "There is no option in Viber for video call recording. How should I record my Viber calls?" Well, recording video calls on Viber is not impossible with the right software to capture every moment with your friends and family. Or you may want to keep a record of the business meeting you are anticipating. If you are looking for the best recorder to capture video calls on Viber, this article will provide 3 efficient ways for Windows/Mac/Android/iPhone.
Part 1: The Ultimate Way to Record Viber Calls on Windows/Mac
If you want to record video calls in Viber on your computer, you can go for the best software - AnyRec Screen Recorder to have a good conversation with your friend and also a high-quality recorded call. This program is an all-in-one screen recorder that can record your Viber call in a few clicks. With its advanced features, you can save your Viber calls recording in high-quality resolution. Moreover, you can enable the microphone and system audio to include when recording. Other features of AnyRec Screen Recorder are: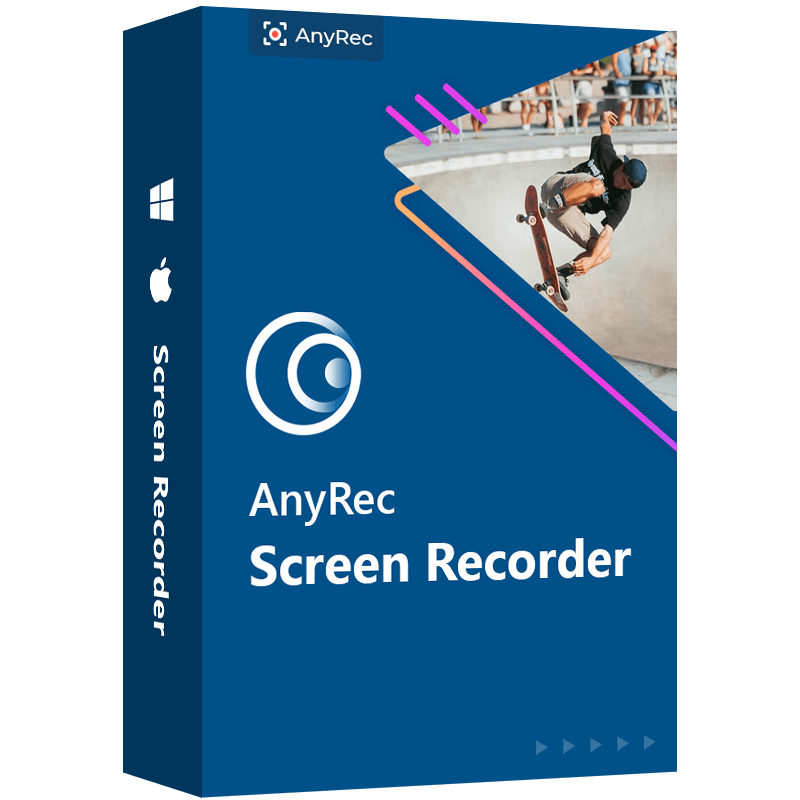 AnyRec Screen Recorder
Records video calls on Viber with high audio and image quality.
Provide noise cancellation and audio enhancement to capture Viber calls clearly.
Hotkeys to start, pause, and stop the recording at any time easily.
Customize the export setting, including the file formats, resolution, etc.
How to use this powerful screen recorder to capture video calls on Viber:
Step 1After installing AnyRec Screen Recorder on your device, launch it and choose the Video Recorder option on the main interface to start the Viber recorder.

Step 2Customize the area you want to capture by clicking the Custom button or choosing the Full option. To record video calls on Viber, please make sure that the System Sound and Microphone options are turned on to capture your voice and the person you are calling to.

Step 3By clicking the Record Setting button, you can also change the Output settings, including the export format, video resolution and quality, etc. Once done setting up, click the REC button to start recording video calls on Viber. After the countdown, a widget menu will appear for you to screenshot, pause or stopping the recording.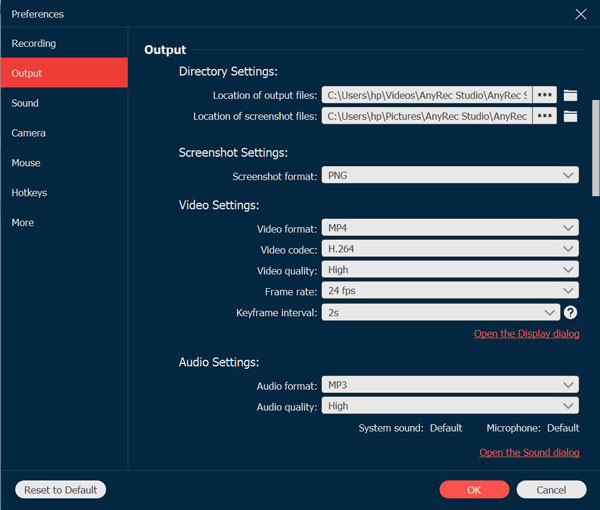 Step 4Click the Stop button to stop the recording. In this stage, you can trim the video and save it by clicking the Save button. Then you can choose the output path on the next pane. Once you click the Next button, your video will be saved automatically.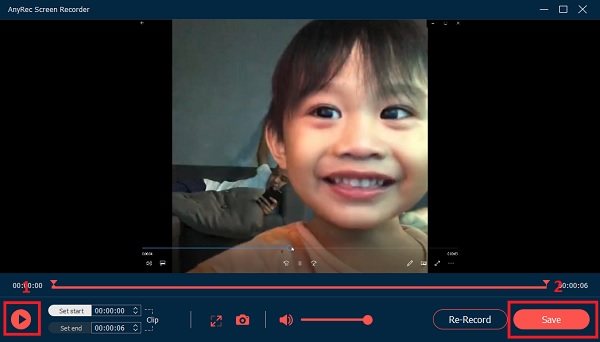 Part 2: How to Capture Viber Calls on Android
Recording Viber calls on Android will be easy if you use the recommend screen recorder - AZ Screen Recorder for Android. It is one of the most popular and best screen recorder for capturing video calls on Viber. Not only is it free and user-friendly, but it also enables editing recordings with its built-in editor. However, since AZ Screen Recorder is free, the advertisements are overflowing and it can interrupts your recording.
How to use AZ Screen Recorder to record Viber calls:
Step 1Download the app on Google Play Store then open it. It will ask for permission to have access with your phone, just click the Allow button.
Step 2A floating ball with options will appear on the side of your screen which allows you to start recording the Viber call. Before recording, you can set the video settings, such as video format, quality, etc. Then, just click the Record button and the countdown will start.
Step 3Go to your Viber app and start calling someone. While recording, you can also take a screenshot by clicking the floating ball then the Tool button. Turn on the Screenshot tab. Another floating ball will appear on the other side of your screen.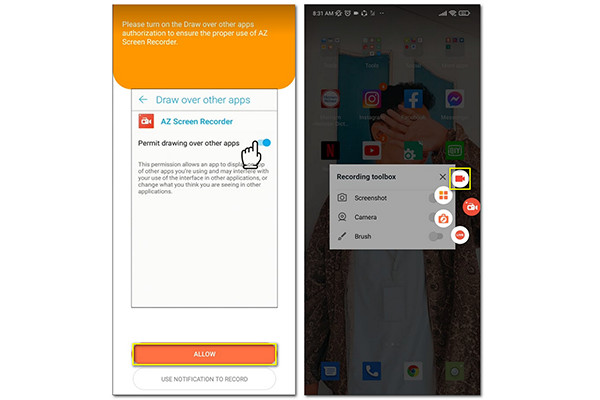 Part 3: How to Record Viber Calls on iPhone
As for recording your Viber call on your iPhone, it will be easy to do so as you just need to set the built-in function of your device. Moreover, this default screen recorder does not limit your phone activity such as playing games, surfing the internet, and calling in Viber. Although this might the best to screen record your Viber call, the built-in screen recorder is only available to iPhone 7 and later versions.
How to set up the default screen recorder on iPhone to record video calls on Viber:
Step 1Go to the Settings of your iPhone and scroll down to locate the Control Center to enable the Screen Recorder feature by turning on the button.
Step 2Click the Customize Controls and look for the Screen Recording option from the customize interface and click the Plus icon. This allows you to add the recording feature in the Control Center.
Step 3After enabling the recorder, go to your Viber and call someone. If you are using an iPhone X or later versions, just swipe up and click the Screen Recording icon. Then click the Start Recording button to capture Viber calls on iPhone. Don't forget to turn on the Microphone option to record the audio.
Step 4Once you want to end the recording, just tap the red status bar and then the Stop option. Your recorded Viber call will be automatically saved to the Photos app.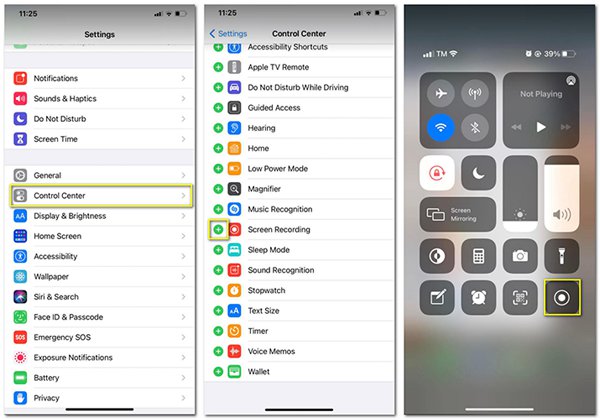 You can learn more about screen recording on iPhone 14/13/12/11 here.
Part 4: FAQs about Recording a Viber Call
Can I take a screenshot while recording my Viber call?

Yes. Mostly, the third-party tools have this feature included so that it will be convenient to capture your screen and send it to someone. However, you can take screenshots too with the default ways on Android (Power and Down Volume button) and iPhone (Screenshot button)

How to record video calls of Viber online?

You can use the AnyRec Free Screen Recorder, the online version of the program. It does not require extension and you can record your Viber call immediately. Just go to the website, set up the needed internal audio and your microphone, then you are good to go!

Does Viber allows chat while having a Viber call?

Yes. With the 2015 update, Viber let's its users to chat while having a call. You can now minimize the Viber call and open other screen within the app without the interruption. So you can also record video calls and chats on Viber at the same time.
Conclusion
To summarize, Viber does not support recording your calls but allows other tools to record your Viber call. It does not ask for permission for a program to record its content. Thus, you can use the mentioned 3 methods to record video calls in Viber on your Windows/Mac/Android/iPhone easily. If you have any question or advice, please contact us now.
Related Articles