[Ultimate Guide] Now You Can Record Skype Calls on iPhone/Android/PC/Mac Secretly
What should be the best method to record the Skype calls? Skype has a built-in recording feature to capture inbound and outbound automatically. But once you have started the recording, there will be a popup notification for recording. Just learn more about the workable methods to record the Skype video calls secretly and the built-in method from the article.
Skype Call Recorder
Pros
Cons
Who Can Use
AnyRec Screen Recorder

1.    Better recording quality.

2.     Don't send any notification to the host or attendees.
3.     Keep your call recording files longer than 30 days

iPhone/Android users need to mirror your phone to PC/Mac before recording.
Everyone
Default Skype recorder

1.     Record and store video and audio calls on the cloud.
2.     No need to install third-party Skype recorder apps.
3.     Share your recording with other callers quickly.

1.     Skype send notifications before recording.
2.     Skype will delete your recording files after 30 days automatically.
3.     Compress audiovisual recording quality.

People who have notified others before recording.
Secretly Record Skype Calls and Save Longer than 30 Days (Recommended)
When you need to record Skype calls without any limitation, AnyRec Screen Recorder is a full-featured Skype video recorder that captures high-definition video calls with audio files. Moreover, you can also add the webcam footage and annotation to the recordings. There are multiple settings for video frames, file formats, and more others. Comapred with the default Skype recording support, you can unlock more recording and editing features within AnyRec. Here're the main features about the powerful Skype call recorder app for Windows, Mac, iPhone, and Android.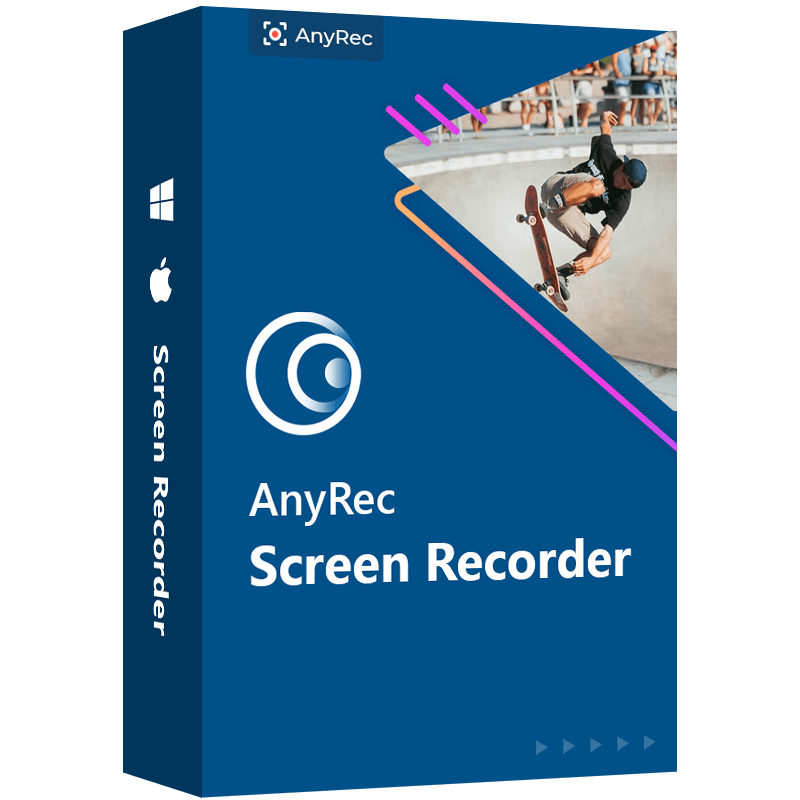 Skype Call Recorder
Capture Skype video and audio calls from both sides stimultanrously.
Never send notificaitons when you record or screenshot during a Skype call.
Add annotations, set hotkeys, and enable other features while recordigng on Skype.
Trim long Skype recording file with custom start and stop time.
Save your Skype recording files to MP4, MP3, MOV, M4A, and other formats permanently.
Step 1.Download and install AnyRec Screen Recorder, you can launch the program on your computer before you start the Skype video call. Click the Video Recorder option to capture incoming and outgoing SKype calls.

Step 2.Enable the DISPLAY1 option to choose the Custom option and select suitable screen size. Then turn on the System Sound option as well as the Microphone option. Check the Noise Cancellation Enhancement button to enhance the audio quality. So you can capture Skype calls without background noise.

Step 3.Click REC to start recording calls on Skype. During the recording process, you can add texts, lines, arrows, and callouts to the recorded Skype video call. Click the Camera icon to capture a screenshot on Skype. Once you have captured the desired files, you can click the Stop button to save the recording.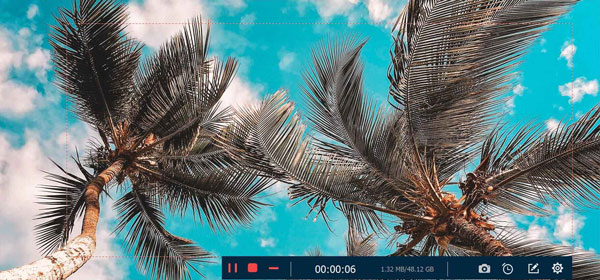 Step 4.Preview the recording within the built-in media player directly. You can also trim the desired part with the stat point and the endpoint. Then click the Save button to name the recorded Skype video call and then save it to local drive directly.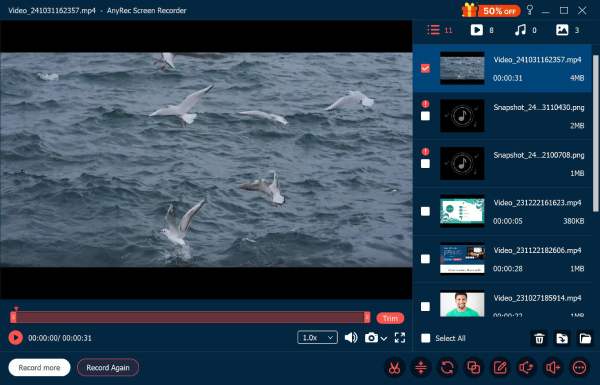 Note
To record iPhone and Android Skype calls, you can choose Phone Recorder on the main interface. Follow the on-screen instruciton to mirror iPhone/Android screen to your computer. Later, you can record calls for hours with high quality.
Officially Record Skype Calls on PC/Mac/iPhone/Andorid (Others Will Know)
How to Record Skype Calls on Windows 11/10/8/7 and Mac
If you want to record Skype to Skype calls only, you can use its built-in recording feature. Make sure you have notified others about this call recording. Otherwise, it is awkward to see a popup about Skype recording. Now, lets' see how to record Skype calls for free on your computer.
Step 1.Wait for all participants join this Skype call/meeting. Find and click the + icon on the lower right corner of the Skype window.
Step 2. A Skype recording message will pop up on everyone's computer screen. Later, you can record Skype video calls.
Step 3.When you want to stop Skype recording, click the + icon on the same place. Choose Stop Recording to finish the process.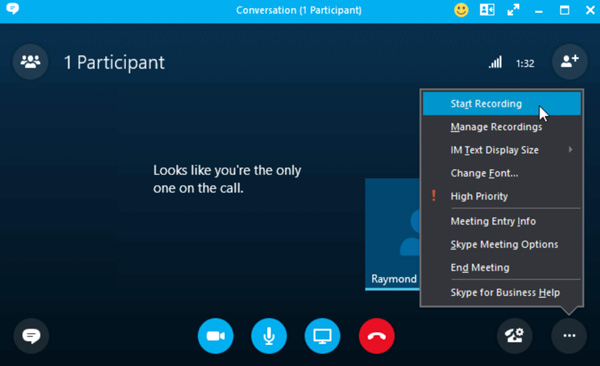 Tips
All attendees in this Skype call can access this recording file. Skype saves your recording in the cloud up to 30 days. Later, Skype will delete it and free up new space. Therefore, you had better choose More, Save to Downloads or Save As to download Skype call to MP4.
How to Record Skype Video Calls on iPhone and Android
As for iOS and Android users, you can use its built-in free Skype call recorder as well. The entire Skype recording process is quite similar with the desktop ones. By the way, you can use Skype call recorder apps to do the work as well, such as iOS 11 screen recording, AZ Screen Recorder, AirShou Screen Recorder, etc. Whatever, here're the detailed steps to record Skype calls on iPhone 13/12/11 and Android.
Step 1.Open the Skype app. Make a call with other Skype users.
Step 2.Find and tap the three-dot icon during the call.
Step 3.Tap Start recording no matter you try to record a Skype call on any iPhone or Android.
Step 4.Everyone in this Skype call will receive the recording notification.
Step 5.Once you stop recording, you can get the Skype call recording file in the chat area.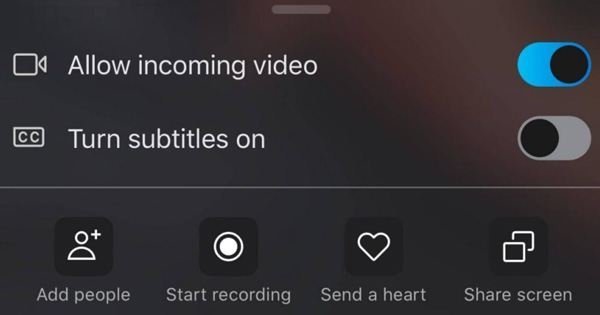 Part 3: FAQs about Recording Skype Video Calls
Is there a time limit when I record a Skype call?

Yes. It does have a time limit when you are recording a Skype video call. The maxim time limit is 24 hours one time. If you want to continue recording after 24 hours, you can start recording again. The recording will be available in your chat for 30 days.

Can you record a Skype meeting as a participant?

Yes. Though the built-in recording feature is only available for the hosting account, you can use a third-party Skype call recording software or call recording programs. To make everything legally, you should send a notification to all the participants beforehand in the way.

Where do the recorded Skype calls go?

If you record with Skype for personal purposes, you can go to the chat window to find the video. As for Skype for Business, head to the Settings option to choose the Recording Manager option to find the recorded Skype video calls on your computer.
Conclusion
Here're easy ways to record Skype video calls on Windows, Mac, Android, and iPhone. If you are a host and do not afraid of the notification for recording, the built-in screen recorder should be a nice choice. Of course, you can choose AnyRec Screen Recorder to capture all onscreen activities on your computer.
Related Articles