Top 10 Free Call Recording Apps for Latest iPhone and Android [2023]
The default iOS screen recording function and Voice Memos do not support for call recording. If you want to record incoming and outgoing calls on iPhone, you need to use a call recording app. So do Android users. The question is, what is the best call recorder app for iOS and Android users? After comparing hundreds of apps for call recording in the market, we collect the top 10 call record apps in 2023. You can record both sides of a phone call on iPhone and Android secretly.
Part 1: Record Video and Audio Calls without Them Knowing (Recommended)
If you want to record video calls and meetings on Windows and Mac, you can use AnyRec Free Online Screen Recorder. It is a free video call recorder that can record video calls on laptops and desktops without others knowing. You can record video calls from Skype, Zoom, Google Meet, MS Teams, and more. The other party of the video call will not be detected or notified. No time limit or watermark. It is totally free and safe to use the free MP4 video call recorder.

For people who just want to record audio chats and conversions, AnyRec Free Online Audio Recorder can be a good choice too. You can record audio calls on Windows for free with no time limit. Of course, your call recording activity is secret in the online MP3 call recorder.
Part 2: Top 5 Call Recording Apps for iPhone
Top 1: Rev Call Recorder
The free iPhone call recorder app can record incoming and outgoing calls without limit. There are no subscriptions or per-minute fees on phone call recordings. Moreover, it is also a phone recording transcription app for iOS 10 and later users, as well as iPhone 13 and iPhone 12 users.
Pros

No ads or time limit on call recording.
Record and export your phone call recording via email, Dropbox, SMS, etc.
Cons

U.S. phone numbers can register with 1 (+1) country code.
The dropped call bug is annoying.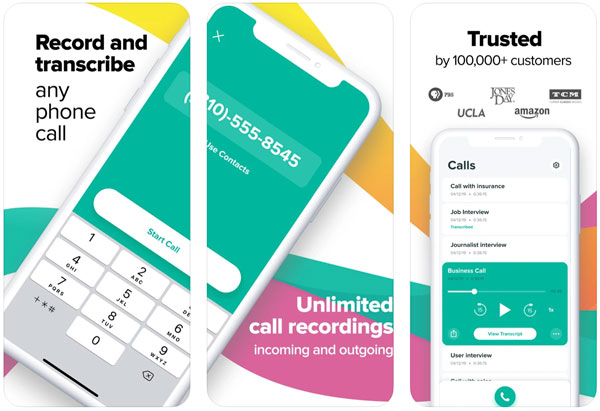 Top 2: TapeACall Pro
TapeACall Pro is a business iOS call record app that let users record incoming and outgoing calls on iPhone. Your phone call recording can be exported to Dropbox, Google Drive, Facebook, Twitter, and more.
Pros

Record iPhone incoming and outgoing calls without time limits.
Download, share, transfer, or upload your call recordings from iPhone to elsewhere.
Cons

The call recording app for iPhone charges $10.99 with in-app purchases.
Require 3-way calling on your carrier before recording calls on iPhone.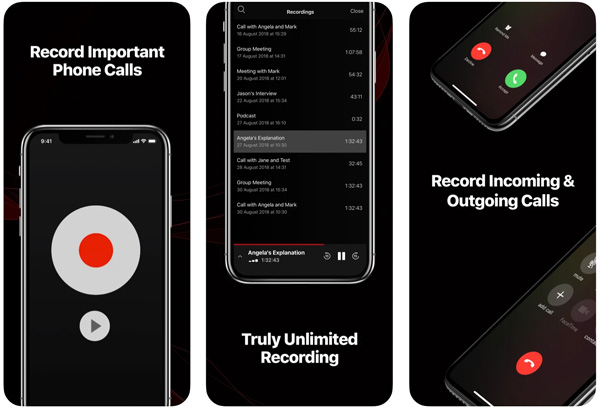 Top 3: RecMyCalls by BP Mobile
RecMyCalls requires iOS 13.0 and later versions. To run the call recording app normally, you need to update OS version first. Later, you can record calls on iPhone for saving or sharing.
Pros

The iOS 14 call recorder app offers easy taps for call recording and management.
Export and share iPhone call recordings to other devices within the application.
Cons

Cannot auto start up the app to record incoming and outgoing calls.
The call recording to text transcription function does not work well.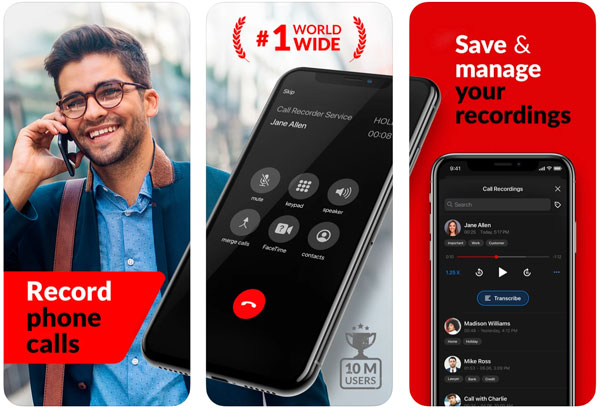 Top 4: Call Recorder Lite for iPhone
You can record all phone calls on iPhone by creating a 3-way call. The app to record phone calls integrates with multiple cloud platforms. You can record iPhone calls and then save them into Dropbox, Facebook, Twitter, iMessage, and Email.
Pros

Record the full length of your call with the call recording app free version.
Adjust the playback speed and stop forward or backward.
Cons

Need to upgrade with $9.99 to listen to your call recordings.
Contain hidden fees for iPhone call recording.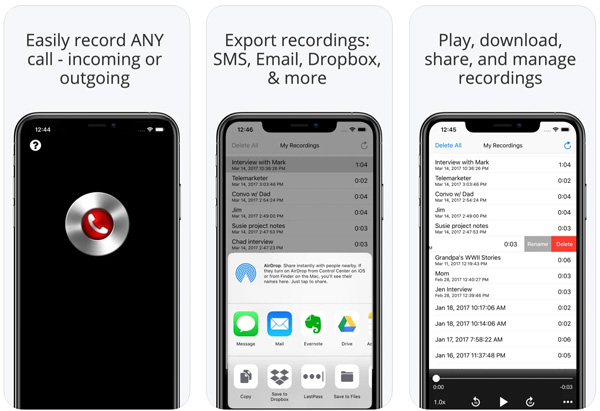 Top 5: iRec Call Recorder for iPhone
iRec Call Recorder is a free app for call recording on iOS 10 and later devices. You can record international and domestic calls with a private caller ID or a different private phone number.
Pros

Record voice calls on iPhone for sharing or emailing.
The iPhone call recording app makes it possible to record calls on iPad and iPod touch.
Cons

It has a problem while transferring the subscription from an old iPhone to a new iPhone.
Many users have difficulties while recording phone calls within the iPhone call record app.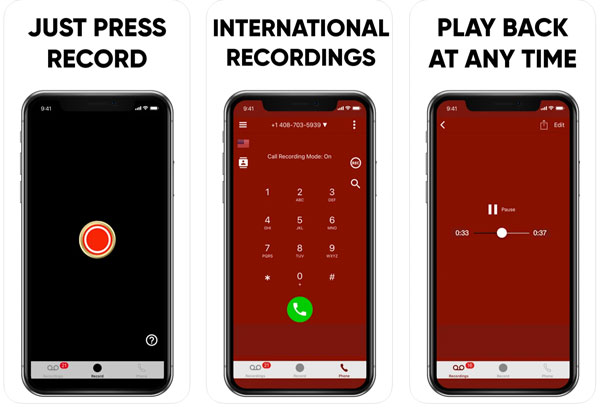 Part 3: Top 5 Call Recording Apps for Android
Top 1: Automatic Call Recorder
By using Automatic Call Recorder, you can set which call to record and which ignore flexibly. The Android call recording app can detect incoming and outgoing calls based on your customizations.
Pros

Record calls and save them into the Inbox or Saved Calls folder.
Record/ignore everything or selected contacts for further voice call recording on Android.
Cons

Sometimes cannot record the voice of an incoming caller.
Cannot record calls in the background.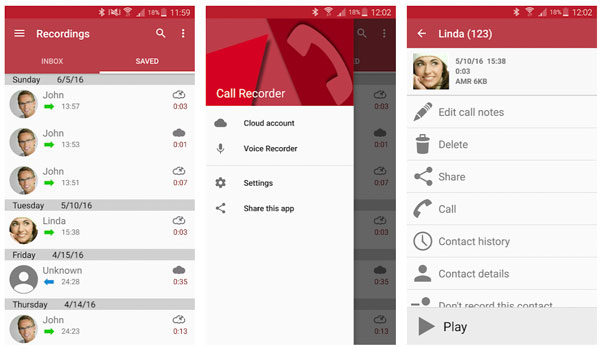 Top 2: Cube ACR Call Recorder
Cube ACR Call Recorder can record not only phone calls but also online calls from Skype 7, Skype Lite, Viber, WhatsApp, etc. You can record incoming and outgoing calls on Android with clear sound quality.
Pros

Record and save voice calls to Google Drive for restore.
Mark the important part by shaking your phone during call recording.
Cons

Have problems recording telegram calls occasionally.
Sometimes cannot record the other person's voice while recording.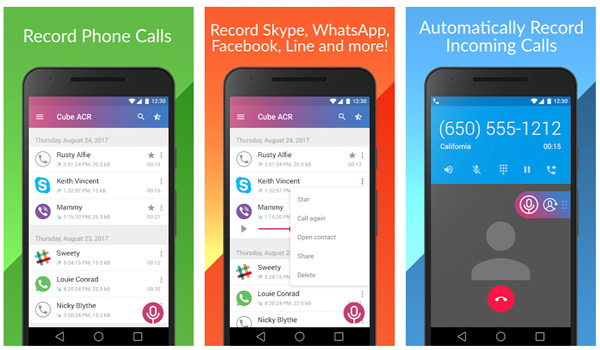 Top 3: Trubecaller
If you are in the United States, you can use Trubecaller as your Android call recording app. You can record voice calls, chats, and SMS within the application. Furthermore, you can protect your phone from spam and scams by using its advanced blacking & spam detection.
Pros

Auto identify and block unwanted phone numbers, robocallers, fraudsters, etc.
Tell you whether the unknown phone call is a business or spam.
Cons

The SMS spam block function does not work very well.
It takes a long time to search with your long blocked-caller list.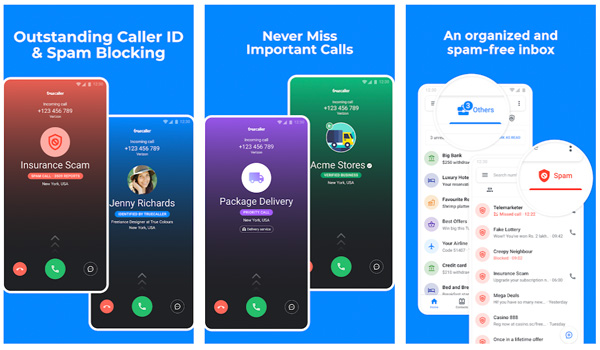 Top 4: Blackbox Call Recorder
Blackbox Call Recorder is a free automatic call recorder app for Android. You can record phone calls on Android and then save them to the storage space. Moreover, you can set a whitelist of contacts from being recorded.
Pros

Backup and restore all call recordings from Android to Google Drive.
Set an auto-schedule to delete old call recordings automatically.
Cons

The call recorder app for Android doesn't support VoIP calls from Viber, Skype, Messenger, WhatsApp, etc.
Outgoing call recording does not work on well with some Android users.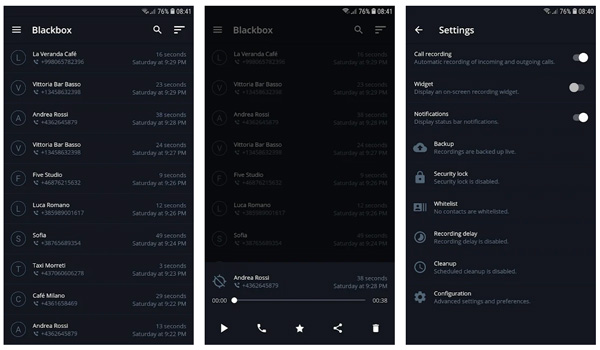 Top 5: RMC Call Recorder
RMC Call Recorder can record calls through the microphone. To record incoming and outgoing calls with a clear voice, you had better turn on the loudspeaker. All the recorded phone calls will be saved on the memory card.
Pros

Set auto and manual mode to record all incoming and outgoing calls on Android.
Export your Android call recording into MP3, AMR, MP4, or 3GP audio formats.
Cons

The floating start and stop recording options don't respond fast.
The recorded volume is low in comparison to your own voice.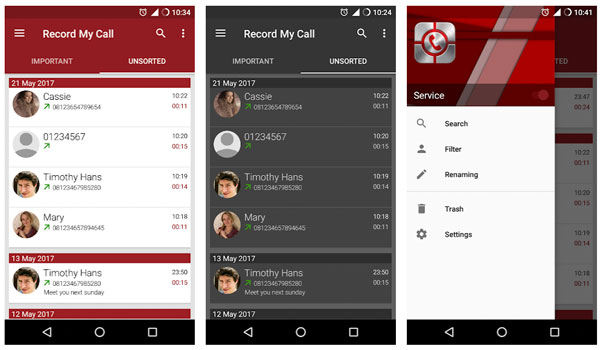 Part 4: FAQs of Call Recording Apps
Is it legal to record phone calls?

It depends on where you live. The federal law allows phone call recordings. You can record phone calls and conversions. However, it is illegal to record a phone call without permission in California. Before using the call recording app, check the local law first.

Can you record a phone call and use it as evidence?

If you record a telephone call legally, then the answer is Yes. You can use the recorded phone calls as accurate representations and prove something. As for secret call recordings, it depends.

How to tell if someone is recording my call?

If you hear any unusual sound during your call, like recurring noises, brief bursts of static, or clicks on the line, you need to be careful. Someone may monitor and record this conversion secretly.

How to record on iPhone without an app?

Go to Settings. Choose Phone and disable Call waiting. Dial your number from the contact list. Once the call establishment starts, tap Add Call on the iPhone screen. From the address book, choose your own contact number. You can confirm it by tapping the green dial button. Once you hear the beep sound, choose Merge calls on the iPhone screen. You can record incoming or outgoing calls on iPhone without app.
Conclusion
These are highly recommended apps to record phone calls on the latest iPhones and Androids. You can record all kinds of voice calls from both ends with high quality. If you want to record video calls, you can run AnyRec Free Online Screen Recorder as your free video call recording app instead. Or you can free download the full version to explore more advanced recording functions. Can you get your best call recording app in 2023 now? If not, you can feel free to contact us about your demands. Any questions and suggestions are welcome.
Related Article