Top 5 Apps to Remove TikTok Watermark [Mac/Windows/iOS/Android/Online]
A TikTok watermark remover can help you cover, remove, or blur the watermark on the videos from TikTok. This kind of tool is helpful when you want to share your posted TikTok videos on other social media. Once use apps to remove the TikTok watermark, you will be able to share TikTok videos on Instagram Reels, Facebook Reels, or YouTube Shorts without the distracting TikTok watermark that will affect the visual effects. Quickly check out the efficient TikTok watermark removers that this article gathered for you.
Part 1: Top 5 TikTok Watermark Remover (Mac/Windows/iOS/Android)
Here in this chapter, you will learn the 5 best TikTok watermark removers for different platforms, whatever devices you are holding now, you can quickly remove the watermark on your TikTok video using the carefully selected products below. Moreover, the following content also brings the detailed features of each TikTok watermark remover as well as their pros and cons. Keep reading to find out which is the best one for you.
◆ AnyRec Video Converter (Mac/Windows)
◆ Video Eraser -Retouch Removal (iOS)
◆ Watermark remover, Logo eraser (Androids)
◆ 123APPS Online Video Cutter (Online)
◆ BeeCut – Online Watermark Remover (Online)
Top 1: AnyRec Video Converter
Ranks the top place among other TikTok watermark removers, AnyRec Video Converter can bring you the simplest operation to remove any watermark on a video, not just the TikTok video. Moreover, if you are willing to explore this TikTok watermark remover, you will find more functions there. For example, you can edit the video before posting it on TikTok or edit the TikTok caption or add your special watermark on the video to prevent others steal your video from TikTok.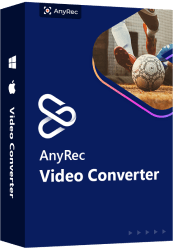 AnyRec Video Converter
Adjust covering area of TikTok watermark.
Blur TikTok watermark based on lasting time.
Remove the TikTok watermark without hiding frames.
Check the effects when removing the TikTok watermark.
Pros

Remove the TikTok watermark with one click.
Set watermark remover at different time points.
Lots of TikTok filters for you to apply before posting.
Covering the TikTok watermark will not damage the frames.
Automatically apply the blurring effects on the watermark.
Cons

Single mode for removing TikTok watermark.
Top 2: Video Eraser – Retouch Removal
Video Erase is a TikTok watermark remover app for iOS users. It claims to be a one-stop video watermark removal tool with simple editing features. Hence, you can precisely edit your TikTok video and cover the TikTok watermark. You can even wipe off the texts you dislike on a TikTok video naturally and seamlessly.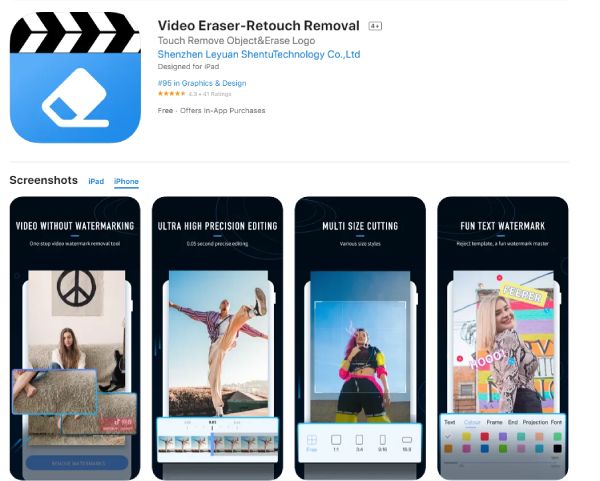 Pros

Track and delete moving objects in the video.
You can get a high-definition restoration for blurry photos.
Quickly remove the watermark on TikTok videos with AI technology.
Replace the TikTok watermark with more interesting stickers or images.
Cons

Extra fees to unlock the editing features.
You can't cover the watermark based on its appearing time.
Tips
If you use iPhone, you can directly save a TikTok video on your iPhone without recording the TikTok video. Simply open TikTok, find a video you want to save, and tap the Share button. At the very bottom, you can see the Save video button, tap on it, and save the video to Photos.
Top 3: Watermark remover, Logo eraser
Watermark remover, Logo eraser is an Android app for you to remove the TikTok watermark. The simple UI operation allows you to quickly master this remover and server for your TikTok video. Except for covering the TikTok watermark for you, it can also compress and edit videos. Inside this remover, there are also many video size templates designed for each social media like YouTube, Instagram, and TikTok.
Pros

Select regions to remove the TikTok watermark.
Add other text watermarks to replace the TikTok watermark.
Fixed video sizes for many social media platforms.
Cons

5-minute video limitation with the free version.
The free version has many ads.
Top 4: 123APPS Online Video Cutter
123APPS Online Video Cutter is a free online TikTok watermark remover that you can open anytime and anywhere. This Cutter helps you remove watermarks, blur logos, and dates, and add text to your video with a few clicks.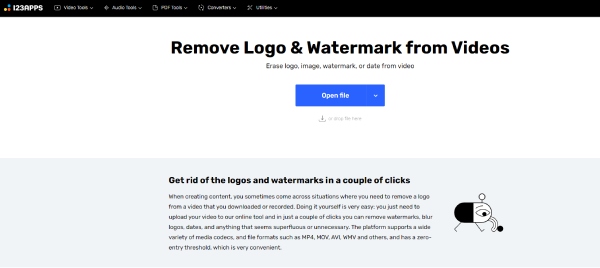 Pros

You can preview the video to see the effects.
Adjust the watermark removing area for better results.
The output video without the TikTok watermark has original quality.
Access this TikTok watermark remover on any of your devices.
Cons

Can't directly share the video on other platforms
It covers the watermark with a fixed square.
Top 5: BeeCut – Online Watermark Remover
BeeCut is another online TikTok watermark remover that enables you to remove watermarks from images and videos. Since this online remover only focuses on erasing the watermark on video, there are not many fancy features in this remover.
Pros

You can upload several TikTok videos at a time.
Add boxes as many as you want to remove unwanted objects.
Cons

The coverage area for TikTok watermarks is hard to adjust.
The way it removes a TikTok watermark is quite rigid.
Part 2: How to Use the Best App to Remove TikTok Watermark
Since you've already known some best TikTok watermark removers above, now it's time for you to make action and learn how to use the best app to remove TikTok watermark on your computers. Whether it is on a Mac or a Windows computer, once you throw a TikTok video to the AnyRec Video Converter, this TikTok watermark remover can always handle for you and cover the flashing TikTok watermark.
How to remove TikTok watermark with Video Converter
Step 1.Free download and install this TikTok watermark remover on your device. Launch the remover and on the main interface, click the Toolbox button at last. There are many frequently used tools in the Toolbox including the Video Watermark Remover.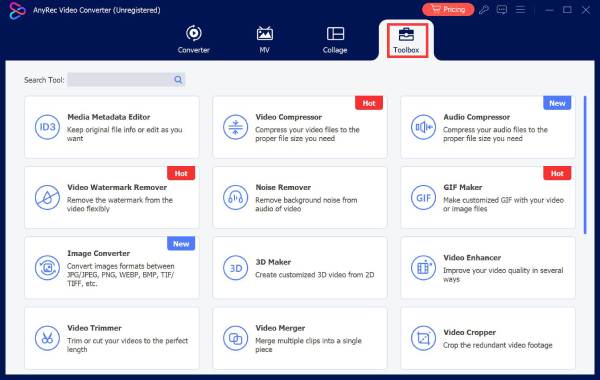 Step 2.Click the Video Watermark Remover button and it will lead you to a new window. There, you can drag your TikTok video to import or click the Plus icon to upload your TikTok video to remove the watermark.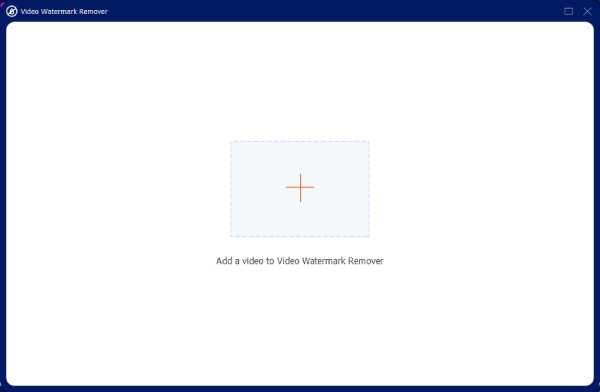 Step 3.In the middle of the interface, you can click the Add watermark removing area button. A small square-like mosaic will show up in the above video. You can drag the small square to precisely hide the watermark.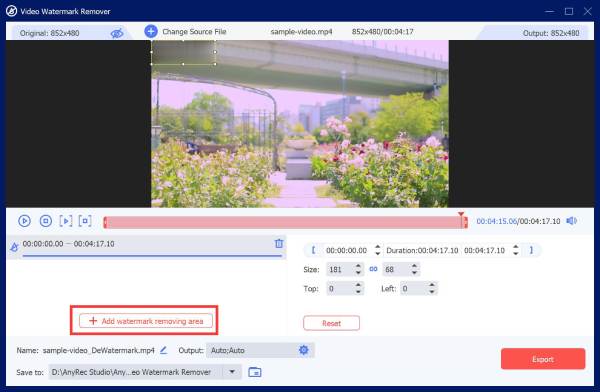 Note: Since the TikTok watermark would move in the video and appears in two, you can also set the coverage area according to the appearing time via the slider bar. Then, you can cover both watermarks.
Part 3: FAQs about TikTok Watermark Remover
Is it legal to download the TikTok video without watermark?

There seem to be many downloading sites that claim to save the TikTok videos without watermark. However, the watermark protects the copyright of the poster. If you are going to make a video collage with other videos from TikTok but do not want the watermark to affect the video, you'd better ask the poster first

What is the final effect of a TikTok watermark remover?

Basically, a TikTok watermark remover usually covers the TikTok watermarks with a blurry block. The remover does not really erase the watermark entirely like it never exists before. Cause no remover can predict what is behind the watermark and reproduce it.

What to do if not using an app to remove TikTok watermark?

If you have a TikTok video on your device and wish to remove the watermark without installing any applications, you can try to crop the video. Resize the TikTok video and make the watermarks out of the picture.
Conclusion
Simply wrap up, the 5 top TikTok watermark removers are all helpful. If you already have some TikTok videos on your hand, now open your device and try these efficient apps to remove the TikTok watermark and repost the video on other social media like Instagram, or use it as your material to create a new video.
Related Article