3 Easy Methods on How to Reverse Video/Audio on TikTok Easily
Have you already watched a video on TikTok that has a different meaning when you reverse it? It has become trending nowadays because it gives extra fun and a twist on your videos. And so, do not let yourself be out of the trend and try reversing your video and audio on TikTok now.
This post will give you the three easy ways on how to reverse a video on TikTok. No matter you want to reverse TikTok video/audio files for watching or uploading, just buckle up and read the whole post to have in-depth knowledge about reversing videos and making them more fantastic.
Part 1: The Detailed Steps to Reverse Video/Audio on TikTok Easily
TikTok is a popular social media platform to share your videos all around the world. If you have the TikTok application on your mobile phone, you can utilize it to reverse your videos. However, it only supports reversing video/audio on TikTok for uploading. If you want to save it to your albums, you have to post it first and save it. Nevertheless, this article prepared the steps on how to reverse a video or audio on TikTok.
Steps to Follow:
Step 1.Firstly, open your TikTok application. Then once opened, tap the Add (+) button on the bottom part of the screen. After that, tap the Upload button and select the TikTok video that you want to reverse. Afterward, tap the Next button. You can also click the REC button to take a video.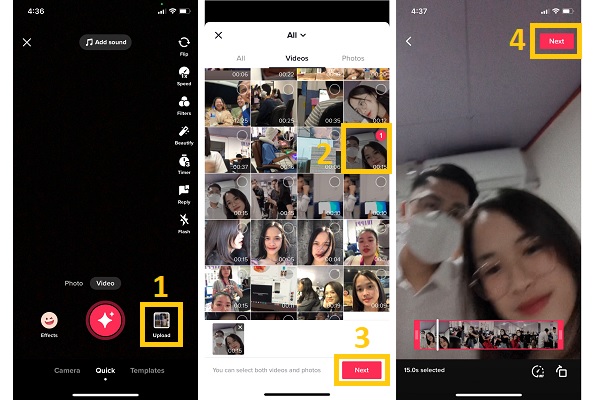 Step 2.After that, you can choose to trim videos according to your need. And then click the Next button to save it. Next, go to the Effects menu. From the Time section, tap the Reverse option. Once done, tap the Save button.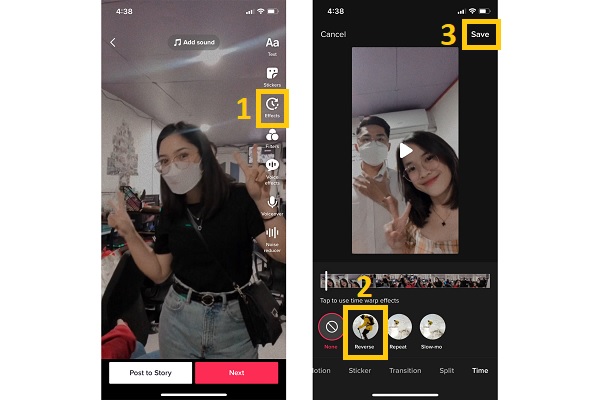 Step 3.Finally, you can preview your video and tap the Next button to save all the changes. Then, just tap the Post button to upload it to your TikTok account.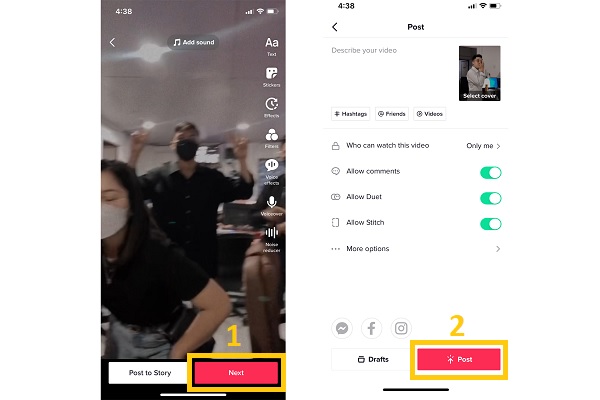 Part 2: How to Reverse TikTok Videos with Audio for Uploading/Watching
As stated above, TikTok does not support saving a TikTok reversed video. Good thing there is AnyRec Video Converter that will help you save your reversed videos to your device directly. It also supports reversing videos on TikTok for watching. Moreover, this software comes with many fascinating editing features that will surely make your videos more beautiful. You can also follow the outlined steps below on how to reverse a video/audio on TikTok.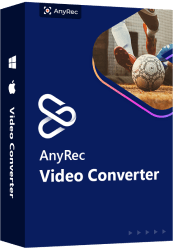 Distinctive Features of the Best TikTok Video Reverser:
A designed video reverser tool to reverse TikTok videos easily.
Apply pre-themes, filters, and effects to make your videos more attractive.
Support exporting the videos with the original settings and high-quality.
Many additional functions, like speed controller, cropper, enhancer, etc.
Steps to Follow:
Step 1.First and foremost, download and launch the AnyRec Video Converter on your Windows/Mac device. Then, proceed to the Toolbox section. After that, click the Video Reverser button, then a new window will appear on your screen. From there, click the Plus (+) button and choose a TikTok video to reverse.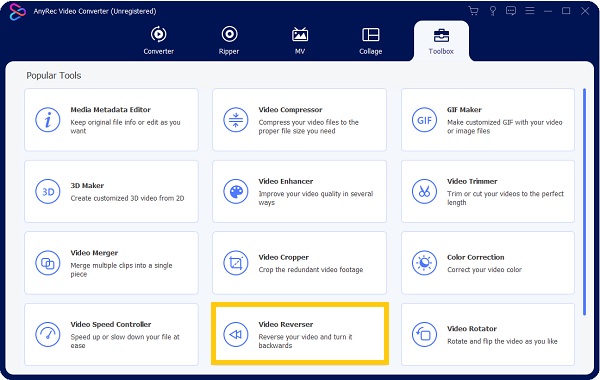 Step 2.In the popping-up window, you can choose the desired part to reverse by pulling the slider. And you can directly preview the effects on the screen in real time. Then, click the Save To button and choose a location for your video. At last, click the Export button, and you can now upload the reversed videos on TikTok and make you TikTok videos go viral.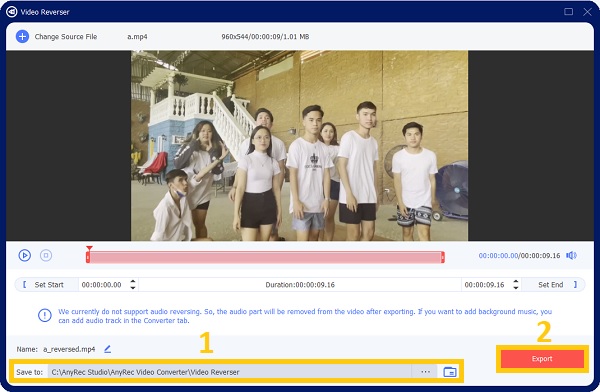 Part 3: How to Reverse TikTok Video/Audio on Snapchat
Snapchat is also one of the famous media-sharing platforms that can help you reverse your TikTok videos/audio tracks. And you can directly share the videos from TikTok to your friends through Snapchat. In this way, you can watch TikTok videos in reverse without downloading them. Moreover, there are many filters and effects that are available on the app that can enhance your videos. Kindly follow the outlined steps below to be guided well on how to put a video/audio in reverse on TikTok.
Steps to Follow:
Step 1.To begin, open your Snapchat application on your Android/iPhone mobile. Then, tap the Album icon and choose a video from the Camera Roll section.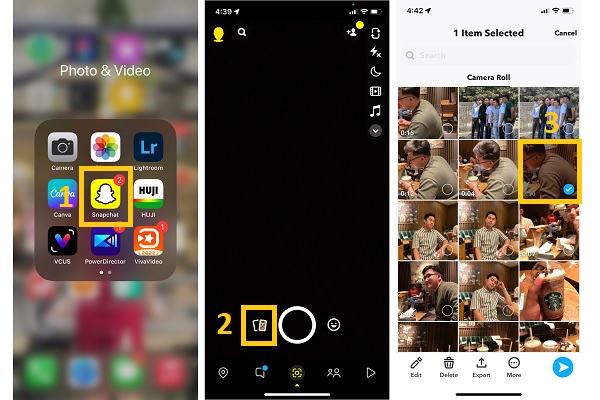 Step 2.Next, tap the Edit button on the bottom area of the application. For you to reverse your TikTok videos, you have to Swipe the screen until you can see the Reverse option.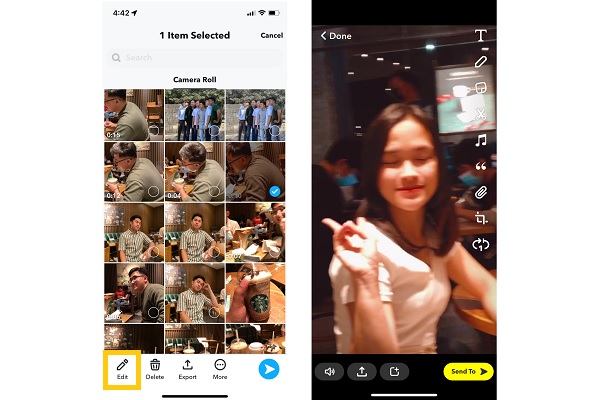 Step 3.Lastly, tap the Share button and choose the Download option to save it to your Albums. Or, you can directly upload the reversed video/audio on TikTok.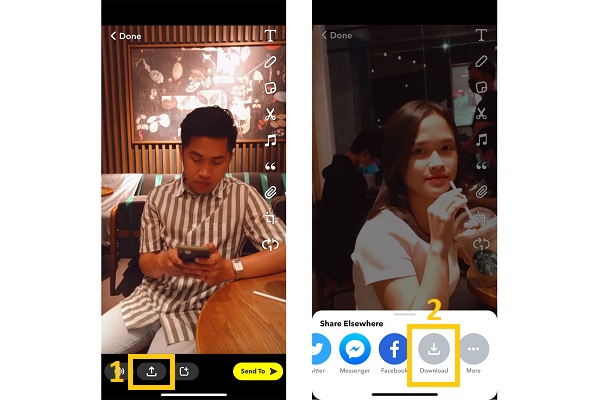 Part 4: FAQs about Reversing Video/Audio on TikTok
1. How do I reverse a TikTok video with audio online?

There are lots of online video editors that can help you reverse your video. You can use Clideo, the video editor that allows you to instantly reverse your video by simply adding your videos to the website. It also has a feature that enables you to put in slow motion your video.

2. How to play a video with audio in reverse on TikTok?

Unfortunately, you cannot directly play a video in reverse on TikTok. But you can save it on your albums then edit it on TikTok with the help of its editing features. After that, you can upload it for you to be able to watch it.

3. How to reverse a video on TikTok that's not yours?

The TikTok application does not allow others to reverse videos that are not theirs. As an alternative, save the TikTok video first, then reverse it on AnyRec Video Converter. This software allows you to reverse videos in just a few clicks.
Conclusion
Now that you have learned how to reverse videos on TikTok, it is now your turn to edit your videos using AnyRec Video Converter and share it on your social media account. Don't worry! If you still do not know what to do and have clarifications, you can freely send us your concerns. We promise to help you as much as we can.
More Related Articles