How to Effectively Remove a Watermark from Videos? [Computer & Phone]
Many people download videos from the internet and turn out those videos have watermarks on them. You probably need a clean copy of media for school or work projects, so you want to look for some ways to remove watermarks from videos. This post will gladly give you the recommended tools to help you remove a watermark from video files. Let's see the best software, app, and site for deleting unwanted logos.
Part 1: The Ultimate Way to Remove Watermark from Video on Windows/Mac
Looking for an effective way to remove a watermark from videos? AnyRec Video Converter is a desktop program with multiple video and audio editing features. One of its powerful tools is the Video Watermark Remover, where you can delete logos, dates, or subtitles. It also allows you to customize the size of the remover and which part of the video you want to place it. AnyRec Video Converter is a lightweight program that doesn't consume too much storage space. Free download it on Windows and Mac operated systems.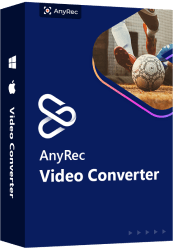 AnyRec Video Converter
Professional video watermark remover for any file format like MP4, MOV, WMV, AVI, WebM, and more.
Enable to delete watermarks without distorting the quality of the media; supports editing other information like video format, resolution, encoder, etc.
Fast removing process up to 50x faster speed with the help of GPU acceleration.
No file size limitations in uploading video files from the user's computer.
How to remove a watermark from a video with AnyRec Video Converter:
Step 1.Click the Free Download button according to your computer's OS. Install AnyRec Video Converter to your device, then launch the software to remove the watermark from your video file. Go to the Toolbox menu and click the Video Watermark Remover button. You can browse the file you want to edit by clicking the Add button.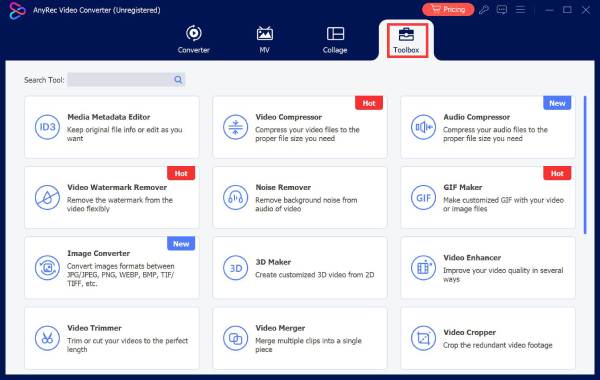 Step 2.After uploading, click the Add Watermarking Removing Area button. Adjust and move the effect to the desired part of the video. You can resize the effect from top to left for a more specific application method. Preview the changes and adjust if necessary.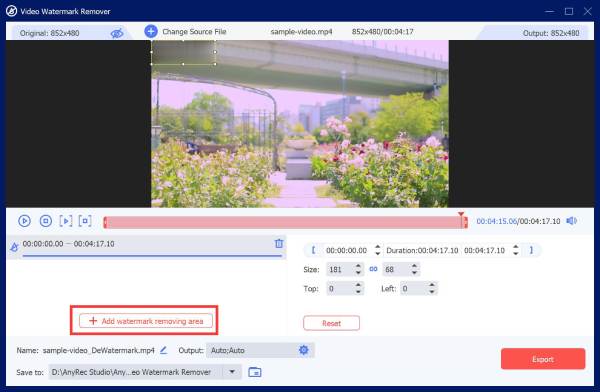 Step 3.Go to the Output menu to edit video information. You can change the frame rate, format, encoder zoom mode, and audio settings from the dialog box. Click the OK button to save all the changes.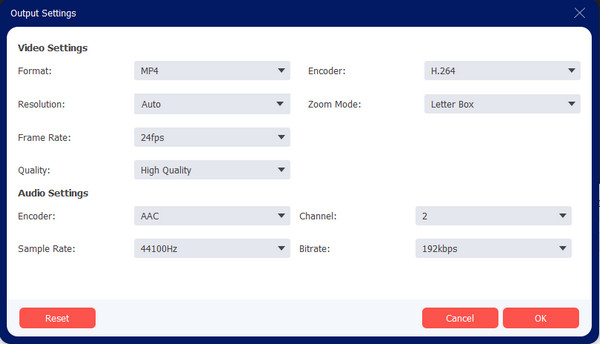 Step 4.From the main menu, click the Save To button to browse the designated folder path of the output file. Finalize your work by clicking the Export button. You can view the output from the selected folder on your computer once it is saved.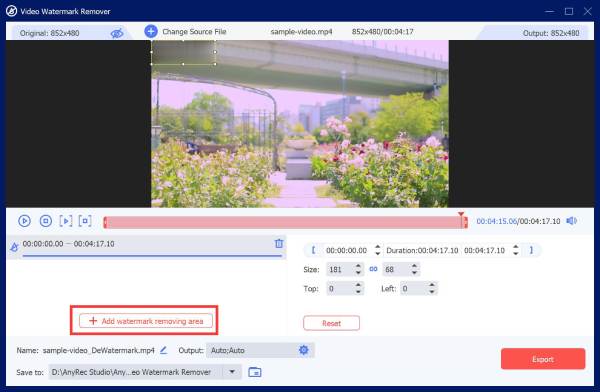 Part 2: The Best 3 Ways to Remove Watermark from Video on Android/iPhone
Besides having a reliable desktop tool on your computer, you can also discover apps to remove watermarks from videos on your mobile device. In this section, you are about to learn the best video watermark remover for Android and iOS.
1. Video Watermark
This free app is one of the best video watermark removers you can use on Android. It allows you to select multiple regions on a video to remove the watermark. It is also created with a friendly UI so that you can use it easily. Moreover, the Video Watermark app enables users to customize their watermarks with text, elements, and colors.
Pros

Support cropping, compressing, and trimming videos.
Customizable watermark tool that allows GIF files.
Cons

Users can only import videos with 5 minutes duration.
2. Video Eraser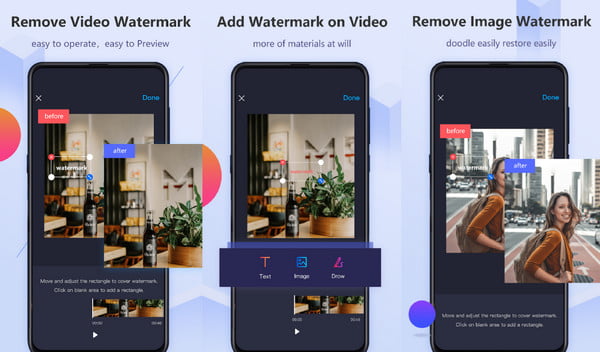 For iOS users, this app is the answer for you. It easily removes watermarks from video with a couple of taps on your phone. It supports deleting icons, text, objects, and logos. Of course, you can get the app for free, even on an iPad. The features may vary from the device you use.
Pros

Support removing watermarks from photos.
Auto-detect logos to delete from videos.
Cons

Unfixed bugs and glitches.
3. Remove & Add Watermark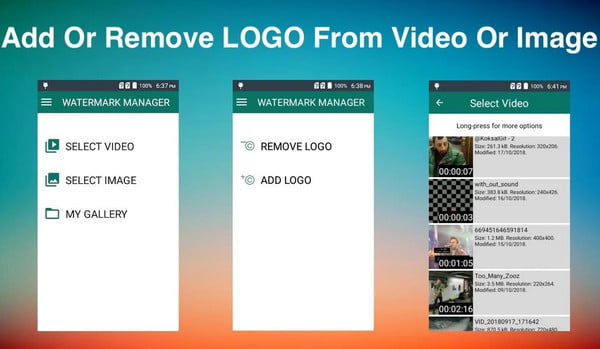 This app is for you if you consider changing your old watermark to a new one. It has the tools to create your logo using text, animated images, and other options. Removing a watermark from videos works as the app can delete it by interpolating the pixels around it.
Pros

Excellent for longer videos.
Ads are fewer.
Cons

Keyboard is not showing for text watermark.
Part 3: The Best 2 Ways to Remove Watermark from Video Online
Another way to remove a watermark from the footage is through online tools. There are free sites to edit your videos, and this part will give you the best ones you can try out.
1. 123Apps Video Watermark Remover
With a few clicks on your mouse, this site instantly removes the watermark from your videos. It is developed with a straightforward interface which you can easily use its features. The platform supports media file formats such as AVI, MOV, MP4, WMV, and more, and even removes the watermark on TikTok. Visit and try its surprisingly excellent video watermark remover.
Pros

Accessible to any OS and browser.
No signing up is required.
Cons

Doesn't support longer video lengths.
2. Video Watermark Remover Online

Another simple online video watermark remover you should try is this one. It has a fully automated tool with simple features to offer. Unlike other sites, Video Watermark Remover supports larger file sizes, and they can be in any file format.
Pros

Simple interface.
Support various file formats.
Cons

No preview for the output video.
Part 4: FAQs about Removing Watermarks from Video
Does iMovie can remove a watermark from movies?

Although the program doesn't offer any tool for removing logos, it does allow you to crop the video to any aspect ratio to remove the watermark. You can use the Crop feature on iMovie, where you can resize the frame.

Can I remove the watermark altogether?

Other than cropping or blurring a watermark from videos, there is still no tool that can completely remove logos and objects. The only way to do this is to edit a video from frame to frame, using the right tools to remove watermarks.

Does delete logos can lower the video quality?

As long as you are not cropping a significant portion of your video, the quality will not be affected. Of course, if you are using AnyRec Video Converter, you can also upscale the resolution easily.
Conclusion
You can erase watermarks from your videos with the right app or desktop tool. Whether using a mobile device or computer, you can use the recommended tools in this post. If you want a more professional program to help you remove logos from movies, AnyRec Video Converter is the best pick to try. Free download the tool and experience its excellent features.
Related Articles