[5 Methods] How to Remove Watermarks from PDF Online/Offline
Watermarks on PDF files can be annoying and can also affect readers' reading experience. Therefore, you can remove watermarks from PDF files to achieve a better and clearer layout for your articles. Consequently, readers can better concentrate on your content. Now, you just need some useful tools to help you remove watermarks from PDF documents, and here are 5 effective removers. Before jumping to the steps, you can first get to know their own features to pick out a preferred one.
Part 1: Online Methods to Remove Watermarks from PDF
What is the most convenient way to remove the watermark from PDF? The answer must be online removers, which are quick and easy. Meanwhile, the following online PDF watermark removers are also free, and you can access them on any device without downloading any apps. Just scroll down and check out the guide on how to remove watermarks from PDF files with three free online removers.
1. Right PDF Online
Right PDF Online removes watermarks from PDF documents stored both locally and online. You can copy the links of your PDF files from online resources. Although this is a quick way to remove watermarks, there are limitations on PDF sizes and numbers. You can only upload one PDF document under 10 MB per time to remove the watermark.
Step 1.Go to Right PDF Online's official website. Click the Select the file to upload button to import a PDF document with the watermark.
Step 2.After you successfully upload the file, click the Remove Watermark button on the right side and let the website handle the rest for you.
Step 3.You can download it to your device to save the PDF file without watermarks after it finishes.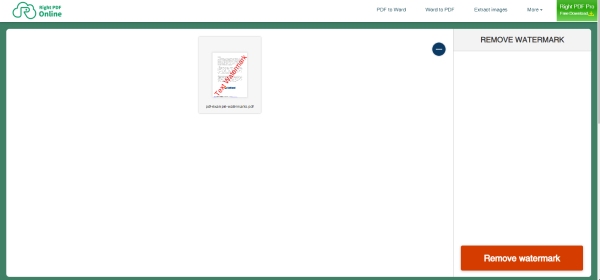 2. Google Docs
Google Docs is a professional document editing tool online. You can even use it to collaborate with other office tools from Google. Furthermore, you can also save your file in many formats after removing the watermark from the PDF. To do so, you need to upload your documents to Google Drive before erasing the watermarks since you can only set up new files in Google Docs.
Step 1.You need to log in to your Google Drive first and upload your PDF document with the watermark. Your document should no bigger than 2MB.
Step 2.Right-click the PDF and choose open with Google Docs. After you open the PDF in Google Docs, you can then edit your watermark and delete it.
Step 3.Click the Download button from the File dropdown menu and save the PDF document without a watermark.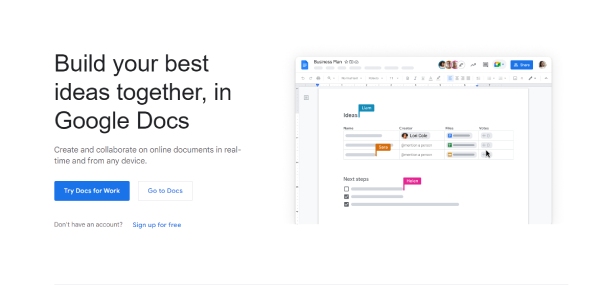 3. PDF 2 Everything
PDF 2 Everything is a comprehensive online PDF tool. There, you can upload more than one PDF file and the size limit for the file is 20MB. Unlike other sites that recognize the watermarks automatically, you need to type the watermark characters before removing the watermark from the PDF. Additionally, you can edit and preview the PDF document after uploading.
Step 1.Go to PDF 2 Everything website and click the Click to Select Files button to import a PDF file or more.
Step 2.Enter the watermark letters you want to delete below. Then, click the Start Deleting button to remove the watermark from the PDF document.
Step 3.It takes a while for the website to process your file, then you can click the Download Now button to save it. You may also preview the file before saving it.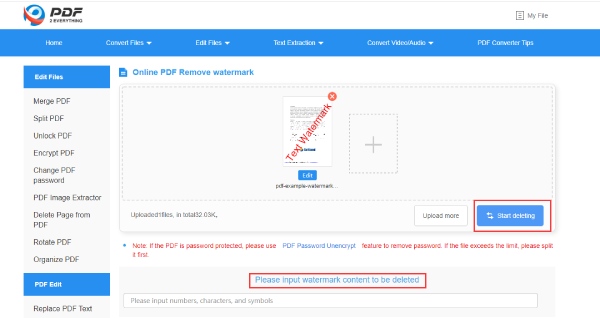 Part 2: Professional Ways to Remove Watermarks from PDF
For office workers who pursue better quality when removing watermarks from PDF documents, Microsoft Word and Adobe Acrobat Pro are two professional choices. Besides, these two both provide you with stable services of great quality. Without further ado, below are the features of these two apps and how to remove watermark from PDF with them.
1. Microsoft Office Word
If you have already installed the Office toolkit on your computer, then you can easily remove the watermark from PDF with Word. You cannot only create or edit Word documents in this software but also open PDF documents in it. However, this way is only suitable for PDFs that are not scanned or created by images. If your document consists of editable words, you may follow the steps below.
Step 1.Right-click on the PDF file with watermarks and choose open with Word. Then, Word will convert your file to a viewable or editable word document.
Step 2.Click the OK button to let the program convert your file to editable Word format. Next, you can manually delete the watermark.
Step 3.Once you are done, go to the File tab and click the Save As button to save the document in PDF format without watermarks.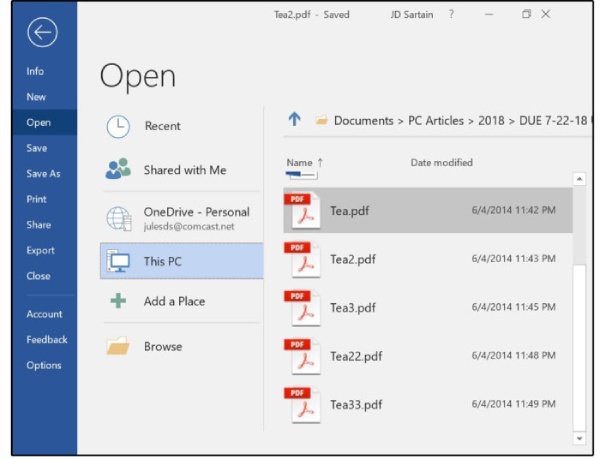 2. Adobe Acrobat Pro
Adobe Acrobat Pro is the most professional editing and reading tool for PDF documents. Whatever PDFs you have, this tool can handle all for you including removing the watermarks from PDF files even if it is a scanned PDF document. Moreover, you can also convert your screenshots to PDF documents and add your watermark on them.
Step 1.Adobe Acrobat Pro offers a free trial and free download. So, after you install the program on your computer, launch it, and import the watermarked PDF to it.
Step 2.Click the Edit PDF button from the Tools menu. Then, click the Watermark and Remove buttons to remove all watermarks from the PDF.
Step 3.Next, click the Yes button on the popup to confirm your decision.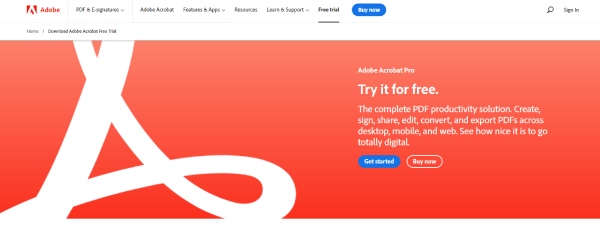 Bonus Tip: How to Remove Watermarks from Images on PDF
If your PDF is scanned from images and has watermarks on the image, you can also try AnyRec Online Watermark Remover to remove the watermarks on the images before you turn them into a PDF document. Supporting several image formats and accessible on any device, you can easily remove watermarks from images on PDF for free.
◆ Customize the removal area to erase watermark precisely.
◆ Support several common image formats for uploading.
◆ Preview unwatermarked images before downloading.
◆ Adjust images freely to remove watermarks entirely.
Step 1.Go to the official website of the Free Online Watermark Remover. On the main page, click the Upload Images button to upload. You can upload images in JPG, JPEG, BMP, TIFF, and PNG formats. But the file size should be less than 5MB.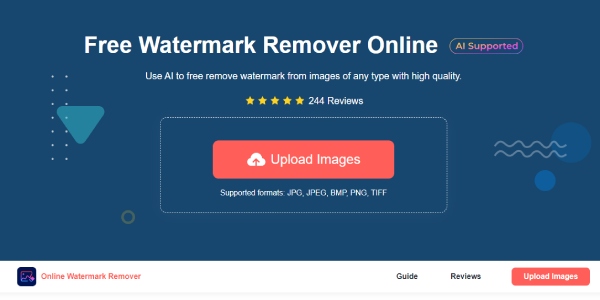 Step 2.Select an image with a watermark and click the Open button to confirm it. Then, circle the watermark to cover it with red paint and click the Remove button. The website will process and remove it for you.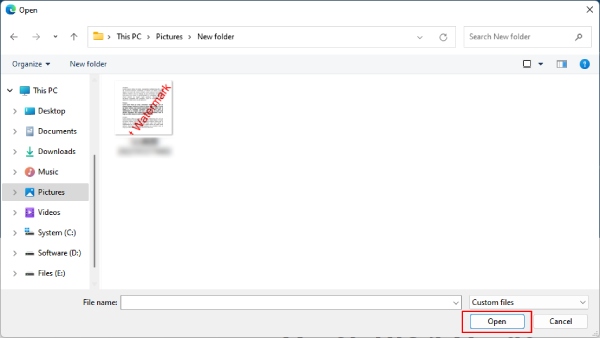 Step 3.You can also click the Erase button to undo the mis-circled part before removing the watermark. Finally, click the Save button to download the image without watermarks to your device.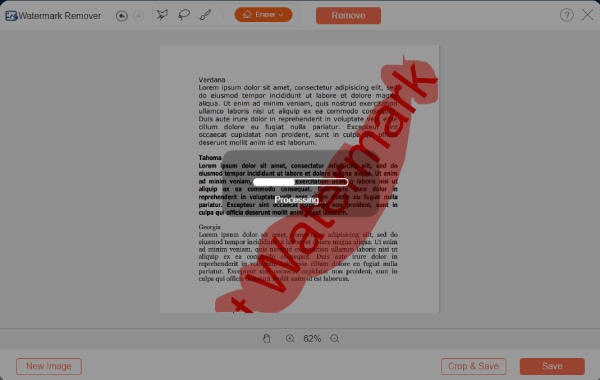 Part 3: FAQs about Remove Watermarks from PDF
Will the content get damaged after removing watermarks from PDF?

This depends on the types of your watermarks. If they are under the texts, it is quite tricky to remove them without ruining some content, especially if you are using a free tool. Hence, you may need a professional one like Adobe Acrobat Pro.

Can I remove watermarks from the encrypted PDF?

No, you cannot. But if you know the passwords, some online tools will ask for passwords before removing them. Or you can cancel the password protection before removing watermarks.

Why removing watermarks from PDFs fails?

This may happen because the PDF is a scanned document and consists of images. Hence, the watermark is embedded in the file. Or the PDF document is protected by passwords.
Conclusion
All the 5 methods above can help you easily remove watermarks from PDF documents, and you no longer need to be annoyed by the unclear layout of your paperwork. Now, choose one method above, follow the steps, and remove the watermarks.
Further Reading