Your Full Guide to Crop and Resize Videos for an Ideal TikTok Video
Knowing more about TikTok aspect ratio for videos is crucial to prevent the uploaded videos from scaling down or cropping by default. Before jumping to the uploading screen on TikTok, finding the best solutions to resize or crop videos for TikTok is more urgent. Besides, there are also other must-known factors for beginners, including file size and video length. Follow the lead here to discover the efficient ways to resize or crop videos for TikTok, along with extra video tips for successful uploading on TikTok.
Part 1: TikTok Video Specifications for Beginners
A video with a proper TikTok aspect ratio might get more likes and publicity than other unproportional or scaled-down videos. Besides, video length and file size also matter. Keep reading to see more video factors you need to pay attention to while uploading on TikTok.
| | |
| --- | --- |
| | Specifications |
| File Format | MP4 and MOV |
| TikTok Aspect Ratio | 6:19 |
| TikTok Video Max Resolution | 1080×1920 |
| Newsfeed Video Max File Size | 287.76MB (Apple); 72MB (Android) |
| TikTok Video Max Length | 10 minutes |
Part 2: How to Resize Videos for TikTok Offline [PC/Mac]
Before posting videos on TikTok, careful refinement is necessary if you wish for more publicity. AnyRec Video Converter handles all for you. With a large toolbox inside, this converter makes simple adjustments to your videos quickly. You can crop videos for TikTok, trim videos for the perfect length, and add beautiful music outside TikTok to your video. When using the resizer to crop the video for TikTok, you can easily use suitable presets for TikTok to get the perfect aspect ratio. No need for calculations or repeated clicking and dragging; one click to choose the suitable preset is enough.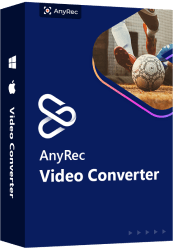 AnyRec Video Converter
Preview cropping result for best output.
Offer several fixed sets of aspect ratios.
Resize videos for TikTok with diverse operations.
Export videos to the TikTok compatible formats directly.
Step 1.Easily download and install AnyRec Video Converter from the official site or through the button above. Launch it on your Windows/Mac afterward. Directly go to Toolbox and open Video Cropper. In the upcoming window, click the Upload button with the Plus icon to add a video to the video cropper.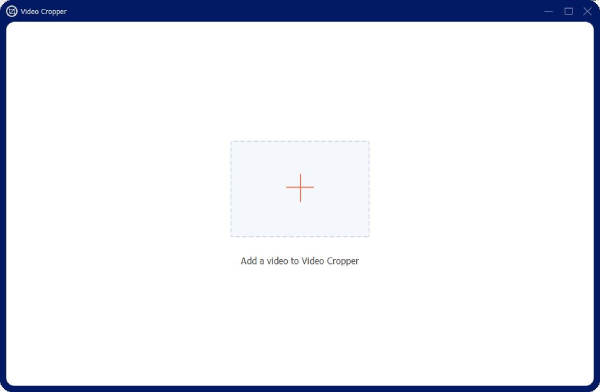 Step 2.Select the video you filmed for TikTok and import it. Then, it will play automatically. Click the Aspect Ratio dropdown option and choose 9:16, which is the suitable ratio for the TikTok video. Next, you can drag the square on your video to adjust the position.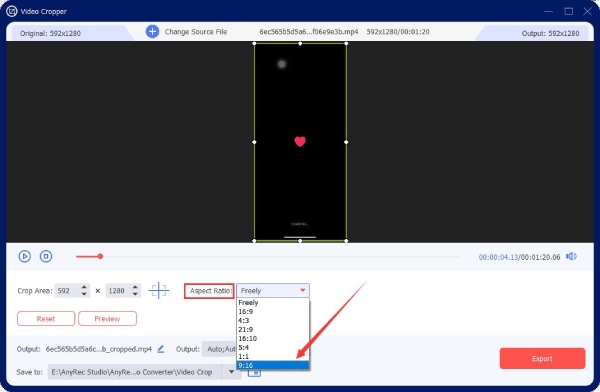 Step 3.Click the Output option and choose a video format. For TikTok videos, MP4 and MOV are suitable. Or you can scroll down and click the TikTok option in the Video part. Then, click the OK button to confirm it. Choose a folder via the Save To dropdown option and click the Export button to save the TikTok video to the folder.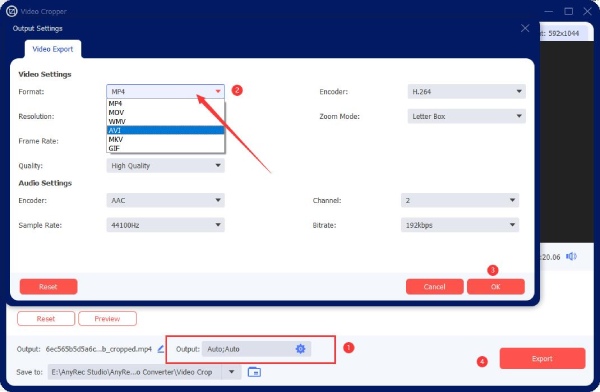 Part 3: Crop the Video for TikTok without Installation [4 Methods]
TikTok users tend to use mobile to browse videos. Is there a way to crop video for TikTok on mobile without occupying too much space? Yes, there is, and online video croppers or resizers are the perfect answer. You can access these online websites without installation and resize your TikTok videos on iPhone 14 and Android 12.
1. Adobe Express
Adobe Express online website is a simplified version of Adobe tools where you can find numerous editing utilities for videos and audio. You can access this website on any browser from your mobile, including Safari, Google Chrome, Firefox, etc. There are also several popular social media presets for you to resize videos for TikTok.
Step 1.Search for Adobe Express on your browser, log in with your account, and find the resize video tool from Quick Actions.
Step 2.Tap the Upload your video button and select a video from your Photo Library. Next, tap the Resize for dropdown option and choose TikTok.
Step 3.The tool will automatically resize your video, and you can adjust the timeline length to change your video duration. Tap the Download button to save the video for TikTok.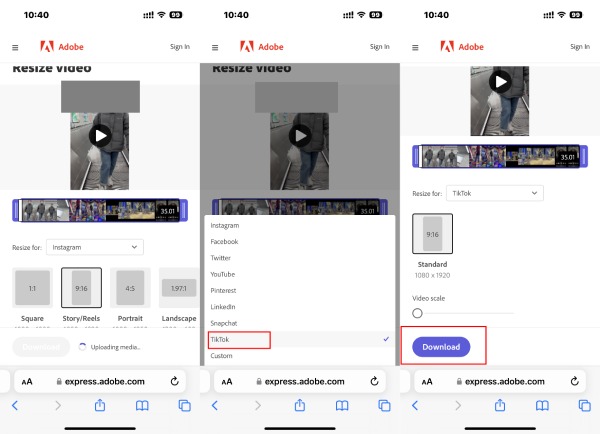 2. VEED.IO
VEED.IO is a large toolbox accessible on both computers and mobile. You can crop or resize videos for TikTok and get a suitable aspect ratio for a better visual experience. Although it is an online platform, VEED.IO supports many video formats for uploading. While resizing, the editing page also enables you to trim the video, add audio, apply elements, etc. But the free version will add a watermark to your video after exportation.
Step 1.Enter the VEED.IO website and find the VEED Tools section. Open the Resize Videos tool and find Resize Videos for TikTok page. Tap the Resize Video button to go on to the editing screen.
Step 2.Tap the Add media to this project button, select the Photo Library, and import the videos from your iPhone. You can also choose Take Photo or Video and film one with your camera.
Step 3.Use the handles to resize the video for the TikTok aspect ratio. Once you are satisfied with the size, tap the Export button to save this TikTok video.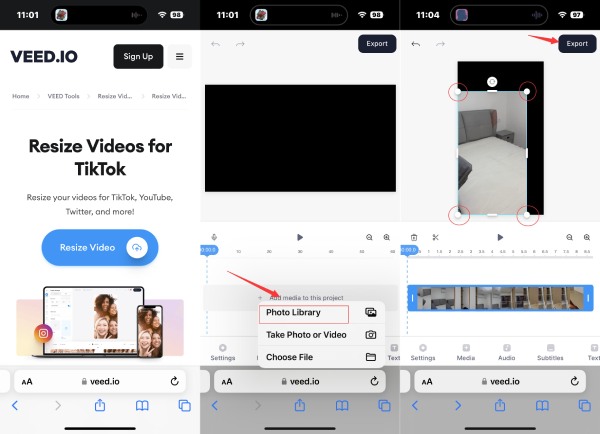 3. Clideo
Clideo is a platform offering comprehensive solutions for video, audio, GIFs, and image editing all at once. Clideo Video Resizer online helps you resize videos for TikTok and other social media platforms like Instagram, Facebook, etc. Meanwhile, the crop tool can cut off the video's redundant parts and make the perfect TikTok aspect ratio.
Step 1.On the Clideo official site, you can find Video Resizer Online from the More menu. Then, tap the Choose File button to upload your video file.
Step 2.Wait till the upload and processing end. Choose Custom from the first option and select 9:16 from the Aspect ratio option for the TikTok video.
Step 3.You can change the output video format via the Format option. Next, click the Export button to download this new TikTok video.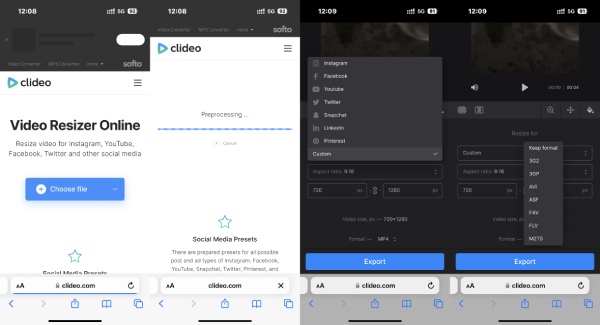 4. Kapwing
Kapwing is an all-inclusive editing platform with bountiful features and resources. You can use Kapwing to crop a video on your iPhone or Android browser or resize it for a suitable TikTok video. Meanwhile, the Kapwing video resizer is free, and there will be no watermark for videos under 5 minutes if you sign up. After resizing the video for TikTok, you can directly publish the video to TikTok on the Kapwing website.
Step 1.Search for Kapwing Resize Video on your mobile phone browser and go to the official website. You can sign in for fewer limits on video length.
Step 2.Tap the Get Started button to start with a blank canvas. Then, tap the Upload button to import your video for resizing.
Step 3.Next, tap the Edit Background button and choose 9:16 under the OUTPUT SIZE option. You can also drag the handles to expand or crop the video for TikTok. Tap the Done button to save changes.
Step 4.Finally, tap the Export Video and Download button to save this new video to your mobile phone for TikTok.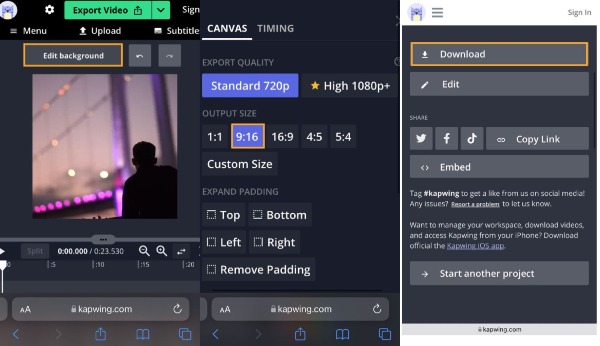 Part 4: FAQs about Resize Video for TikTok
Can I crop videos inside the TikTok app?

No, you can't. TikTok does not have cropping or resizing features. But if you want to use TikTok to make a video with the right TikTok aspect ratio, you can directly film your video within TikTok.

What is the maximum video length for TikTok profile?

You can change videos for your TikTok profile. The video should be 3 seconds at least but can't exceed 6 seconds. Otherwise, TikTok will require you to trim the video before saving it.

What's the proper TikTok aspect ratio for news feed ads?

There are two aspect ratio options for news feed ads. Your ads video can either be 16:9 or 1:1. Furthermore, the maximum video length for the news feed ads is the 60s.
Conclusion
Now, it's your move to resize or crop the video for TikTok. After knowing so many tips for TikTok video uploading, you will successfully create a suitable video with the proper size, dimensions, resolution, and duration. Meanwhile, if you want to upload videos on TikTok on the computer, AnyRec Video Converter is an excellent resizer, and you will enjoy more editing features.
Related Articles: