3 Easy Methods to Crop a Video on iMovie With Steps and Pictures
If you are new to iMovie on Mac/iPhone/iPad, you may have a hard time cropping your videos in iMovie. With that, this post will provide you with more information on how to crop videos in iMovie on Mac and iOS devices.
iMovie for Mac is relatively complex for beginners. And when cropping videos through iMovie on iPhone/iPad, you can't adjust the aspect ratio. Thus, as a bonus tip, this post will also give you a tool that will help you quickly crop videos in just a few clicks. Keep reading the whole article and follow the step-by-step procedures on how to crop a video on iMovie.
Part 1: Detailed Steps to Crop Videos in iMovie on Mac
iMovie is the built-in application for generating and editing movies, organizing media, color grading, and adding a soundtrack to a film on your Mac. When you want to crop a video on iMovie to delete the unnecessary part of your videos, please follow the given procedures below.
Steps to Follow:
Step 1.Open your iMovie software and create a new project to add the desired videos. Then, drag and drop the video clip onto the timeline to edit your video.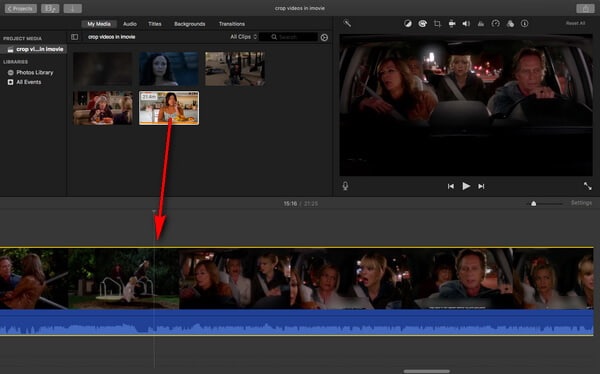 Step 2.Afterwards, you can now click the Cropping icon above the preview window. You will be presented with three different cropping options. In this case, you need to select the Crop to Fill option, and an adjustable frame will emerge on top of the clip in the viewer as a result.
Step 3.Lastly, make adjustments to the frame and crop videos in iMovie until you meet the cropping outcome that you desire, then click on the Apply button, and you will be able to download the cropped movie from iMovie.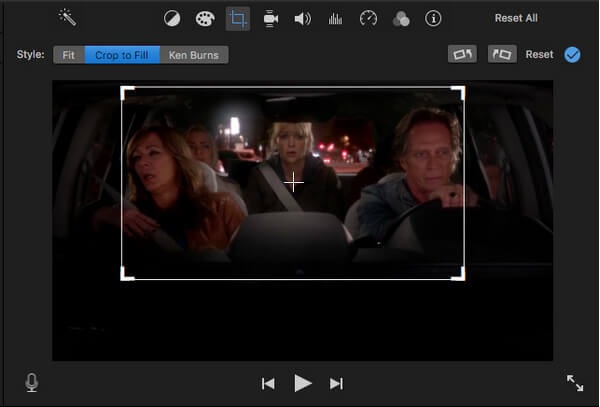 Part 2: How to Crop Videos in iMovie on iPhone/iPad
iMovie is both accessible for Mac and iOS devices, but the interface and features are different. Although iMovie for the iPhone does not include a cropping feature, you can use the Pinch and Zoom capabilities to assist you in quickly and easily cropping videos on iMovie. But you should note that it does not support changing the aspect ratio when cropping. Please follow the given steps below to learn how to crop videos in iMovie on iPhone/iPad.
Step 1.Download and launch the iMovie app on your iPhone or iPad. After that, open the app and tap the Create Project button. Then, choose the Movie option. After that, choose what you wish to crop among your video files and check it. Then, tap the Create Movie button on the bottom.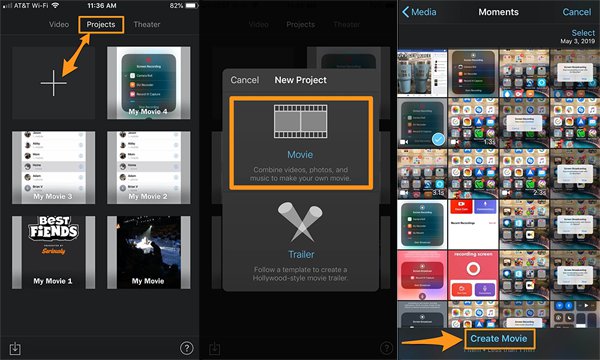 Step 2.Next, the video will appear on your screen. You have to tap the Zoom icon then pinch the screen to zoom. Once you are satisfied, click the Done button to save the cropped videos from iMovie.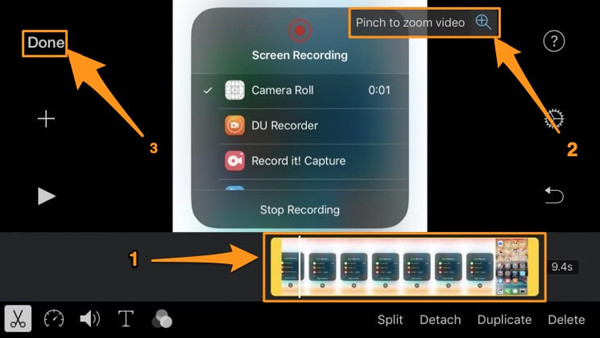 Part 3: The Ultimate Way to Crop Videos without iMovie
When cropping, the iMovie program does not let you freely change the aspect ratio. But you do not have to worry! AnyRec Video Converter will provide you with an easier way to crop videos without using iMovie on Windows/Mac. This tool will help you crop your videos without hassle and adjust the aspect ratio freely. It also has fantastic editing features that make it number one on the market both for video converting and editing. So what are you still waiting for? Download this powerful yet beginner-friendly video editor now.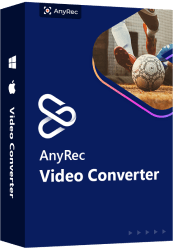 Incredible Features of the Most Outstanding Video Cropper:
Crop your videos to any size without using iMovie effortlessly.
Provide all common aspect ratios for your to choose from.
Apply filters to your videos to make them more appealing to the eye
Merge, trim, rotate, flip, and change the aspect ratio of your video
Add themes, filters, and effects to the video to make it more interesting.
Steps to Follow:
Step 1.First and foremost, download and run the AnyRec Video Converter on your Mac/Windows computer. You can now begin uploading your videos to the software after completing the installation process. Click the Add Files button or drag and drop all your videos at once to effortlessly upload your videos.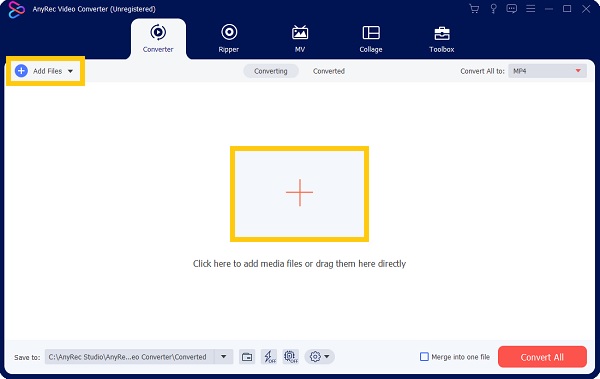 Step 2.Click the Edit icon after you have uploaded your video to the software to start cropping your video without iMovie. After that, crop your video by adjusting the rectangle form. You may also alter the Crop Area option if you have a precise measurement for your video. You can also rotate, flip, and adjust your video's aspect ratio. Then click the OK button when you are finished.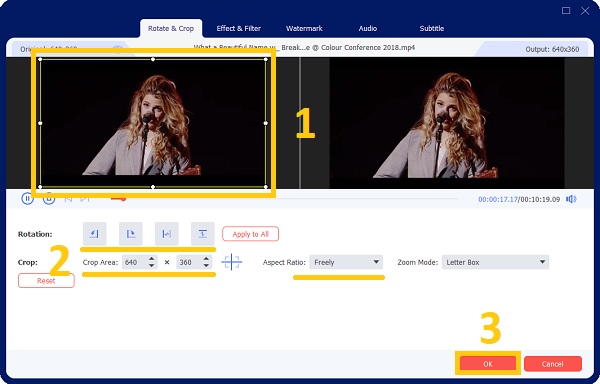 Step 3.If you want to improve the quality of your movie and make it more appealing to the eye, we recommend using filters and effects. Navigate to the Effects & Filters section. Select the desired filter from the drop-down menu. Then, after you are finished, click the OK button.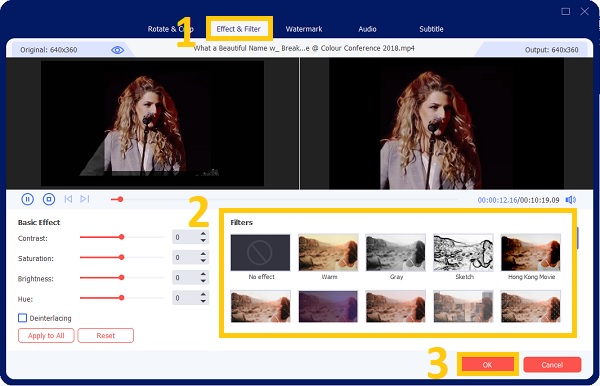 Step 4.Finally, you can save your cropped videos after a few clicks. But first, make sure you have chosen a file place where you will be able to access them readily. Then, after clicking the Save To option, click the Convert All button.
Part 4: FAQs about Cropping Videos in iMovie on Any Device
Can I crop videos without iMovie on iPhone?

Yes. Fortunately, you can crop videos on iPhone without iMovie. Go to the Photos app, then choose the video you wish to crop. Then, tap the Edit button and tap the Crop button. Then, crop the video according to your preferences.

Why is my video being cropped by iMovie automatically?

Your videos are being cropped because iMovie converts every movie you import to a 16:9 aspect ratio. Select 'Fit' in the cropping style choices if you do not want to lose any frames. However, remember that it will automatically add black bars to maintain your video at 16:9.

How to crop videos on Windows without iMovie?

iMovie is not available for Windows. So if you are looking for a cropping tool on Mac and Windows, you can download AnyRec Video Converter on your device. It has impressive features that are beginner-friendly. You can crop a video on Windows 10 without iMovie here.
Conclusion
This tutorial has shown you how to crop a video in iMovie on Mac/iPhone/iPad. You may effortlessly delete unwanted portions and maintain the primary project in your film by following our recommendations. If you find it challenging to use iMovie, go straight to AnyRec Video Converter to adjust the aspect ratio and crop the video size easily. Do you have any additional issues? Please do not hesitate to send us your message.
Related Articles