2 Ways to Crop Video in Premiere with Detailed Steps and Pictures
How to crop videos in Premiere? For instance, while reviewing your recorded video, you have noticed that unnecessary people or things appear in the background. You might not want it to remain there. And Adobe Premiere is a professional video editor to crop videos. If you are a beginner who are not familiar with Premiere, you don't need to worry about it. As long as you rely on this article, it will show you the two most straightforward ways to crop videos in Premiere and a far simpler method of cropping a movie by simply dragging a rectangle. Keep reading and learn about the detailed steps.
Part 1: How to Crop Videos in Adobe Premiere Pro
Adobe Premiere Pro is a professional video editor that supports cropping videos in Premiere. It includes many options that can help you entirely modify your video. It allows you to experiment with various aspects to express your ideas better. Although it's difficult to use, you will know how to crop your videos using Adobe Premiere Pro CC in this step-by-step instruction. But please keep in mind that after the free trial, you must subscribe to it monthly or yearly, depending on your usage for you to have access to it.
Steps to Follow:
Step 1.First and foremost, download the Adobe Premiere Pro on your device. Then click the New Project option to open a new window where you can name and save your project. After selecting a location, click the OK button.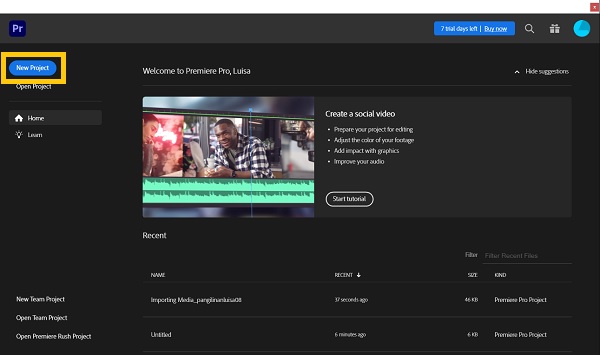 Step 2.Then, in the lower-left corner, double-click the Import Media to Start option to import your files. Search your clips and upload them to the media area. After importing the clip, drag it to the timeline.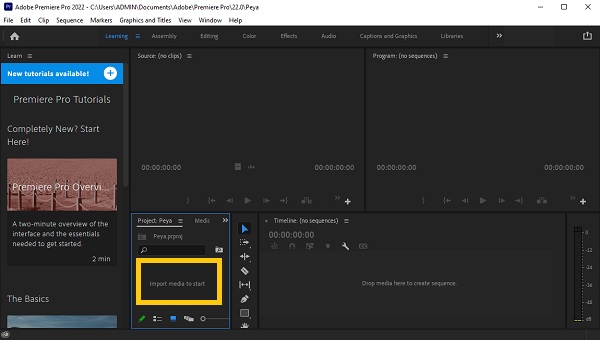 Step 3.Choose the clip you would like to crop. Go to the top of the page and select the Effects tab. It will bring up the Effects panel on the right side of the screen. The cropping effect can be found by searching for Crop. Simply drag and drop it onto the video you'd like to crop in Premiere.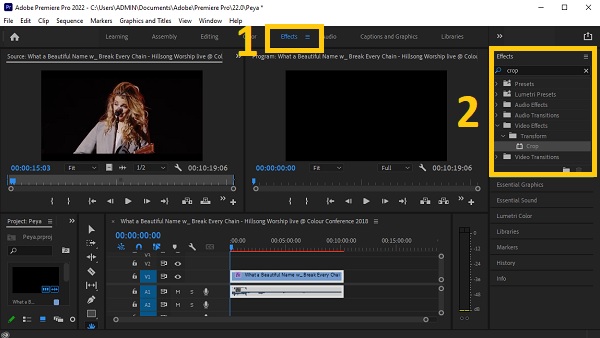 Step 4.Go over to the Effects Control area or simply press SHIFT + 5 if you cannot find it. The window for Effects Control will appear. You will find options to crop your video from the Left, Top, Right, and Bottom sections of the Crop section. You can enter the value to exactly crop your video. You can also zoom in to fill in the gaps in the video, but we recommend doing so by going to the Motion section and adjusting the value to fill in the gaps.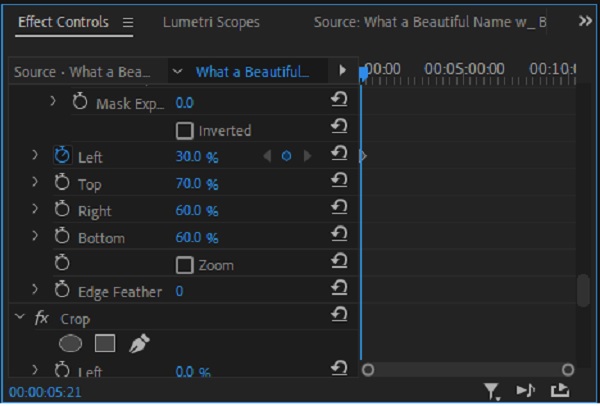 Step 5.Finally, Premiere now allows you to save the cropped videos that you have created. Go to the File menu and then select the Export option from the drop-down menu. In this way, you can crop your videos in Adobe Premiere.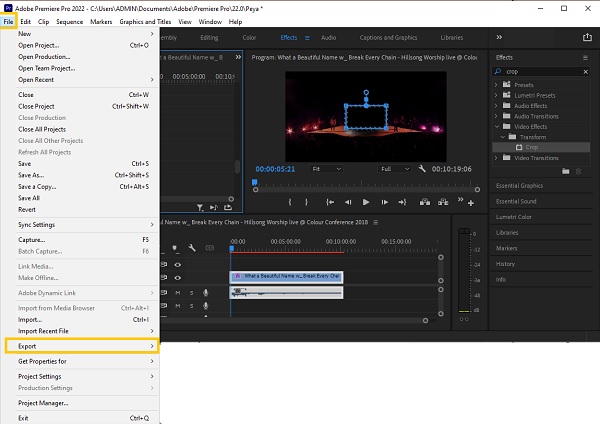 Part 2: The Easiest Way to Crop Videos without Premiere
As you can see, cropping videos in Premiere takes a lot of time. In line with that, you need a cropping tool that will help you crop videos easily. AnyRec Video Converter is the most beginner-friendly available on the market. This tool allows you to crop videos without putting much effort, yet the output is as great as those with professional skills in editing. Moreover, it allows you to create breathtaking cinematic effects with only a few clicks. Download this powerful video editing tool now and experience editing like a pro!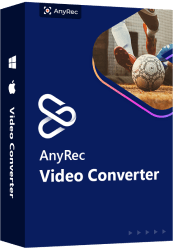 Fascinating Features of the Ultimate Video Editor and Cropper:
Crop your videos without Premiere to the desired size and aspect ratio.
Customize the aspect ratio or choose the preset one to crop videos easily
Trim, merge, rotate, flip, add text, and watermark on your cropped videos
Add background music and subtitles to your cropped videos.
Enhance the video by adding themes, filters, and effects
Steps to Follow:
Step 1.Of course, download and launch the AnyRec Video Converter first on your Windows/Mac. After the installation process, you can now start uploading your videos to the software. Just click the Add Files button or simply drag/drop all your videos at once to easily upload them.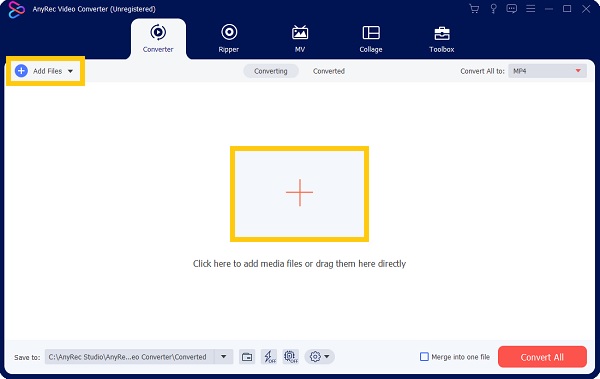 Step 2.Right after uploading your videos to the software, click the Edit icon. Then from there, adjust the rectangular shape to crop your videos. You can also adjust the Crop Area if you have a specific measurement for your videos. Moreover, you can rotate, flip, and change the aspect ratio of your video. Once you have cropped videos without Premiere, just click the OK button.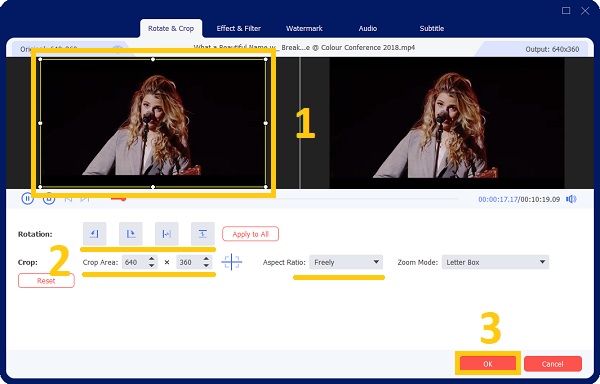 Step 3.If you want to enhance your video and make it more pleasing to the eyes, we suggest you add filters and effects to it. Just go to the Effect & Filter section. From there, choose the filter that you want. Then once you are done, just click the OK button.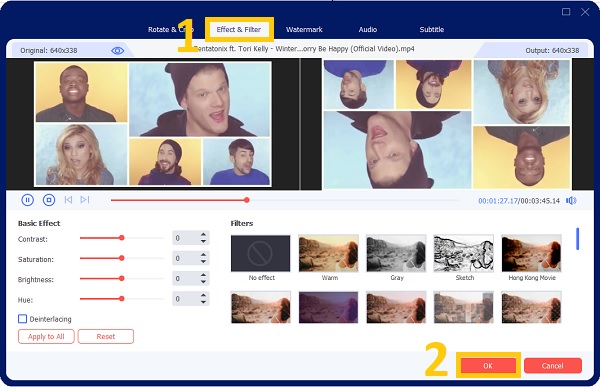 Step 4.Finally, after a few clicks, you can now save your cropped videos. But before that, make sure that you have chosen a file location for you to easily access them. Click the Save To button, then after that, click the Convert All button to crop videos on Window/Mac.
Part 3: FAQs of How to Crop Videos in Premiere Pro
Is there a Pan effect in Premiere Pro to crop videos by default?

By default, Premiere Pro does not feature a pan effect. To make a pan effect, go to the Effects Control and alter the position and size of your video to create a pan effect manually.

Why is Premiere Pro crop videos automatically in the sequence?

It is because your sequence's length does not correspond to the length of your clips. Select a clip in the Project panel and then select 'New Sequence from Clip' from the context menu. This will create a sequence of the appropriate length.

What aspect ratios can I crop videos in Premiere to?

The aspect ratios that are available on Premiere are 16:9, 4:3, 1:1, and 9:16. And for you to change the aspect ratio go to the Settings option from the drop-down menu. Enter the Frame Size (height) and Horizontal Position under Video (width). The aspect ratio is calculated automatically by Premiere Pro. Fill in the appropriate fields, give the sequence a name, and then click the OK button.
Conclusion
Finally! We hope that the above instruction has helped you in cropping your videos in Adobe Premiere. As a bonus tip, we also gave you the most trusted video editor - AnyRec Video Converter and the easiest way to crop videos on Windows/Mac. Have you get the best cropped videos? Please let us know by sending us your message.
Related Articles