5 Simple Methods to Turn a JPG/PNG Image into Clickable Link
To share images on the web and grow online presence, you can create URLs for images. JPEG and PNG are two of the most popular image formats that most website owners, photographers, and owners use. From this article, you can get 5 easy methods to turn JPG and PNG images into clickable links. So you can share your pictures online in on time. Let's give in!
Part 1: 5 Methods to Get an Image URL Online (include JPG/PNG)
Is there a useful tool to convert pictures into URLs without downloading any software? Yes! This post has searched the whole web page and collected five online tools. Let's see what tools are available. You can choose the best online image to URL converter to share with your friends.
Method 1: OnlineImageTools
As its name suggests, OnlineImageTools is a free online image to link converter. Just drag and drop your image into the web page; this tool will automatically encode it as a data URL. Moreover, this online page has no ads or pop-up windows. Its operation steps are only two simple steps. Even if you are a newcomer, you can quickly master them.
Step 1.Search OnlineImgaeTools in your browser and open its official website. Then click the Import from file button to upload your image file. You can also import the file by dragging and dropping it from the desktop to the square.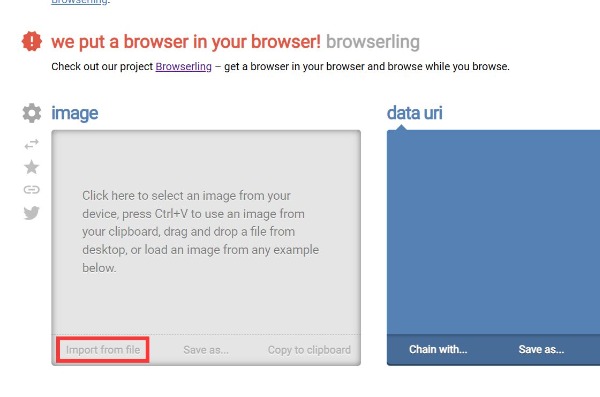 Step 2.When you upload the photo successfully, it will automatically form a data URL. You can click the Save as button to download the image URL. When you want to copy the URL directly and share it with others, you can click the Copy to clipboard button.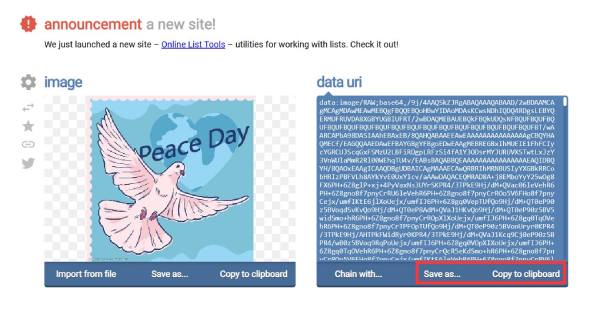 Method 2: Ezgif
Ezgif is a multi-function online tool that provides a GIF maker, video converter, image editor, and image URL generator. However, Ezgif only supports images in three formats: JPG, PNG, and GIF. Please note that the size of uploaded pictures cannot exceed 50 MB.
Step 1.Launch Ezgif on any browser and choose the Image to dataURL option to open it. Click the Choose File button to select your image file from the desktop. Then upload your image file by clicking the Upload button.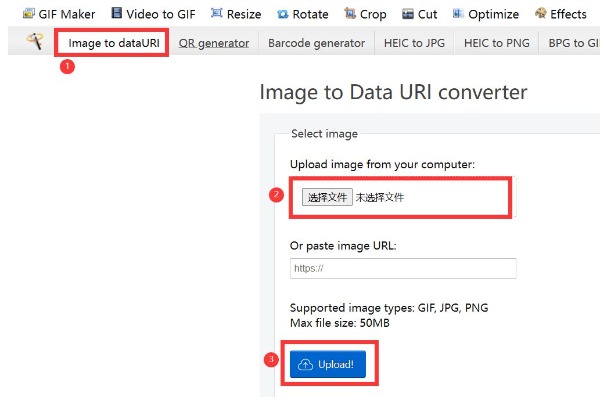 Step 2.After uploading, you can preview your picture. You can click the Converter button with a down arrow icon if you want to convert the image format. You can convert JPG to GIF, PNG, WebP (WebP to JPG), and AVIF.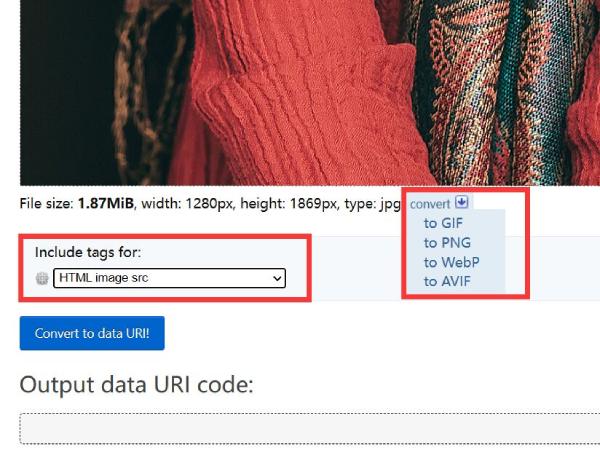 Step 3.Convert JPG/PNG to URL by clicking the Convert to data URL button. This tool will display the URL of the picture below. You can click the Select all button to choose all and then copy.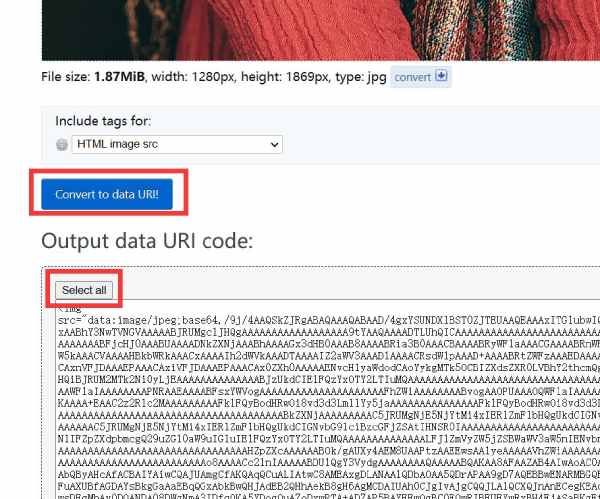 Method 3: i-converter
i-converter is also an online tool that supports turning an image to a link from JPEG, JPG, and PNG. Moreover, you can make a doc word, PDF, TIFF, and TXT into a link too. This online image link converter can optimize your JPG or PNG image and convert it to a base64 URL. Moreover, the picture link conversion process may take several seconds or minutes, depending on the file size to be converted.
Step 1.Select the jpg to data url option at the main interface to launch this online tool.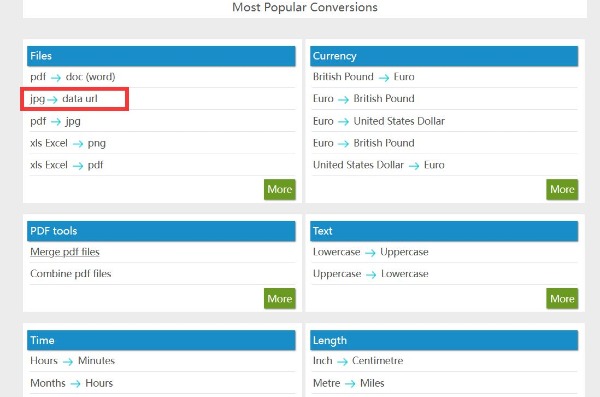 Step 2.Click the Choose File button to upload your image file, and click the Convert button.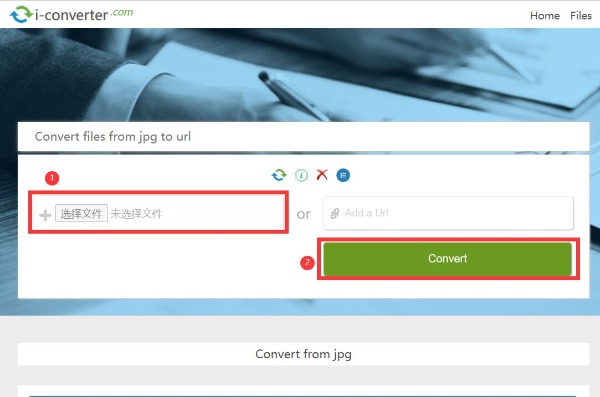 Step 3.After that, you can click the Copy Code button to save the URL of the image.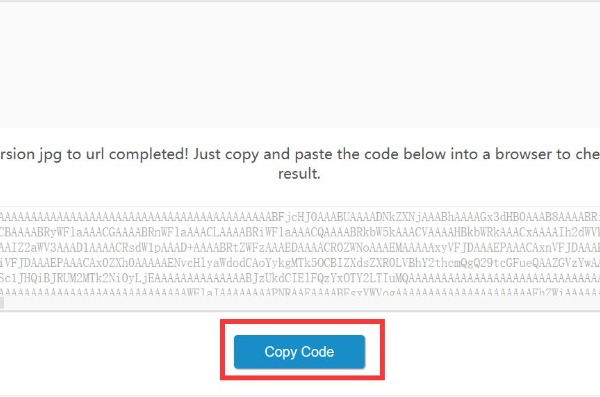 Method 4: Site24x7
Are there other free tools that you can get the URL of pictures? Yes! Site24x7 is a nice image to URL converter online you can try. In addition to the tool for converting images to URLs, it also provides other tools, like the Domain tool, DNS tool, Developer Tool, and Cloud tool. However, the uploaded image size must be less than 1 MB.
Step 1.Click the Browse button to choose the image file and upload it. You can drag your image file directly to the square to import it.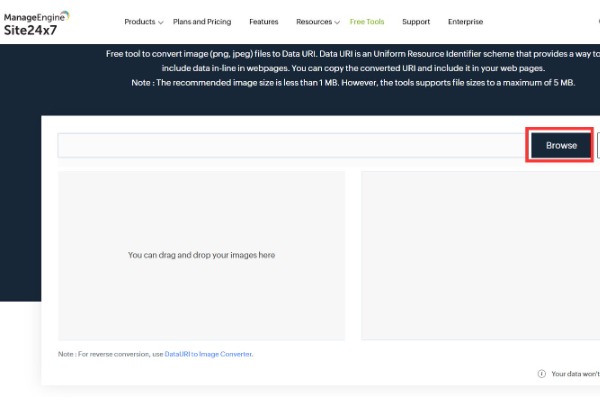 Step 2.The URL will be automatically formed after uploading. You can save the URL of your image by clicking the Copy button.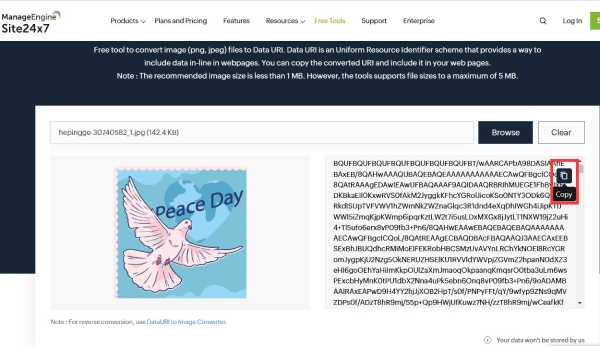 Method 5: Base64 Image Encoder
If you want to convert other images in more formats to URLs, you can use Based64 Image Encoder. This online image to URL converter supports converting JPG, PNG, GIF, WebP, SVG, ICO, and BMP. And it supports preview pictures. But it only supports pictures with a maximum size of 1 MB. In this time, you may want to reduce image size to 200kb or so to bypass the limit.
Step 1.Upload your image file by clicking the Choose a file button.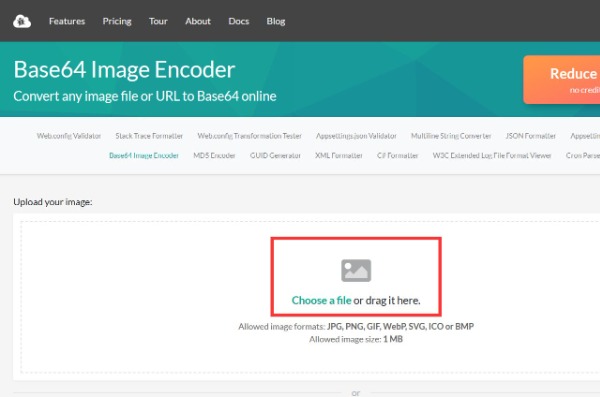 Step 2.After that, it will provide five different image URLs, such as Base64 equivalent, HTML usage, and CSS usage. You can choose one to copy by clicking the Copy button.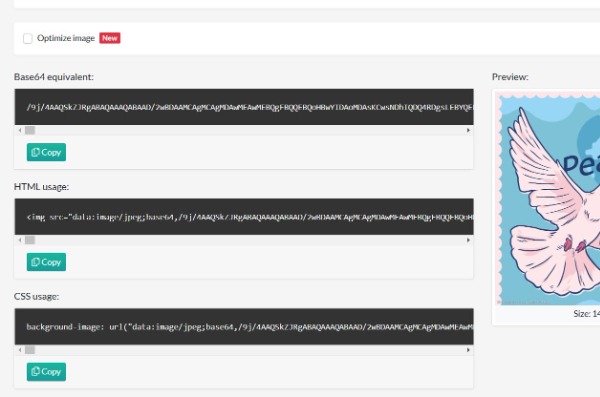 Bonus: The Best JPG/PNG Compressor to Get Smaller Size Online
AnyRec Free Image Compressor Online is an excellent tool that supports compressing images in JPEG, PNG, SVG, and GIF with high quality. You can reduce image file size up to 80% without hassle, even from MB to KB. This reliable online tool also supports batch compression to compress multiple images at a time. Moreover, you can safely reduce the large image to a smaller size without adding a watermark.
Features:
Compress JPG, PNG, and other formats online for free.
Support lossless compression and no watermarks.
Provide batch compression to compress numerous images simultaneously.
Compress images at a faster speed and automatically delete data.
Part 2: FAQs about Image JPG/PNG to URL
Will the quality be lost by converting pictures from JPG/PNG to URLs?

No, it won't. When you convert JPG or PNG to a URL or restore it, there will be no quality loss.

Why are there errors when attaching HTML to an image?

Many people often encounter this situation when dealing with URLs. The main reason may be incomplete HTML characters or incorrect input. Once the URL character is wrong or missing, it cannot be opened. Therefore, the first solution you can do is to check the URL.

Can I convert the URL to JPG/PNG?

Yes, you can. However, such conversion tools are also relatively few. You can try some online tools, such as Convertio and i-converter.
Conclusion
All right, that's it. Now you don't have to worry about how to convert images JPG and PNG into URLs anymore. You can choose the above five online tools to use, which is important because they are free. If you want to save more space, try this online lossless compressor - AnyRec Free Image Compressor Online!
Related Articles