6 Ways to Convert DNG to JPG on Windows/Mac/Online Freely
DNG and JPG are image formats that enable to store photo data but handle them differently. And many people want to convert DNG to JPG. While JPG is the standard format and is universally supported, DNG is also known as a raw image format that keeps a picture's best quality. Still, it is a unique file that many users find challenging. If you also find the format difficult to use, here are six efficient ways to convert DNG to JPG.
Part 1: What is DNG
DNG is also known as Digital Negative, a raw file format that is open source and prevents copyright issues. It is commonly used in digital photography; however, some photographers find the format challenging for sharing and developing pictures. Still, DNG is highly compatible with operating systems like Windows and Mac and is even supported by programs like Adobe Photoshop and common photo viewer. Between DNG and JPG, smaller file sizes and better compatibility come for the latter format since the image file format is universally supported. By the way, you can click here to know the comparison of DNG with JPG and other popular image formats.
Part 2: 3 Methods to Convert DNG to JPG [Free & Online]
After learning about the file format, it is time to convert DNG to PNG. The first recommended tools is from free online converters. They are easy to use without requiring a launcher. Proceed to see the recommended converters for the desktop.
1. AnyRec Free Image Converter Online
A perfect DNG to JPG converter with an intuitive webpage interface for a simple conversion. It supports image formats to convert to JPG, PNG, and GIF while keeping the original quality. The online converter allows you to upload multiple pictures from your computer without delaying conversion. Visit AnyRec Free Image Converter Online for excellent converted photos.
Features:
Fast-speed for DNG to JPG with a maximum of 40 uploads.
One-click process to save all batch conversions with quality.
Support input formats, including BMP, TIFF, SVG, WebP, etc.
100% safe image converter that delete user's data after conversion.
Step 1.Go to the Free Image Converter site. Ensure the output format is JPG from the Convert To option. Then, click the Add Image button to import a photo from your system.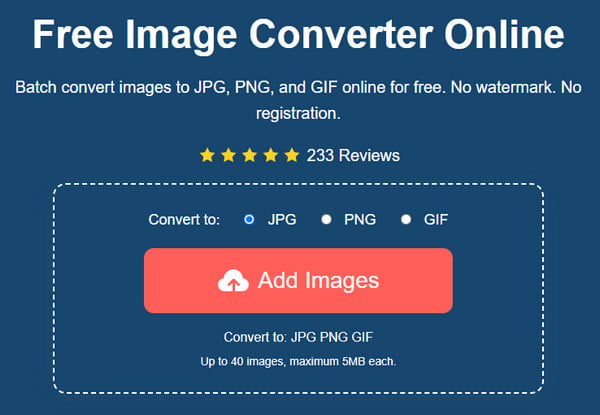 Step 2.When the picture is uploaded to the website, click the Upload Photo button to import more pictures. The online converter will automatically process the pictures.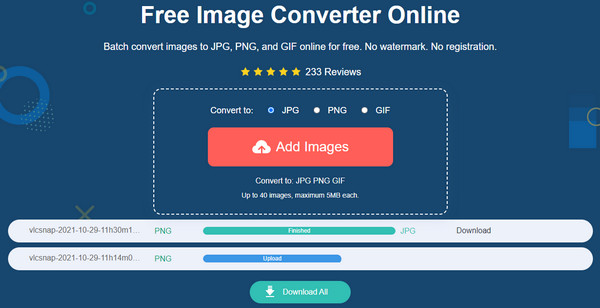 Step 3.Once the conversion finishes, click the Download button. Or, wait for all the images to convert and click the Download All button to save them.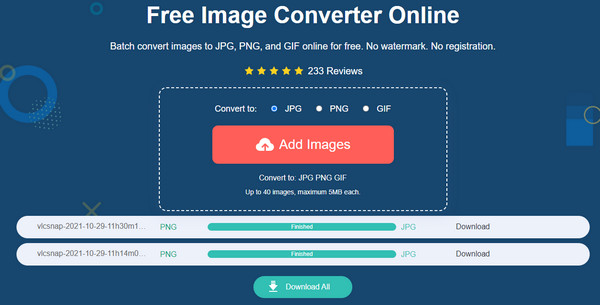 2. CloudConvert
CloudConvert supports over 200 formats for various conversions. DNG to JPG is easier with CloudConvert because of its intuitive UI and source options to upload files from Google Drive, OneDrive, and more. The online tool also provides an optional setting to edit the image's width, fit, height, quality, etc.
Step 1.Search for CloudConvert on your opened browser. Click the Select File button to upload the DNG file from your folder. You can also use other sources like OneDrive or URLs from the drop-down list.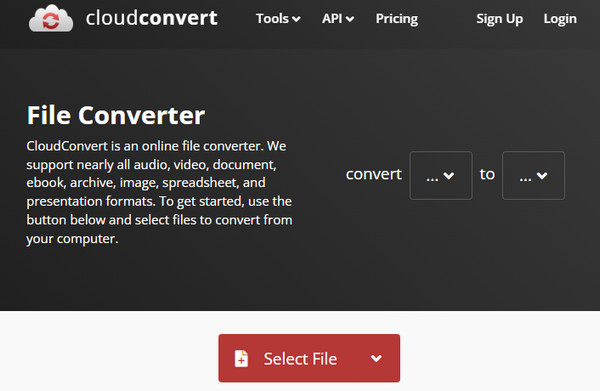 Step 2.Once uploaded, click the Format button and choose JPG. Click the Wrench button to edit the photo's quality, width, or height, then save the changes by clicking the Okay button. Then, click the Convert button to convert the photo.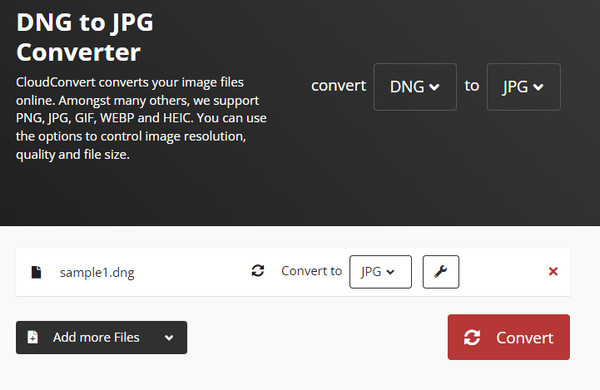 3. Convertio
Convertio is a free online program that helps to convert DNG to JPG. It supports 100MB of pictures to convert to any image format. Moreover, you don't need to register or create an account to utilize its features. Convertio can be your alternative to upload pictures from Google Drive and Dropbox. And you can copy the PNG or JPG image to URL to share with Convertio.
Step 1.Go to Convertio and click the Choose Files button. Import more pictures by clicking the Add More Files button. Then, click the Format button to choose the desired format.
Step 2.Click the Convert button to start the conversion. Once finished, click the Download button to save the converted JPG picture to your device.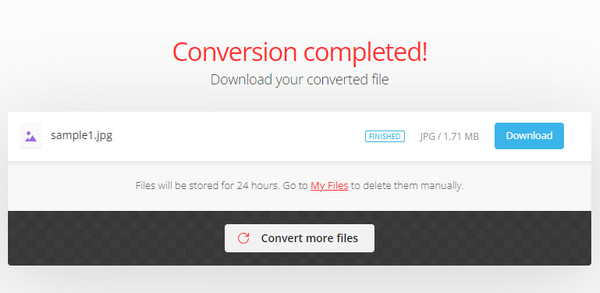 Part 3: 3 Software to Change DNG to JPG [Windows/Mac]
There are three recommended software for desktop tools to convert DNG to JPG without losing quality. Let's see which DNG file converter is the best for you. You can also get the detailed steps to change image formats to JPG without the Internet connection.
1. Adobe Photoshop
Aside from its professional functions, Adobe Photoshop can turn DNG into JPG. And you can even upscale 1440P images after converting with Photoshop. But since it provides the best features for file editing, it does not come for free. So, this solution is excellent if you've purchased the premium version.
Step 1.Launch the software on your device and upload the DNG file to its interface. After uploading, head to the File menu and select the Save As option.
Step 2.Choose JPG from the list as the output format. Then, a dialog box will allow you to change the image quality and compression. Click the OK button to convert the DNG file to JPG offline.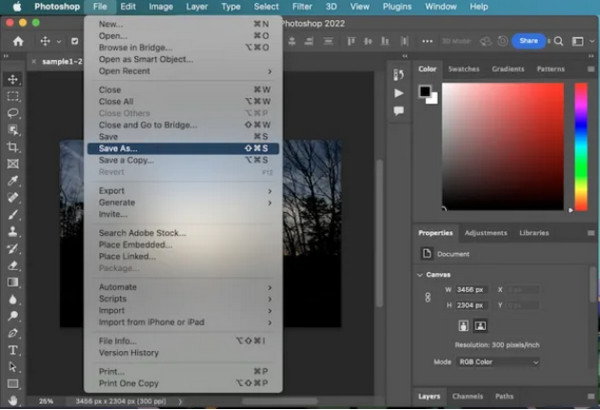 2. Pixillion
A lightweight image converter enables converting raw, common, and vector images. It also supports batch conversion with editing features to flip, resize, and rotate the pictures. Although Pixillion is not feature-rich like Photoshop, it still creates excellent DNG image conversions.
Step 1.Download and install Pixillion on your computer, then launch it. Pick the DNG file you want to convert.
Step 2.Select JPEG as the output format, then click the Convert button to start the process. Compressing the image is also optional before converting to JPG.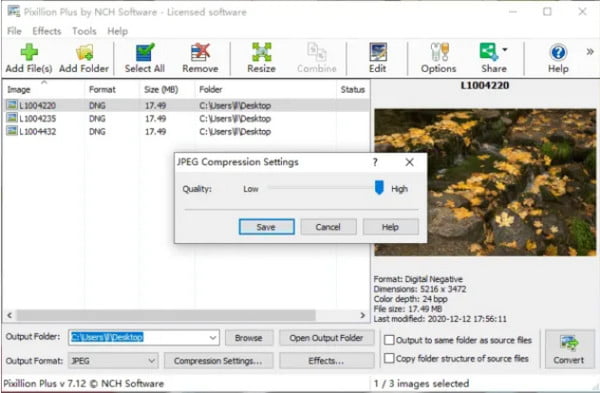 3. Mac Preview
Using Preview will save you time from installing third-party software. It is the default photo viewer on Mac but also has a conversion feature in its system. If you have DNG saved on your computer, try Preview to convert it to JPG.
Step 1.Open the DNG picture on Preview and head to the File menu. Select the Export option from the drop-down list.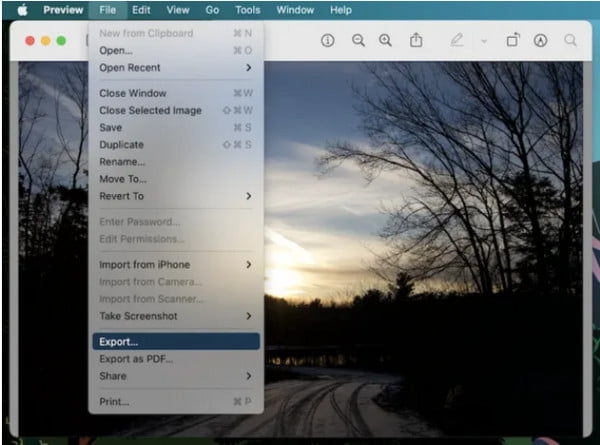 Step 2.Choose JPEG from the Format menu to edit other information like quality and depth. Or choose a new designated folder. Once done, click the Save button to turn DNG to JPG images.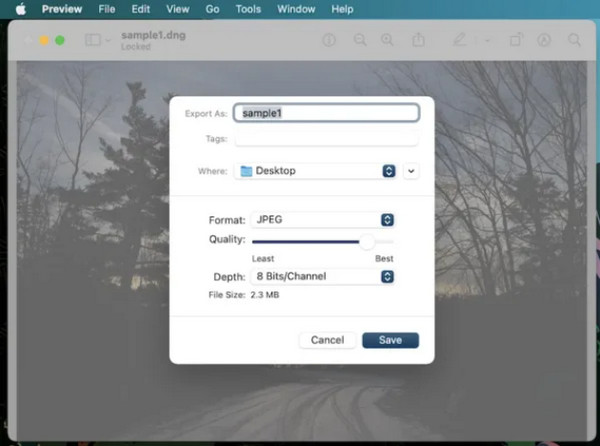 Part 4: FAQs about DNG and JPG
1. Why do photographers choose a raw format like DNG?

DNG or any other RAW format contains the best information, such as brightness level and more details. Some camera manufacturers use DNG as the new standard, including Pentax, Leica, and Hasselblad.

2. Is DNG better than JPG?

Yes. Regarding resolution and quality, DNG is the best to use. Of course, you must consider your storage memory, as one file can be more significant than a common JPG. But you can always convert images if you find your storage space in a pinch.

3. Is DNG lossless?

Yes. Adobe created the image format with lossless compression to convert RAW files to DNG. Compared to other RAW formats, DNG is more efficient regarding file size, quality, and compatibility.
Conclusion
DNG is an excellent RAW format for storing image information. But since it can consume too much space, converting DNG to JPG is advisable. You can try all the recommended solutions in this post for effective image conversion, especially AnyRec Free Image Converter Online.
Related Articles