5 Ways to Convert AVIF to JPG Online/Windows/Mac
AVIF is an image file format that has excellent and superior compression properties. But there are many people who want to convert AVIF to JPG. Because although it has a better compression capability than other image file formats, AVIF is not supported by most software and hardware solutions. So, to open a unique file, you might need to look for a way to convert AVIF to JPG. This post will gladly show you the best solutions for your concern.
Part 1: What is AVIF
Before anything else, you need to learn what AVIF is and how it holds the information of an image file. AVIF was first released by Alliance for Open Media. It supports monochrome images with color depths of 8, 10, and 12 bits. Aside from supporting HDR images, it can make both lossy and lossless compression. Moreover, its AV1 codec allows you to save compressed photos the same size as a lower-quality JPG but with higher image quality. Since late 2020, AVIF has been used by many companies, including Netflix, Chrome web browser, Microsoft, and more. Still, only selectable software supports this image file, so converting AVIF to JPG is inevitable to make your files compatible with programs.
Part 2: 5 Ways to Convert AVIF to JPG Online for Free
The easiest method to convert AVIF to JPG online. Most online converters are free and accessible to any operating system. Also, some tools guarantee to give you the best quality output. Here are five ways how to convert AVIF to JPG online.
Many users recommend this online converter because of its effective and fast conversion process. It supports almost all the image file formats, such as GIF, AVIF, JPG, BMP, and TIFF, and converts them to standard ones like JPG, PNG, and GIF. This online tool's best part is uploading multiple image files for a batch conversion without buffering or lagging. Visit AnyRec Free Image Converter Online and convert files effortlessly!
◆ Fast conversion speed for batch conversion of AVIF to JPG online.
◆ Enable users to convert and download in one click with excellent quality.
◆ No add-ons, such as a launcher, to use the online converter.
◆ No sign-up or registering needed to utilize the web-based program.
Step 1.Click https://www.anyrec.io/free-online-image-converter/ to visit the online converter. Click the Add Images button to upload the AVIF file. You can repeatedly use the button to upload more files from your computer.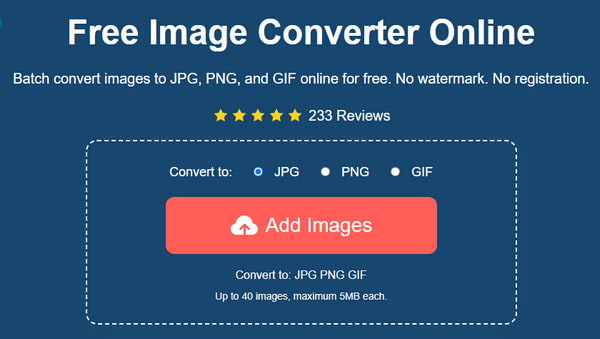 Step 2.While you are still uploading, the online converter will automatically do the job—the process proceeds from Converting to Finished, which you can find from the parameter of each file.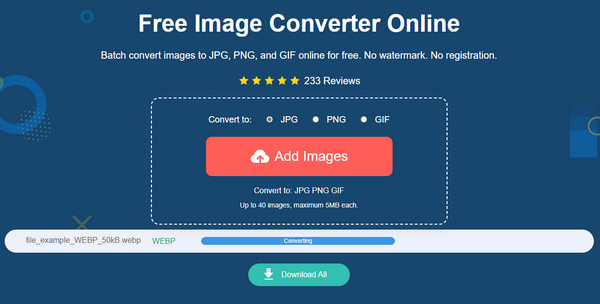 Step 3.Then click the Download button to save the output. You can also delete the output if you accidentally upload a file twice. But the online converter will automatically remove the uploaded and converted files after a couple of hours.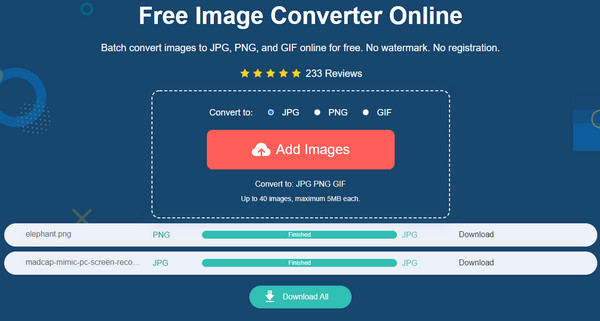 2. Convertio
You might have encountered Convertio for other conversion matters. And yes, it supports AVIF to JPG online. The interface is straightforward enough so both beginners and pros can navigate it easily. Moreover, Convertio allows you to upload files from different sources like Dropbox and Google Drive. Unfortunately, you can only upload files limited to 100MB.
Step 1.Go to Convertio on your browser. From the main interface, set the converter as AVIF to JPG. Then, upload the file from Dropbox or Google Drive or click the Choose Files button.
Step 2.Click the Add More Files button to upload other AVIF files to convert to JPG. Afterward, click the Convert button to process.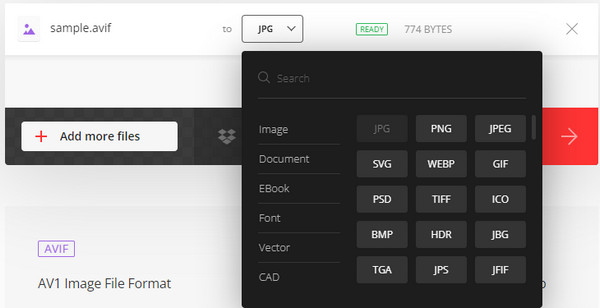 Step 3.Click the Download button to download the final output. You can give your ratings for the online tool if you wish.

3. Ezgif
Ezgif is popular with its extensive features for media editing. Aside from excellent editing features for videos, you can also convert AVIF to JPG while editing the picture. It provides editing tools like effects, crop, resizes, and overlay. You can also see the converted and edited file preview once you are finished. The only problem with Ezgif is it takes time to download the file.
Step 1.From Ezgif main site, click the AVIF tab from the top menu. Then, select the AVIF to JPG option from the submenu. Click the Choose Files button to import a file. You can also paste the file's URL on the website to upload.

Step 2.Once successfully uploaded, edit the AVIF file using features like crop, resize, etc. You can also set the JPG image quality factor to the desired amount.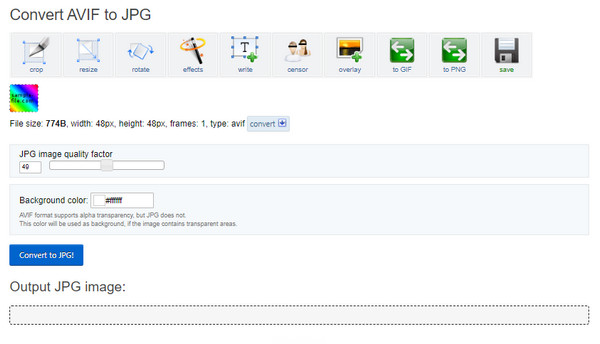 Step 3.Click the Convert to JPG button to see the preview of the output. You can change or adjust if necessary. Then, click the Save button to download the JPG file to your computer.
4. FreeConvert
FreeConvert is an online converter that releases tools frequently. It has the conversion for AVIF to JPG, which is effective and accessible. Unlike most online tools, FreeConvert enables users to upload files up to 1GB! And you can also sign up online if you need a bigger file size. You are safe with FreeConvert as it protects uploaded files with 256-bit SSL encryption.
Step 1.Go to the FreeConvert website and click the Choose Files button. Other sources, like Google Drive, Dropbox, and URL, are also supported. Once the file is uploaded, click the Add More Files button to add another file to create a batch conversion.
Step 2.Pull down the format list from the Output menu and choose JPG. Click the Advance Optionsbutton to edit other information like image size and Compress Output Image. Click the Apply Settings button to save the changes.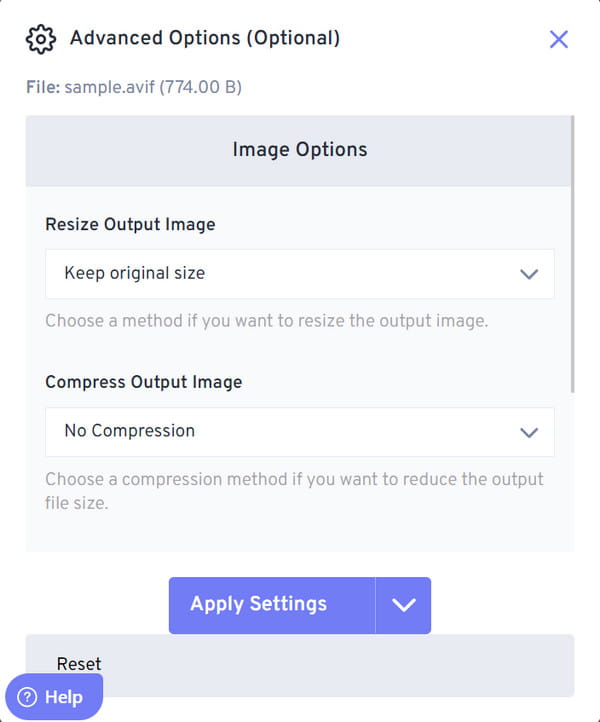 Step 3.After that, click the Convert button. The conversion may take some time, depending on the file size and internet connection. Click the Download button to save the outputs on your computer.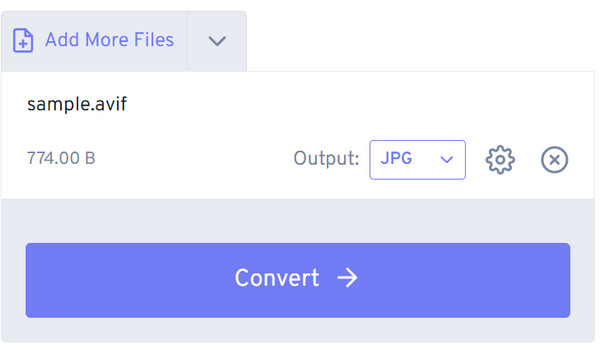 5. Cloudconvert
The last recommended online tool, Cloudconvert, takes place. Converting AVIF to JPG is nothing for this online tool because it supports almost every image format. It is easy to navigate with its intuitive interface and can achieve high-quality conversion without breaking a sweat. You can unlimitedly convert files like video, image, audio, and document.
Step 1.Search Cloudconvert on your browser to the official webpage. Click the Select File button to upload the AVIF file you want to convert. Since it supports batch conversion, you can click the Add More Files button to upload another file.
Step 2.After uploading, select the drop-down menu for Convert To option. Choose the JPG file format under the Image tab. Additional options can be found by clicking the Wrench button, where you can change the width, fit, quality, and more. Click the Okay button to apply the changes.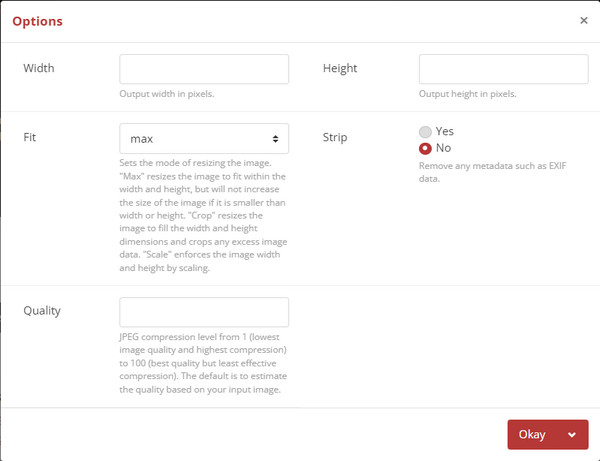 Step 3.Click the Convert button to process the uploads. You might need to wait a bit longer if you upload multiple files simultaneously. Once all files are converted, click the Download button to save them on your device.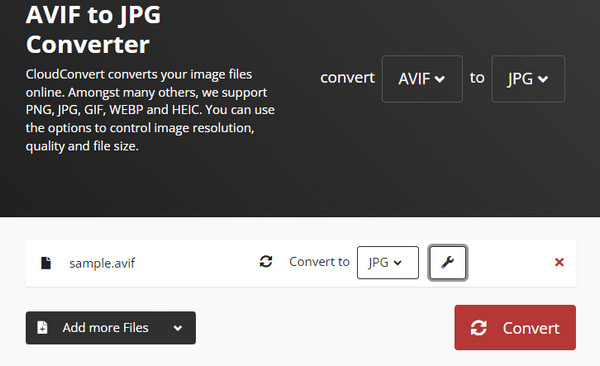 Part 3: The Professional AVIF Viewer XnView MP
If you do not want to convert AVIF to JPG because you don't want to lose the picture quality, you may need an AVIF viewer like XnView MP. This software is versatile for a photo viewer since it supports formats from the standards to unique ones (JPEG, PNG, GIF, WEBP, PSD, DNG, RAW, HEIC, etc.). It helps you organize files by putting them in thumbnail, fullscreen, or filmstrip view. It also provides essential editing tools like resizing, cropping, and adjusting brightness. You can download XnView MP for free on Windows, macOS, and Linux.
Part 4: FAQs about AVIF to JPG
1. Does iPhone support AVIF files?

No. Aside from the fact that Apple products use their formats for any media file, AVIF is still unsupported even to iPhone's web browser, Safari. Unlike HEIC which you can convert on iPhone, you must install Google Chrome on your iPhone to view AVIF files.

2. Is AVIF lossy?

Yes. AVIF support lossy compression, so you can reduce the file to a smaller size. However, lossy compression may result in data loss during the encoding process. Still, AVIF allows you to choose how much loss is acceptable for the file.

3. Does AVIF support animation?

No. If you wish to create an animation out of AVIF image files, it is possible. Available tools support AVIF, which is best for multi-layer images.
Conclusion
AVIF enables holding the image information with excellent compression capability. However, it is still not compatible with most portable devices and programs. Converting AVIF to JPG is the best solution for device compatibility, and if you are worried about quality, the recommended online tools will take care of your files. Especially AnyRec Free Image Converter Online with its fast and reliable conversion process. Try the online converter for free!
Related Articles