Three Ways to Convert BMP to JPG or Reversely on Windows and Mac
Aside from JPG, the BMP format is also the oldest image file type made in the early 1990s. And Although it is an information-rich format, many people still need to convert BMP to JPG. As BMP is designed to display images from devices independently, many programs cannot open this file. Moreover, since the old image format is not optimized for colored photos, you may also need to convert BMP to JPG to compress its enormous file size. This post will serve as your guide for conversion in different tools.
Part 1: Run AnyRec to Convert BMP to JPG or Convert Back
For easier converting BMP to JPG, AnyRec Free Image Converter Online is the most recommended tool for Windows and Mac. It is a free online-based converter that supports over 30 image formats, including BMP, GIF, PNG, JPG, TIFF, WebP, and others. Aside from BMP, you can upload pictures from a digital camera, mobile, and other devices and convert them in a few clicks. Visit AnyRec Free Image Converter Online for free and reliable conversion without advertisements.
Features:
Consistently convert BMP to JPG while supporting batch conversion.
High-performance algorithm to convert images at high speed.
No registration is needed to use all the converter's features.
One-click download to save all converted files to the computer.
Step 1.Go to the official site for online image conversion. Click the Add Images button to import the BMP file you want to convert. Ensure that the desired output format is already selected from the Convert To option.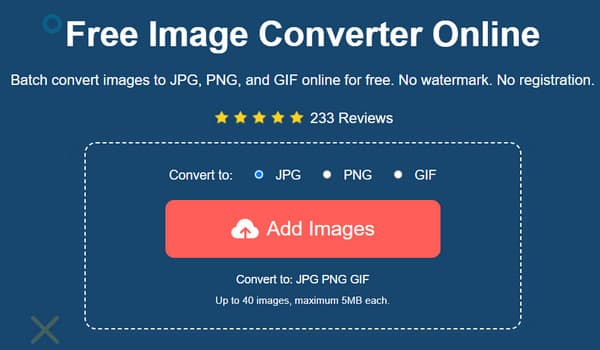 Step 2.Once you confirm the selected picture from the local folder, the online converter will process them instantly. In this case, you can upload more images to create a batch conversion. The parameters for each uploaded picture will show the progress of the conversion.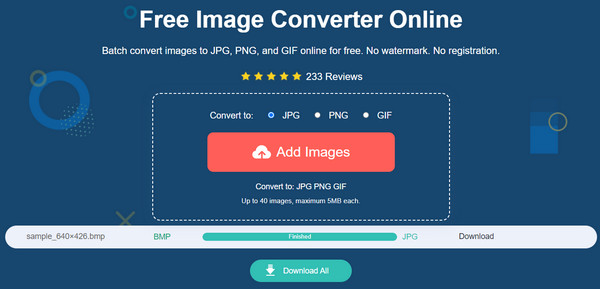 Step 2.After uploading all the BMP files and the parameters say Finished, proceed by clicking the Download All button to save converted photos to your computer. All downloaded files will be deleted from the website for the user's privacy.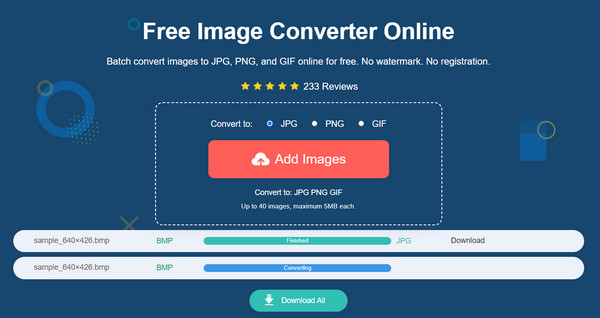 Part 2: Use Paint on Windows to Save JPG Images as BMP
Microsoft Paint is an excellent method for converting BMP to JPG as it is a built-in feature for Windows. The photo editor is known for its simple and powerful features, allowing you to add elements to your liking. It is also used for other activities, such as photo viewing, because of its wide range of supported image formats. Converting pictures using Paint will be much easier as long as you are not using Windows XP.
Step 1.Press the Windows key on your keyboard to open the Start menu. Type Paint in the search bar and open the app. Navigate to the File menu at the top part of the interface and select the Open option. Once the local folder appears, browse for the BMP file and click the Open button to confirm it.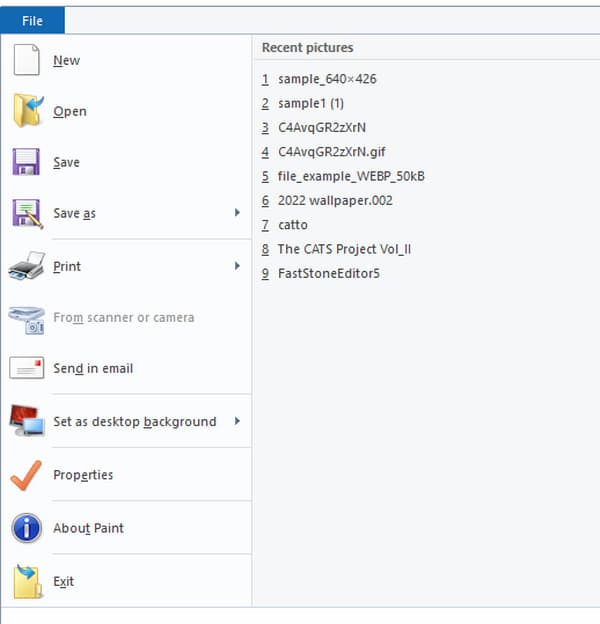 Step 2.Proceed to make necessary edits to the picture, like cropping, resizing, rotating, and so on. After editing, press F12 on your keyboard to open the Save Aswindows. Rename the file if it's needed. Open the drop-down list from the Save As Type menu and select the JPG format from the list. Click the Save button to convert and save the output.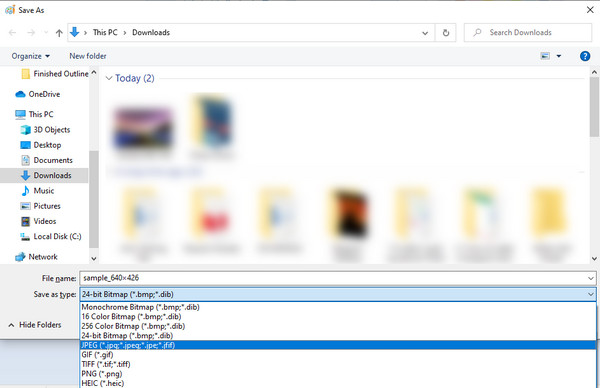 Part 3: Use Photoshop to Convert BMP Image to JPG
Adobe Photoshop is a graphic image editor that provides professional photo editing for any image format. Of course, Photoshop can also help to convert BMP to JPG, WebP to JPG, GIF to JPG, etc. without installing an additional extension. Still, because of its intimidating interface, many users do not bother using the software for conversion. You must also purchase the tool to fully utilize its functions or use its 7-day free trial version.
Step 1.Launch Photoshop on your computer and head to the File menu. Select the Open option to upload the BMP file from your folder. Confirm the selection by clicking the Open button.
Step 2.Then, go to the File menu again, but this time, select the Save As option from the list. The dialog box will appear for output changes like name, format, and designation path. Change the output format type to JPG and click the Save button to save the changes.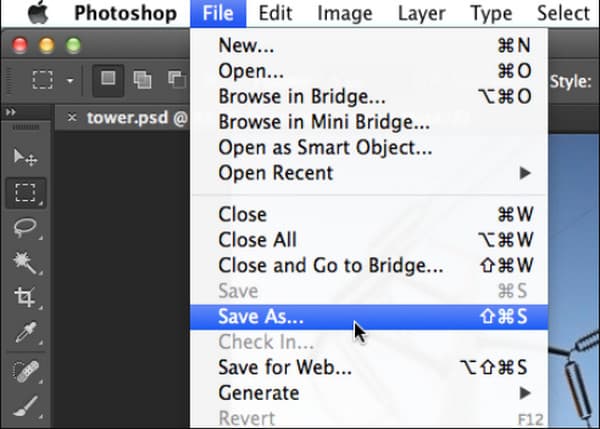 Part 4: FAQs about BMP to JPG
Which is better quality: BMP or JPG?

BMP contains raw and high-quality images, giving a bigger file size. While JPG automatically compresses pictures but also preserves the quality, which is a perfect balance and great for photo editing.

Which program is compatible with the BMP file format?

BMP is still effective with Microsoft Windows and OS/2 operating systems. The built-in functions of Windows are still advantages for the old format. But of course, JPG is more versatile because it is universally supported, making it ideal for sending email attachments, saving selfies, and so on.

Is the BMP format dependent on resolution?

Yes. If the image is created in low resolution, it can appear loose in detail or jagged, especially if it will be printed on a larger scale. To avoid an unfortunate outcome, it is suggested to convert BMP to JPG to preserve the quality and make the photo accessible to a professional photo editor.
Conclusion
Now that you know how to convert BMP to JPG, you can convert all the BMP files on your computer and make them more accessible to other programs and devices. Although BMP is much better in quality than JPG, the old format only stores high-resolution, which explains the bigger file sizes. But you can still preserve the image quality more by using AnyRec Free Image Converter Online. The online converter is convenient for any photo conversion without purchasing a premium version or registration. You can also convert any image to JPG, such as JFIF to JPG, HEIC to JPG, etc.
Related Articles