The Detailed Review of Bigjpg and If it is the Best Image Enhancer
A significant factor in having a wonderful photo is to enhance it with the help of an image more upscale. But what if you had a hand tremble or other thing and then you took a blurry photo, many people see the Bigjpg review and decide to use this tool to upscale their photo. Is it true that this tool is worth using? Luckily, this post will help you to see the real Bigjpg review. Let's see how it can help you with photo enhancement and its best alternative if you don't like it.
Part 1: The Bigjpg Review
Bigjng is a well-known tool for enlarging photos by reducing image noises or serration. It helps people to have a lossless output that they can share on social media without losing too much quality. Its AI system can auto-detect blurry parts and fix them through enhancement.
The amazing thing about Bigjpg is you can navigate the webpage easily with its clean interface. It does not show too many advertisements, so there is no interruption while enhancing pictures. Moreover, it supports popular image formats such as JPG and PNG, so you don't have a problem uploading images from your device. You can use Bigjpg with its other versions, like Android, iOS, and desktop.
Bigjpg is already a powerful image enhancer; however, it has its own disadvantages. For example, you can only upload photos with a maximum of 5MB file size, or the website will not accept them. The app versions also face low ratings as some reviews stated that even a 1.5MB is not allowed to enhance. Over its plain-looking interface, you will still need to purchase the pro version of Bigjpg to unlock other features.
1. How to Use Bigjpg to Upscale Pictures
Here are detailed steps to tell you how to use Bigjpg to upscale your pictures
Step 1.Go to a browser and search for Bigjpg. Once you are on the webpage, click the Select Images button and choose the file you want to upload. Ensure that your picture is within 5MB in size, or the uploading process will fail.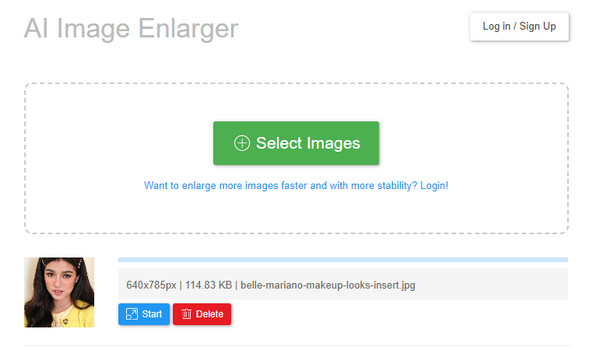 Step 2.Click the Start button under the file name, and a Configuration menu will appear on your screen. Select the Image type, Upscaling, and Noise Reduction. Once done, click the OK button to apply the changes. You will need to wait for the process to get done.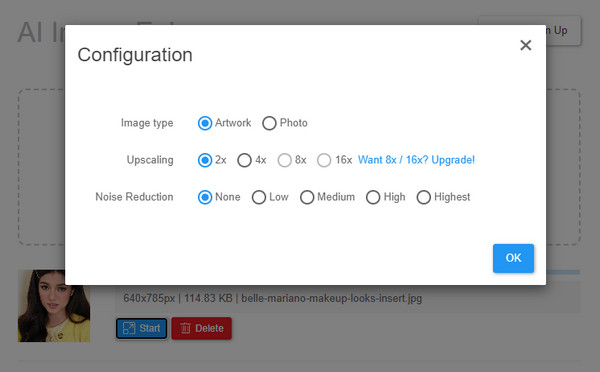 Step 3.Once you see the word 'Completed' on the thumbnail, click the Download button to save the output image to your folder. Click the Select Images button again to upscale another picture. On the other hand, there is a suggestion to log in for a faster and more stable image enlarging process.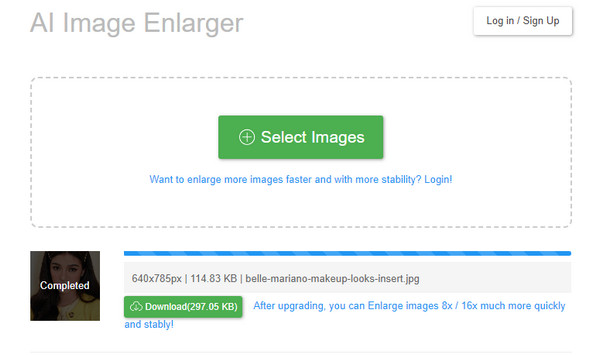 2. Key Features
If you are considering purchasing the paid version of Bigjpg, learn the other features that will unlock for a more compelling image upscaling. While you can enlarge photos without compromising the photo quality, you can adjust the size scale and even use the noise reduction feature as preferred. It is an excellent investment to have the premium version of Bigjpg if you aim to be an active social media figure. Here is the complete list of Bigjpg's key features:
Key Features:
◆ Image type can be Artwork or Photos; The first option can be applied to drawings, sketches, and other specialized pictures.
◆ The Noise Reduction feature ranges from None, Low, Medium, High, to Highest.
◆ Other supported image formats are GIF, ICO, and BMP.
◆ The maximum file size limit in paid version will upgrade to 50MB at 3000 × 3000px.
◆ Users can access their upscale history on their logged-in account, allowing them to compare the original photo to the enlarged one.
3. Pros & Cons
After learning the key features, you will need to weigh how Bigjpg can help you with image enhancement. In this part, you are about to learn the advantages and disadvantages of the web-based image enhancer. Keep in mind that these are from users' reviews from different platforms.
Pros

Simple and clean interface for all versions.
Support API.
The version is available on App Store and Google Play.
Hassle-free uploading image files because of a wide range of supported formats.
Cons

Slow uploading and enhancing speed.
No resolution options for users to specify.
No significant change from the original to the output file.
Part 2: The Best Alternative to Bigjpg
After reading the Bigjpg review, you will find that it has its own limitation, such as the limited number of uploaded files. And it can bring disappointment to anyone that needs to upscale their photos. The best alternative for Bigjpg is AnyRec AI Image Upscaler. It is a free online photo enhancer accessible to any browser and OS device. As it is powered with AI technology, your pictures are safe to be enhanced without decreasing the quality. It also reduces image noises and blurs parts as part of the enhancement process. AnyRec AI Image Upscaler does not require a launcher, so you can try it today!
Features:
◆ A great Bigjpg alternative to enlarge photographs up to 800% increase in resolution.
◆ Support various image formats like JPEG, PNG, TIFF, BMP, and more to upload files.
◆ Show a preview for enhanced pictures and allow users to adjust the resolution effect.
◆ Quickly enhance photos without a watermark applied and with no sign-up requirements.
How to use the best Bigjpg alternative:
Step 1.Open your browser and visit https://www.anyrec.io/image-upscaler/. Click the Upload Photo button from the main webpage to open your file folder. Browse for the picture you want to enhance, then click the Open button to confirm your selection.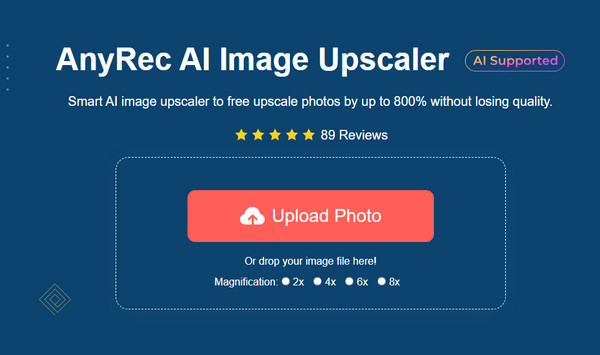 Step 2.Once the file is successfully uploaded, choose the enhancement intensity from the Magnification option. With the side-by-side comparison, move your mouse around and observe the difference. Choose another magnification level if necessary.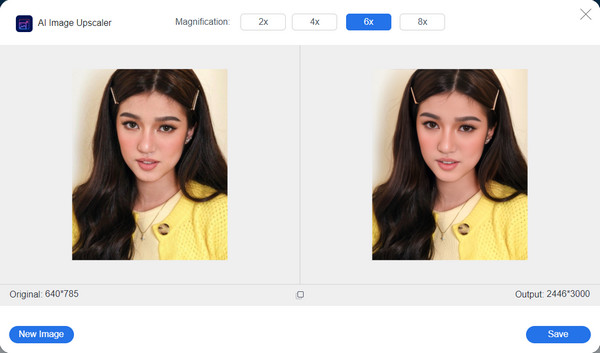 Step 3.Once satisfied with the result, click the Save button to save the changes. Your new enhanced photo will be automatically saved to your device. Click the New Image button to upscale another picture.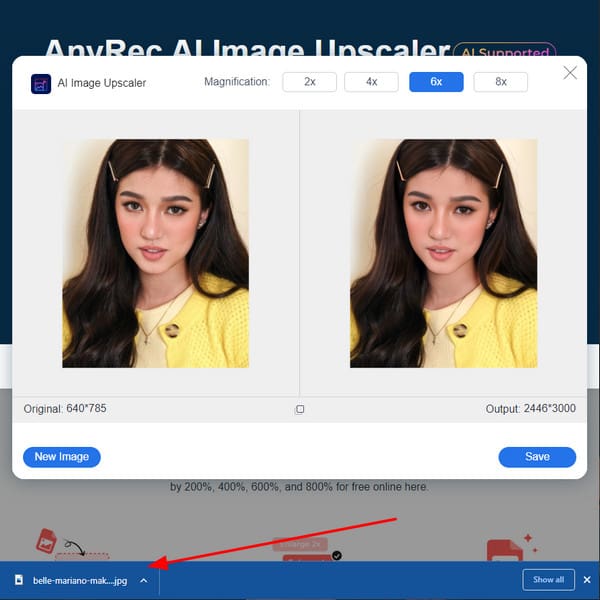 Part 3: FAQs about Bigjpg
What is the best Bigjpg alternative for Mac users?

Aside from the recommended tool in this post, Preview is a default image enhancer for Mac devices. To upscale the picture with Preview, open the file on the app. Click the Show Markup Toolbar button and adjust the picture size.

Can I use Bigjpg even without an internet connection?

Yes, Bigjpg is available to use offline. However, this is only available if you sign up or log in on Bigjpg. It is a significant advantage if your WiFi goes out of nowhere and you still have pictures to enhance. Remember that you must not exit your web browser, or you will lose your progress.

Is it safe to use Bigjpg on my PC?

Yes, the website ensures all users and uploaded files are safe and deleted after 15 days. Also, all image links are encrypted so no one can see them. It still depends on the user if they want to share the pictures on a social network.
Conclusion
Bigjpg is a renowned image upscaler because of its simple yet powerful features. Users still have to abide by logging in with an account to unlock other unique features or purchase the premium version to upload images unlimitedly. If you are unsatisfied with these disadvantages, the best Bigjpg alternative is AnyRec AI Image Upscaler which is free and 100% safe. Visit the site and enhance images without trouble!
Related Articles