Sites Like Omegle: 10 Popular Chat Sites Alternative to Omegle
Is there any Omegle like site for meeting strangers? When talking about video chat websites, you must think of Omegle - a famous and popular site for chatting with random strangers. It has become the biggest chatting site with 66 million visitors per month. You can find more interesting people here, but horrible users also increase at the same time. Don't worry! There are many video chat sites like Omegle for you to chat with random strangers. If you are finding a video chat site with a more pure and better environment, you can learn about the best 10 sites like Omegle compiled in the following. Please keep reading this article and choose the suitable one according to your need.
Top 10 Sites Like Omegle to Chat with Strangers Online
FAQs of Websites Like Omegle for Making Friends
Top 10 Sites Like Omegle to Chat with Strangers Online
Besides Omegle, there are also many websites like Omegle that support chatting with strangers randomly. You can learn more about their unique features in the following. Here you can get random chats and online dating with those Omegle video chat alternatives.
1. PalTalk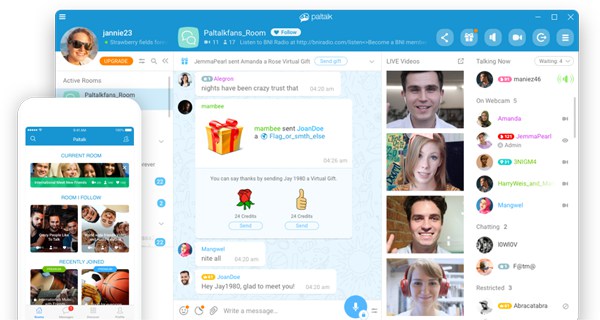 PalTalk is just like a social media platform with text interaction and webcam chatting. You can communicate with someone who has the same interest with you. As a powerful Omegle alternative site, it provides cam-to-cam chat between two people and group chat rooms for meetings. You can get instant messaging and free video chats all the time. At present, there are over 5,000 live chat rooms you can join.
Features:
Additional social platforms to share links from YouTube.
Provide gifts and interesting stickers.
Have an online site and apps for Android/iOS.
2. ChatHub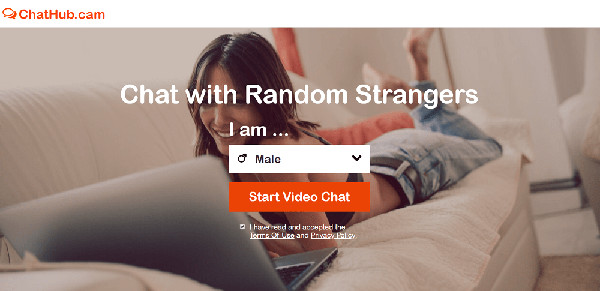 ChatHub is a free online random video chat site that works like Omegle. You can find the desired strangers by filtering the language, country, and gender. You can also download its app for mobile to start chatting everywhere.So it is your Omegle alternative app for iPhone and Android.
Features:
Fast connection between random strangers.
Able to join chat through the link directly.
No registrations are required with an account.
3. BazooCam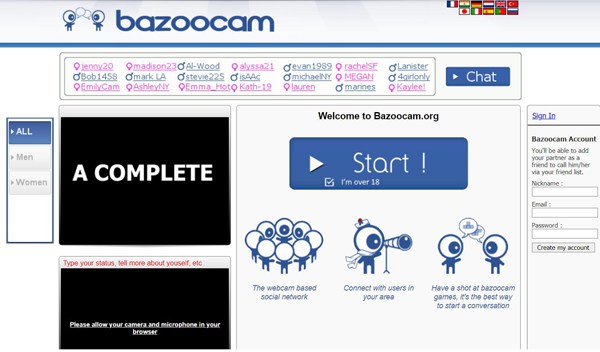 It's also a website like Omegle to chat with one or several people with a webcam. Since it supports many languages, it is popular in Europe. So BazooCam is your Omegle alternative in Europe. And it's moderated constantly by 40+ people, so you will meet less horrible people and meet new friends.
Features:
Need no account to chat with strangers.
Provide high-quality webcam videos.
4. Shagle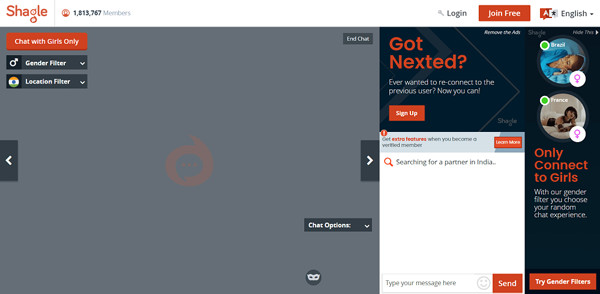 As a site like Omegle, Shagle only requires your gender and interests to start a webcam chatting, which will protect your private information. You don't need to register a user account to chat with strangers online. Also, you can set to meet someone in certain genders and countries. However, the Omegle like site only supports cam-to-cam online chat between two people.
Features:
Provide chat templates to start a topic easily.
Able to filter the country and gender.
5. Hey-People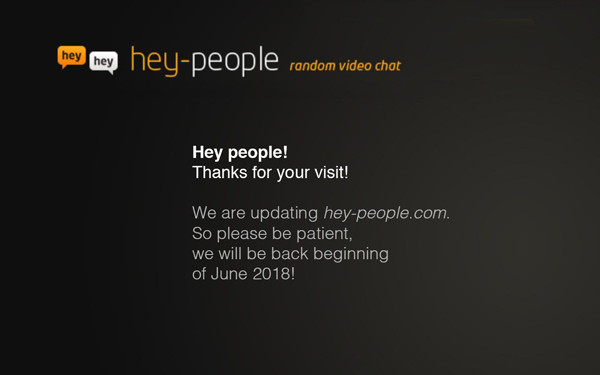 Hey-People is another random video chat site like Omegle. Since it's an experimental and non-commercial project, you will find no ads on this website. You can also use the Friendship function to connect with someone at any time.
Features:
Very easy to use with an intuitive interface.
Provide many interests for you o choose.
6. Fruzo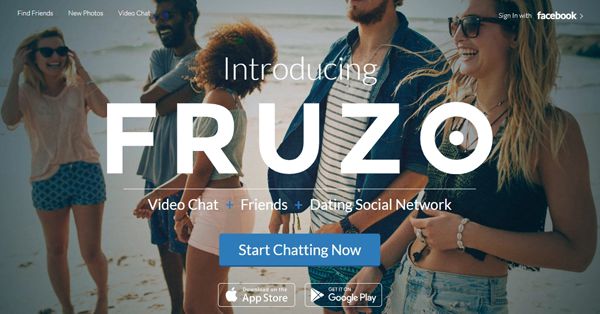 Fruzo is not only a website like Omegle, it's more like a social media platform with a user community. You can upload photos to attract people and watch others' photos to find the desired one. This Omegle similar site also bring you potential matches via online video chats. You can get a real hookup chance from Fruzo. Or you can download sugar momma apps to date with successful women.
Features:
Able to log in with the Facebook account.
Find someone by age, gender, location, etc.
7. Chatpig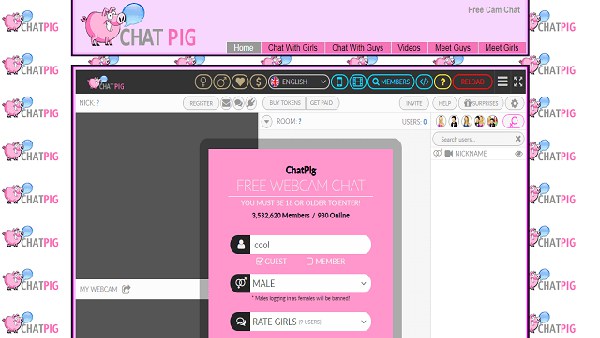 It's an easy-to-use website like Omegle. You can start a random video or webcam chat after selecting the gender. Moreover, you can have live sex chats with Chatpig. There are also many adult cam models online. Well, Chatpig provides chat rooms that can contain several users.So you can have group video chats here.
Features:
No ads on the website.
Good environment with strict rules.
8. ChatRad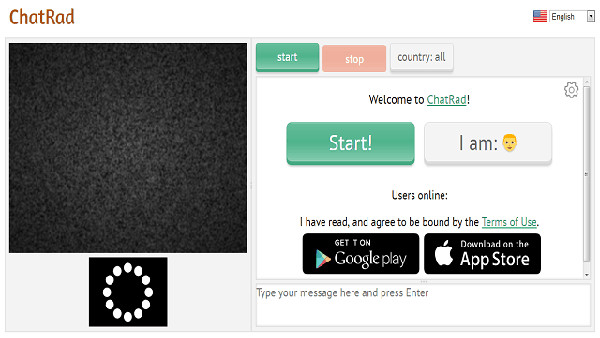 ChatRad is a free online video chat site like Omegle. It provides a team of moderators to monitor all the behavior to create a pure and safe environment for chatting. You can meet people through your webcam at home.
Features:
Very cute emojis to show yourself and send messages.
Video quality is impressive.
9. TinyChat

It's a versatile video chat site like Omegle that provides a community to chat with your families and friends. You can create or join a room to chat with several people at the same time.
Features:
Less loading time to start a quick chat randomly.
Functions to find the people near you (not recommended).
10. YapChat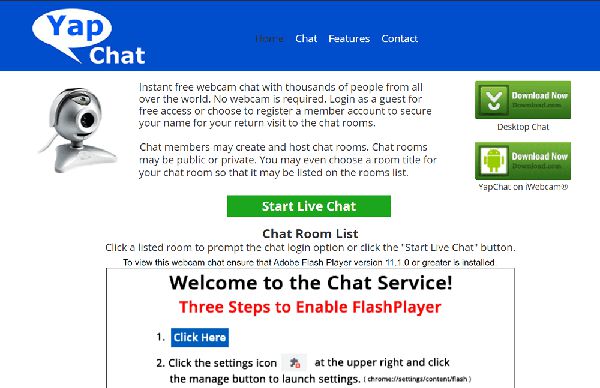 YapChat is a free website like Omegle to chat with strangers online. You can choose to create a public chat room to meet strangers or a private room with a password to have meetings.
Features:
Provide a room list to join in.
The webcam is not necessary.
More Tips: How to Screen Capture Omegle and Its Alternatives with Permission
When you find someone interesting and want to record his/her stories with permission, you will find there's no recording function because of privacy protection. In this case, you can use AnyRec Screen Recorder. Here you can record the screen of video chats or capture the screenshots of text chats. This video chat recorder for Windows/Mac has many useful features:
FAQs of Websites Like Omegle for Making Friends
1. Can I chat with strangers through sites like Omegle without an account?

Yes. Actually, most sites like Omegle also require no account to chat with others. You can chat with strangers anonymously as a guest. But some sites that need Facebook account require you to log in.

2. Are there any apps like Omegle?

Of course, there are video chatting apps alternative to Omegle. Some websites like Omegle also provide chat apps for Android/iOS, such as PalTalk, ChatHub, etc. You can start video chats on iOS and Android more conveniently.

3. What is the unique feature of Omegle?

There is a unique feature that websites like Omegle don't have - chat with college students only. In Omegle, you can log in to the account with your school website to verify your identity. In this way, you can talk to students from other colleges.
Related Articles