Effective Ways to Add Audio to Picture on Windows/Mac/Android/iPhone
When you want to post your pictures of travel, food, beautiful places, memorable moments, and any activities, adding audio to pictures and making slideshows are good ways. It will make dull pictures look vivid and interesting. You don't need to be good to do this; there are software and applications that are user-friendly with features that are easy to familiarize. Continue reading below to see the best software to add audio to picture on your Windows/Mac/Android/iPhone.
Part 1: The Ultimate Way to Add Audio to Picture and Make Slideshows with Music
For beginners who want to add audio to picture, whether for school projects, special occasions, birthday surprises, or work presentations, Anyrec Video Converter is recommended to you. It is a desktop program that can efficiently make slideshows with multiple pictures and effects. With the built-in themes and templates, you can easily edit your videos and slideshows to your liking. You can also add audio to image without a hassle because of its customizable background music.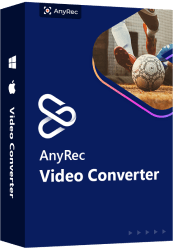 AnyRec Video Converter
Make slideshows from pictures and add audio to pictures with simple clicks.
Provide many preset themes to add the desired transitions automatically.
Able to edit the picture slideshows by cropping, trimming, adding filters, etc.
Support exporting the moving pictures to MP4, MOV, GIF, and other popular formats.
Here's an easy-to-follow guide to making a slideshow with music using the best-recommended tool.
Step 1.Open the Program
The first thing you do is download the program by visiting the product page, follow the link provided above. Install the software after successfully downloading it. After installing, launch the tool to see the interface window. Click the MV button to start adding audio to pictures.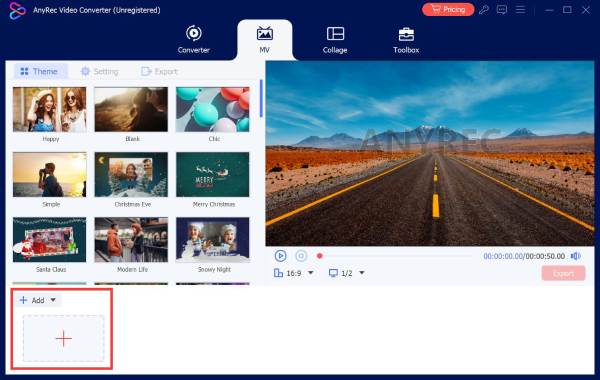 Step 2.Add Photos for the Slideshow
To begin adding photos from your PC, click the Add button on the bottom part of the window and select the images. Then you can edit, trim, arrange and remove the photos using the functions besides the +Add button below the templates.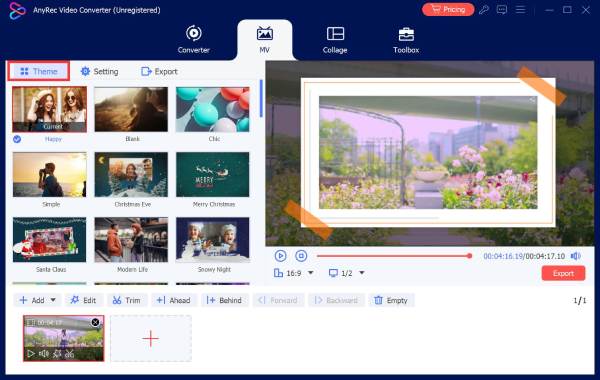 Step 3.Add Audio to Pictures
Then, you can click the Settings button to change the title and audio settings. You can add the desired text and background music on the slideshows according to your need. Click the Add button to choose the desired file to add audio to pictures. You can also adjust the volume and delay freely.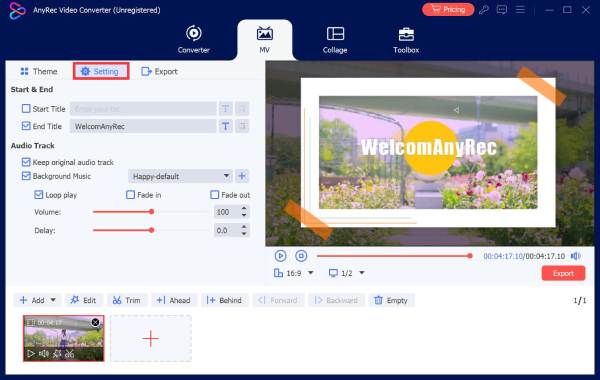 Step 4.Start exporting the File
Click the Export button and modify the slideshow's name, format, resolution, frame rate, and quality. Do not forget to choose the output file location to locate the file quickly. Click the Start Export button to start exporting the pictures with music.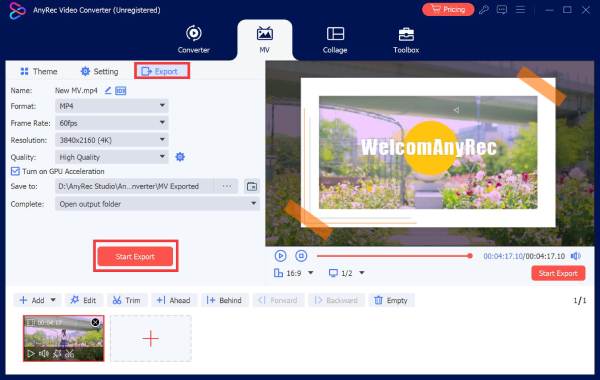 Part 2: How to Add Audio to Picture Online for Windows/Mac
Online solutions are great as an alternative to add audio to picture and make videos. Kapwing is one of the popular web-based tools that can produce good-quality videos. You can combine video clips, trim and cut, add transitions and subtitles, includes music, and overlay text and images.
Quick Guide to using an online video editor to add audio to image quickly:
Step 1.Navigate to the official website and start uploading photos. You can also upload a photo or video from the internet by coping and pasting the link.

Step 2.To import audio, click the Audio button on the left side of the interface where the toolbar is located. You can either add audio to pictures from your files or internet. Use the given tools to adjust the length of the video and add effects, texts and elements.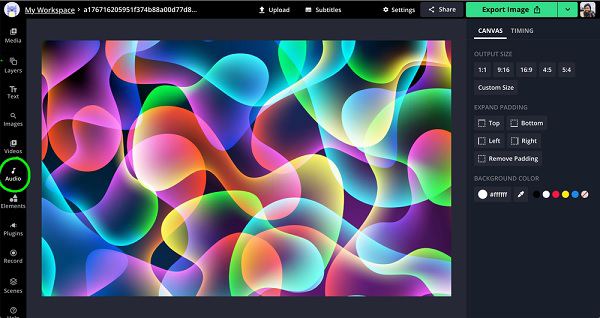 Step 3.Watch the video before you export to see if there are things to be changed or removed. After finalizing, click the Export Video button located on the top right part of the interface to start adding audio to pictures and exporting the slideshows. Then share it on social media accounts so others can see the videos you created.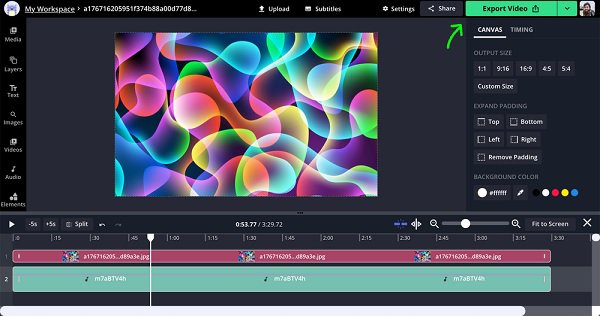 Part 3: 3 Best Apps to Add Audio to Picture on Android/iPhone
Various apps are available to download for Android and iPhone users, respectively, allowing you to add audio to photo for free. These apps are useful when making music videos and slideshows that you can share on your social media accounts. Below are the three best apps to help you add music to videos on Android/iPhone.
1. VivaVideo
VivaVideo is an app for Android phones that lets you add sound to pictures to make slideshows or short music videos. It contains default features that users can use freely for editing their videos and includes over 200 special effects to create unique themes. It is simple and easy to use. It also enables you to share your creations directly with social media apps and websites.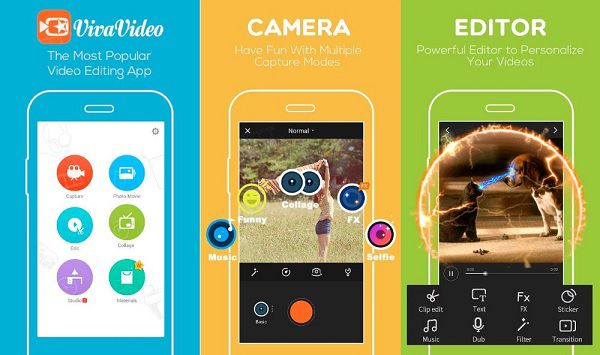 2. VideoShow
VideoShow is an app usable on Android and iPhone to add audio to picture when making videos. It has an intuitive and easy-to-understand interface, with a wide range of editing tools, adjustment options for video clips, and background music customization. Like any other tool, you can directly share the videos you made on Facebook, Twitter, Instagram, YouTube, etc.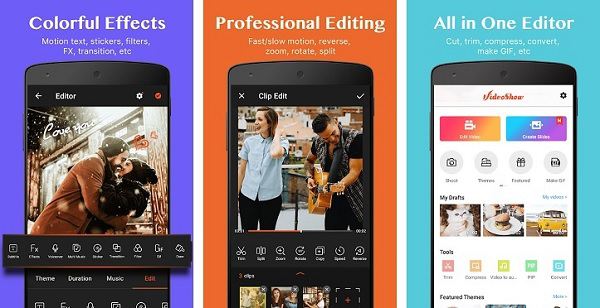 3. SlideLab
SlideLab is recommended for iPhone users to add audio to pictures when creating music videos or slideshows. The user interface of this app is interactive, which makes it beginner-friendly. It is ideal for Instagram posts because the default setting allows for 1:1 format pictures. The videos you create in this app are professional-looking, making this app popular in this segment.
Part 4: FAQs about Adding Audio to Picture
How to add audio to picture on Instagram?

Launch Instagram and tap the Plus icon on the home page to create your Instagram story. Then tap the Face icon and choose the Music button to add audio to pictures. Select the desired music and edit it freely.

Can I add WAV audio to pictures?

Of course, you can. WAV audio is acceptable on most devices. And you can export slideshows with WAV audio to any format, including MP4, MOV, AVI, and more through AnyRec Video Converter.

Can I add audio to pictures and save them in the original image format?

No, you can't. Image formats don't support audio codec. Even the animated GIF image format doesn't support audio. Thus, adding audio to pictures will turn images to slideshows in video format.
Conclusion
To sum up, it is pretty simple to add audio to picture on a computer or smartphone. There are online solutions as well if you are in a rush and you don't have a program installed on your device. But to add audio to pictures with professional functions, Anyrec Video Converter is the software that suits your needs. Have a try on it now.
Related Articles