Find the Best Image Quality Enhancers on Windows/Mac/Android/iPhone
Did you know that you can enhance image quality online? As there are many online image quality enhancers, you will not run out of solutions to make all your photos improve. Image quality may be lower when posted on social media or via email. Another possibility is when a photo is enlarged without the proper tools. To avoid this unfortunate situation, the recommended image quality enhancers are all practical tools for any type of picture. Find the best one for you in this article.
Part 1: Top 10 Best Image Quality Enhancers on Windows/Mac/Online
Most of the available image quality enhancers offer free usage of their functions, but if you want to invest in a professional tool, you might consider purchasing the premium version. Here are the best-recommended image quality enhancers with brief descriptions and prices.
| | | | |
| --- | --- | --- | --- |
| Tools | Supported OS | Export Formats | Free/Paid version |
| AnyRec Image Upscaler | Online, Windows, Mac | JPEG, BMP, TIFF, PNG | Free |
| Let's Enhance | Windows, macOS, Linux | JPG, PNG, WebP | Free, $6.99/mo |
| MyHeritage | Windows, Mac, Linux | JPEG, PNG | Free, $119/mo |
| Fotor | Windows, Mac, Linux | JPG, PNG, PDF | Free, $8.99/mo |
| Fotojet | Windows, Mac, Linux | JPEG, PNG | Free trial, $6.99/mo |
| VanceAI Photo Retoucher | Windows, macOS, Linux | JPEG, PNG | Free, $9.99/mo |
| TopazLabs | Windows, macOS | TIFF, JPG, PNG | $99.99/yr |
| Canva | Windows, Mac, iOS | PDF, JPEG, PNG | Free, $119.99/yr |
| Adobe Spark | Online, iOS, Android | SVG, PNG, JPEG, GIF | Free, $9.99 |
| AI Image Enlarger | Windows, macOS,iOS, Android | PNG, JPEG | Free, $9.00 |
1. AnyRec AI Image Upscaler - The Best Image Quality Enhancer Online for Free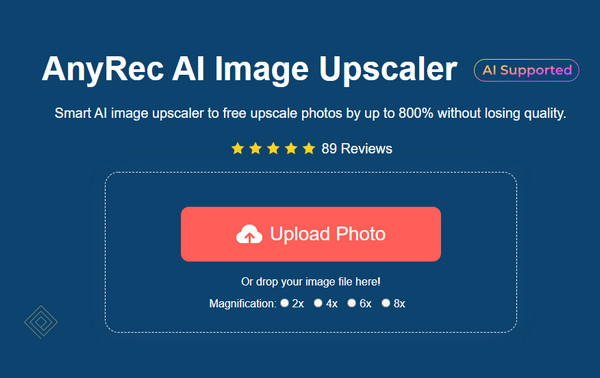 The first recommendation would be AnyRec AI Image Upscaler. The tool offers all its advanced functions for free. The process only takes a few clicks of your mouse because the tool can automatically detect the image noise and blurry parts and bring the color's pigmentation. Moreover, this image quality enhancer can magnify your pictures up to 800% without distorting the images' details.
Pros

Perfect image quality enhancer for image formats like JPEG, TIFF, PNG, BMP, etc.
Real-time preview allows users to compare the original image and the final output.
No registration is needed for photos to be sharper, crisper, cleaner, and more evident.
Cons

Slow detailing process.
2. Let's Enhance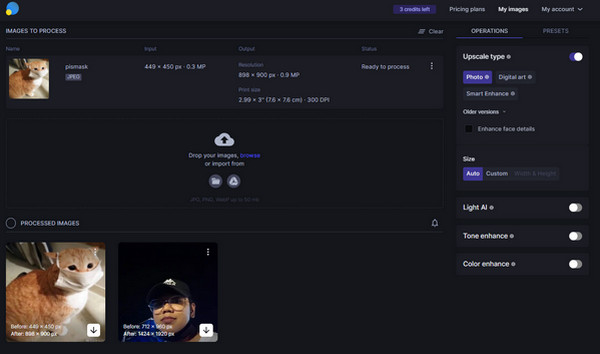 An online image quality enhancer that produces high-quality results for you to save or share to your social media accounts. It applies AI technology to every uploaded picture to remove the flaws, improve colors, and upscale images up to 16x. It will automatically use a noise reduction system to detect a photo with JPEG or JPG extension.
Pros

Great output quality.
Auto-fix by advanced enhancing features.
Fast detailing process.
Cons

It doesn't offer much of functions.
3. MyHeritage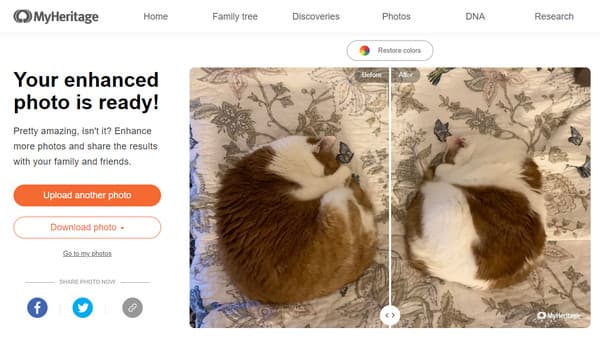 If you want to enhance an old photo, the MyHeritage online tool can help you. This image quality enhancer can enhance blurry photos in just seconds. Its deep learning technology allows you to sharpen and give you the best outcome. Although the online tool is a unique program for image enhancement, its premium version is too expensive to purchase.
Pros

Effectively enhance any image.
Easy to navigate.
International collection of 16.9 billion records.
Cons

The free version requires compulsory registration.
4. Fotor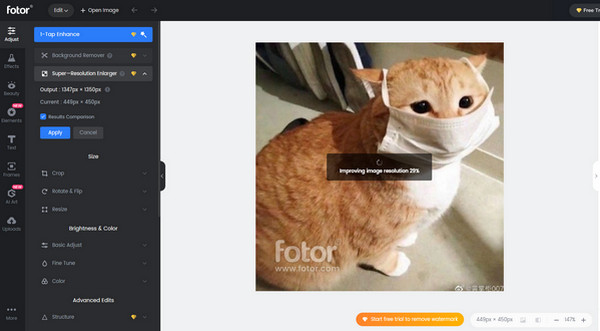 Unlike the expensive online tools, Fotor offers its premium version for a lower price. The image quality enhancer also offers a free version, which is already enough to enhance photos. Fotor provides effects, beauty, elements, text, and many more. After the photo is uploaded, the tool will automatically enhance it, taking only a couple of seconds.
Pros

Advanced features with easy navigation.
Enable to enhance a batch of images.
The free version acts like the pro version.
Cons

Only accept three formats (JPG, PNG, PDF)
5. Fotojet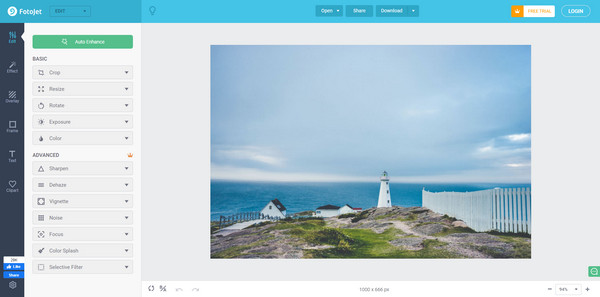 This online image quality enhancer is another professional tool to improve photos. Fotojet Enables you to freely make more adjustments in size, colors, exposure, focus, etc. The online tool will work its magic when your photo is successfully uploaded. If you need its pro version, Fotorjet offers it for only $6.99 per month.
Pros

Basic features are all advanced.
Auto Enhance feature is practical.
Quickly apply and save enhanced images.
Cons

Limited supported formats to JPEG and PNG.
6. VanceAI Photo Retoucher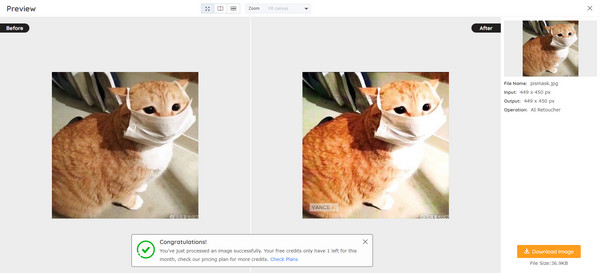 VanceAI Photo Retoucher enables its users to improve photo resolution. The online image quality enhancer modifies an image's most important parts, including color, brightness, and saturation. You just need to upload a photo and let the image quality enhancer do the job effectively.
Pros

Effortlessly adjust photos' contrast and details.
Turn images to DSLR image quality for free.
Safety guarantee by deleting images after 24 hours.
Cons

No additional functions to offer.
7. TopazLabs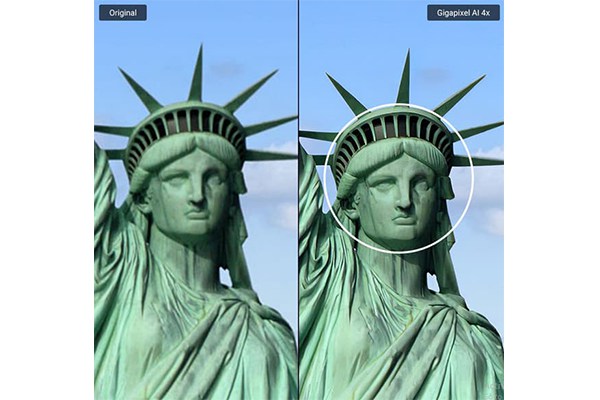 If you want to reduce image noises, sharpen details, and upscale the resolution, TopazLabs is for you. The online image quality enhancer is one of the best enhancers that maximize the processing speed of your device. It is a carefully done enhancement to avoid distorting the details. However, the tool doesn't have a free trial, which is not helpful for users with a tight budget.
Pros

Supported export formats including TIFF, JPG, and PNG.
Offer six different tools in one purchase.
Cons

No free trial version.
8. Canva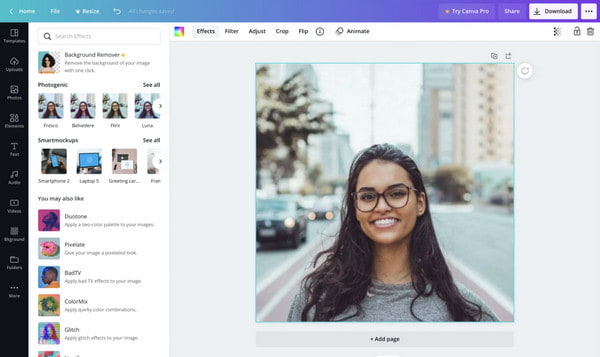 Canva's whole site is filled with essential tools. It teaches you how to enhance image quality more efficiently. The image quality enhancer provides vignette filters that lend your pictures the dramatic tone or retro chi it deserves. The best part of Canva is its free templates will help you create your design for work presentations or school projects.
Pros

Allow to publish, share, and download HD graphs.
Improve any photo with numerous effects and filter codes.
Accessible to PCs, laptops, and mobile devices.
Cons

Expensive premium version.
9. Adobe Spark
Adobe is a well-known tool for any digital work. Its Adobe Spark is a powerful image quality enhancer that allows you to use the predefined graphics and photos created by professional artists. This online image and video quality enhancer can fix camera shaking, low lighting, and lack of focus. The awesome templates will also help you create a professional workflow.
Pros

Pre-design layouts.
Instantly enhance the picture in minutes.
Easy-to-use enhancer with advanced tools.
Cons

Require registration to download edited images.
10. AI Image Enlarger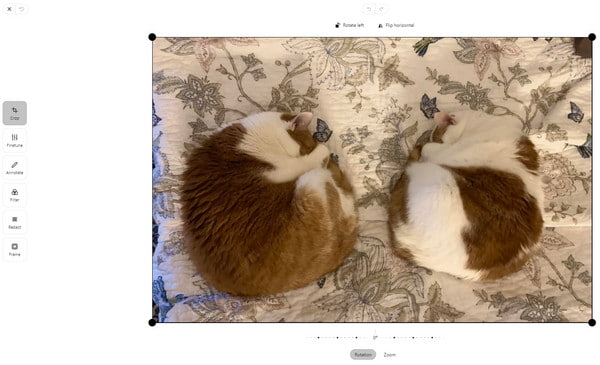 The last recommended image quality enhancer has a straightforward interface containing a robust toolkit. It provides an image resolution enhancer without losing the original details. Moreover, AI Image Enlarger has SRCNN neural network, which works out the lowest image quality you have.
Pros

Good for business and personal purposes.
It has basic features like crop, resize, filters, etc.
Allow adding annotations without losing image quality.
Cons

Only one free trial to offer.
Part 2: FAQs about the Best Image Quality Enhancer
Do image quality enhancers replace my original pictures?

Definitely, no. Image quality enhancers work to upscale resolution. The original images are all present and intact when enhancing the images. Image quality enhancers only work to improve photos and let you benefit from better image quality.

What should I look for in an image quality enhancer?

The feature you should look for in an image quality enhancer is to have the essential editing tools, allowing you to choose percentages manually. It also should have a fine selection of filters, effects, and formats that should be more than JPEG and PNG.

Is there a default image quality enhancer on iPhone?

If you only want to increase the photo resolution on iPhone, the answer is yes. Go to the Settings app and find the Camera option. Then tap Formats and tap High Efficiency to enhance image quality.
Conclusion
Now that you have learned the best 10 recommended image quality enhancers, you can pick or try them with their free trial version. However, if you don't want to spend money to get a professional tool, use AnyRec AI Image Upscaler for free and advanced image enhancement. Visit its website and try its wonderful features.
Related Articles