How to Unblur an Image with Online Tools and Mobile Apps for All Devices
Going on a trip or special occasion will give you memorable photos. But when a nice image is blurry, you feel disappointed because you can't share it on social media. Don't worry because there are various tools that can save and unblur an image. Whether you are new to image photoshopping or a novice, in this post you will learn detailed steps on how to unblur an image with nine effective tools. Let's see which tool is most effective for unblurring an image.
Part 1: 5 Detailed Methods to Unblur an Image Online for Free
When you search for online tools, you will see results that can help you to unblur an image. Mainly, these online tools only offer free trial versions, and they might get you to purchase expensive pro versions. The five online tools below are some free programs so you can try how to unblur an image without paying much.
The first tool you can use is AnyRec AI Image Upscaler. It has the latest AI technology that will automatically help to unblur an image. It enhances photos in an advanced way without distorting the potential upscaled image. Thus, AnyRec AI Image Upscaler is the best way to unlimitedly unblur images without paying or registering.
Features:
◆ Users can easily navigate and edit photos through the online tool's interface.
◆ Enable you to enlarge and upscale photos up to 800% image magnification.
◆ Manage to auto-detect and fix an image's blurred parts with more details.
◆ Recover important image details such as textures, colors, and pixels.
How to unblur an image with AnyRec AI Image Upscaler:
Step 1.Go to the official website of AnyRec AI Image Upscaler. Once on the site, click the Upload Photo button and browse the image you want to edit. Click the Open button to upload the image to the photo editor.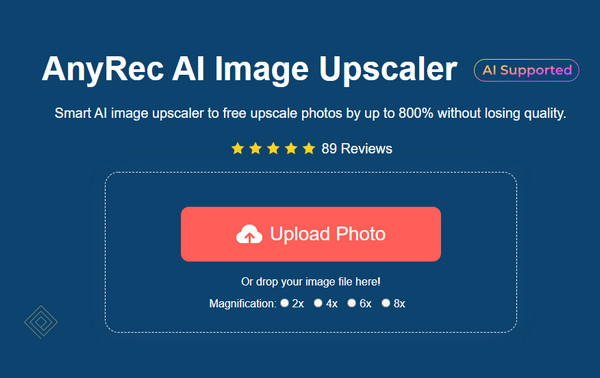 Step 2.After successfully uploading the image, choose the Magnification percentage you want to apply to your photo. Move your mouse around the original image at the right part and see the enhanced output on the left part.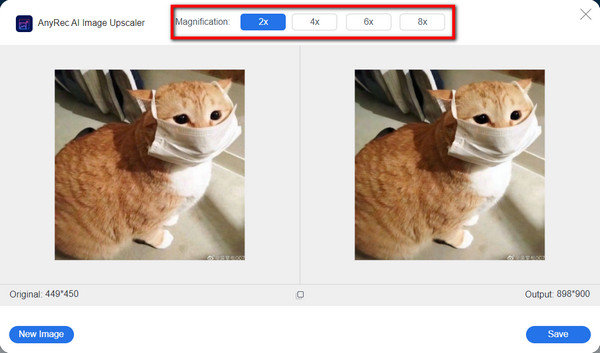 Step 3.Once satisfied with the result, click the Save button to process the changes. Then, you will see the enhanced image is automatically downloaded to your device. Click on it and view. Share the enhanced image to your social media accounts.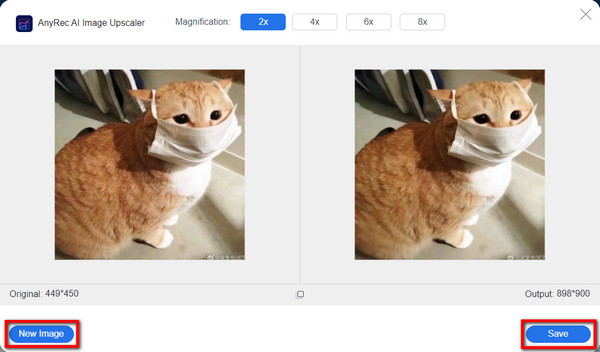 VanceAI Image Sharpener
This online image enhancer is an excellent way to unblur an image. Its straightforward interface gives an exceptional few clicks but enables you to professionally enhance your pictures without hassles. The best part of VanceAI Image Sharpener is it also allows you to sharpen bulk photos in one go.
How to unblur an image with VancAI Image Sharpener:
Step 1.Search for the online tool on your browser. Once on the VanceAI website, click the Upload Image button and pick the photo you want to enhance. Once successfully uploaded, the site will direct you to the Editor page.
Step 2.You can manually denoise or sharpen the image from the left-side tools. Or, if you are not sure how to unblur an image, click the Auto Parameters checkbox for automatic image enhancement. You can also use other editing features, such as Lossless Enlargement, Quality Enhancement, and more.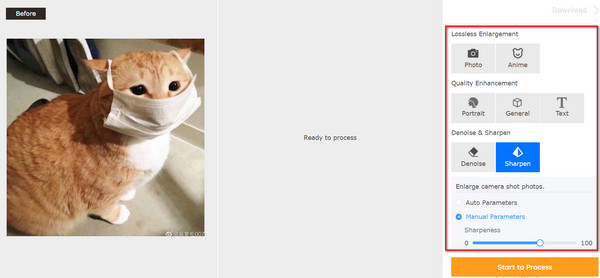 Step 3.After editing, click the Start to Process button. The online tool will show you the result side-by-side with the original picture. You will see the difference right on the spot. You can save the enhanced photo by clicking the Download Image button.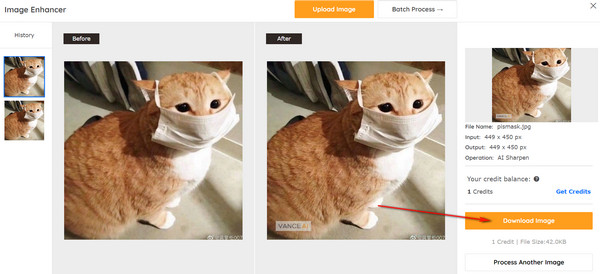 Online Photo Converter
This online is not the same as other image editors. Online Photo Converter is a plain editor that lets you sharpen your picture with a few features. Although you cannot see previews for the uploaded image and output, it will initially enhance photos in bulk without any trouble.
How to unblur an image with Online Photo Converter:
Step 1.Go to the Online Photo Converter and click the Choose Files button. You can also drag and drop images from your folder to the website.
Step 2.Once you see the file's name under the Uploaded Files, click the Photo Correction and Noise Reduction toggle. You can also choose the quality under the JPEG and PNG quality.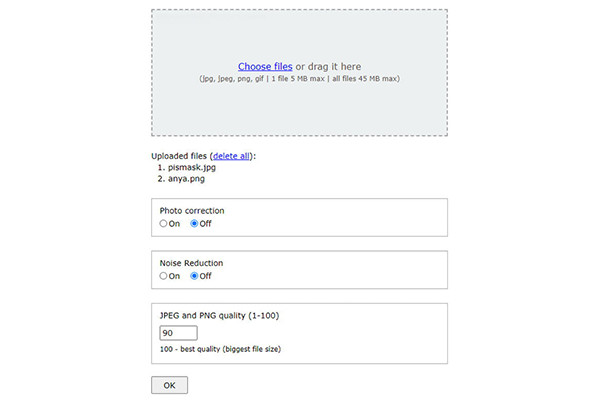 Step 3.Once done, click the OK button to confirm the changes. You will be directed to another page of the Online Photo Converter. Click the Download button, and you will receive a zipped folder containing the unblurred images.

Pixelied
Pixelied is an online program for unblurring images with professional features. It offers many tools for image editing, such as basic adjustments for brightness, contrast, vibrance, and sharpening. Moreover, the online image editor allows you to add elements, including text, shapes, etc.
How to unblur an image with Pixelied:
Step 1.Go to the Pixelied website and click the Upload Your Image button. Once you have successfully uploaded the desired picture, the editing features will appear.
Step 2.Move the parameters for essential adjustments on the Effects & Filters feature to unblur an image. You can also use other features like Blur Effect, Film Grain, Tint Image, and Advanced Mode.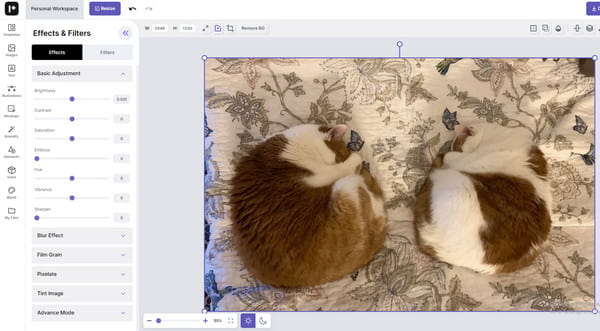 Step 3.Once you are finished editing, click the Download button at the top right part of the site. You can save the output to another format like JPG, PNG, WEBP, etc. You also need to choose the right size up to 5x. Afterward, click the Download button.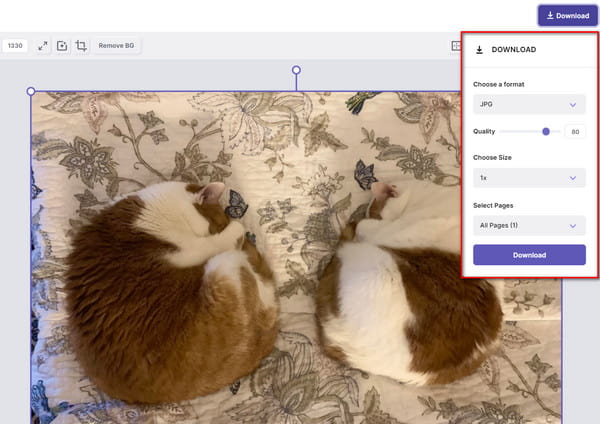 Raw.Pics.IO
If you want to manually edit, unblur, and enhance images from your device, this tool is suitable for you. It allows you to edit images in different formats, including CRW, PDF, CR2, PEF, and more. It also supports batch image editing, where you can unblur many images in one go. The online tool will gladly help you share the edited pictures directly to Facebook, Pinterest, and other accounts.
How to unblur an image using Raw.Pics.IO:
Step 1.Click the Start button from the main interface of the online tool. Drag and drop the image file or click the Open Files from Computer button to upload.
Step 2.From the features on the left side of your screen, click the Edit button. You can start unblurring an image by clicking the Sharpen button, embossing, and inverting. Other options include grayscale, sepia, brightness, and contrast.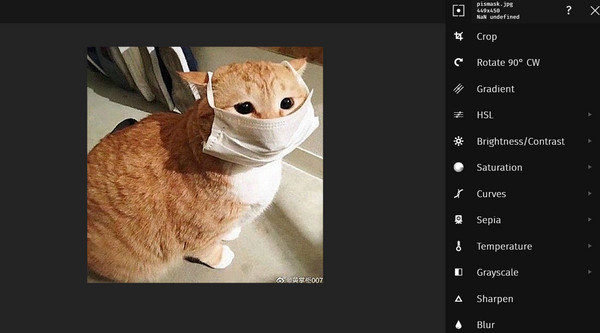 Step 3.Once done editing, click the Save Selected button from the left part menu. Rename and change the image's data like its format, quality, and size. Click the Save button to confirm the changes.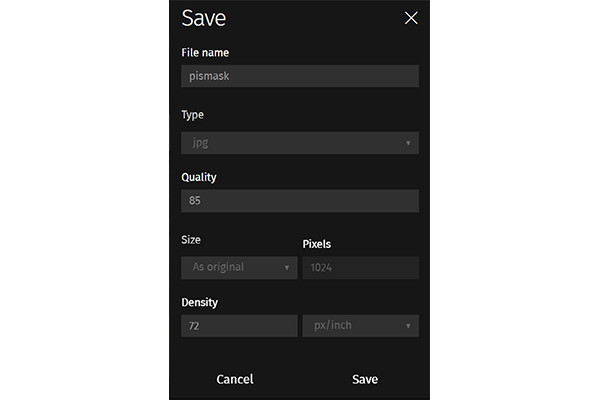 Part 2: How to Unblur an Image through the Professional Photoshop
If some of the tools don't catch up with the perfectly enhanced image you are looking for, it is best to unblur an image with Adobe Photoshop. It is well-known to many professional users as it provides a powerful photo editor with essential features. With its broad functionality, you quickly fix photos while it also allows you to create graphics, paintings, 3D artwork, and level up resolution. The software gives a free trial version to try out some of its powerful features, but it is also a good investment if you need photoshopping. If you are unsure and nervous about Photoshop's interface, this post will give you detailed and easy steps on how to unblur an image using Adobe Photoshop.
Step 1.Download Adobe Photoshop and launch it on your device. Open the desired image file you want to edit. Then, click the Filter button at the top menu to open the dropdown list.
Step 2.Click the Sharpen button, then click the Shake Reduction button from the sub dropdown list. Photoshop will automatically analyze the image of blurry parts and apply the proper corrections for the whole picture to unblur an image.
Step 3.Afterwards, click the File button, then click the Save button. You can always experiment with the Advanced panel for the Shake Reduction dialog.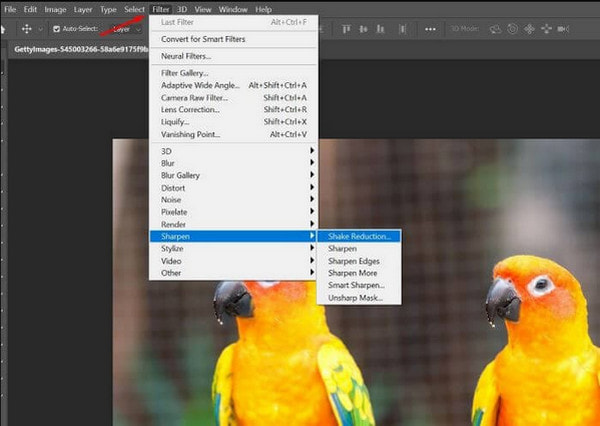 Part 3: 3 Easy-to-use Apps to Unblur an Image
Suppose you want to learn how to unblur an image on your smartphone. Various apps can help you out without complicated instructions. Read further about the best and most accessible apps to unblur an image.
Lensa: Photo/Pictures Editor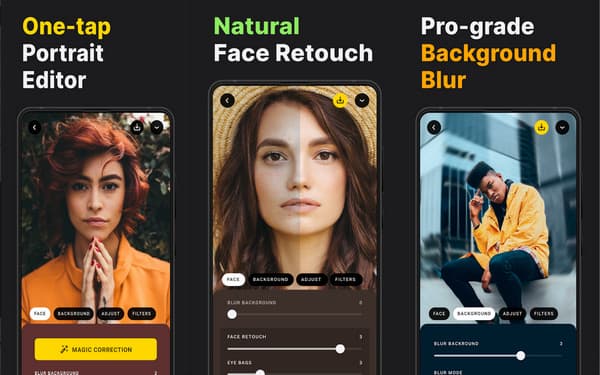 Retouching photos is one of the main features of Lensa. It helps users to apply filters and effects to their art and camera-captured photos. Its simple interface draws you to use its functions, such as removing background through blurry effects, skin refiner, and basic editing tools. You only need to download and upload a photo to unblur an image. You can use sharpen, brightness, and contrast adjusters to get the perfect picture.
Features:
◆ Boost the whole image through different editing tools.
◆ Provide special effects like photo filters and blemish editors.
◆ Enhance photos with an Eye Corrector to apply fantastic contour.
◆ Free app to satisfy photo editing on Android and iOS devices.
PhotoDirector – Photo Editor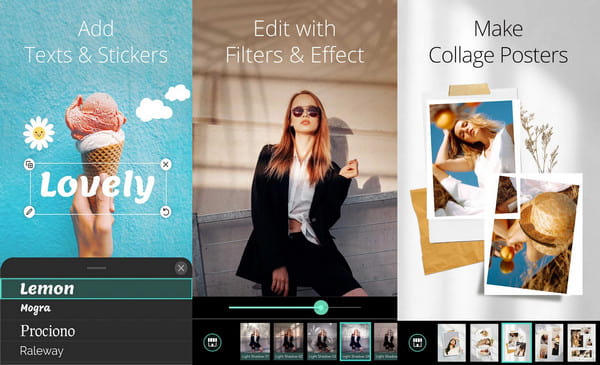 If you want to unblur an image and apply filters, PhotoDirector is an excellent app. It shows you to have more than an unblurry image by offering you its Ai-powered effects. It also lets you change the image's background by applying blurry effects or other pictures. With its extensive offers, PhotoDirector's other key features can be undone when you purchase its premium version.
Features:
◆ Enable to replace sky background with natural-looking aesthetic backgrounds.
◆ Provide users to add animated overlays to make still images move.
◆ Offer other features, including Light Rays, White Balance, and Magic Brush.
◆ Automatically detect the outline of objects in the photo for the cutout.
EnhanceFox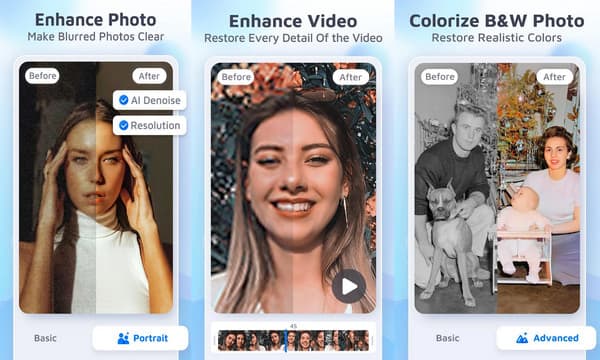 This last app you can use to unblur an image is effective. The EnhanceFox app offers you three sections to edit your photos (Basic, Portrait, and Super). It aims to salvage photos with pixelated, blurred, and damaged parts so you can keep or share them on social media accounts. This app promises to create images with HD quality.
Features:
◆ Unblurring pictures with auto-detect AI technology.
◆ One-click app to repair and remove unnecessary image parts.
◆ Enable to create of avatars out of photos and make them look alive.
◆ Improve color's vibrance to the image without distorting the details.
Part 4: FAQs about Unblurring an Image
What is the common factor that might result in blurry images?

One of the reasons your photo gets blurry is how you capture it on your device. If you don't have steady hands when taking pictures, the result can be blurry images. This instance can improve with a stabilizer or an effective photo editor.

How to take a picture with a blurred background?

If you use a smartphone, go to the Camera feature and select the Portrait option. Focus on the main object. Depending on the mobile unit, you can adjust the blur intensity of the camera. Tap the Camera button to capture the image.

Is it possible to unblur faces in a photo?

You can eliminate the blur effect by using a photo editor that comes with a sharpening tool. You can increase the contrast for the pixels of the picture. But don't get your hopes up because it will only remove some blurriness.
Conclusion
Now that you've learned how to unblur an image, you can do it on any device like a smartphone or a laptop. Some applications offer premium versions to unlock other special effects, but with AnyRec AI Image Upscaler, you wouldn't need to sign up or register. Visit AnyRec's official website and find the more helpful video, image, and audio editing tools.
Related Articles