Remove.bg Review: Is It Good to Use and Get 5 Free Alternatives
Removing the background from the image can make the person or object in the image more prominent. Remove.bg is a free online tool that instantly removes the background of images. But many people may not have used or heard of it. Fortunately, this article will give you a real review of Remove.bg and provide five alternatives. So don't say more! Let's get started!
Part 1: Review of Remove.bg [Pros & Cons]
Remove.bg is a free web-based tool that allows you to remove backgrounds from photos. It also provides an artificial intelligence technology that can automatically identify the main objects in the picture and remove their image background. After uploading the image, it will automatically remove the background, set it to transparent color, and present the preview image. The following is the review of Remove.bg, including main functions, advantages, and disadvantages.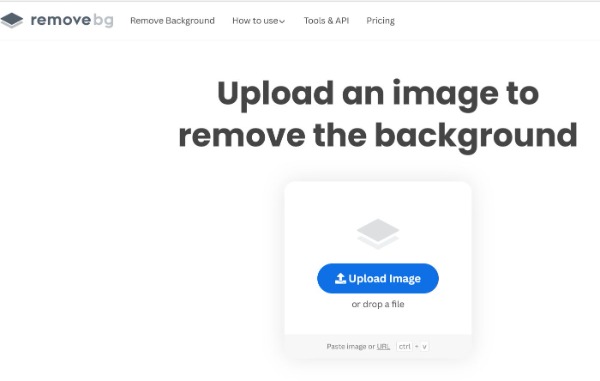 Key Feature:
Support the output of images with a resolution of up to 25 megapixels.
Provide various ways to upload files from a desktop, URL, or pasting image.
There are many background templates to choose from as you like.
Support changing the background to a different color or other images.
Pros

Provide the background templates to change the background.
Customize the color of the background at will.
Free and safe to remove background without downloading software.
Cons

Batch background removal is not supported.
The free version only supports 50 free previews.
The quality of the original image will be reduced when removing the image's background.
The Price of Remove.bg
Although Remove.bg is a free online background remover. It enables you to use all its functions to eliminate unwanted image backgrounds. However, it can only be used for personal use and low-resolution image output for free. When you download a picture with the background removed, you will see two options: download and download HD. To obtain HD quality, you must log in to your account and get points, which requires you to subscribe.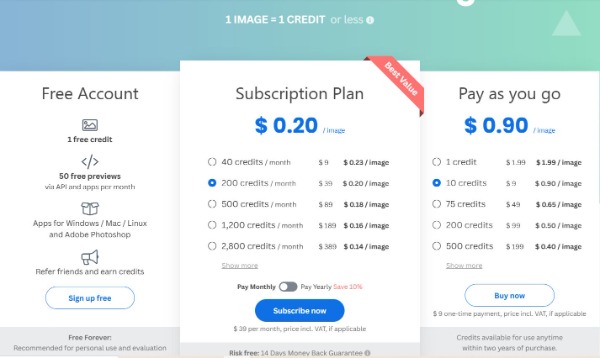 Part 2: Top 5 Alternatives to Remove.bg
If you think Remove.bg is not very easy to use, or there is a problem in the use process, don't worry. Here are the five best alternatives to Remove.bg. You can choose one according to your needs and preferences.
Top 1: AnyRec Free Background Remover Online
AnyRec Free Background Remover Online must be the best alternative to Remove.bg if you want an image background remover online without quality loss. This powerful tool supports various input formats, including JPEG, TIFF, BMP, etc. Another advantage of this background remover is that it is based on the algorithm of AI, which helps to export pictures with the best quality. Moreover, you can edit the image by cropping, flipping, and changing the subject's position in the image.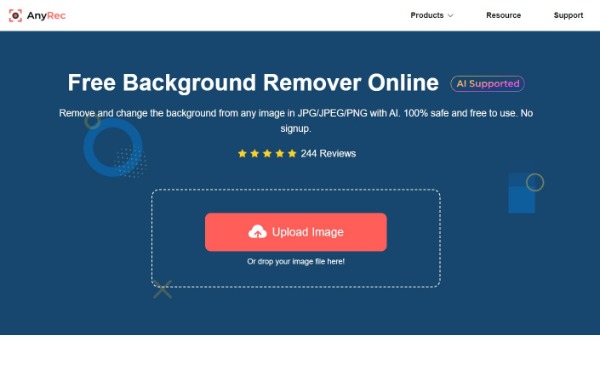 Pros

Best alternative to Remove.bg that supports high-quality output.
Automatically identify people or objects in photos and quickly delete the background.
Provide tools to retain or erase some parts of the picture, like a watermark or logo.
Online tools that are completely free and accessible without account registration.
Cons

No batch function to remove the background of pictures at a time.
Top 2: Adobe Express
Are there any other tools that provide background templates? Yes! Adobe Express is a nice alternative to Remove.bg, offering many amazing templates to change the background. Moreover, you can use its editing functions and design tools to make your photos more attractive.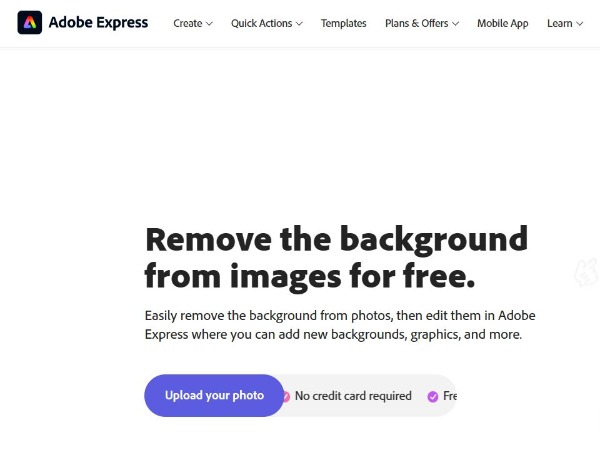 Pros

Automatically delete the background after uploading.
It has an elementary interface for beginners.
Cons

Sometimes, it will crash during use.
The speed of uploading pictures is slow.
Top 3: PhotoRoom
PhotoRoom is also an image background remover online. You can quickly delete the picture background and change the background color or replace it with your image. In addition to providing web-based online tools, it also has applications for iOS and Android.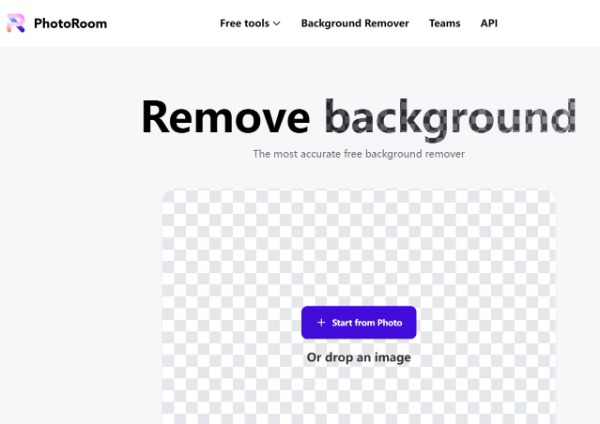 Pros

Support changing the color of the background.
It has a straightforward interface to remove the image background.
Cons

Slow file upload speed.
No more editing functions to adjust the image.
Top 4: Picsart
With the help of artificial intelligence technology, the Pisart background remover can automatically recognize and delete the image's background. In addition to providing the function of removing the background, you can also use this alternative to Remove.bg to add stickers/elements to the picture.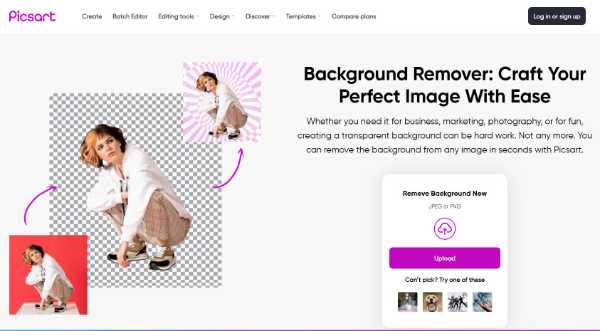 Pros

Automatically delete the background without manual selection.
Free and safe to use without hassle.
Cons

This tool only supports removing image backgrounds in JPEG or PNG.
Sometimes, it crashes in the process of uploading pictures.
After removing the background, the image will have a watermark.
Top 5: PhotoScissors
PhotoScissors is a popular online tool for removing image backgrounds. You can delete the background and replace it with a transparent, solid color (like white, black, etc.) or other background images with just a few clicks! With this Remove.bg alternative, you can also cut a background image using a group-by-color feature.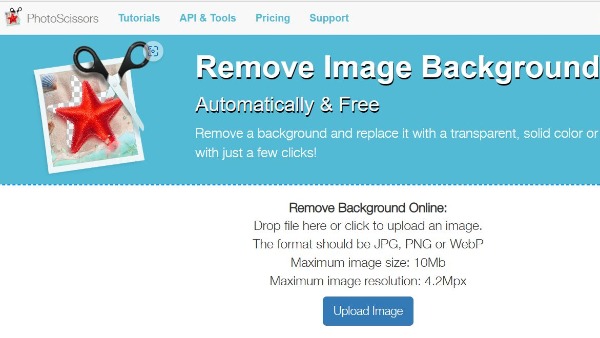 Pros

The maximum size of uploaded pictures is 10 MB.
Support altering the color of the image background.
Cons

Limited image formats supported, including JPEG, PNG, and WebP.
The maximum supported image resolution is 4.2 megapixels.
Part 3: FAQs about Remove.bg Review Alternative
What are the limitations of using Remove.bg online?

If you are using the free version of Remove.bg, it only provides 50 free previews and you cannot batch-process multiple files simultaneously. And it will lose the quality of the image during the procession.

How to remove the image background with Remove.bg?

Open Remove.bg on the browser and click the Upload Image button to import your image file. After uploading, it will automatically remove the background. Then you should download it by clicking the Download button.

What is the max picture resolution supported by Remove.bg?

For the free version, the maximum resolution it supports is 0.25 megapixels. You should create an account to adjust the resolution to 25 megapixels to get a high-quality image.
Conclusion
That is the review of Remove.bg, and it can not only easily delete the background but also replace it with a new one according to your wishes. But on the other hand, you can't avoid software failures that make programs inaccessible. Don't worry! You have other alternatives to Remove.bg to use. Remember to choose the right tool, such as AnyRec Free Background Remove Online, to help you speed up your work.
Related Articles