4 Ways to Resize Photos for Instagram Story, Feed, and Reel
The Instagram social platform has grown throughout the years of being active. If you have to resize photos for Instagram posting, you will not be limited to only square or 1:1 size. The quality will stay the same if you choose another aspect ratio for your images. Now, you will about to learn the requirements on how to resize photos for Instagram and other requirements for successful Instagram posting.
Part 1: 2022 Instagram Image Size and Dimension
Traditionally, way before the Reel function was created, Instagram only allowed users to post images with a 1:1 aspect ratio, which will crop the excess parts of the photo. Now Instagram offers three different image aspect ratios – 1:1, 1.91:1, and 4:5. Read further to know the specifications of these aspect ratios and how you can effectively use them to resize photos for Instagram posting.
1:1 Aspect Ratio (1080x1080px)
As the default way of resizing photos for Instagram, the 1:1 aspect ratio can be done by using Instagram's auto-cropping feature, which makes photo editing easier. The ideal image size should be at 1080px by 1080px. If you want to create an Instagram profile photo, it should be 320x320px. However, using 1:1 has been an issue before because smartphone cameras can only take pictures in either landscape or portrait. Nevertheless, modern devices can now take square-sized pictures, and Instagram made it more essential in posting.
9:16 Aspect Ratio (1080x1920px)
To post to Instagram story, reels, or IGTV, you can resize image or video to into 9:16. According to Adam Mosseri's tweet, Instagram will be testing 9:16 vertical photos in the main feed. So Instagram will be more TikTok-like in the furture.
1.91:1 Aspect Ratio (1080x608px)
Its ideal image size of 1080px by 608px gives you more freedom to portray many details. If you are going to post sunsets, mountains, or anything landscape to Instagram without border, 1.91:1 is the correct way to resize photos for Instagram. However, it is tricky because most photos taken on smartphones are in a 16:9 aspect ratio.
4:5 Aspect Ratio (1080x1350px)
A portrait-style photo is the best for the 4:5 aspect ratio. Using this aspect ratio is best if you post a full-body selfie. It is easier to use because you can take a photo from the Story function, and you don't have to crop it. But uploading from your camera roll doesn't mean you can resize the pictures for Instagram posting, as you can crop a little bit to fit the size.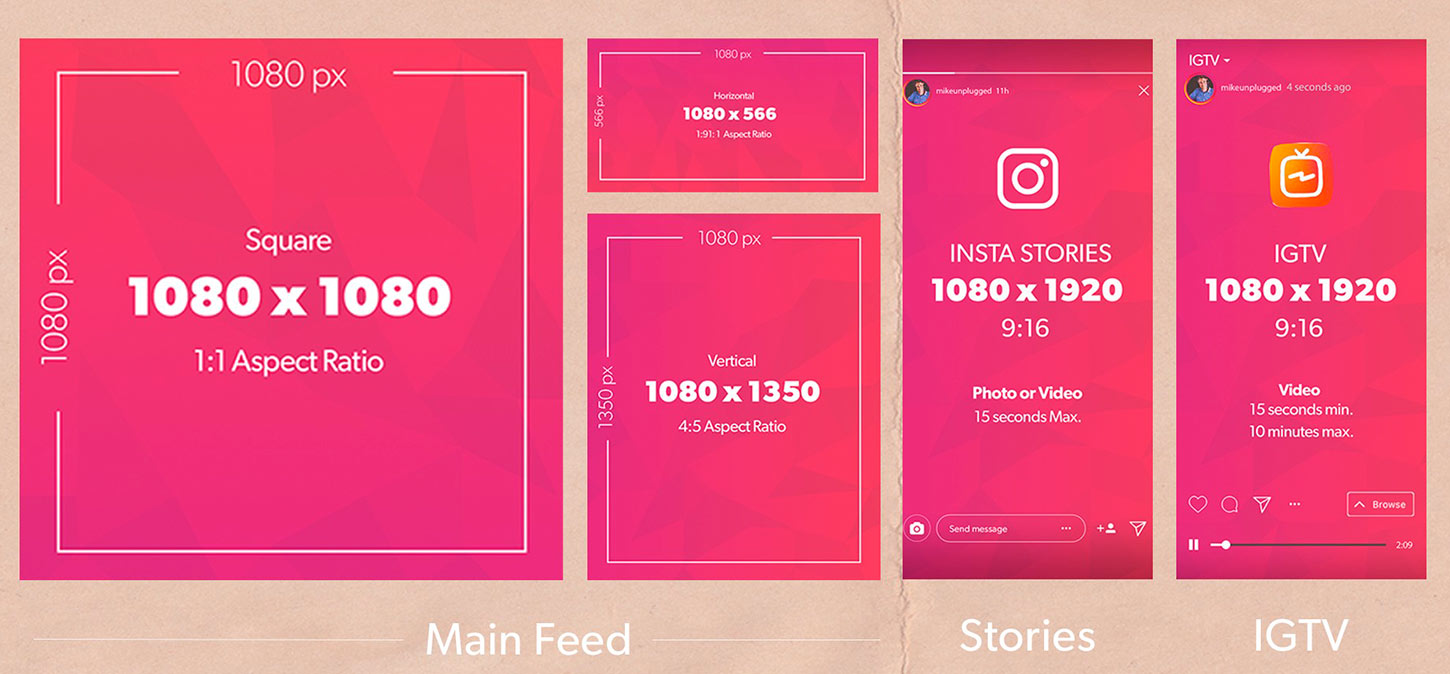 Part 2: How to Upscale Photos to Fit Bigger on Instagram Online for Free
Does the photo's quality drop when you upload it on Instagram? There is a way to avoid getting lower photo quality after resizing photos for Instagram. It is recommended to use AnyRec AI Image Upscaler to post high-quality Instagram images. This online tool is free to use and is powered by AI technology for the best upscaling results. It also allows unlimited image upscaling without registering or paying any subscription.
◆ Resize the JPG, PNG, TIFF, BMP and other photos for Instagram.
◆ Magnify images up to 800% without distorting the parts of the photos.
◆ Side-by-side preview with the original image to the output file to compare.
◆ Protect users' privacy by automatically deleting uploaded files after resizing.
How to upscale photos for Instagram without blurring
Step 1Click AnyRec AI Image Upscaler to go directly to the website. Click the Upload Photo button to import an image to resize for Instagram from the interface. You can also drag and drop the file from your folder.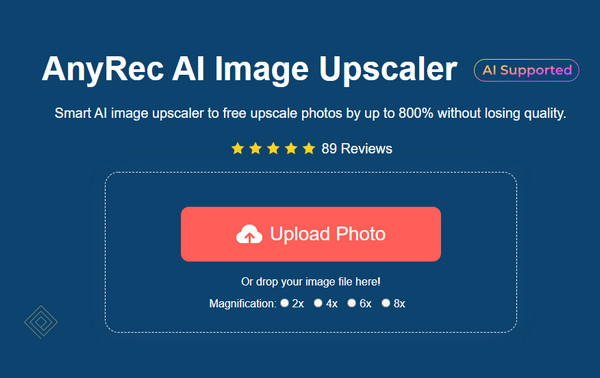 Step 2Once the photo is successfully uploaded, choose the desired upscale you want for your Instagram picture from the Magnification button bar. You can max it up to 8x for better image quality. Move your cursor, and you can look at the details changes from original to final output.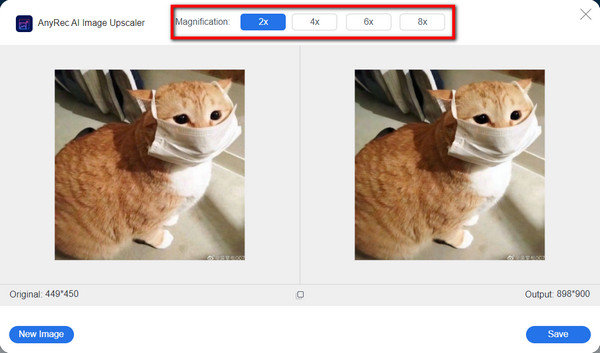 Step 3Once done, click the Save button to apply all the changes. You can also click the New Image button to choose another image to resize for Instagram from your folder.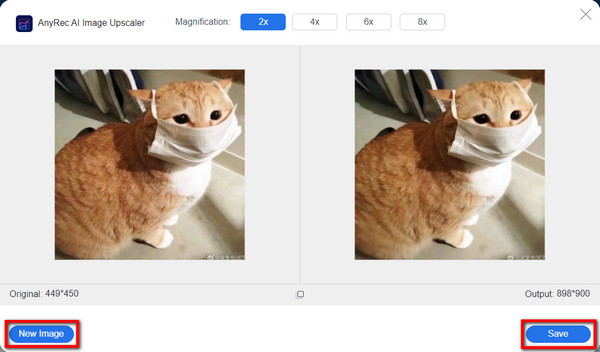 If you worry if the upscaled photos will exceed Instagram's required file size, the AnyRec Free Online Image Compressor got your back. It is also a free online tool where you can quickly upload images, and it will automatically compress them without losing quality. You can share all the resized photos on Instagram a few clicks away.
Part 3: 2 Ways to Resize and Fit the Whole Photo on Instagram
If your picture is too large or not fit the Instagram image size requirement, you can also try the following 2 online image resizing tools. Here you can resize images for Instagram with or without cropping.
1. Photoresizer
Shrink, resize, or crop your photos can be done in Photoresizer. It is free to use, and its interface is easy to navigate to pre-define formats for any social platform aside from Instagram. Its basic editing features include adding text, flipping, rotating, etc.
Step 1Go to your browser and search for the tool. Click the Browse button in the middle part of the interface. Or you can also drag and drop images from the folder.
Step 2After that, click the Resize button and choose the desired size by moving the horizontal slider. You can also crop, blur, or sharpen your photos in this tool.
Step 3Once done, click the Apply button to save all the changes. After that, click the File menu and click the Save Image As button to crop, resize and enlarge images online.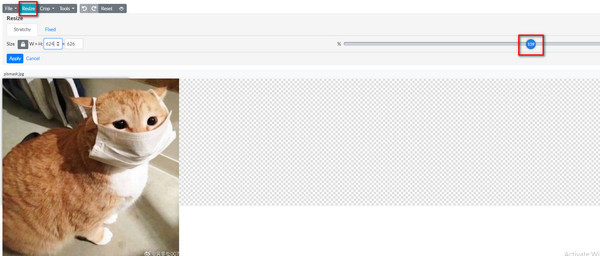 2. Landscape
A powerful online tool like Landscape can make photo editing andd resizing enjoyable. It offers you various options to specify which social network you want to upload the photo to. It will also pick the best aspect ratio for different Instagram photo sizes.
Step 1Choose the social network you want to post your image from the website. You can also change a different picture by clicking the Select Different Image button. Click the Next button to proceed.
Step 2You will see the highlighted aspect ratios that fit your images in the next window. You can choose multiple aspect ratios, then click the Next button. Adjust and crop the photo as needed.
Step 3Once satisfied with all the changes, click the Download button to save the resized photo for Instagram on your device.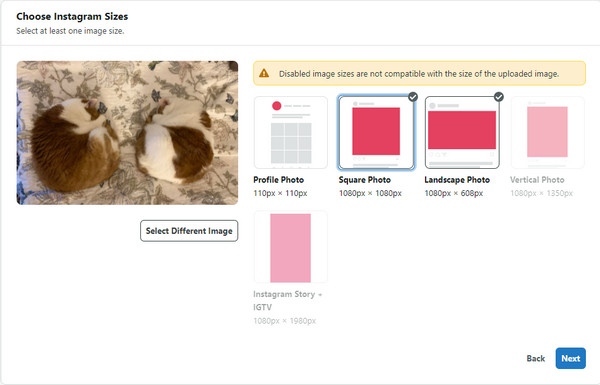 Part 4: FAQs about Resizing Photos for Instagram
What is the best aspect ratio for Instagram Reel?

If you want to compile images and turn them into a video for Reel, the best size for the Reel post is the 4:5 aspect ratio. Other than that, you can still resize the photos for Instagram to your liking.

How to fit a whole picture on Instagram?

You can use Clideo to post full pictures on Instagram without cropping. Upload your image first. Click Instagram from the social media platform's drop-down list. Later, you can fit an image to feed landscape, feed square, feed, portrait, stories, IGTV, and more. Then click the Fill or Fit button to make your picture fit on Instagram.

What are the requirements to resize videos for Instagram?

Unlike resizing photos for Instagram, the requirements for resizing videos for Instagram are always 9:16 and 4:5. Although it also supports horizontal videos like 16:9, the screen will be very small with a black line.
Conclusion
Resizing photos for Instagram can be quick to do with the learned methods. While you can use the recommended tools, AnyRec AI Image Upscaler can modify your pictures without trouble and keep the quality after resizing. Try it for free!
Related Articles