Top 6 DVD Players for Mac/MacBook Pro/Air/iMac
How to watch DVDs on MacBook? Apart from the DVD drive, a suitable DVD Player for Mac is also an integral part. As long as you are not using the latest MacBook, you can quickly meet these two requirements and watch DVD movies. If you are using the latest Mac without the optical drive, you can still open the ISO files from DVD on iTunes with an excellent DVD Player app for Mac. Since the app is a must-have option for watching DVDs, you will see the 6 best DVD Players designed for Mac users in the following content. You can browse their features, pros, and cons before picking one to download and install.
Part 1: 6 Best Mac DVD Players [Features, Pros, and Cons]
Here are the well-collected 6 best Mac DVD Players; you can see their main features and learn more about these apps through their advantages and disadvantages. Select your favorite one and enjoy the DVD movies on your Mac immediately.
1. Apple DVD Player
Without any question, the pre-installed Apple DVD Player comes at the top of the list. Since it is a default app, you do not have to download the DVD Player and can directly access it. Meanwhile, it requires no advanced skills to play a DVD and all the playback features are simple and free. Other standard features for a DVD Player, like switching subtitles, chapters, and audio tracks, are also available.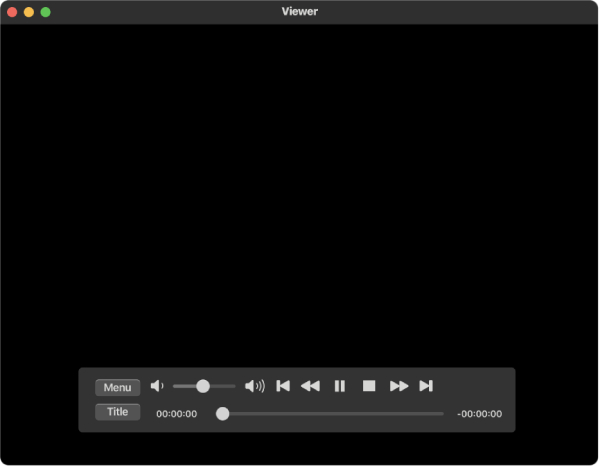 Pros

Support playback of both Blu-ray and DVD.
Offer a control menu for Blu-ray.
Allow changing region codes 5 times maximum.
Cons

The player doesn't support certain types of DVD-RW discs.
Large CPU consumption during playback.
2. AnyRec Blu-ray Player
AnyRec Blu-ray Player is a versatile Mac DVD Player and supports a wide range of DVD formats, including even the latest Blu-ray. Whether it is DVD folders, ISO files, DVDs, or Blu-ray, you can open them all in this powerful player while getting the best audiovisual experience. Besides, the navigation menu can quickly lead you to any chapter you want.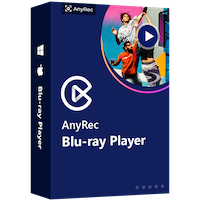 AnyRec Blu-ray Player
Play commercial and homemade Blu-ray in all regions.
Adjust the title, chapter, audio, subtitle, and aspect ratio.
Enjoy high-definition videos with lossless quality.
Provide immersive audio and visual experience.
Pros

Enable NVIDIA hardware acceleration during playback.
Compatible with multiple DVD formats.
Advanced audio decoding technology.
Cons

No screen-sharing features.
Can't remember the playback position.
How to Play DVD with AnyRec Blu-ray Player on Mac
Step 1.Free Download, install, and launch this Mac DVD Player app. Insert your DVD into the drive on your Mac. The player will generally detect your disc and start playing your DVD movie. If not, click the Open Disc button on the main interface.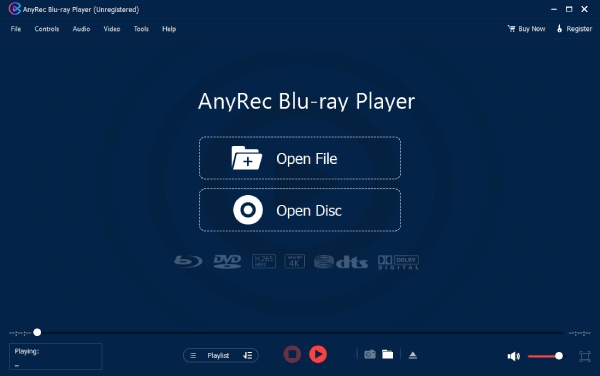 Step 2.In the pop-up, choose the disc you insert, and the movie will start playing. Through the playback control panel below, you can stop the playing, go backward or forward, adjust the volume, and take a snapshot.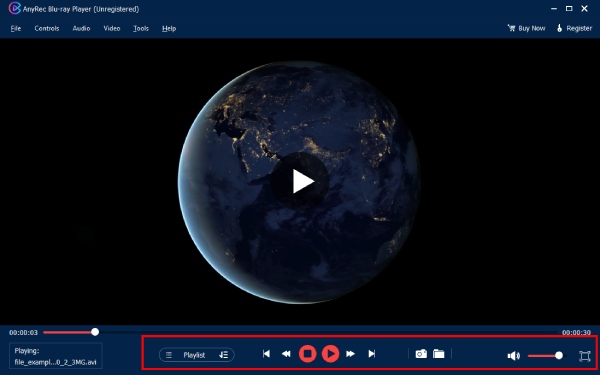 3. 5K Player
5K Player is a powerful and free media player that also works as a DVD player app for Mac and supports Blu-ray and DVD playback. Being free but with no ads, 5K Player is your one-stop solution for all playback issues. You will no longer be constrained with region codes when using 5K Player to watch your DVD. Moreover, although not related to DVD playback, another highlight of 5K Player is the streaming functionality that enables you to stream radio and YouTube channels.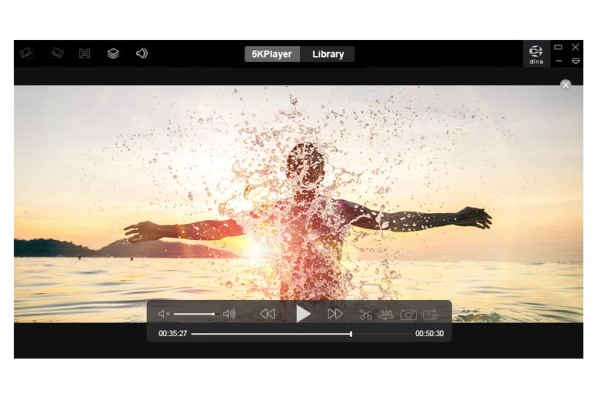 Pros

Convenient shortcuts for changing video speed.
Support playing DVDs with protection.
Intuitive interface with drag-and-drop operations.
Cons

It can't be uninstalled from Mac completely.
Force to set as the default player for any media file.
4. VLC Media Player
VLC Media Player is quite a famous media player on the market. As a freeware, VLC also offers many advanced features for playback, like snapshots, recording, converting, etc. You can use it as the best alternative to the default Mac DVD player. Meanwhile, this lightweight player occupies only a little space on your Mac.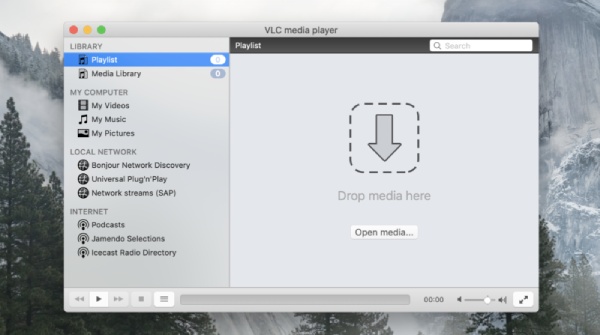 Pros

Free and open source.
Equipped with plenty of customization options.
Strong compatibility with all devices.
Record your DVD content during playback.
Cons

No sound when playing an encrypted DVD.
Not all Blu-rays are supported.
5. MPlayer
MPlayer is also a freeware with quite old-fashioned DVD playback features. As a Mac DVD player, the main idea of MPlayer is less is more. So, you will see a simple main interface with a few buttons for playback control. Although simple and small, this player has an advanced functionality – online streaming. Moreover, you can easily access and play the VOB files from your DVD with MPlayer.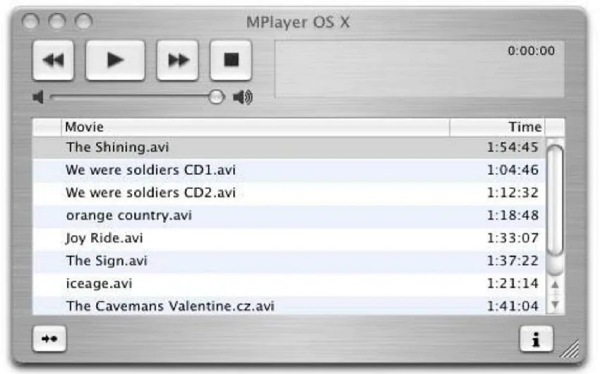 Pros

No need for additional codecs.
User-friendly shortcuts for DVD playback control.
Enjoy almost all video and audio play without lag.
Cons

No playlist or navigation panel.
Possible system cashes.
6. QuickTime Player
QuickTime Player is another pre-installed app on Mac. Not only can it be your reliable media player for regular media files like MP4 or 4K video, but it can also be your trustworthy DVD player for Mac. No matter what Mac you use, you will not find this player missing and can always open the common DVD videos. No fancy features mean you can better control it as a beginner and do not need to learn more techniques.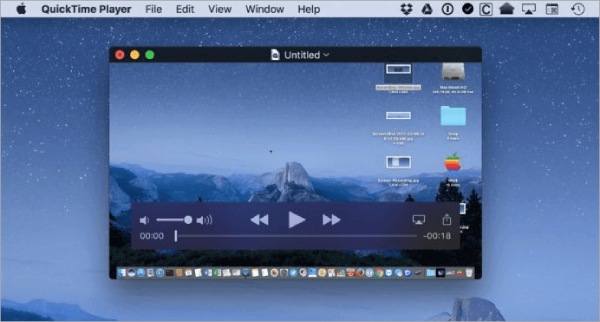 Pros

Collaborate with other Apple apps.
Straightforward operations and simple designs.
Amazing Dolby sound effects.
Cons

There are not many supported media formats.
You can only record your DVD video in MOV format.
Part 2: FAQs about Mac DVD Player
Can I play encrypted DVDs with the default Mac DVD Player?

No, you can't. The encrypted DVDs are not supported in the pre-installed DVD Player app. Besides, if you are the owner of the DVD, then you can remove the protection to play it with this default app. Otherwise, it is illegal.

Why is the default Mac DVD Player app missing?

You may need help finding the DVD Player app on macOS Mojave and think it has disappeared. It is not. You can use Spotlight Search to find this app. Simply clicking the search icon on the right corner above to start.

Why does the Mac DVD Player stop playing the DVD movie?

Usually, you will receive a notice saying Skip damaged area, which means there is damage on your DVD, and it stops the playback. You can eject the DVD to check and insert it into your Mac again to replay.
Conclusion
From now on, choosing a suitable Mac DVD player on your own will be a manageable situation since you have seen the 6 best DVD player apps for Mac above. With all their features, pros, and cons listed clearly, this article has given a vivid presentation of these DVD players from several aspects. You can now pick one, download it, and install it to enjoy your DVD movies on your Mac.
Further Reading: