[Solved] 2 Easy Ways to Record Lync Meetings with High Quality on Windows/Mac
How to Record Microsoft Lync meetings? No matter you want to take notes of the online meetings or send the important content to those who are absent, recording Lync meetings is a very important thing. Especially nowadays when the online conference become popular after the epidemic of COVID-19.
Luckily, it provides a built-in screen recorder to record Lync meetings as the host or attendee. But it also has some limitations. So this article will introduce another easy way to record Lync meetings. No matter you want to record audio, video, instant messaging, PowerPoint presentations, or live events, you can learn these two efficient ways with detailed steps in this article.
How to Record Lync Meetings through the Built-in Recorder
Although Microsoft Lync is the old version of Skype, it also provides a default screen capture to record Lync meetings with all the basic functions. In addition to the meeting host, participants can also record Lync meetings if allowed. Please follow the detailed steps below:
Step 1.Launch Lync software on your computer and enter the desired meeting. Then you will see the "More" button with three dots at the bottom-right corner. Click this button and then click the "Start Recording" button to record Lync meetings. If you are an attendee, you can ask the host to turn on the screen recording permission for you. (This rule also works if you want to record a Zoom meeting as a participant.)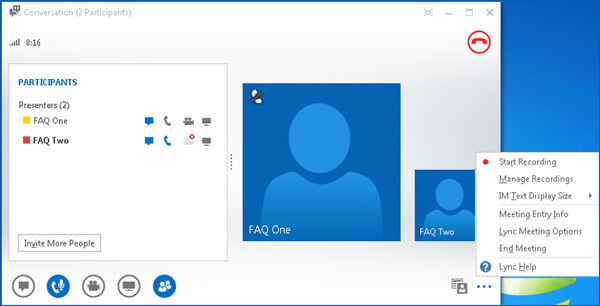 Step 2.After that, you can pause and stop the recording freely. Click the "More" button again. Later, click the "Stop Recording" button to finish the recording. They will be automatically saved on your computer.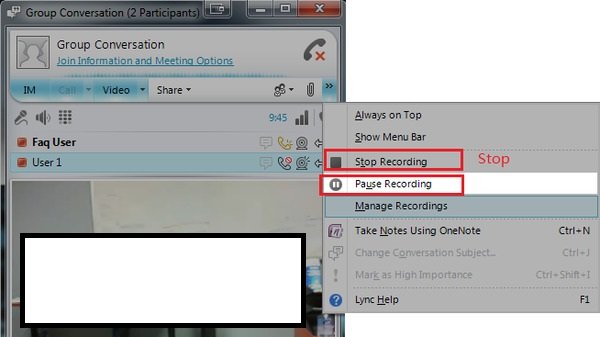 Step 3.You can see all the recordings on the "Microsoft Lync Recording Manager" account. Or you can go to "C:Users(your user name) Lync Recordings" folder to find all the Lync recordings. You can choose to play, share, and delete them.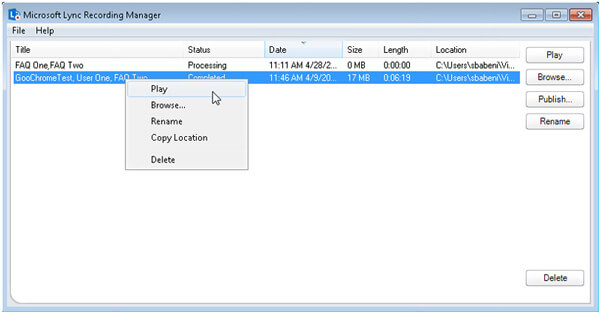 Cons of Using the Default Lync Recorder
Only provide 800 × 600 resolution with 10 fps frame rate to record Lync meetings in relatively low quality.
The recordings will only be saved in WMV format, which makes them difficult to share with colleagues and play on other devices. (Or you can convert WMV to MP4 or WMV to MP3 quickly here.)
The file sizes of the recordings from Lync are always too large, which makes trouble in saving them on your computer or mobile. Or you can reduce large video size here.
The participants can only record Lync meetings with permission from the host.
Unable to record the screen and audio of Lync when someone is using the telephone.
Your Unlimited Way to Record Lync Meetings on Windows and Mac
To solve all the limitations mentioned before, you just need to free download AnyRec Screen Recorder for Windows/Mac. With this versatile screen recorder, you can record meetings on Lync with 1080p resolution and the maximum 60 fps for playing smoothly or uploading on Facebook. You can also add annotations to take notes in real time. Learn more about its features below.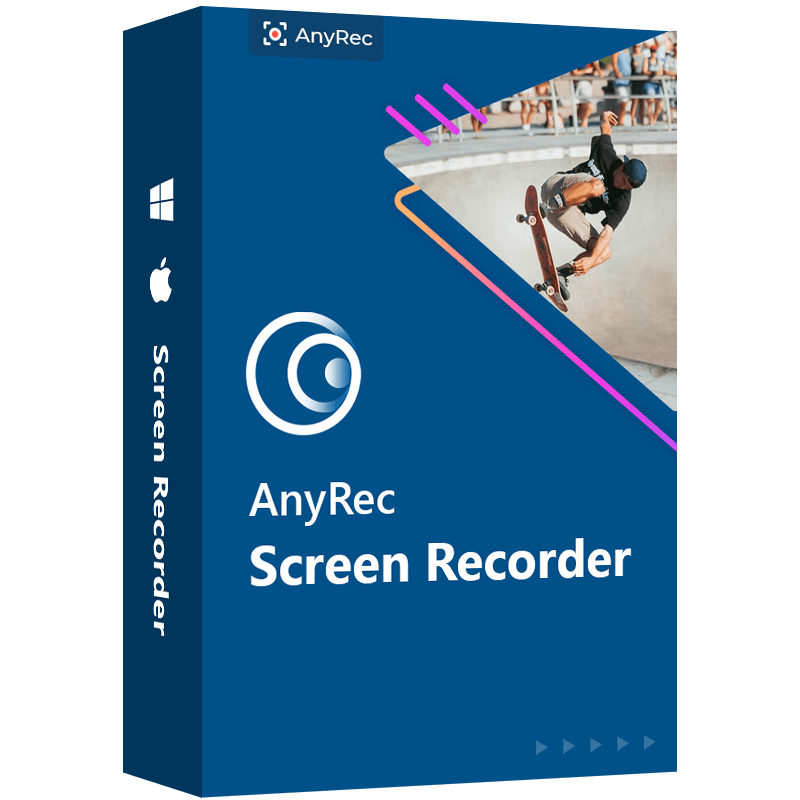 Lync Meeting Recorder
Record Lync meetings with the full-screen or a selected region freely.
Able to record the system sound, microphone, and webcam of yourself.
Provide editing tools to add annotations in real time for taking notes easily.
Hotkeys to start, pause, and stop recording Lync meetings at any time.
Here you can learn the detailed steps to record Lync meetings:
Step 1.Free download AnyRec Screen Recorder and launch it on your computer. Click the "Video Recorder" button on the main interface to enter the next window and record online meetings.

Step 2.Now you can click the "Full" button to capture the whole screen. Or you can click the "Custom" button to record the desired part on Lync. Then turn on the Microphone, System Sound, and Webcam according to your need.

Step 3.Before you start recording on Lync, you can click the "Record Settings" button and adjust the video parameters in the "Output" pane. Change the video quality, frame rate, and export format to keep a high quality of the recordings. Then click the "OK" button and click the "REC" button.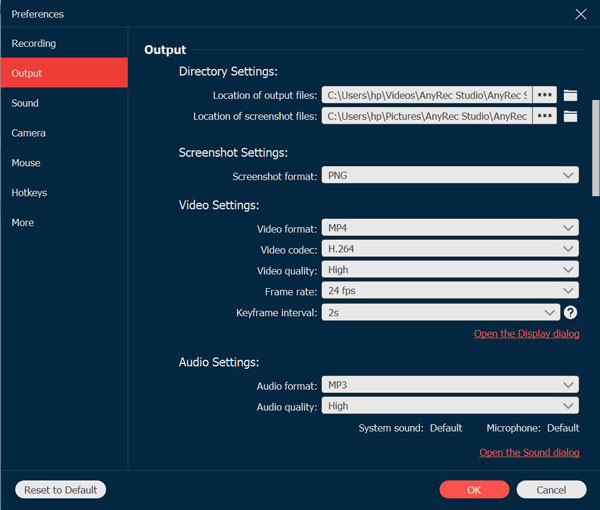 Step 4.After that, you can preview and clip the extra part of Lync recordings. At last, click the "Save" button to choose the storage path to save them.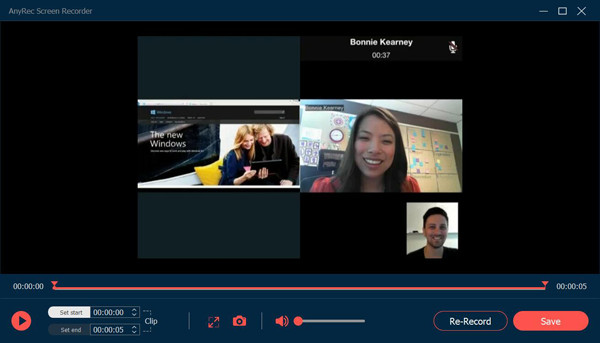 This is not only an efficient to record meetings on Lync, but also an available method for recording on Skype for Business - the updated version of Lync. Just have a try now!
FAQs of Recording Lync Meetings
1.Where can I find my Lync recordings on the computer?

If you use the default screen recorder to capture Lync meetings, the recordings will be saved both on your cloud account and your computer. Go to Microsoft Lync Recording Manager and login to your account, or just navigate to the local file C:Users(your user name) Lync Recordings.

2.Can I record Lync meetings as a participant?

Yes, you can. The only thing you need to record on Lync as an attendee is to ask the host for recording permission. When you are allowed to record, you will see the REC button turn red. Or you can use secret screen recorders to capture Lync meetings in private.

3.How to record Lync meetings online for free?

To record Lync meetings online, you need to rely on AnyRec Free Screen Recorder. Without downloading any software, you can use all the basic recording and annotating functions. It will also provide higher quality and frame rate than the built-in screen recorder.
Conclusion
This article has introduced two efficient methods to record Lync meetings. Although it provides a default screen recorder, the Lync recordings are recorded in very low quality, and the recordings are saved in WMV format for Windows. In this case, you'd better use AnyRec Screen Reorder to record meetings on Lync with high quality. If you still have questions, feel free to contact us.
Related Articles