Top 9 Lecture Recorders for Online Courses on Windows, Mac, Android, and iOS
The introduction of online courses has drastically changed students' life. Many students must grasp the new online classes with their devices to learn. So they want to find a suitable lecture recorder for their devices because if there are times that they need to repeat a discussion, they can't ask their professor to repeat it. So, the best way to have a playback is to use a lecture recorder. This post will help you to find the best tools to record online classes on Windows, macOS, Android, or iOS.
Part 1: The Best Lecture Recorder
AnyRec Screen Recorder is one of the most effective lecture recorders for Windows and Mac. It has an intuitive interface where you can easily access the right tool for recording. As a powerful lecture recorder, AnyRec Screen Recorder offers you various recorders for online classes, meetings, gameplay, and phone with unlimited time recording. Its advanced settings are configurable, allowing you to change the video format, codec, quality, and audio settings. Free download AnyRec Screen Recorder now!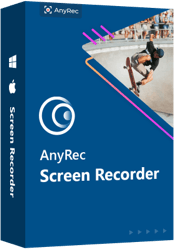 AnyRec Screen Recorder
Best lecture recorder with customizable recording frame to capture in full screen or partial part of user's screen.
Provide a soundcheck system for microphone and computer audio with noise cancellation and audio sound enhancement.
Hotkeys are customizable and accessible through key combinations for start/stop recording, screen capture, etc.
Create interactive screen recording by providing a real-time drawing tool, screenshot, and schedule setting.
Part 2: The Alternative Lecture Recorders
With mobile devices and computers provided to everyone, you can have a lecture recorder installed. The recommended tools are all offered to their best ability to help you effectively. Let's see which best recorder for lectures is for you.
1. OBS Studio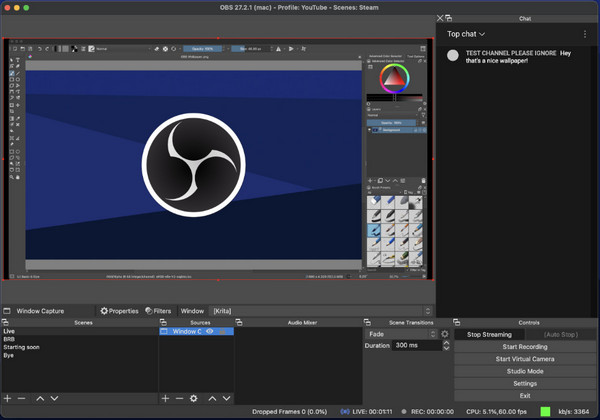 OBS is a well-known desktop tool among Windows and Mac users. It is the best recorder for lectures, live streaming, and audio remixing. It also allows you to configure its system as the platform is open source. If you are more on professional recording, OBS Studio is free to download to cross-platforms.
Pros

Support recording multiple sources like windows and webcams.
Intuitive audio mixer for better audio quality.
Cons

Too complex for beginners
2. Camtasia Studio

This lecture recorder is an excellent investment to capture online classes. It offers more advantages than just a screen recorder. For example, it gives you comprehensive tools for making slideshows, various video resolutions, and preset themes. Camtasia Studio is an ideal video recorder and editor for any media file.
Pros

Easy to use and navigate.
Record high-quality videos.
Cons

Struggle in large videos.
3. Just Press Record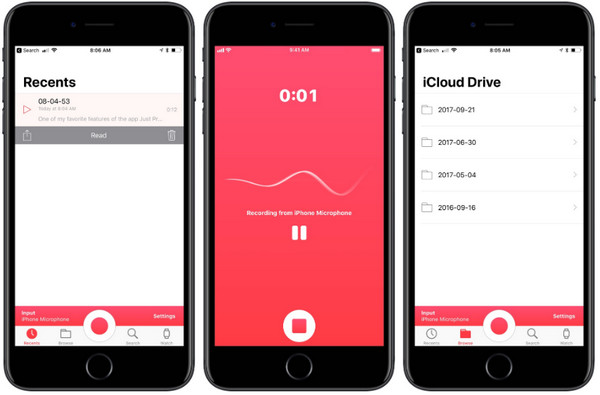 For iOS users, you can try Just Press Record as a lecture recorder. The app uses the built-in microphone from your iPhone to record anytime and anywhere you are. Not only can you simply tap the Record button in the app, but you can also command Siri to start and stop recording. The best part of Just Press Record is it produces searchable text in 30 languages for accessible review and reference.
Pros

Enable to adjust the playback speed.
Excellent recording app for iPad, Apple Watch, etc.
Cons

Not best for organizing tools and recordings.
4. XRecorder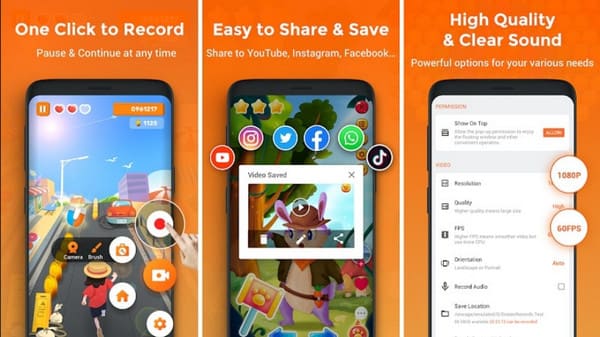 If you always have an online class on an Android device, it is best to have XRecorder as your lecture recorder. The app is free to download and offers unique features, such as built-in camera recording, screenshot, and editing tools. The abundance of advantages you can get from XRecorder will continue with its floating ball icon, providing you with the needed tools when recording.
Pros

Organized recordings in high-quality.
Manageable ads for the free version.
Cons

Sometimes crash during recording.
5. Office Lens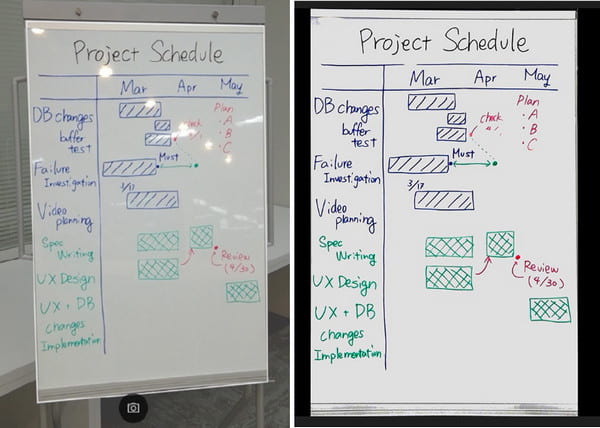 Suppose you are trying to capture modular lectures that are in books. Microsoft Office Lens is an app that can be your lecture recorder in hardcopy documents. It helps you turn photos into documented text which you can put on virtual whiteboards. You can save the pictures in different formats like PDF and PPT
Pros

Enhance photos to convert them to clean, readable documents.
Offer basic editing tools like trim, crop, and rotate.
Cons

Occasional failure to recognize documents.
6. Hi-Q Pro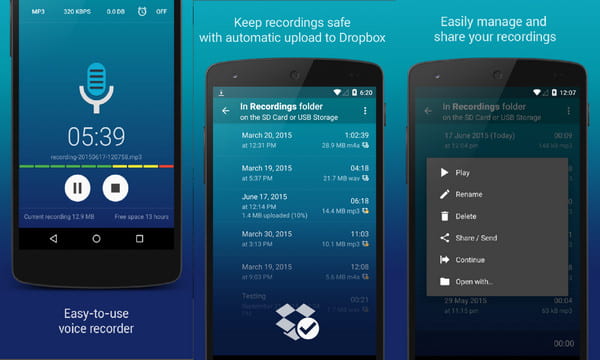 Another Android app is a recorder for lectures. Hi-Q Pro works well as your recorder in college. It offers three ways to start recording: home screen widget, notification panel, or inside the app. It provides quality settings, which users can use to save storage space or record with excellent quality.
Pros

Enhance audio quality.
Record crispier sounds without background noise.
Cons

Playback issues and muted recordings.
7. Rev Voice Recorder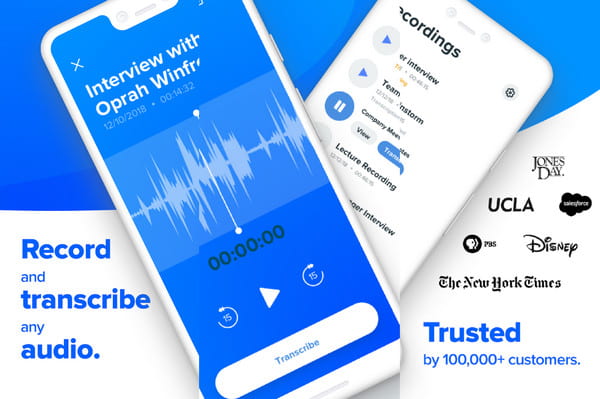 Rev's powerful transcription mechanism is more of an advantage in recording lectures. It allows users to capture memos and notes from online classes or meetings. Its versatile features include impressive sound quality, which is great for recording interviews. Recording audio instead of video is also an effective way to save space.
Pros

Offer an online voice recorder.
Directly share files to Evernote and Dropbox.
Cons

It doesn't support non-English languages.
8. Voice Memos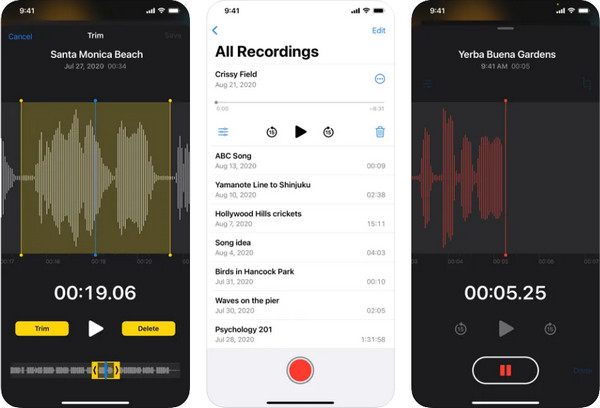 Voice Memo has an ideal way to record lectures on iPhone. It uses the default microphone to capture internal audio, while you can also record external sound through a Bluetooth headset or compatible device. The Voice Memo app is free to download on other Apple devices, such as Mac, iPad, and iPhones. And you can use this software to record MP3 on Mac and other Apple devices too. An excellent lecture recorder with fine-tune recordings!
Pros

Enable to save audio in compressed or uncompressed formats.
Provide an audio speed controller.
Cons

Unfixed bugs and lag problems.
Part 3: FAQs about Lecture Recorder
In what purpose of lecture recorder help students?

Aside from reviewing the discussion for a deeper understanding, the recorded meetings allow students to watch or listen to classes they cannot attend. It is also a good way for college students to study while multitasking, allowing them to finish tasks quickly

Which lecture recorder extensions are the best for online classes?

There are many recommended extensions you can use for free. You can try Screen Recorder, Screencastify, Nimbus Screenshot & Screen Video Recorder, Awesome Screenshot & Screen Recorder, Screen-O-Matic Launcher, and more. But some extensions must be used with Chrome, and some can be used in system default tools.

What is the preferable resolution for recording lectures?

The best resolution you can save a recorded video is 1280 × 720. However, you might need to lower the resolution or crop the video frame if your device is a late version or not up to date. If you are saving space, recording only the audio is suitable for this matter.
Conclusion
Lectures recorders are a way to keep up with studying while you are busy with other tasks. Since everyone has their things to do, nobody would want to be stressed out finding the best recorder for lectures. So to guarantee a stress-free recorder, AnyRec Screen Recorder is the most suggested pick by professionals. Visit the official webpage and click the Download button!
Related Articles