Can GeForce Experience Record All Gameplay? (How to Use it to Record)
Playing a lot of games can get you to think you need to update to GeForce Experience. Of course, the software is already focused on optimizing your game settings which is a great help to make gameplay and your life easier. And you can also record gameplay with GeForce Experience through its default function. Still, as it is evolving through the years, there are ways to help you record gameplay and update drivers. So, this guide primarily shows you how to record with GeForce Experience.
Part 1: How to Record Screen with GeForce Experience [Detailed Steps]
Since Nvidia GeForce Experience is a powerful app, it can do more than you expect. Its main features include instant replay, which automatically records 5 to 20 minutes of gameplay. Another one is it allows you to record gameplay without a time limit manually. Lastly, GeForce Experience recording enables you to broadcast live via Twitch, Facebook, and other platforms. Without further ado, this part will show you how to record with GeForce Experience in automatic, manual, and broadcast live.
1. How to record GeForce Experience automatically:
Step 1.Go to the GeForce Experience website and download the software. While you are waiting for it to be installed entirely on your device, you need to find if the game you will record is supported by GeForce Experience.
Step 2.Once done, click the Settings button at the top right of the GeForce experience and ensure that the In-Game Overlay button is turned on. After that, press Alt + Z keys to open the overlay. Click the Instant Replay button and go to the Settings or Custom button. You need to set Replay length, quality, and other settings you prefer. Click the Save button to apply all the changes.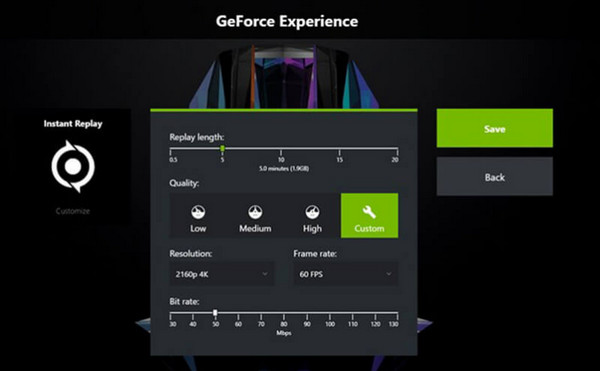 Step 3.Next, click the Instant Replay dropdown list and enable the option. You can also use the shortcut keys Alt + Shift + 10 to activate it whenever you want. Finally, open the game you want to record and enable GeForce Experience recording.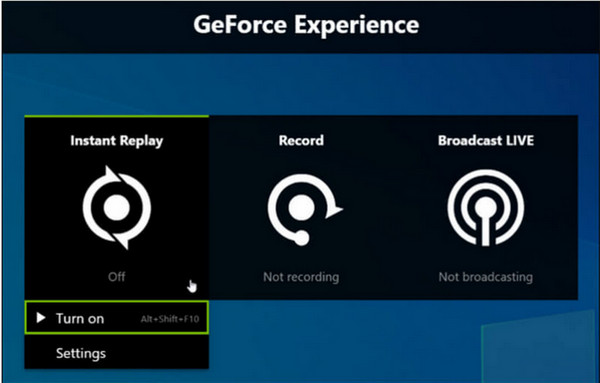 2. How to record with GeForce Experience manually:
Step 1.Launch GeForce Experience recording on your device. On its overlay, click the Record button, then click the Settings or Custom button.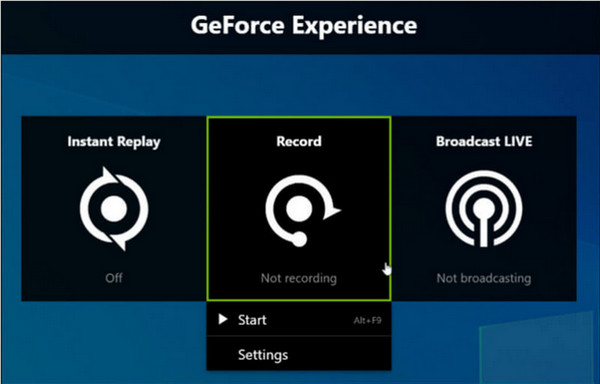 Step 2.Set up the desired resolution, quality, and other options for the recording, then click the Save button to save all the changes.
Step 3.Open the game you want to record, then whenever you are ready, click the Start button from the Record button to record with GeForce Experience.
3. How to do live broadcasting with GeForce Experience:
Step 1.Start by launching the game you want to broadcast, then launch the GeForce Experience recording too.
Step 2.Once you are on the overlay of GeForce Experience, click the Broadcast button, and then click the Customize button. Again, set the desired quality resolution and other settings for better live broadcasting.
Step 3.Click the Broadcast button. After that, you can click the Start button. Select the social media platform you want live broadcasting on and enter your account. Click the Go Live button to finish the process.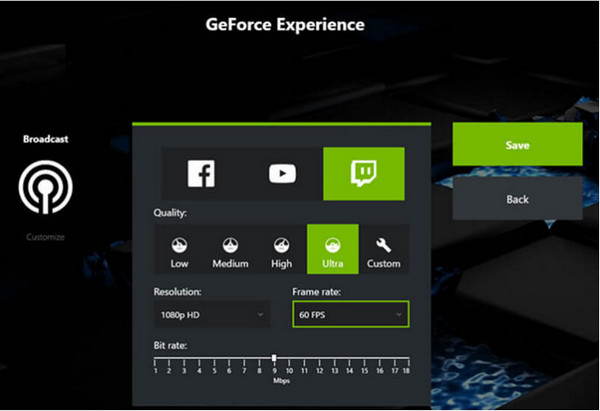 Note
The GeForce Experience recording does not support all desktop games. So you might need to research the game compatibility before downloading it on your device.
Part 2: How to Record Gameplay with the Best Alternative to GeForce Experience
While GeForce Experience recording is a massive help in recording gameplay on your computer, it is quite a disappointment if your favorite game is not supported by it. That is why a powerful alternative such as AnyRec Screen Recorder is needed to record the high-quality video file. The software is as professional as GeForce Experience, giving you an extensive settings to configure resolution, codec, format, and even audio settings. You can use it to record LoL, CSGO, Minecraft, Genshin, etc.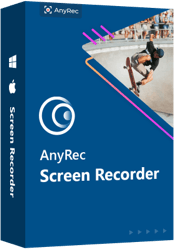 AnyRec Screen Recorder
An excellent alternative for GeForce Experience recording with advanced settings.
The Preference menu allows users to adjust the format, quality, and frame rate.
A designed game recorder for recording non-stop playing games and making tutorials.
Provide other tools like task schedule, real-time drawing, and customized hotkeys.
How to use the alternative solution for GeForce Experience:
Step 1.Download and installed AnyRec Screen Recorder on your Windows/Mac, and launch the it to start recording gameplay without GeForce Experience. You also need to open the game you want to record, then click the Game Recorder button from the main interface of AnyRec Screen Recorder.

Step 2.Click the Select The Game dropdown list and choose the game's window. Turn on System Sound and Microphone to add voiceover and capture the device's audio. You can also do a soundcheck by going to the Preference button.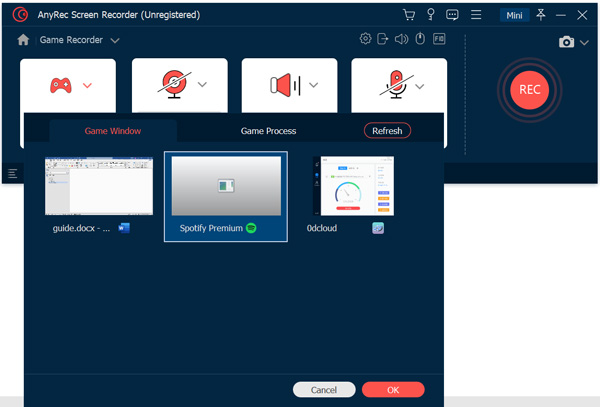 Step 3.After configuring everything, click the REC button to start recording. A widget menu will appear during the recording. Click the Timer button to set a schedule for video length, or you can lower down the microphone and system sound by clicking the Gear button.

Step 4.Once you are done recording with the GeForce Experience alternative, click the Square or Stop button. The following window will allow you to trim the beginning and ending parts of the video clip. Choose the designated folder path for the clip, then click the Save button to confirm.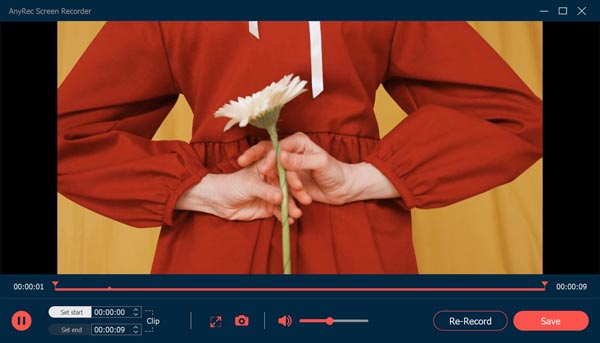 Part 3: FAQs about How to Record with GeForce Experience
What are the other things GeForce Experience recording can do?

Aside from giving the users a powerful gameplay recording, GeForce Experience is also a companion app that keeps your drivers up to date, optimizes game settings automatically, and even lets you share the game highlights easily.

Is using GeForce Experience recording causing FPS loss?

Although the application has received updates over the years, some users claimed GeForce Experience recording tends to lower FPS in games such as Fallout 4, GTA V, and more. Although it is not always happening, you can rely on AnyRec Screen Recorder to record gameplay without issues.

Can I use the GeForce Experience recording on Intel?

You don't need to worry about it! GeForce Experience runs on Intel systems with Pentium G Series processors. You can integrate it with AMD CPUs like Phenom II, Phenom X4, Athlon II, FX, or even higher.
Conclusion
GeForce Experience recording is a masterpiece for many gamers and live streamers. The way it produces excellent video recordings is how many users still want to use it. However, the best it may seem, the software has more unsupported games you cannot play. So, AnyRec Screen Recorder is the recommended alternative solution to help you record all gameplay without GeForce Experience. Free download it and capture all games, even recording console gameplay on your Windows/Mac easily.