Secret Screen Recorder – 6 Free Methods to Capture Screen Videos without Notification
If you have to record some important online meetings, or capture Skype calls, what should be the best hidden-screen recorders for Windows and Mac? To capture an online meeting, such as GoToMeeting, you have to use the hosting account with a notification for all participants.
How to capture screen videos secretly? Of course, you can simply choose the default secret screen recorders for your computer and browser plugins. But if you need to capture all onscreen activities without the size limitation, here are the 6 best methods you should know.
The Best Online Secret Screen Recorder
When you need to capture an online conference without notification, or record Skype calls immediately, AnyRec Free Online Screen Recorder is the desired free secret screen recorder to record all onscreen activities without installing extra software. It also enables you to customize the recording area, edit the video, and save the files in different video formats.
1. Customize the full screen, application window, or even web browser.
2. Record screen activities, online meetings, games, streaming videos.
3. Export the recording to WMV and MP4 (WMP9, H.264) in high quality.
4. Support multiple editing features, such as annotations, shapes, etc.
Step 1.Go to the online screen recorder with any web browser, you can click the "Launch Free Recorder" button to get the installer. After that, click the button again to launch the screen recorder on your computer.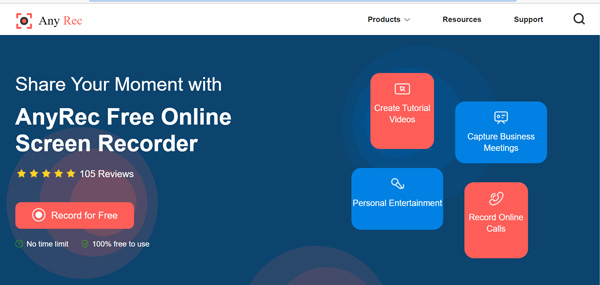 Step 2.Click the "Recording area" button to choose the Select region option. Then you can customize the area you want to capture, such as the online conferences. It enables you to record screens secretly.

Step 3.Then you can click the "Horn/Microphone" button to select audio from the System sound and the Microphone. Make sure the recording is not silent or only your own voice.

Step 4.Click the "REC" button to start recording the video directly. You can add annotations and callouts during the process.
Step 5.Once you have captured the desired video, click the "Stop" button to save the recording. You can preview the recording directly within the media library within the online secret screen recorder.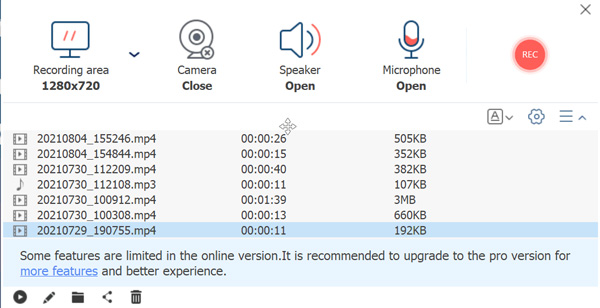 2 Default Secret Screen Recorders
Method 1. Problem Steps Recorder
Problem Steps Recorder is the default hidden secret screen recorder that allows you to capture some simple videos. Usually, it is used to record screens to respond to other problems that cannot be simply described in words. But it cannot record a large video, or files with high quality.
Pros

Save any on-screen activities to a web-compatible format.
Add mouse click, keyboard action, and more other elements.
Capture both screens when you have two displays.
Cons

Simply secret screen recorder without editing features.
Cannot record gameplay videos, online streaming, etc.
Step 1.Go to the Start menu and choose the Accessories option, then you can find the Problem Steps Recorder app to capture the desired videos for your computer.
Step 2.Click the "Start Record" button to start recording. Click the "Pause Record" button to save the desired files. Moreover, you can add comments to your recording by clicking the "Add Comment" button.
Step 3.Once you get the desired files, you can simply click the "Stop Record" button when the recording is completed. Then save the recordings to a specific folder as a ZIP file.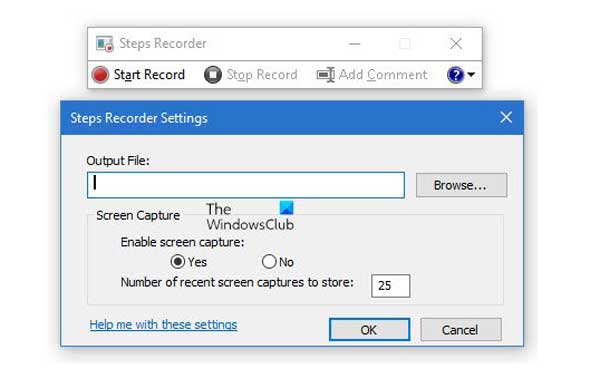 Method 2. PowerPoint Office
If you have already installed Office PowerPoint on Windows or Mac, you can also use the built-in secret screen recorder to capture the computer screen as part of your slide presentation. Below are the step-by-step instructions for using PowerPoint 2016 to record screens without notification.
Pros

Record system audio, microphone, and record pointer.
Embed the hidden recording files to your presentation.
Preview, trim and edit the recording within PowerPoint.
Cons

Cannot record the video with audio files between slides.
Crash frequently when you need to record large files.
Step 1.Open PowerPoint 2016 and choose the Insert tab. Click the"Screen Recording" button within the Media tab. You can control the recording with the Control Dock on your computer.
Step 2.Click the "Select Area" button to customize your recording region for your computer. Choose the Audio option to capture audio files from system sound or microphone. Then click the "Record" button to start.
Step 3.Press the "Windows + Shift + Q" keys to stop recording and the video will appear on your current slide. When you have finished recording, save the recorded video and embed it into the selected slide.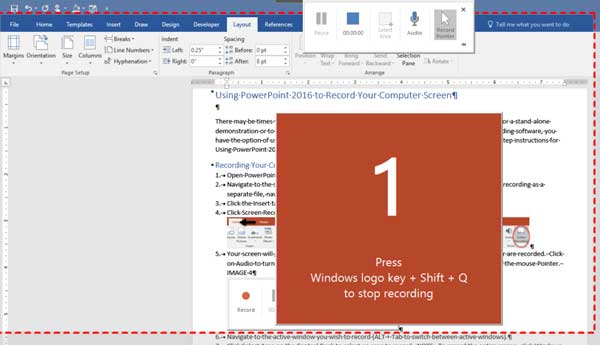 3 Hidden Screen Recorder for Chrome
Besides the above secret screen recorders, you can also use a Chrome add-on to capture the desired files, especially when you want to get the streaming videos online.
Method 1. Loom
Loom is a Chrome browser extension that takes less than a minute to set up and use. With powerful recording settings, you can get an ideal private screen recording via it without complex operations. It's easy-to-use and friendly with other tools. Moreover, it allows you to edit the recording. However, the free version is banned from recording screens for more than 5 minutes.
Pros

Record your screen video, voice, face, and more.
Embed Looms in Slack, Gmail, Notion, Coda, and others.
Trim, edit, and measure the recordings online.
Cons

Cannot upload the videos to social media websites directly.
The quality of audio varies even for the same device.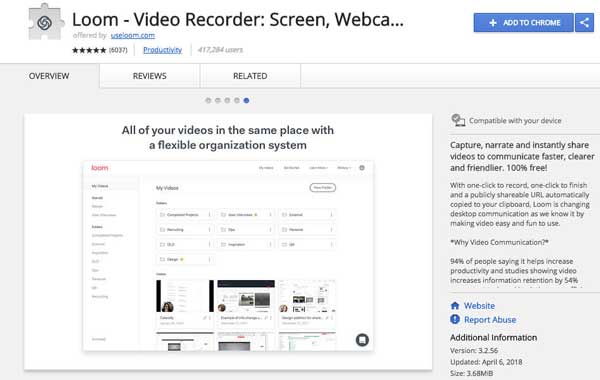 Method 2. Nimbus Screenshot&Screen Recorder
Nimbus Screenshot&Screen Recorder is another useful extension to make screenshots and simple clips. It provides basic editing, file conversion, and even enables you to upload the recording to social media websites. However, the free secret screen recorder version is limited seriously, most of the functions are locked without a subscription.
Pros

Customize the recording area, site fragment, and more.
Create your own drawing and model from scratch.
Share screenshots to Google Drive and other Cloud services.
Cons

The scroll capture feature does not always work well.
Shortcut keys won't work or save settings in Firefox.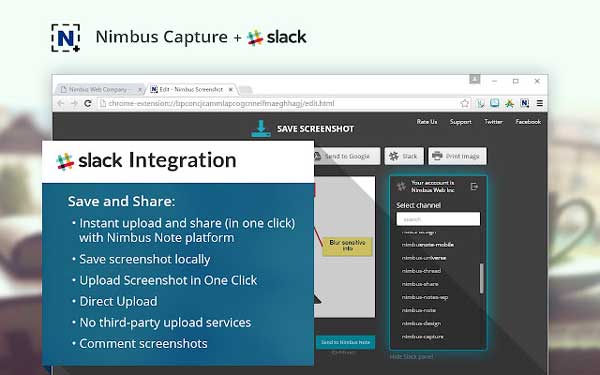 Method 3. Vidyard
Vidyard is a well-designed extension for recording screens secretly. You can edit your recording and send the videos directly via Gmail and YouTube. It comes with HD quality but has a limitation of 1 hour. Moreover, you can share unlimited videos for customer presentations, employee onboarding, team updates, and more.
Pros

Add forms, links, popouts, and more elements to videos.
Upload the videos to social media sites or embed them on blogs.
Provide a call-to-action in the video compared to others.
Cons

Provide limited recording time with the free add-on version.
Cannot customize the hosting page according to requirements.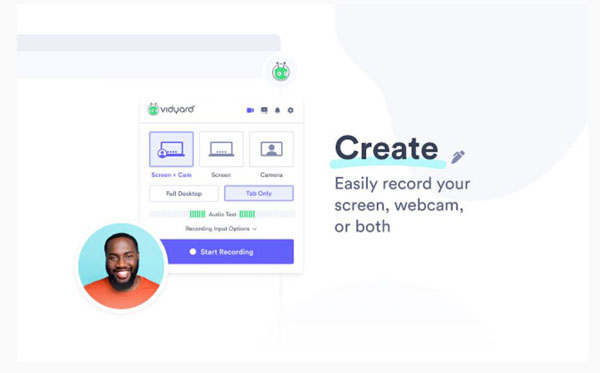 FAQs about Secret Screen Recorder
1. What are the best secret screen recorders for phone calls?

If you need to capture phone calls on your smartphone, you can use the default screen recorder on iPhone, or AZ screen recorder for Android phones. When you need to capture the original audio files, you can mirror the content to a computer and use the professional secret screen recorder.

2. Is there a secret screen recorder to capture iPhone screens?

Yes. When you want to capture onscreen activities for the iPhone screen without notification. TheOneSpy is an on-demand secret screen recorder app, which enables you to capture anything running on the phone by sending a simple command.

3. How to record screen secretly on Mac?

QuickTime Player is the built-in hidden screen recorder for macOS. Just right-click QuickTime Player and click the "New Screen Recording" button, then click anywhere to record full screen or drag your mouse to record the selected area. It will record and save the screen secretly.
Conclusion
The article shares 6 different methods to record screens secretly on Windows and Mac. Just choose the method that suits you best. Whether you use the default ones to capture large videos, or choose the Chrome plugin, the secret screen recorder might not be stable. Instead, AnyRec Free Online Screen Recorder is the best online hidden screen recorder that enables you to capture all onscreen activities without limitation.
Related Article