How to Make a Watermark for Image with/without Photoshop
When you work hard on a photograph, you can create a watermark to protect it from copyright. A watermark can be anything from text to a personalized image. But a transparent watermark is the best because a normal watermark can be a distraction to a beautifully captured photo. And this guideline will help you use the recommendations for making a transparent watermark.
Part 1: The Best Way to Make a Transparent Watermark on Windows or macOS
Making a transparent watermark is another problem you may face in photo editing, but you can also remove an unwanted watermark with AnyRec Free Background Remover Online. The online tool lets you remove and change the background in any color you want. It also supports applying a transparent background for images like JPEG, PNG, and other formats. With the help of AI technology, your image outputs will be saved in good quality and 100% safe. Visit AnyRec Free Background Remover Online on any browser.
◆ Remove a transparent watermark and edit the picture background to the desired color.
◆ Automatically highlight the object from the picture to remove the background while the user can keep or erase other parts.
◆ Editing features are included to add color to the image's background and new photos and crop them in desired aspect ratio.
◆ Excellent algorithm to remove a picture's background, watermark, text, or logo with perfect image quality.
Step 1.Go to https://www.anyrec.io/free-online-background-remover/ to get to the official site. Click the Upload Image button and browse for the image you want to edit. You can also drag and drop files from your folder to the online tool's interface.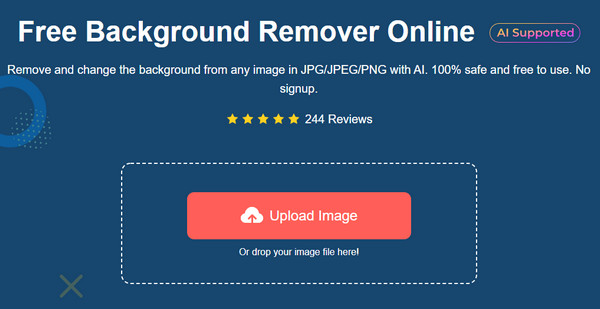 Step 2.Once the file is successfully uploaded, the tool will automatically highlight the object on the picture. You can use the Keep and Erase features to make adjustments. Go to the Edit menu and choose the color for the background. You can also go for a transparent option above the window. Click the Crop button if you need to change the picture's aspect ratio.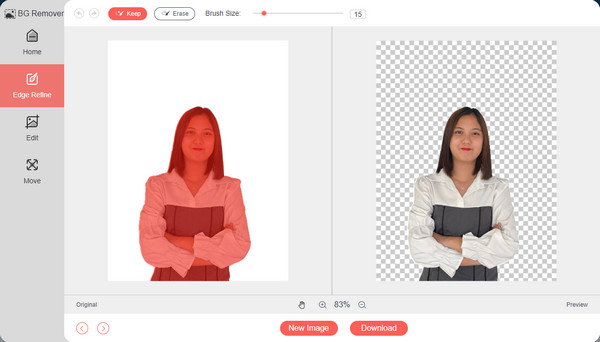 Step 3.Afterward, go to the Move menu, where you can relocate the main object to the center of the picture. Click the Download button to save the output to your computer. You can edit another picture by clicking the New Image button.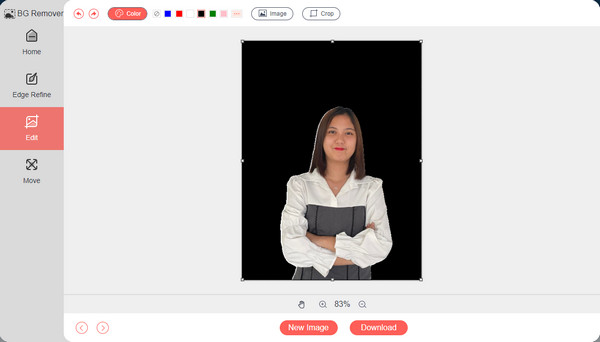 Part 2: Use Photoshop to Make a Transparent Watermark
To create a watermark professionally, you may need to invest in a complex program such as Adobe Photoshop. The software is packed with all the essentials in photo editing, including removing unwanted objects, manipulating colors, and repairing the flaws that are visible in your pictures. Eventually, you will need these features to optimize and enhance images; thus, Photoshop gives you more options for photo editing. If you are unfamiliar with Photoshop, here is the detailed step for making a transparent watermark with a professional photo editor.
◆ Support making a transparent watermark based on text and image.
◆ Provide a wide range of fonts, sizes, and colors for creating a watermark.
◆ Enable users to edit pictures with other powerful tools.
◆ Also support removing watermarks professionally.
Step 1.If you still don't have Photoshop installed on your device, download it to the official website. Then, launch the software to start editing. You must create a new document with the desired dimensions. It is suggested to set it at 1600px × 200px, so the logo is still visible to paste on the image.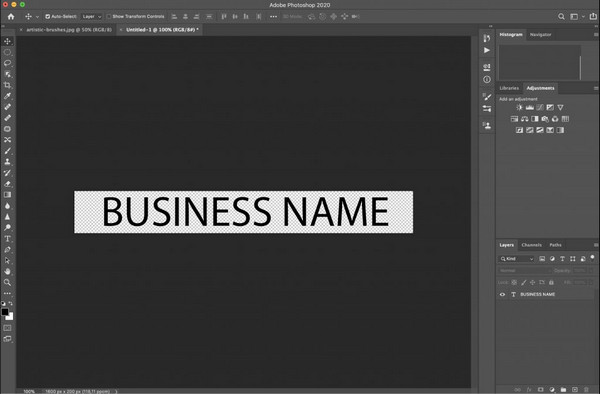 Step 2.Afterward, select the Text tool and type the text you want as a watermark. Customize it to the preferred font, size, and color to make it your signature. From the layers palette, set the opacity to around 50%. You can also create other opacity versions for the watermark and choose the best one.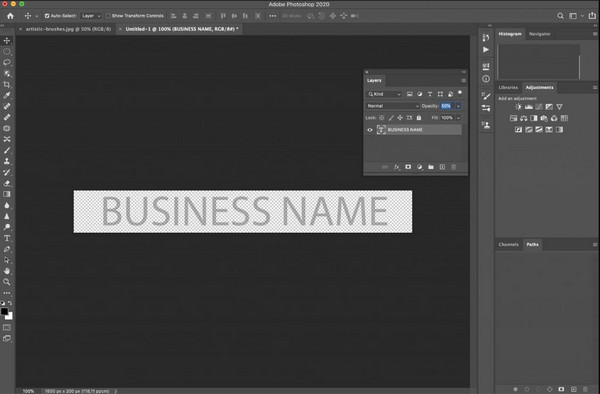 Step 3.Once you have settled on the best watermark, it is time to export the file. Click the Export button and choose the designated folder path where you want to save it. Ensure that the file is exported as a PNG document. Apply the watermark to all of your works.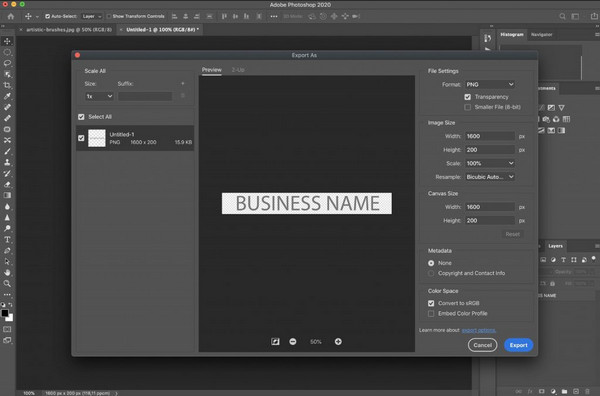 Note
On a different note, Adobe Photoshop is complex for many users, and the learning curve is not overnight. You can still look for an alternative to make a transparent watermark or use AnyRec Free Background Remover Online for free.
Part 3: FAQs about Transparent Watermark
1. Can I make a transparent watermark using Preview on Mac?

Yes. Here's what you need to do to remove the background and make a transparent watermark using Preview. Browse for the image on your device. Right-click on the file, click the Duplicate button, then double-click to open it on Preview. Go to the Tools section and select the Annotate option. From the sublist, click the Text button. Type the text, then press Command + A to highlight it. You can edit the text by changing the font, size, or color. Then, locate the Opacity to make the watermark transparent. Export and save your work, then apply it to your projects.

2. What are the best-recommended apps to make a watermark on Android?

You can download and try to make a watermark on Android using these apps: YouCam Perfect, Snapseed, and Add Watermarks on Photos. These apps are all available on Google Play Store.

3. Why should I make a transparent watermark on my photos?

Other than protecting from copyright or people that may potentially steal your works, making any watermark or logo also helps you to show your creations to people. Suppose you are selling pictures or promoting products; best to have a customized watermark.
Conclusion
Photoshop is an excellent way to make a transparent watermark, even for extensive photo editing like removing a watermark. However, you may not like the complicated features it offers, so AnyRec Free Background Remover Online is the alternative you can try. No signing up is required, or a launcher installation is needed. You can use the online tool for free without breaking a sweat!
More Related Articles: