Ultimate Guide on How to Make a Slideshow on TikTok Quickly
How to make a slideshow on TikTok? The year 2022 has passed by in just a blink of an eye. For sure, you have photos and videos that will highlight some of your most significant events from the year that had passed. Why not combine them all and make a TikTok slideshow? TikTok is one of the well-known video-sharing platforms. Fortunately, TikTok allows its user to edit videos and make some slideshows. In this article, you will know numerous practical strategies for creating a slideshow on TikTok. Please continue reading the whole post and enjoy creating your TikTok slideshow.
Part 1: The Easiest Way to Make A Slideshow on TikTok
The first method is to make use of the TikTok app. On TikTok, there are various options for creating a slideshow video. In this section, you will know how to make a slideshow on TikTok in the most straightforward method possible, with a step-by-step explanation.
Steps to Follow:
Step 1.Open the TikTok app on your mobile phone. Then, tap the + button on the lower center of the screen. After that, tap the Upload button and choose the videos and photos you wish to compile. Once you are done selecting, click the Next button to make a slideshow on TikTok.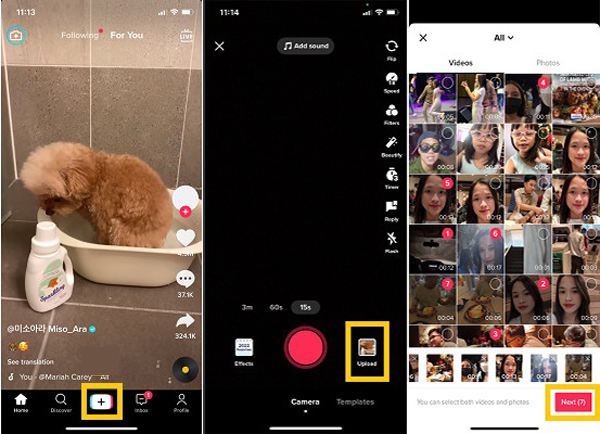 Step 2.Then, you can make adjustments to your TikTok slideshow. Tap the Adjust Clips button. Then, you can choose to sync the sound automatically or manually adjust it. Once you are done, tap the Save button. You can also go to the Sounds section. From there, you can choose what music you want to fit in on your slideshow.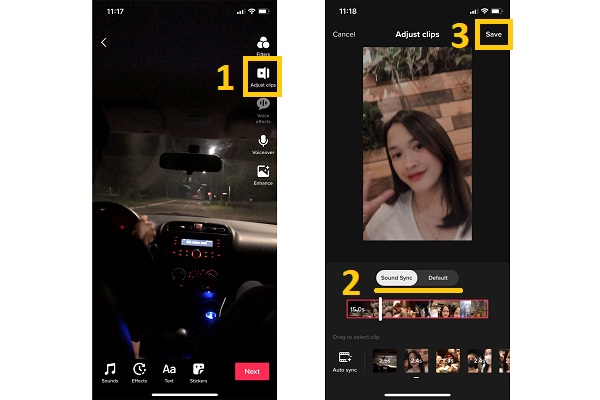 Step 3.Finally, tap the Next button, then change the settings according to your preference. Then, tap the Post button. You are all done! You can now enjoy viewing and sharing your TikTok slideshow.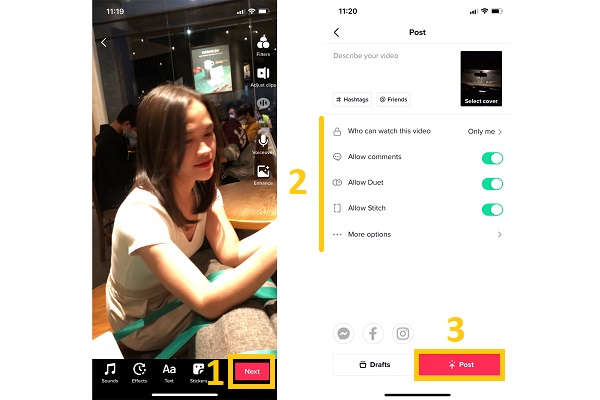 Part 2: How to Create Wonderful Slideshows for TikTok
Aside from making slideshows on TikTok app, you can also rely on other editing tools like AnyRec Video Converter. This tool allows you to compile your photos and videos together and make a fantastic TikTok slideshow. Moreover, it has pre-made themes that will make your TikTok slideshow more pleasing to the eyes. So, what are you still waiting for? Download this fascinating video editor now and experience editing without hassle and lags!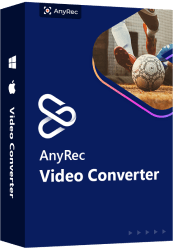 Best TikTok Slideshow Maker:
Make a fantastic slideshow for TikTok easily like a pro!
Apply pre-made themes, transitions, filters, and effects to your slideshow.
Customize the order and time duration of each photo or video clip.
Trim, crop, rotate and flip your videos and photos.
Step 1.First and foremost, download and launch the AnyRec Video Converter on your Windows/Mac. Then, go to the MV section. From there, click the Add button to start adding your photos and videos to the software and make TikTok slideshows.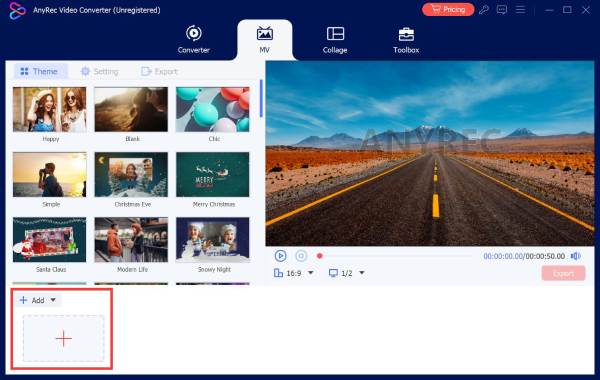 Step 2.After that, that, you can apply pre-made themes to your slideshow to attract more viewers in the Theme section. Next, you can also click the Edit button to rotate, flip and crop your photos and videos. You can also change the Aspect Ratio of your slideshow. Once you are done, click the OK button.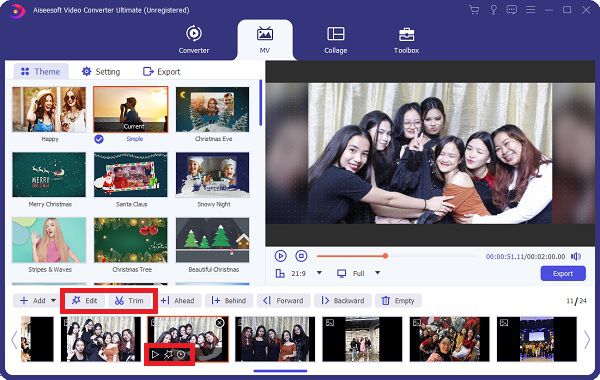 Step 3.Next, you can also go to the Settings section to add Start and End Title. Moreover, you can add background music or keep the original audio track.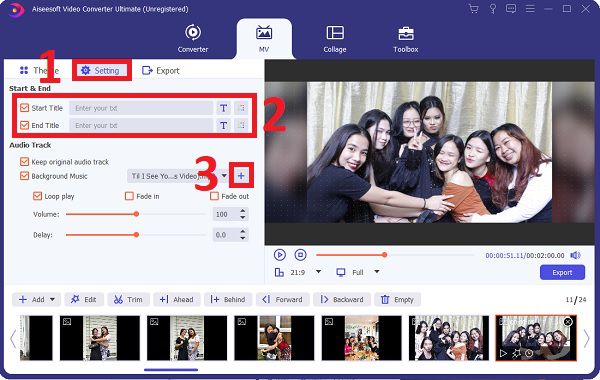 Step 4.Finally, go to the Export section. From there, you can change the format, frame rate, resolution, and quality of your video. Once you are done, click the Save to button to choose a file location and quickly locate your slideshow. Then, click the Start Export button and enjoy your TikTok slideshow.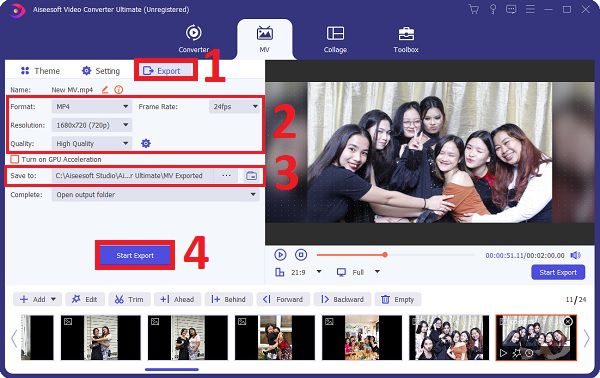 Part 3: How to Make A Slideshow for TikTok on Android/iPhone
This article will also give you two more video editor apps to create TikTok slideshows on your iPhone and Android phones as a bonus tip. Don't worry! The following video editors are tried and tested for your convenience.
1. VCUS
VCUS is a beautiful, simple-to-use TikTok slideshow maker. Its goal is to give users a brilliant, creative editing experience so they can create Stories for any business, with options that reflect current web styles and trends. Moreover, it provides many TikTok filters to make slideshows better. Thus, it has a 5-star rating on the play store and has had over 3,053 ratings throughout its existence now.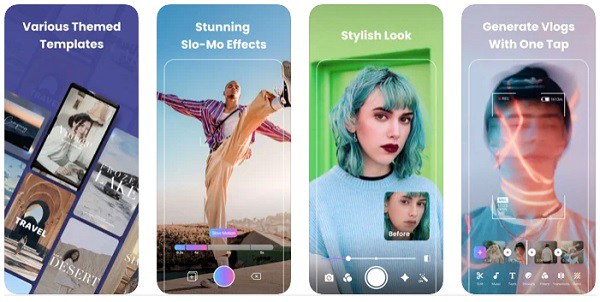 Pros

60+ free music tracks to use in your videos.
There are various video editing templates and filters.
Cons

Most of the templates are not free.
2. CapCut
CapCut is an excellent option to make TikTok slideshows if you want to get famous on TikTok. Nothing gets in the way of generating outstanding films since the UI is intuitive and elegant. Split your video in half, reverse it, add some effects, add audio or music, and finish it off with stickers or text. CapCut is a great free video editing tool for Android and iPhone users, and it's perfect for TikTok videos.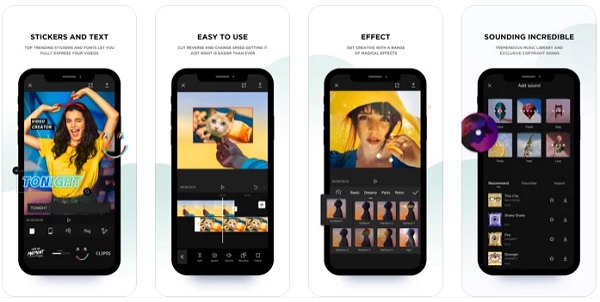 Pros

Advanced filters and stunning aesthetic effects.
A massive music library with only copyright songs is available.
Cons

It requires a lot of storage space.
Part 4: FAQs about Making a Slideshow on TikTok
1. How to add words to the TikTok slideshow?

Open the TikTok application on your mobile phone. Then, tap the Plus (+) button in the center of the screen. Then, tap the Upload button on the right side. Then, choose videos and photos. After that, you can now add text to TikTok slideshow by selecting the Text button.

2. How to make a fast slideshow on TikTok?

If you want to make a fast slideshow on Tiktok, first and foremost, open the TikTok application and tap the Plus icon. Then, tap the Templates button and choose among the given templates. After that, select videos and photos you want to compile and tap OK once you are done.

3. How make photos can be added to make slideshows on TikTok?

Normally, you can add 12 photos or video clips to make TikTok slideshows. And you should note that the whole time is 30 seconds and each clip will play 2.5 seconds. You can't change the default time duration of each clip.
Conclusion
Now, you learn how to make a slideshow on TikTok with the help of the procedures above. Although the TikTok application can also make slideshows, it has a limitation of 12 clips and fixed time duration. Thus, using AnyRec Video Converter is the easiest way to make slideshow videos for TikTok. So that's it! We hope you learned a lot. Hurry up and post your TikTok slideshows now!
Related Articles