10+ Best Slideshow Apps in 2023 with Excellent Features on Android & iOS
When there is an occasion, you need to the best slideshow app to create a slideshow with photos. You want to show the people the memory you made with them. Additionally, you want to share pictures with your friends, but you want to add some effects. Or you may need to do a presentation with a unique slideshow. So, this post provides the best slideshow apps for iPhone and Android.
Part 1: Make Slideshow Video with AnyRec for Your Phone
If you are looking for a desktop tool instead of a slideshow app, AnyRec Video Converter is the best pick. It is packed with many powerful features, including a slideshow for images and videos. Additionally, it offers preset to export files as compatible with iPhone, Android, Samsung, Xiaomi, and more. You can also import images without file size limitations and enhance the quality with advanced settings. Try AnyRec Video Converter on Windows and Mac!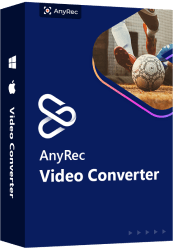 AnyRec Video Converter
Excellent alternative for slideshow app with extensive tools to edit pictures in different formats.
Support vast media formats, including MOV, MP4, AVI, PNG, JPG, WebM, WAV, AAC, etc.
Provide helpful tools to crop, rotate, mirror, or add effect to enhance content without losing quality.
Unlimited file uploading with fast and reliable speed on converting, compressing, and making slideshows.
Step 1.Visit AnyRec's official website and click the Download button for the Video Converter. Once installed, open the desktop tool and go to the MV section at the interface's top part.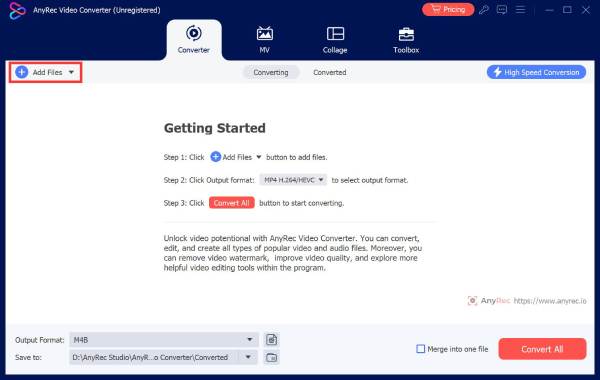 Step 2.Click the Add button from the timeline below. Browse for the images you want to include. Choose the theme for the slideshow or add the beginning and ending titles in the Settings section. Click the Play button to preview the slideshow.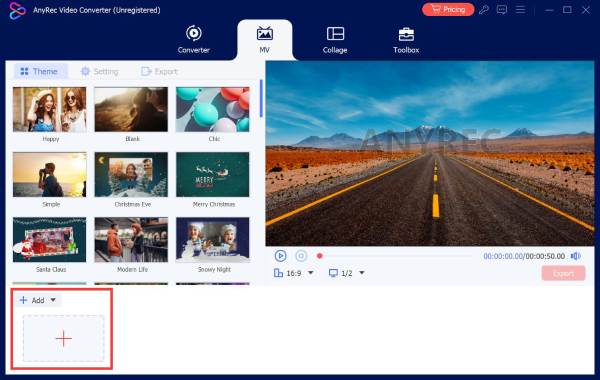 Step 3.If you want to edit the pictures individually, select a frame, and click the Edit button with the star wand icon. Change the aspect ratio, create a watermark, or apply an effect. Click the OK button to save the changes.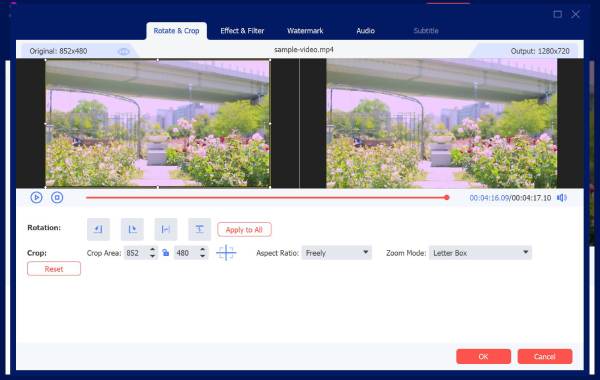 Step 4.Go to the Export section from the main menu of MV. Select the desired format, resolution, quality, and frame rate of the output file. Once done, click the Start Export button to save the slideshow to your computer.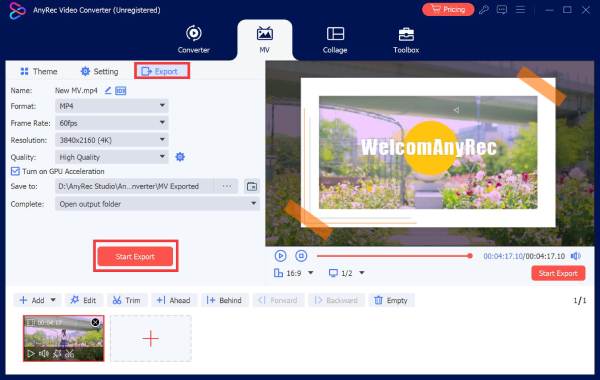 Part 2: Top 10 Slideshow Apps for Android and iPhone
In this part, you are about to learn the best slideshow apps for Android and iOS. The suggested apps were included because of their best offer of service. See if you find the suitable one for your needs!
1. PicPlayPost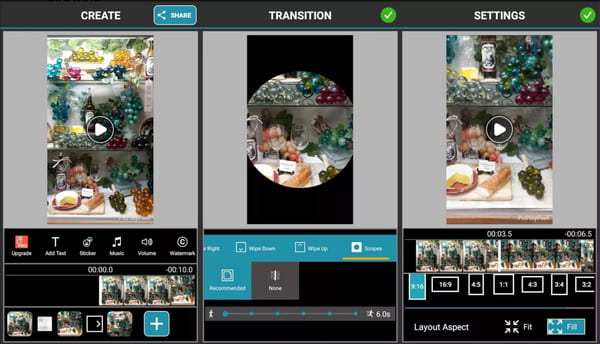 This slideshow app is also known as a video editor. The service consists of built-in text, stickers, transitions, and background music. Its video editing tools allow you to change the layout aspect with smooth controls. You can download the PicPlayPost app on Android and iOS devices.
Pros

Support creating longer videos that can be live video wallpapers.
In-app camera for recording 1080p and 4K HD with 30 minutes of video length.
Cons

Only support MP3 for audio files.
2. Videoshop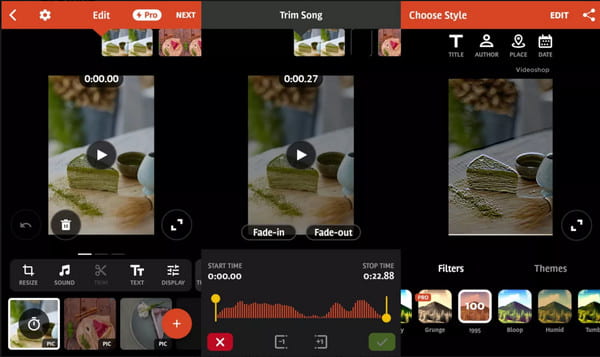 Videoshop was originally a video editor and an app for making a slideshow. It has many sound effects you can add to your videos. As expected in Videoshop, you can use filters, text, colors, and other elements to enhance the output. Videoshop is available for operating systems such as iOS and Android.
Pros

User-friendly interface with basic layouts for both beginners and professional editors.
Support social media apps for video sharing, like Facebook and YouTube.
Cons

Offer a limited set of transitions and preview tools.
3. Scoompa Video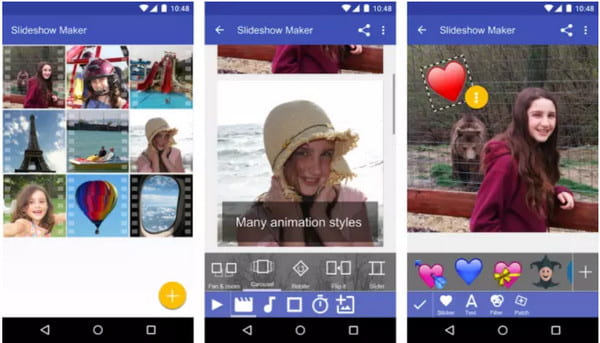 If you want to add extra power to impress your family and friends, this slideshow app might be to your liking. Its straightforward interface will easily import images from your phone, apply filters, overlay captions, and share the output on your social network accounts.
Pros

Users can easily practice and navigate the app.
A huge variety of elements like filters and styles with configurable contrasts.
Cons

Importing photos has limitations and even the time length per slideshow.
4. SlidePlus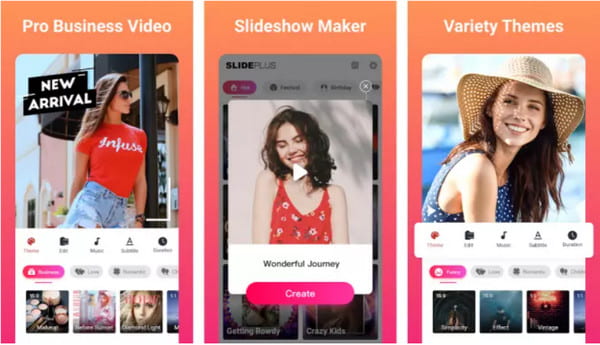 SildePlus brings the best out of plain pictures by being one of the best slideshow apps. You don; need to be professional to use the app; you can simply add images and edit them to a slideshow. With over 100 themes, editing the files will be easier to edit many effects to choose from.
Pros

Support uploading image files from Instagram and Facebook.
Enable to trim photos to zoom on the faces.
Cons

Some reviews claim their videos are glitchy.
5. iMovie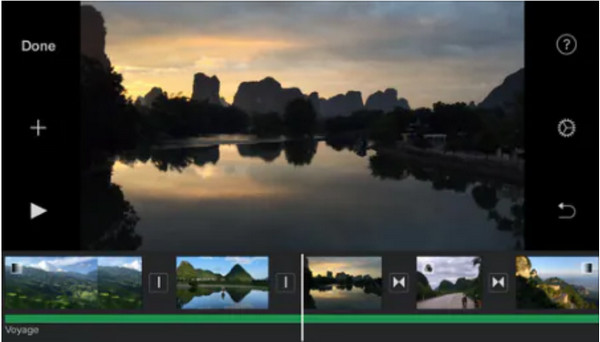 iMovie is a popular app for Apple users because it is the default video editor for most devices. You can use it as a slideshow app to compile photos and turn them into videos. Aside from the fact that it is free, iMovie also saves your files even without hitting the save button.
Pros

Intuitive interface packs with various title themes, transitions, and color palettes.
Save media files in high quality.
Cons

Support Apple formats only.
6. Viva Video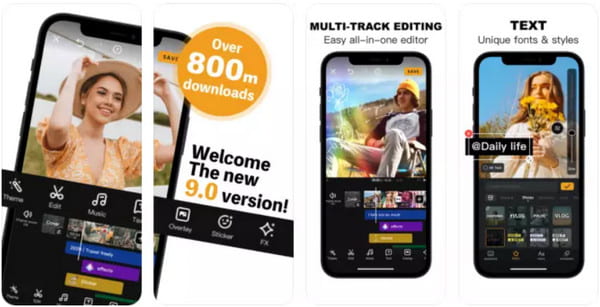 A powerful slideshow app that allows you to create and share slideshows on social media easily. It is free but has significant limitations in utilizing its epic features. Moreover, it will apply an unwanted watermark when you use the free trial version.
Pros

The in-app music library has a wide selection of sounds.
Special effects include animated stickers, GIFs, etc.
Cons

Users might experience technical issues when exporting.
7. Pixgram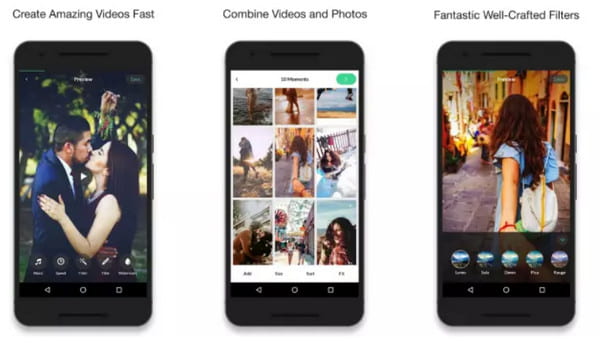 If you are new to media editing, this slideshow app is the best for you. Aside from its incredible effects and filters, it is also a perfect app to upload audio for background music. The pro version is affordable at only $1.99.
Pros

Excellent editing features for simple video edits.
Offer various aspect ratios like 1:1, 9:16, etc.
Cons

It does not provide transitions.
8. Dayframe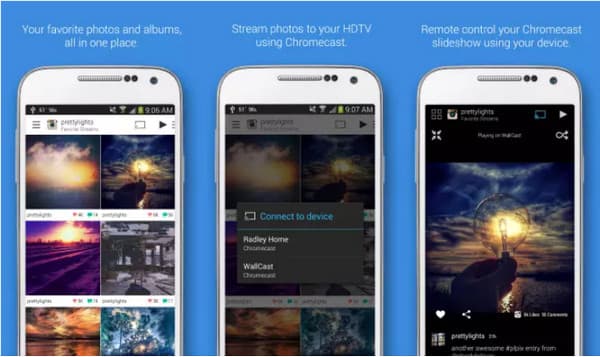 Dayframe is a dedicated slideshow app for professional editors. Its customizable options allow you to maximize the features for editing. Moreover, you can use it even without an internet connection.
Pros

Interactive interface with excellent output quality.
Enable sharing output to social media in a simple way.
Cons

Consume battery life rapidly.
9. Movavi Clips
This slideshow app is a popular tool for mobile editing. It has advanced features that help users to create beautiful slideshow on TikTok or other social media platforms. Trimming the slideshows can be done in the video timeline, which you can also merge into one video clip.
Pros

Royalty music can be exported to social media.
Excellent HD-quality output.
Cons

Unable to save unfinished projects to drafts.
10. MoShow Slideshow Photo & Video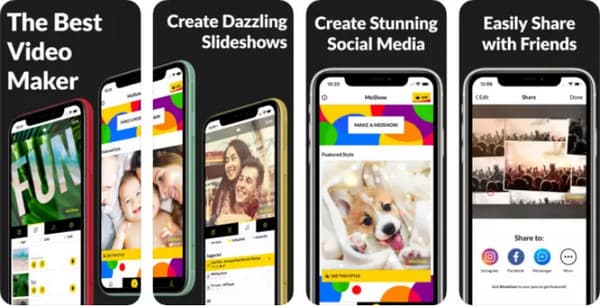 Moshow is excellent for looping videos like on Instagram. Moreover, it is also a slideshow app for your photos. Select the desired style, import the images, and share your memories with your friends!
Pros

Provide aspect ratios that work well for Instagram.
Wide variety of slideshows styles.
Cons

Only a 30-second video length is allowed for the free version.
Part 3: FAQs about Best Slideshow Apps
What is the best slideshow app for iPad?

You can use iMovie and the Photos apps to create a slideshow. However, you may need to download a third-party app that works in a similar style because the default apps only have limited transitions and effects.

Is it possible to make a slideshow with video clips?

Yes. You can also combine pictures and videos in one slideshow. The best app to do this on the computer is AnyRec Video Converter.

What features do I need to consider on a slideshow app?

You can try many slideshow apps, but the first thing you need to consider is the output quality and the theme it can give you. Also, look for the video length an app can support in making a slideshow.
Conclusion
Finally, you learned the best slideshow apps for your photos. Now, you can show your family or friends the best moments you shared with them. Find more features with AnyRec Video Converter for compelling video and image editing.
Related Articles