How to Loop a Video on iPhone and Android without Losing Quality
How to loop a video on iPhone, iPad, or Android? As everyone knows, Apple devices offer almost every function for video editing. Your iOS device, including iOS 16, can help you with even a simple task, such as looping a video. Of course, Android phones have alternatives for video editing, and good thing you came across this post because it will talk about solutions for looping videos. So, you can learn from this post to loop a video on iOS and Android to convey information and emotions visually.
Part 1: Use AnyRec to Loop Videos on iPhone, iPad, and Android
The easiest way to make a video loop on iOS, Android, and iPad is AnyRec Video Converter. This desktop software comprises features including a video loop, enhancer, merger, and collage. It allows you to save the output to any preferred encoder, bitrate, resolution, sample rate, and format, which you can choose from over 1,000 supported formats. The best part of having AnyRec as your video editor is that it provides device presets in which you can save a media file to Android, iOS, and other devices. Download AnyRec Video Converter on Windows and macOS.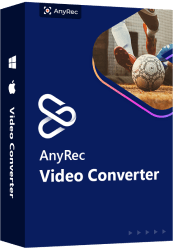 AnyRec Video Converter
Save a loop video on iPhone and Android with guaranteed high quality.
Support many formats to loop, including MP4, MOV, MKV, AVI, and more.
Upscale looped video in iPhone and Android to 720p, 1080p, and 4K,.
Add different filters and effects for your looped video on iPhone and Android.
Step 1.Download AnyRec Video Converter on your device to make a video loop. After the installation, launch the app, go to the Toolbox menu, and click the Video Trimmer button. Click the Add button to upload the video clip.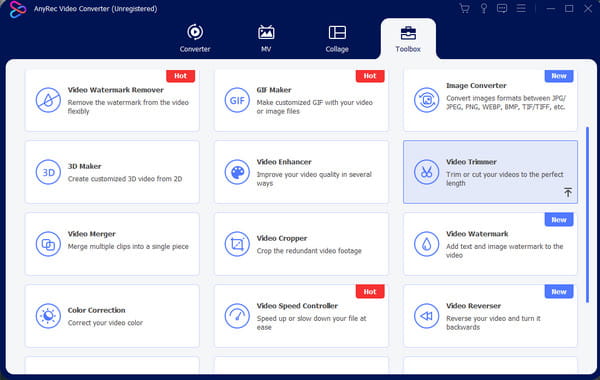 Step 2.You can choose which part you want to loop and trim it. After trimming, you can click the Add Segment button. The number of segments decides how many times your video will loop.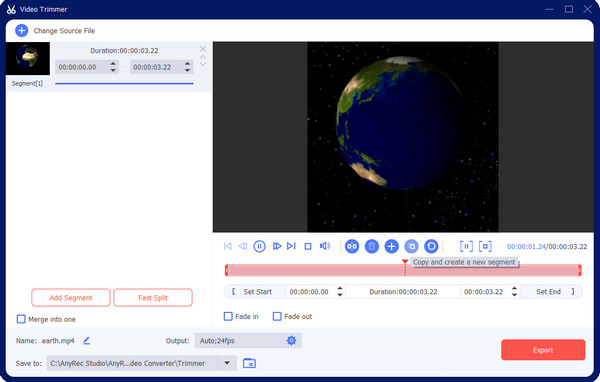 Step 3.You can click the the Fade In and Fade Out button if you want looped video part has a sign. Go to the Output menu and configure the video settings. Then you can click the Merge into one and Export button to make your loop video.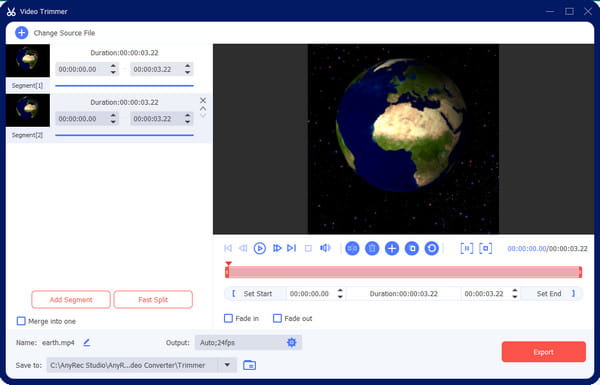 Part 2: Use Looper to Make Boomerang Videos on iOS/Android
The Looper app is a popular program that allows you to make a video loop on iPhone and Android. Other than videos from your gallery, Loope also repeats videos from YouTube without limit. Moreover, you can export all your favorite clips in a playlist and make boomerang videos without quality loss. But how to use Loop to make a video loop on your smartphone?
Step 1.Go to App Store and install the Looper app on your phone. Launch the app and tap the Plus button, and a prompt will appear on your screen. You can choose Camera Roll or Home Videos as your source.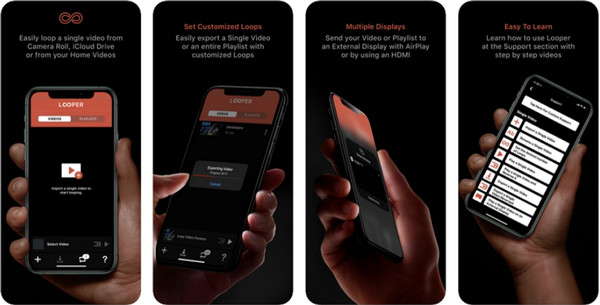 Step 2.Tap the Choose button to open the video in the app. Then, tap the Repeat button from the bottom right corner of your screen. Move the slider to your right to get the message 'Play clip indefinitely.' The video will be played repeatedly, about 50 times.
Part 3: Create a Video Album to Repeat Videos on iOS
The new versions of iOS 16 have changed the settings for making a video loop on your iPhone. And you can edit videos by cutting or shortening the video on your iPhone before looping it. However, you can still play videos on repeat without installing a third-party app, and you must create a video album on your iPhone. If you are ready, follow the instructions below:
Step 1.Go to the Photos app and browse for the desired video clip. Tap the Share button and select the Add to Album option. When the clip is in the album, tap the three-dot icon and choose the Slideshow option.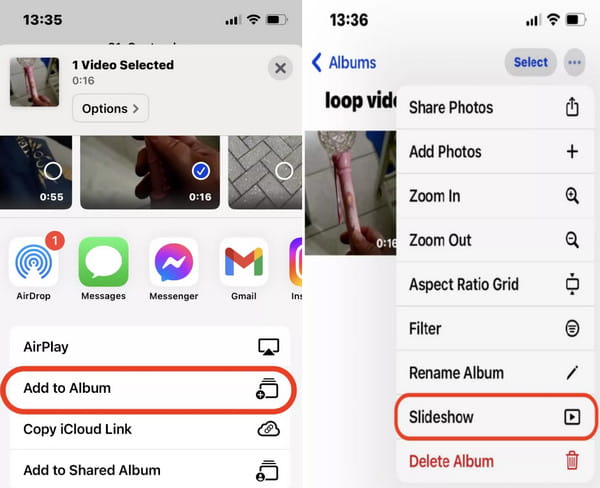 Step 2.Once the video starts to play, tap Options to open a menu. From the Theme function, select the Origami option. You can also disable the music by switching the Music menu to None. Ensure that the Repeat option is toggled on, then tap Done to save the changes.

Part 4: How to Use Clideo to Make Infinity Video Online
How to loop an iPhone and Android video on a website? Aside from free apps from Google Play, an online tool like Clideo can help you loop videos. It has a user-friendly interface, so even users without technical knowledge can use it effortlessly. If you do not want a video editing app to take device memory, then Clideo is your alternative.
Step 1.Go to the Clideo Loop Video website and click the Choose File button. You can choose Google Drive or Dropbox as the source to pick the desired video.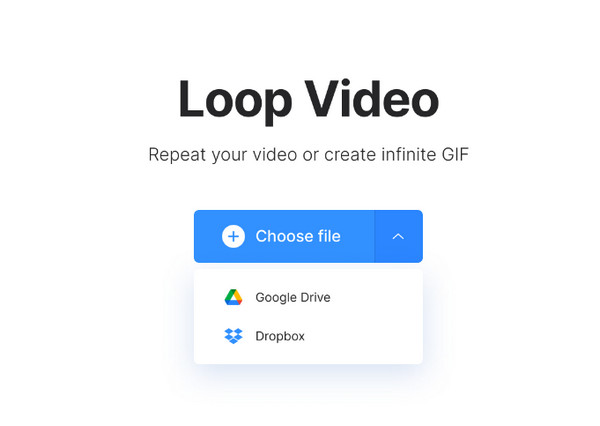 Step 2.Select the Infinity button to apply the loop video. After that, choose the output format and click the Loop button. Share the result with friends on social media.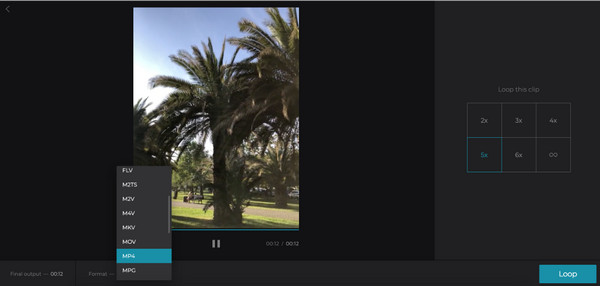 Part 5: FAQs about Video Looping
1. Does Instagram make videos on a loop?

Yes. Instagram offers a boomerang effect on the Story feature. However, the social platform does not support making a video loop from the uploaded clips on your iPhone. Moreover, the posted videos on your newsfeed must be played by tapping the Watch Again button.

2. How long of a video loop should I make?

A short video clip in a loop often has higher watch rates, and you can achieve this by capturing a clip in 3 seconds. The viewers will watch and love it for as long as you have captured the object with an excellent shot.

3. Can I use iMovie to make a video loop on my iPhone?

Yes. You can create a video loop using iMovie. You must launch the iMovie app on your phone and upload the desired video from your gallery. Tap the View menu and select the Loop Playback option. Preview the result and tap the Export button to save it to your device.
Conclusion
Finally, you can now make a video loop on your iPhone easily. When you use the Loop app or create an album from the built-in function on iOS, you will get to play a video repeatedly. But since they can only play the clip in a couple of loops, it is better to choose AnyRec Video Converter as your number video editor. Download the app and try the free trial version of the best video converter for Windows and Mac.
Related Articles