Screen Record on Android 13 with Default Recorder and Alternatives
The Android screen recording feature is only supported by Android 10/11/12/13 and later versions. Some new Android 13 users may not have yet used this feature on their phones. So, this post will tell you how to use the built-in recorder. Besides this, many people will say that if you use the built-in recorder too long, your phone will get hot, and the running speed will get low. So, to solve this problem, this post will also tell you alternatives to screen record on Android without causing lag.
Part 1: Use AnyRec Phone Mirror to Record Phone Without Lag
If you want to play and record Android with a larger display screen, you can use AnyRec Phone Mirror. The program can screen mirror Android to your Windows computer. All your Android apps can run as fast as before. Later, you can successfully use the built-in screen recorder to screen record on Android 13/12/11/10/9/8 and earlier versions.
The most significant advantage is that you do not have to worry that the recorder will take up your RAM and space. Many people report that their phones will overheat when using the recorder app. And some gamers will say that if you use the built-in recorder for too long, your phone will lag out, and the game will be stuck now and then. And when you use AnyRec Phone Mirror, these situations will not exist anymore.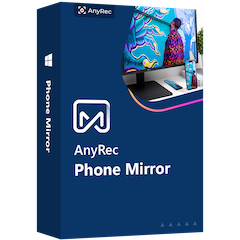 AnyRec Phone Mirror
Record your Android screen on the computer smoothly without any lag.
Capture anything on the screen, even those that cannot be recorded on the phone.
Mirror your phone to the computer to enjoy the bigger screen.
Play and record mobile games on a PC with speaker audio.
Step 1Launch AnyRec Phone Mirror. Click the Android Mirror button on the main interface.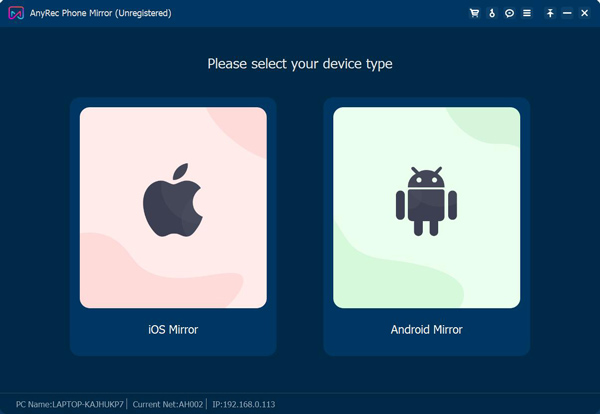 Step 2Connect Android to your computer. You can download FoneLab Mirror on your Android phone if you use the Wi-Fi connection. Make sure your computer and phone are the same Wi-Fi connection, then tap Detect on your phone to find your computer to start casting.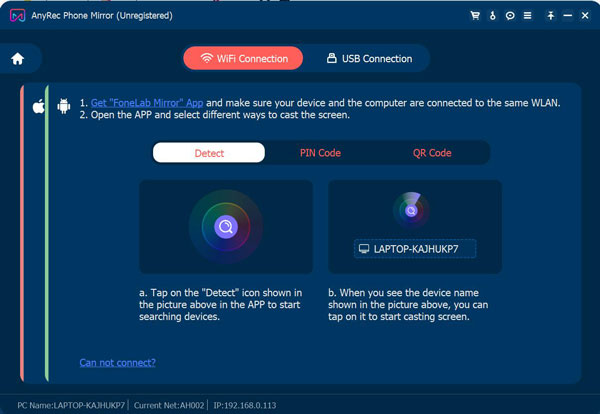 You can also enter a pin code on FoneLab Mirror to input the pin code displayed on your computer. And then, your phone and computer will be connected.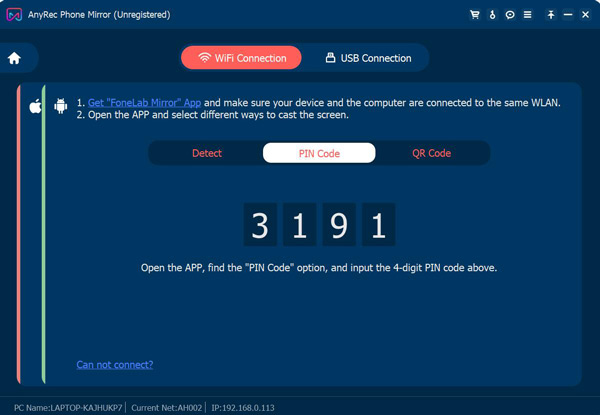 And the last way to the Wi-Fi connection is to scan the QR code, and it's also the easiest way. Open FoneLab Mirror to scan the QR code on the computer to start casting.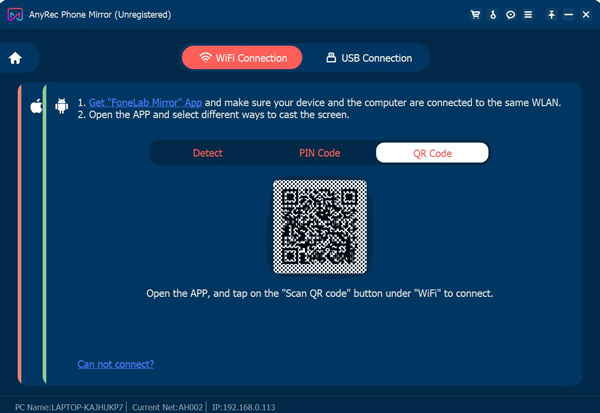 And another connection way is the USB Connection. Follow the on-screen guide to connect Android to Windows 11/10/8/7.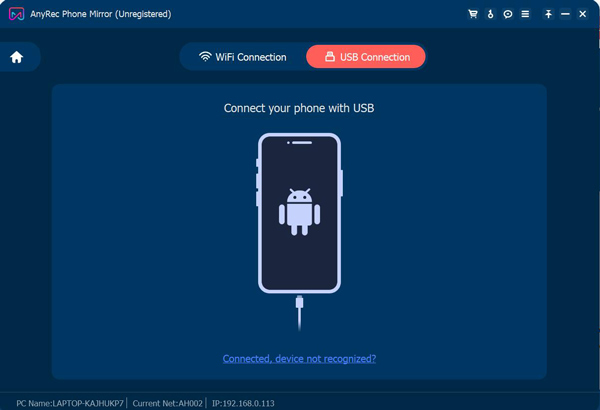 Step 3After that, you can click the Record button from the bottom screen. And you can click the Screenshot button to take a screenshot. Later, click the Stop button to end the recording.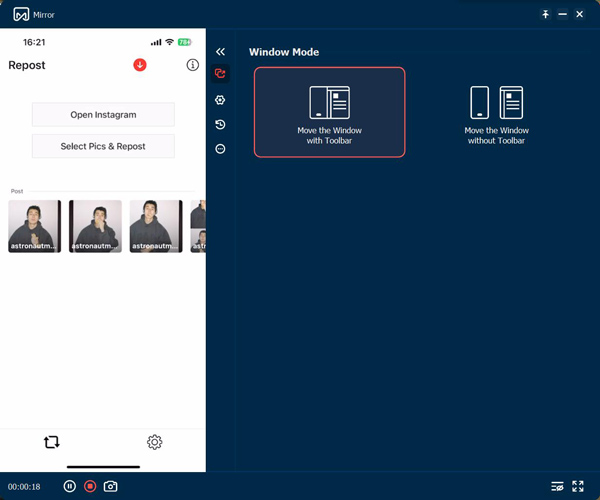 Part 2: Built-in Android Phone Recorder to Capture Screen
There is also a built-in recorder in recent Android 13/12/11/10 phones. You can use it conveniently to screen record on Android. But if your Android phone doesn't have a built-in recorder, you can use AnyRec Phone Mirror to record your screen.
Step 1Pull down the Notification panel from the screen top to see your quick settings options. Tap Screen Recorder with a camera icon and let the device record the screen.
Step 2Tap Start and a countdown will begin. When the countdown is over, the recording starts. And if you want to record the microphone, there will be a microphone figure at the top of the screen.
Step 3To stop recording, swipe down from the screen top and tap the Screen Recorder again. Or you can just tap Stop with a red button at the top of the screen. The video will be saved to your phone's media storage when a recording is stopped.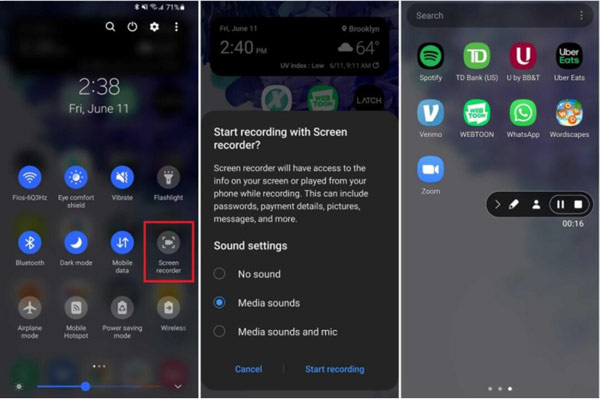 Part 3: Google Play Games to Briefly Record Game on Android
Google Play Games is a free option if you're looking to record gameplay on Android 13. But it can only record Android gameplay in 480P or 720P HD. The advantage of this app is you can record any game and add footage from your phone's front camera.
Step 1Open the Google Play Games app. Choose a game. Tap the game you want to record, then tap Record at the top. From here, choose the video quality.
Step 2Tap Launch to start your game, and a floating bubble will appear on the screen with recording settings for you to choose from. The buttons surrounding your head will control your microphone and the front camera, and the recording.
Step 3Tap the red button to start recording your video. After a three-second countdown, Google Play Games will begin recording. Tap Record again to stop. Once the video ends, you can edit it or upload it to social media if you wish.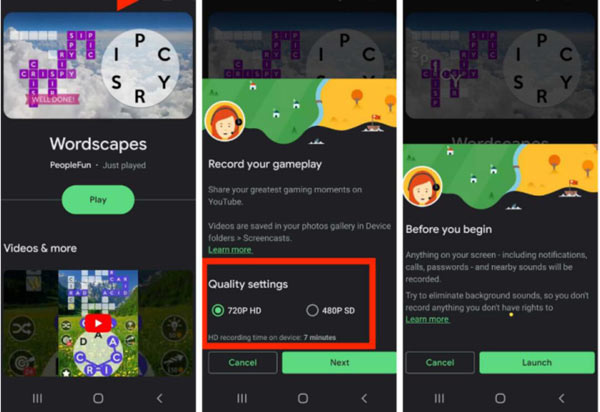 Part 4: FAQs about Screening Record on Android
Why can I not screen record on Android?

The first reason may be that the Screen Record option appears elsewhere. You will need to add it to the Quick settings panel. It would be best if you edited the toolbar panel before you solved this problem. And the second reason may be your phone does not support a built-in recorder.

How can I record my Android screen secretly?

AnyRec Phone Mirror is a safe app that records phone screens on your device. It is like a phone emulator on the computer, which allows you to capture anything active on your screen. And it would not notify other people that you are recording when you use apps like Grindr.

How do I know if my Android screen is being recorded?

First, you should type history.google.com/history into your browser. Tap Activity controls on the left menu. And then, you can see Voice & Audio activity. After tapping it, you will find a list of all recorded activities.
Conclusion
Now you must know how to screen record on Android, even with those that do not have a built-in recorder Android version. Using the built-in recorder is a convenient and easy way to record screens. But if you want to record a long video and something is forbidden by the default tool, you can use AnyRec Phone Mirror to capture your phone's screen.
Related Articles