Top 8 Effective Methods to Compress a Video on Android
When you take a 10minute video on your Android phone, it will occupy about 1 GB. Thus, you may don't have enough storage space for other downloads you need. That is why it is good to compress videos on Android to minimize the file sizes while keeping good video quality. Moreover, the videos you download from TikTok and other social media also occupy large space. Just learn the best ways to compress video on Android with popular recommended tools.
Part 1: Top 8 Tools to Compress Videos on Android with High Quality
While you want to keep all your favorite movies, you might need to consider not having issues with the tool you will use to compress video on Android. Especially when you want the original quality for your video files, the tool should be easier to use, produce good quality, and be budget-friendly. Here are the top eight recommended apps to compress videos on Android.
1. Video Dieter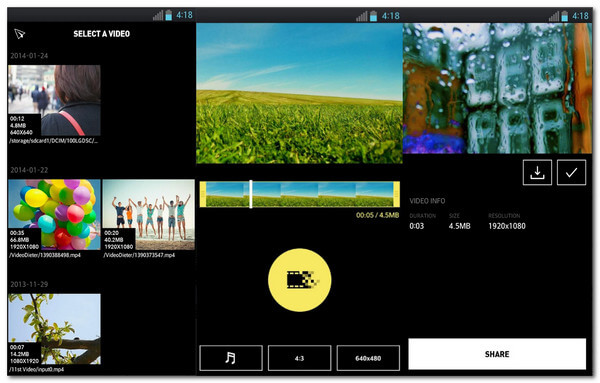 Among the best apps you can download from the Play Store, Video Dieter is an excellent choice. You can compress video on Android with this app as it allows you to set the video quality you prefer. You can also use it as a video editor as it offers to add music background, trim, and slow down.
Pros

Transcode files at a rapid speed.
Offer basic editing tools.
Cons

Limited options for saving location files.
2. Videos and Movies Compressor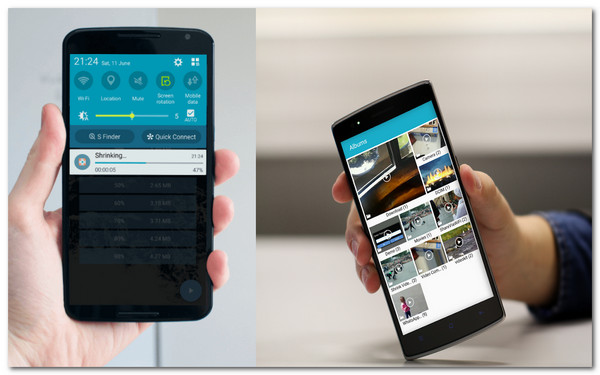 Using Video and Movies Compressor to compress videos on Android does save up storage space. It supports various video formats to compress any video files freely. It also enables you to share compressed files with your friends without losing too much quality. This tool holds the potential to compress an entire movie and TV show series.
Pros

Direct upload files from the gallery.
The slider to compress video is easy to move.
Cons

It does not support batch compression.
The app lags sometimes.
3. Resize Video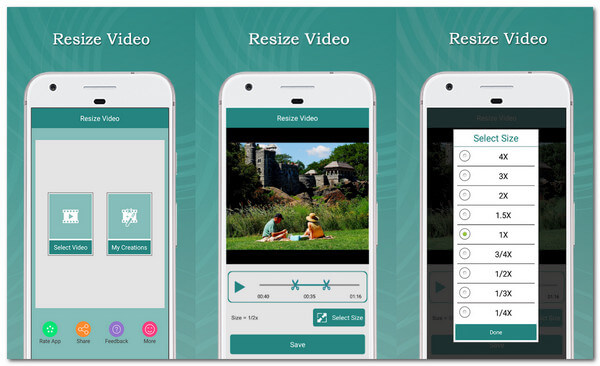 The following tool does what is precisely stated in its name, and you can compress video on Android and minimize the file sizes. As one of the best compressors you can find in the market, it allows you to choose the video file size and trim it before compression. What's more, if you are new to compressing, this app is suitable for you.
Pros

Disable audio from video.
Direct file sharing to social networks.
Cons

It takes too long to export files.
4. Video Compressor – Fast Compress Video and Photo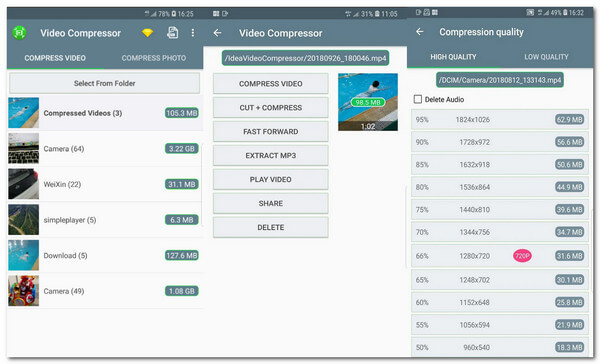 Compressing video on Android should not take too much of your time. You can use this Video Compressor as it uses a hardware codec to make the compressing process fast. Moreover, it offers other services such as compressing images in batches, controlling video speed, and extracting audio from video files.
Pros

Compress with good video quality.
Free features to use.
Cons

Too many advertisements.
5. Video Compressor by Sunshine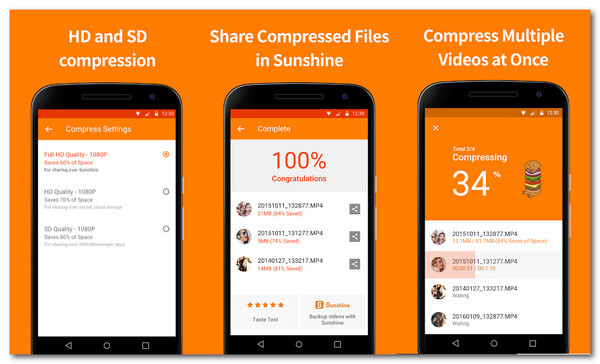 If you have many movies and want to compress them with good quality, this app is for you. Compressing video on Android with the Video Compressor app is excellent, especially you want the process to be quick. Compress large video file size, and the app will save up to 90% phone's memory space.
Pros

FHD, HD, and SD settings are available.
Carefully optimize video files to recover space.
Cons

Often get updates.
6. VidCompact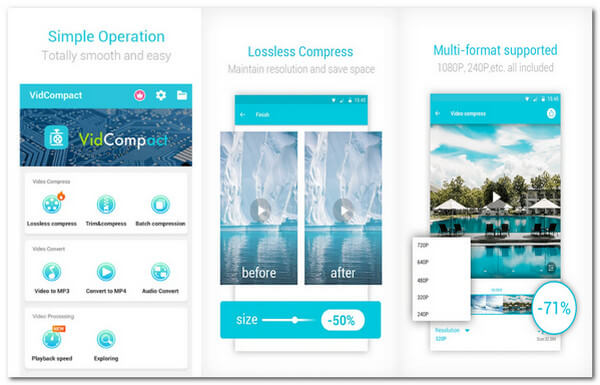 VidCompact is a top-rated free tool to compress video on Android. It also provides conversion and essential editing tools. You can import any video in file format because VideCompact has many supports file formats. You can freely use any of its powerful features to enhance or modify your videos.
Pros

Offer video stabilizer, converting audio frequency, etc.
Support format like MKV, MP4, WMV, etc.
Cons

Support format like MKV, MP4, WMV, etc.
7. YouCut – Editor and Zip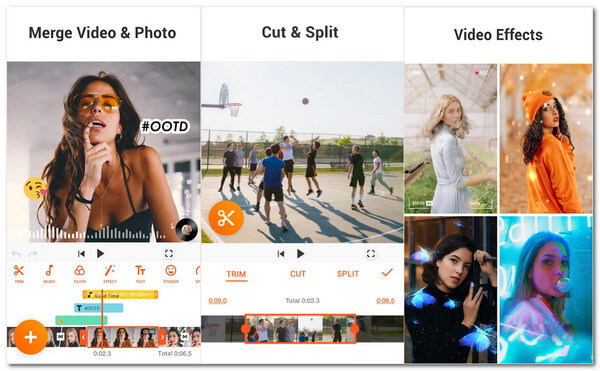 YouCut is an all-in-one tool that compresses video on Android, trim, cut, and edit videos. Before you compress your video, the tool offers video transcoding to make high-quality compressed files. Moreover, YouCut allows you to share videos to other apps like Twitter, Facebook, YouTube, and more.
Pros

No watermark.
Support a wide range of file formats.
Cons

Sometimes distort audio from video.
8. Video Transcoder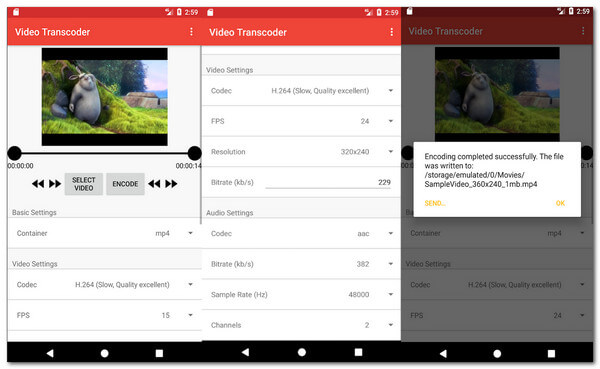 Video Transcoder is an open-source tool to compress video on Android. Meaning you can make edits to its system for better video compressing. You can use it to compress MOV, FLV, AVI, GIF, MP3, MP4, WebM, and video codecs like H.264, MPEG-1, VP7, etc.
Pros

Offer modules to trim videos.
Require permissions for smooth compression.
Cons

The interface is outdated.
Part 2: How to Compress Videos for Android with Customized Settings
Compressing video on Android can be done on a laptop or PC. In this way, you can find a tool with more features to offer. Thus, AnyRec Video Converter is the right tool to compress video files. You can edit the video file and customize its settings to choose the preferred resolution, file size, bitrate, and more with its powerful functions. Use AnyRec Video Converter for a high-quality compressed video.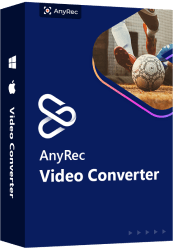 AnyRec Video Converter
Compress video for Android without losing too much quality.
Support hundreds of file formats like MP4, AVI, WebM, MKV, etc.
GPU acceleration makes 50x faster speed on compressing process.
Provide other vital tools like conversion, MV maker, collage, and more.
How to compress video for Android using AnyRec Video Converter:
Step 1.Download and install the software on your device. Once you launch it, click the Toolbox button on the top of the main screen. You may directly click the Video Compressor button and then click the Add button with the Plus icon to start compressing videos for Android.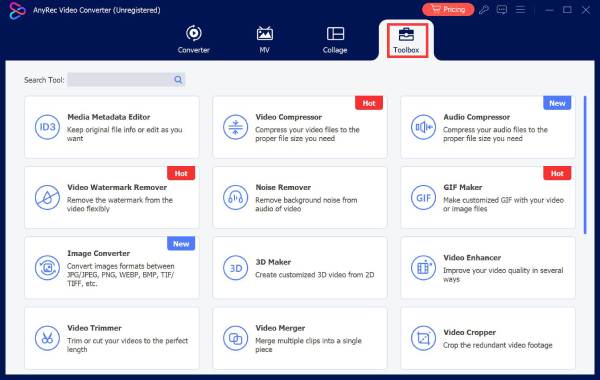 Step 2.Once you have added the desired video file you want to compress, the compressing tool will appear. You can start with renaming the file's name. Click the Slider button and move back or forth to change the file size as you want. You can also change the format, resolution, and bitrate. With the right tweak, you can keep the excellent video quality of the file.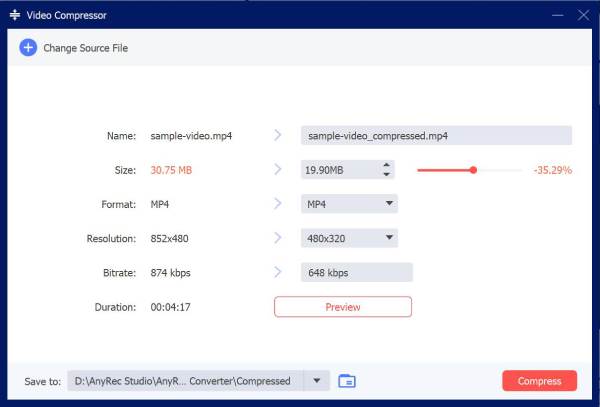 Step 3.Once you are satisfied with the changes, you can watch a simple part of the video by clicking the Preview button. Go to the Save To menu to select the designated folder for the compressed file. Finally, click the Compress button to begin the process. The file will pop up after the compression.
Part 3: FAQs about Compress Videos on Android Phone
1. Does compressing video files lower the quality?

Yes, when you compress a video file, you need to assume that it can lower the video quality. A video compressor removes some unnecessary data to make the video small in size. However, with AnyRec Video Converter, you won't have a problem with the video quality.

2. Can I compress video on Android online?

Absolutely, yes! Compressing video on Android online is the same as having a video compressor app. You can visit and try some of these recommended online video compressors: VEED, FreeConvert, FlexClip, Compress Video, and more.

3. How does compressing video on Android work?

Reducing video file size through a video codec works on one or more compression algorithms. The usual thing a video compressor does is remove repetitive and unnecessary images, scenes, or images.
Conclusion
Now that you have learned the eight ways to compress video on Android, you can minimize the file size of your videos and save up some storage space. Compressing video on Android can lower the quality of the file. However, with AnyRec Video Converter, you don't need to worry about the quality because of its powerful features. Try the free trial and experience its excellent video compressor.
More Related Articles