Shorten a Video on iPhone by Decreasing the Length or Deleting Frames
Many people choose to shorten the video on iPhone if they think the duration is too long or there are some pictures they do not want to see. And you know that the Photo app provides you with simple video editing functions. You can easily cut the video length to decrease the duration. But if you need more professional video editing such as trimming the video to a specific time or specific frame. There is also an alternative tool introduced in this post. And if you prefer using iMovie to shorten the video on iPhone, you can learn how to use it in this article as long as you will not be confused by its complicated functions.
Part 1: Make the Video Time Shorter with Photo App
The Photos app is not an advanced video editing tool, but it does allow for some easy video edits when all you want is to make a quick fix before uploading to social media. One thing that the Photos app is very easy to shorten a video on iPhone. Using the Photos app, you can trim from either end of your video clip by following these instructions:
Step 1.Open the video you want to edit in the Photos app and then tap Edit.
Step 2.And then you can see the slider underneath the video. Hold your finger on either of the arrows and slide them inward to effectively shorten your video clip.
Step 3.When you're finished, tap Done. A pop-up menu will appear. Tap Save Video or Save Video as New Clip, depending on your preferences. shorten-video-on-photo-app.jpg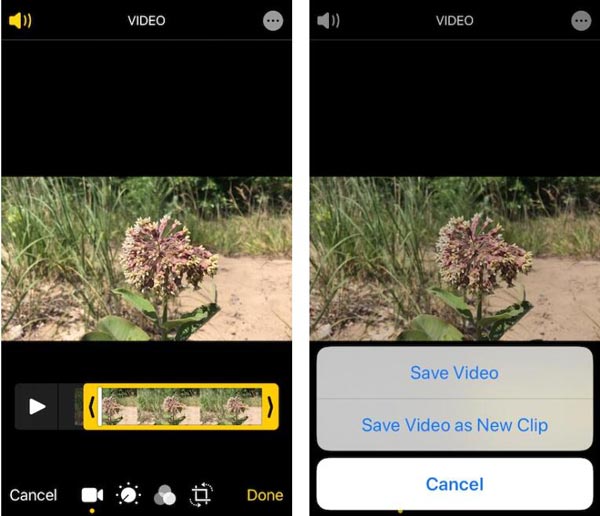 Part 2: Shorten the Video to a Specific Frame with AnyRec
If you want a professional video editing tool to help you shorten a video on your iPhone to a specific frame and time, you can use AnyRec Video Converter. Although this is software on PC, it is not complex compared to the iPhone app. This software has easy but powerful functions to edit videos. When you trim the video with it, you can check your video frame by frame and choose the time you want to start and end. And apps on iPhones like Photos could only shorten the video to a specific time. Maybe they can shorten the length, but they cannot deal with videos like AnyRec Video Converter to specifically delete the frame you do not want to keep.
Besides these basic trimming video features, there are also many other powerful functions. If your videos are in some special formats like MOV that you can only play them on Apple products. You can also use AnyRec Video Converter to convert it to other formats. And you do not have to worry about the quality loss when you transfer the files to a PC, the AI technology can even enhance the resolution for you after you shorten the video on your iPhone.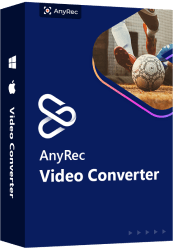 AnyRec Video Converter
Shorten the video to a specific time and specific frame.
Have 50X faster speed when you deal with large-size video.
Edit the video with many effects and filters after you shorten the length.
Keep the origin quality even if you transfer video between iPhone and PC.
Here are the steps to use AnyRec Screen Recorder to shorten a video on iPhone:
Step 1.When you send your video to the PC, you can open it in AnyRec Video Converter. And then click the Cut button with the scissor icon.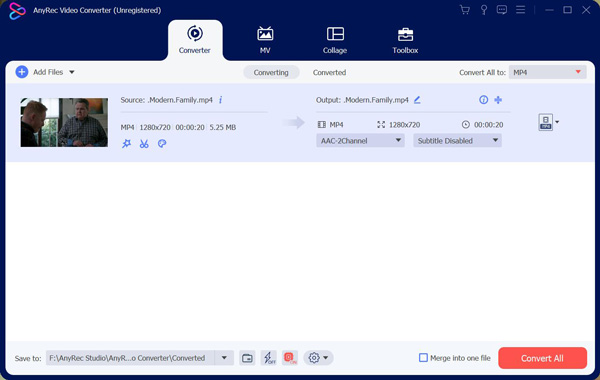 Step 2.And then you can delete unwanted clips with the video trimmer in bulk or individually. It is supported to set the start and stop time manually. Or you can drag it with the slider instead. And if you can also click the Fade in or Fade out button to set the video effect.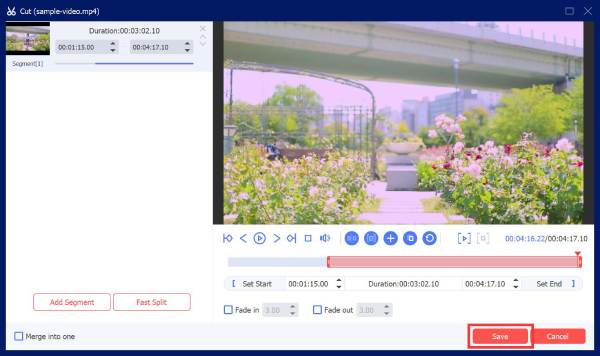 Step 3.After the setting, you can click the Save button to export your video.
Part 3: Video Editor iMovie to Trim the Video
There are also some good using apps to shorten a video on iPhone. The best app Apple Inc has provided for video editing is the iMovie app. The app is not only available for iPhones but for other iOS devices also. With the help of this app, you can learn how to trim the middle of a video on an iPhone, make Hollywood-style trailers, customize video themes, apply filters, and much more. Here are the steps to use iMovie to shorten the video on iPhone:
Step 1.Open an iMovie project. Add the video you want to trim to the project.
Step 2.Once the video shows in the timeline, tap on the video. You will now see yellow trim handles on both edges of the clip.
Step 3.Drag the yellow trim handle forwards or backward to choose the part you want to keep.
Step 4.Once the desired part is selected, click Done to save the project.
Step 5.Now, export the project video by tapping Share. Choose the option to save the video. The trimmed video will now be saved as a separate clip in the Photos app.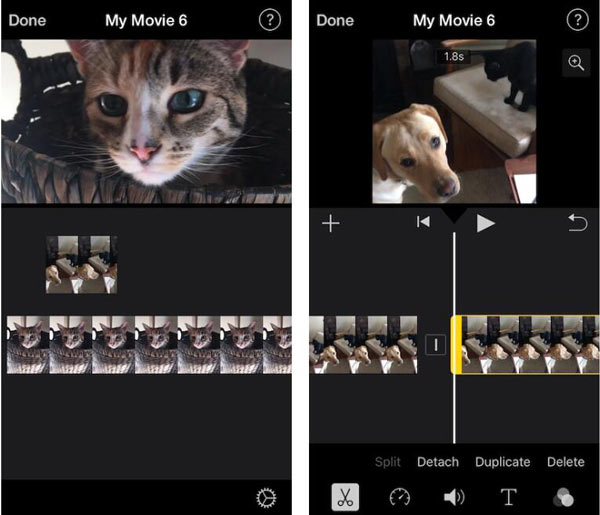 Part 4: FAQs about Shortening a Video on iPhone
Can I reduce the size of a video file on an iPhone?

No, there is no built-in iOS feature that allows you to compress a video. You can adjust the size of video recordings in their camera settings before recording. And using a third-party app like AnyRec Video Converter will allow you to reduce the file size of a video after recording it.

How do I extend a short video?

There are many ways to extend a short video. You can add an intro and outro, add more video clips and images, slow down the video, or loop the video.

How to shorten a video into different parts?

If you want to shorten a video on iPhone by splitting them, you cannot do it directly on iPhone. You have to shorten the original video one by one. But you can use AnyRec Video Converter to split your video.
Conclusion
When you think the duration of a video is too long, you must know how to edit your video. If you just want to cut the video off, you can just shorten your video on your iPhone with the Photo app. But if you want a specific frame and time point, the best choice is to use AnyRec Video Converter.
Related Articles: