How to Make Boomerang Video: Here are 3 Methods on PC and Smartphone
One of the most popular effects on video social media platforms is to make boomerang videos. This effect can turn a video into a loop with a reverse sequence. Just like a GIF file, a boomerang doesn't include sound and enables turn-looped videos or photos. If you wish to create funny looped media, this post will show you 3 ways to tell you how to make a boomerang video.
Part 1: 3 Easy Way to Make Boomerang Video
Aside from Instagram, there is another way to make a boomerang video on a computer or smartphone. In this part, you can try the recommended programs to make a boomerang video on Windows, Mac, Android, or iOS.
1. Instagram app
As it made the boomerang effect, the Instagram app is the best platform to make a boomerang video. The IG Story feature allows you to use the real-time camera to shoot a video. Its recent update offers various effects, such as Classic, Slowmo, Duo, and Echo. Apart from this, you can also trim the clip for a shorter boomerang. Unfortunately, Instagram cannot apply the boomerang on an uploaded video from your phone gallery, so you need to record one inside the app.
Pros

Provide animated text, stickers, and filters for boomerang.
Users can save the clip without posting them on IG Stories.
Cons

The Instagram desktop version has limited editing features.
How to make a boomerang video on Instagram:
Step 1.If you don't have the app on your device, download it from the App Store or Google Play. Then, open Instagram to start making a boomerang video. Tap the Plus button from the top right part of your screen.
Step 2.Then, choose the Story option to get to the camera. Tap the Boomerang button with the infinity icon from the left part. Then, record yourself with a couple of movements.
Step 3.After that, a preview will automatically show to you. To get a different boomerang effect, tap the Inifinity button from the top part. From the Classic boomerang, choose other effects like Slowmo, Duo, or Echo. You can also trim the clip to the desired length.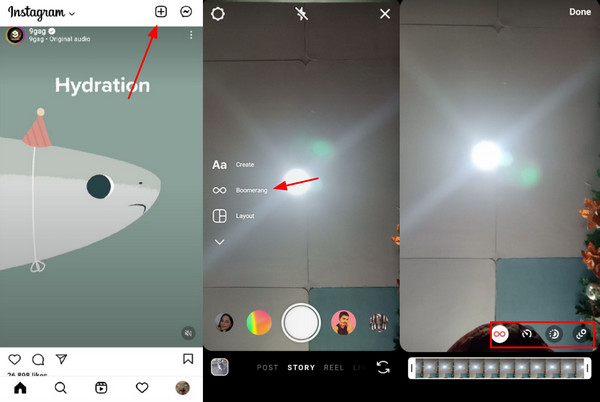 Step 4.Tap the Done button to go back to the main menu. You can apply other elements by tapping one of the icons from the top part of your screen. The sharing option includes the Your Story, where you can share the boomerang with all of your friends. In contrast, Close Friends enables you to choose people on the list to share the clip with.
2. Kapwing
Kapwing's reputation on the internet is because of its powerful features. Among these tools, you can use its Stop Motion Maker which can help you make a boomerang video and post it on the desktop version of Instagram. Although the program is to create a GIF-like clip, it can edit video that can also look like a boomerang. Moreover, the web-based will not require you to create an account to utilize its tools.
Pros

Playback speed from slow to fast pace.
No need for the launcher to start editing.
Cons

Slow processing speed.
How to make a boomerang video with Kapwing:
Step 1.Open a browser and search for the Kapwing Create Stop Motion website. Once you are on the actual page, click the Upload button to open your folder. You can also paste a URL for the video you want to edit. Click the Open button to confirm the selection.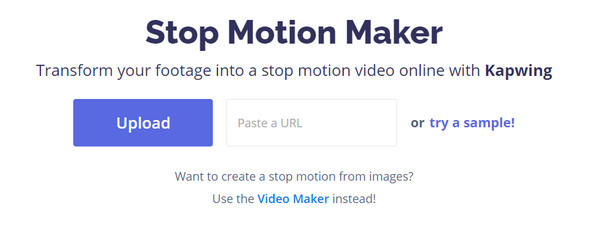 Step 2.With the editing tools, you can choose the speed and clip rate. Ensure that you have ticked the Play Back in Reverse checkbox for a loop-like effect.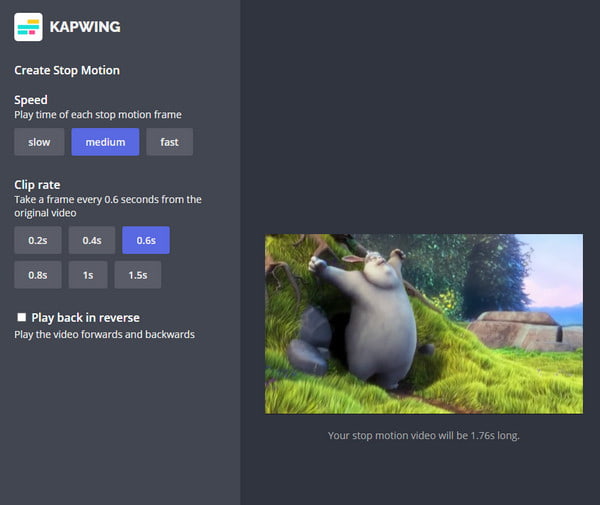 Step 3.Once you are done editing, click the Create button from the bottom part of the screen to apply the changes. The process may take some time to finish. But once it is finished, click the Download button to save the output to your device.
3. Boomerang Maker – Loop Video
This app is an excellent alternative for Android users to make a boomerang video. It allows you to edit pre-recorded clips and will not give you a limited time length. Complete control over editing helps you to change speed, trimming, and other adjustments effortlessly. Moreover, the app is free, but you can make an in-app purchase to unlock additional features.
Pros

Intuitive interface for more straightforward navigation.
Suitable for social platform posting.
Cons

Watermark is applied on clips.
How to make a boomerang video with Boomerang Maker:
Step 1.Download and install the app from the Play Store. Tap the Open button to start making a boomerang video. Then, tap the Select Video button to upload a video and trim it. Tap the Next button to proceed.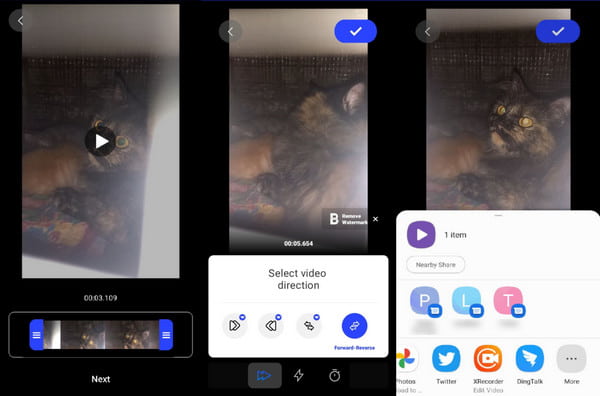 Step 2.Tap the Speed button with the thunderbolt icon from the editing page. Move the button to the left to slow down the speed. Other than this, you can also use the Forward-Reverse option for free.
Step 3.Tap the Checkmark button to save the edited video. You can directly share the output to your social media account or select the gallery to save the video.
Bonus Tips: More Powerful Video Editing Tool
Instagram and other social platforms have limited file sizes for uploading videos. So, if you are thinking of making a boomerang video with more effects from your phone gallery, it is recommended to use AnyRec Video Converter. The software is developed with an AI-based algorithm to convert media files while keeping the original quality. It helps users adjust each file's data through its codec, bitrate, frame rate, and resolution in just a few clicks. Moreover, you can use other powerful features, including video merger, compressor, audio sync, etc. Download AnyRec Video Converter on Windows and macOS.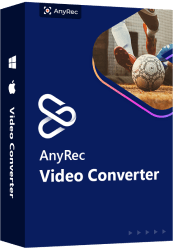 AnyRec Video Converter
Excellent software to edit and make a boomerang video to post on Instagram, TikTok, Facebook, and more.
Provide options to minimize file sizes, such as conversion, compression, trimming, and cutting.
Allow users to upload large files without file size limitations and support formats like MP4, MOV, WMV, AVI, etc.
Suitable for video enhancement, upscaling resolution and reducing video noise without distorting the quality.
Part 2: FAQs about Making Boomerang Video
Can I upload a video on IG stories to create a boomerang video?

Currently, the popular social platform does not support uploaded videos and turns them to boomerang. You can only use its real-time camera and record a new boomerang video.

Can I make a boomerang video on TikTok?

Unfortunately, TikTok does not have a boomerang effect in its editing feature. Since the platform is more of longer videos with different content, there is no way to create the boomerang. However, if you are compiling videos for memory, you can make a boomerang video on Instagram and upload it to TikTok.

Is boomerang the same as the reverse effect?

Yes, boomerang is another take on the reverse effect. Unlike the classic flip of every video frame, the boomerang is designed to loop a clip from beginning to end. Mainly, it is used for only a couple of seconds.
Conclusion
Making a boomerang video tends to make things more enjoyable to watch. Since Instagram made the effect more popular, various tools can help you apply boomerang. AnyRec Video Converter is also an ideal program to decrease file size and makes it possible for a video to be downloaded on a social media platform with high quality. Try the software today by visiting AnyRec's official website.
Related Articles