How to Do Side-by-Side Videos On Windows/Mac/Android/iOS
Whether you create a video for streaming, work presentation, or simply compilation, you can use a side-by-side video. This video style can flexibly bring two or more videos in one screen and show more information. Thus, this post will provide you with the best software for making a side-by-side video on a laptop, PC, and mobile device. Without further ado, let's get started.
Part 1: How to Make Side-by-side Videos on Windows/Mac
Finding the right software to do a side-by-side video is a trouble, especially if you are running out of time to make a presentable work. AnyRec Video Converter got your back. This outstanding tool provides you with different ways to work out your side-by-side video. It allows you to import up to 13 video files to make video collages.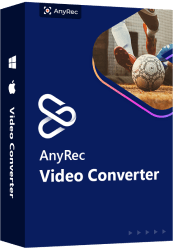 AnyRec Video Converter
The video collage provides special side-by-side video effects with many templates.
Enable to export side-by-side video without losing too much original quality.
Offer valuable features, including border, aspect ratio, and adjustable audio track.
Other video editing functions like compressor, merger, converter, and enhancer.
How to use AnyRec Video Converter to do side-by-side video:
Step 1Download and install the tool on your device. Run the tool to start creating a side-by-side video. Click the Collage menu button at the top part of the interface.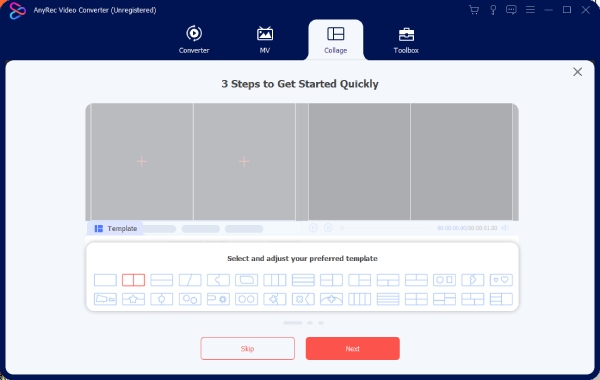 Step 2Choose a video template, and click the Add button on each section to upload a video file. If you wish to trim, cut, enhance, replace and zoom in or out the videos, you can find a smaller widget on the timeline. Check the changes by clicking the Play button on the Preview section on the right part.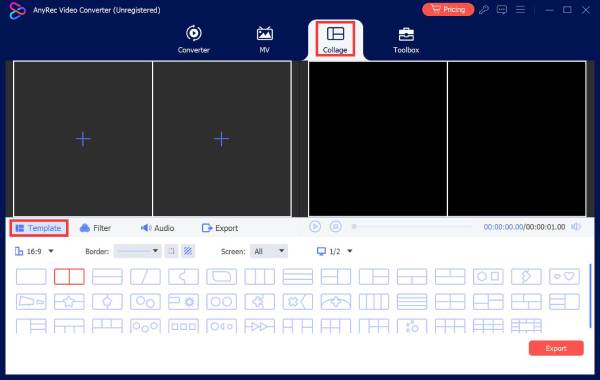 Step 3Change the aspect ratio from its dropdown list, or you can adjust the borderines to change the size. You can also change the color or apply some design to it. If you wish to enhance the side-by-side video, go to the Filter menu and choose the desired one. You can also add another audio track or disable the original soundtrack from the Audio menu.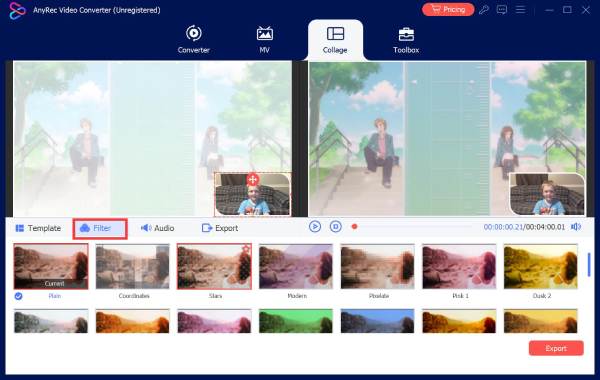 Step 4Once you are satisfied with the video editing, go to the Export tab to set the video format, name, resolution, designated folder path, and other changes. At last, click the Start Export button at the bottom part of the interface to save the side-by-side video.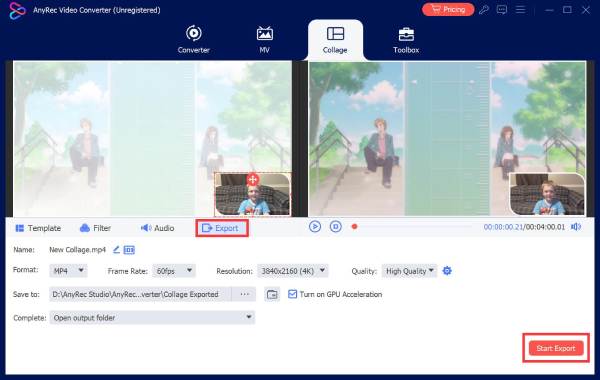 Part 2: How to Create Side-by-side Videos on Android/iPhone
Android and iOS devices are also open to doing side-by-side videos. It is easy to find unique apps from Google Play Store and App Store. In this part, you will learn the best apps to create side-by-side video and how to do it effectively.
1. Video Collage Maker
Mix and merge all your favorite videos using Video Collage Maker. This Android app allows you to make split-screen videos in the easiest ways. It also provides you stylish frame where you can import more than two videos in one clip. Video Collage Maker is a free tool you can download from Google Play Store.
Step 1Go to Google Play Store and search for the app. Once you have downloaded it, run the app on your device to create a side-by-side video. Tap the Video button from the main interface, then tap the Create New button.
Step 2Choose the desired side-by-side video style from various options. Tap the first empty slot to import a video file. You can edit its audio volume, rotate, and trim. Likewise the second slot, then you can tap the Swap button to swap the videos in their places.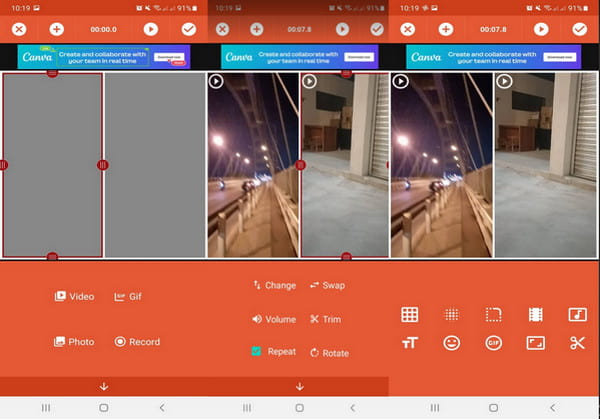 Step 3You can do more video editing, such as applying blur, color, gradient, and graph effects. Add other elements, including text, GIFs, and emoji. Review all the changes, then tap the Checkmark icon to save the side-by-side video.
2. iMovie
iMovie is the best video collage app for iPhone users to do side-by-side without fail. As a default app for iOS, it has professional features to merge, enhance, and edit multiple videos simultaneously. It is also free, so you don't need to pay to achieve the best side-by-side videos you can share on your social networks.
Step 1Launch iMovie on your device to start video editing. Tap the Start New Project icon and choose one of the creating method options. Browse the desired clip to do a side-by-side video, then tap the Save button with the Checkmark icon. At the bottom of the screen, you can tap the Create Movie to edit your videos further.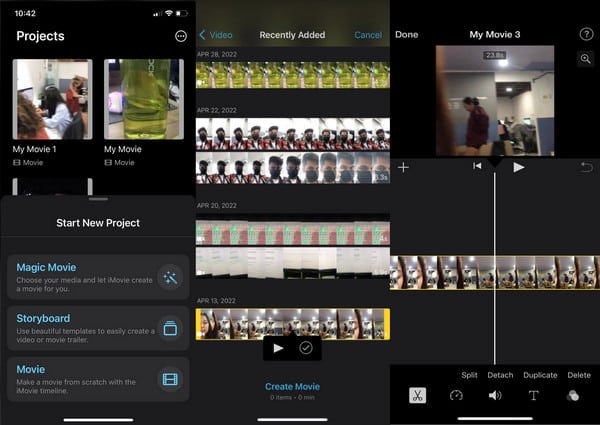 Step 2You can edit the first clip by clicking it on the timeline, then you can change speed, apply text or filter, and split. Once done, tap the Plus icon to add another clip. When you've selected the second clip, tap the More button with the triple Dots icon, then tap the Split Screen button.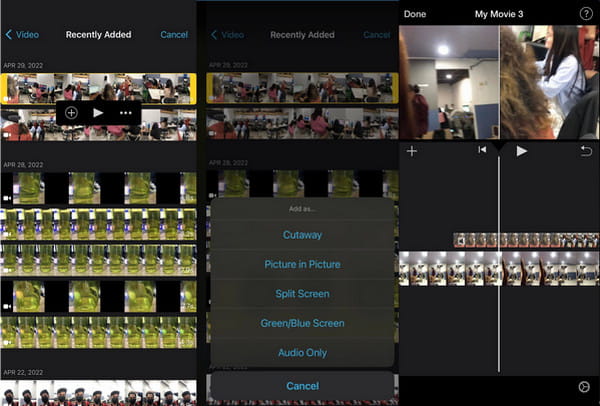 Step 3Tap the second clip and place it in any part of the first clip. You can also edit it just like the first one. After reviewing the side-by-side video, tap the Done button to save it on your device.
Part 3: FAQs about Making Side-by-side Videos
How to make side-by-side videos online?

There are essential online tools where you can make unlimited side-by-side videos. The most recommended online tools are VEED, InVideo, Clipchamp, Adobe, WeVideo, and Clideo.

Is it possible to do a side-by-side video in an up-and-down style?

Yes, you can create a side-by-side video in an up-and-down style. In AnyRec Video Converter, it offers you various templates which allows you to put videos up and down and relocate smaller video in any region.

Can I also make a side-by-side photo?

Absolutely, yes. The recommended tools in this post also offer a photo collage where you can apply effects, add other elements, and insert multiple photos at once. There are also many fun photo editors for Android/iPhone to make collage photos.
Conclusion
Making a side-by-side video helps you be creative and stylish to present it beautifully. You can create the best memories with the help of the best-recommended tools. But to lessen your burden in finding the best software to do side-by-side videos, AnyRec Video Converter is the answer for any video editing concerns. Try the free trial version today and let your creativity out to make stylish videos.
Related Articles